No 1/32 T-45 injection moulded plastic kit exists. However, looking at the Kinetic 1/48 T-45 Goshawk kit and the existing 1/32 Revell Hawk kit, it was thought feasible to do modifications (as outlined above) to do a conversion towards a T-45 Goshawk.

The real aircraft dimensions were used to scale up the kit drawing to "working drawings" in 1/32 scale.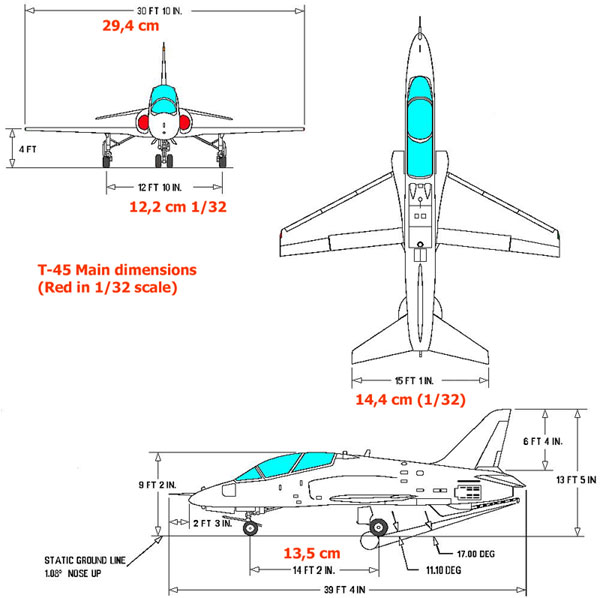 This basic drawing looks good also for reference as combined with various photos of the real T-45 seen on the Internet and in books and magazines (see References below).
Also, the 1/48 Kinetic T-45 Goshawk kit was on the table for some cross reference, borrowed from my friend Michel.
Here that kit's colour scheme is seen: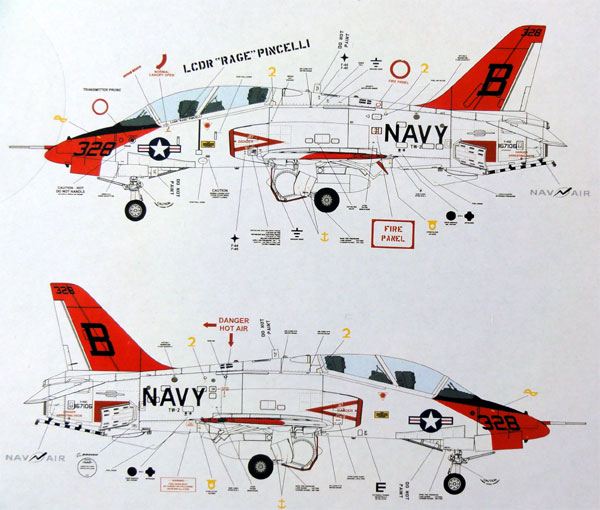 click for large drawing
Note that no evidence was found that the canopy is different or that the air intakes or main fuselage profile were different. This was also not seen in the various references and sources. The nose profile is often mentioned to be a bit "deeper" but no big profile differences were seen looking at pictures. The kit nose will be made a bit deeper though by making it a bit thicker at the nose and blending it to the cockpit area of the fuselage. This deeper nose also enables storage of the much larger twin nose gear (mod D-).
A couple of working drawings were made and printed for use during the conversion/built. (these will be shown during assembly steps ...).