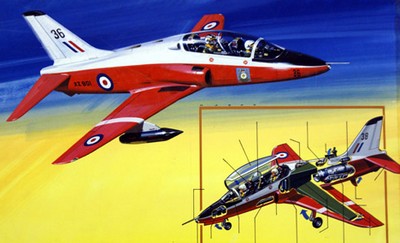 ..............


The Hawk was developed by Hawker Siddeley in the UK as an advanced jet trainer for the Royal Air Force. It was to replace the Folland Gnat and a small not too expensive single Adour engined trainer was envisaged. The Hawk prototype flew in August 1974. It has a two man cockpit with the instructor in the rear higher set seat, with the Martin Baker Mk.10B ejection seats. It is capable of high speed training with MACH 0.9 cruising capability and MACH 1.1 in a dive at high G-loads. The RAF version was the T.1 and the first aircraft was delivered at the end of 1976. The famous Red Arrows aerobatic display team got their Hawks end 1979.

Also for export the Hawk proved to be popular but also versions were developed that were capable of a light strike mission and even air defense with Sidewinder missiles. Also, variations in equipment and engines were possible. A central 300 mm Aden gun pod could be fitted under the fuselage and various pylons for armament. The RAF aircraft were modified in 1983 to 1986 to T1A to even fire Sidewinder air-to-air missiles.


The Hawk was also purchased for the British Royal Navy, where they replaced Canberra's. These few Hawks are used to train ship in air defense.

Finland also bought some 50 Hawk mk.51 aircraft in 1980 and made under license at Valtion lentokonetehdas. They were officially designated as trainers but were also capable for strike missions. The demoteam Midnight Hawks used the type. Later additional aircraft were purchased, including 18 second hand planes from Switzerland in 2009. Several system upgrades were done including a glass cockpit as Mk.51 and Mk.66.

Later a big company was formed that including Hawker Siddeley under British Aerospace (BAe).
In those days another country that bought Hawks was Kenya for 12 aircraft. Another export country was Indonesia, and more than 40 Hawk deliveries starting in the eighties.

A big customer was Saudi Arabia that purchased in the mid eigthies over 50 Hawks Mk.65 in order to enable training for their Tornado aircraft pilots. Later on additional aircraft were ordered.

Zimbabwe (former Rhodesia) bought 12 Hawks Mk.60 fitted with a brake parachute in the eighties as well. They used them in the local wars, leading to an embargo.

For the Swiss Air Force, 20 Mk.66 Hawks were ordered end of the eighties and most of them assembled at Emmen until 1991. (later on, 18 went to Finland).

Abu Dhabi, United Arab Emirates Air Force also got about 16 Mk.60A and 8 Mk.61 aircraft. Abu Dhabi got 4 Mk.63A planes in 1995.



We can distinguish the first generation and later generation with the -100 series Hawk. The newest generation includes:
Later Hawks in the series 100 had longer noses with camera's etc. They also got system upgrades.
So check the peculiar aircraft you want to make.
South Korea got some 12 Hawk Mk.100 (with longer nose) in the beginning of the nineties.
The Hawk was modernized beginning 2004 with a glass cockpit and new systems, becoming the Mk. 128/Hawk T2. Also FLIR systems were fitted in a longer nose and these Hawks were also exported to e.g Australia. Also for the RAF, 88 existing Hawks were modernized with re-enforced fuselages to T2 standard around 2010-2012.
India purchased starting in 2008 Hawks for their Air Force and Navy at various stages, and still orders are agreed including license modelling by Hindustan Aeronautics Limited. The number now is nearly 100 aircraft.
Local license production of the Hawk was started in South Africa as well beginning 2005 with 24 aircraft ordered by the SAAF.
The Hawk series Mk.100's was modernized even more and systems capabilities ugraded, like forward looking infrared in the nose, a redesigned wing and HOTAS system in the cockpit. Orders were obtained from Abu Dhabi, Oman, Malaysia, Indonesian, Bahrain and later on also for Canada, known as the CT-155 Hawk.
The series of Mk.120's feature new structural parts and is in fact a whole new aircraft. Australia bought over 30 Hawks Mk.127, deliveries starting around 1998. Also Saudi Arabia, Oman and
The British RAF and Royal Navy also will get these Hawks of the new generation, known as the Mk.128.
A special version was the Hawk 200 single-seat version, to be used as a "multirole combat aircraft". It was developed end nineties. Over 60 planes were purchased by Indonesia, Malaysia and Oman.