... continued from Hawk page 6....

(I2) Italeri later generation Hawk: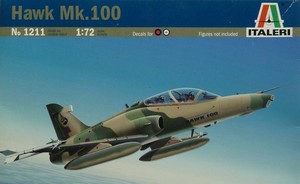 ..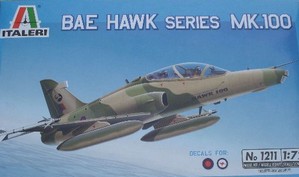 This 1/72 kit was released with several boxes with different box tops but with same kit no. 1211.
The kit is based on the older Italeri Hawk but now with some changes in for the later production version Hawk 100 series like a longer nose with sensor and stores. (The Hawk 100 series is a modernized version with extra avionics, new ejection MB seats and a HOTAS, slightly changed wing and wing tips and longer nose pitot as well).
There is a fairing with a parachute pack and the longer style fillet under the rudder. The upper rear fuselage is also a bit flattened which is correct for later production Hawks (whereas early Hawks had curved areas here).
The approx. 60 kit parts in light grey are in 2 sprues with an additional clear sprue for the separate canopy sections and a blast shield between the front and rear cockpits. The parts are not packed in a bag so there is a risk of loosing small parts in time.
A lower canon pack is provided along with 2 rather strange looking Sidewinder missiles to be fitted on adapted wing tip rails. Some fueltanks and pylons are nicely included though.
The panel lines are nicely done. The cockpit is pretty good with raised details but will benefit from adding more improved seats. (I bought PAVLA resin set S72060 with MB mk.10 seats but found out too late they are too wide to fit; I used the kit parts with some added details).
The intakes are a bit shallow, open them up is not easy as you both need to remove the intake ends and open up the fuselage areas. I did not bother further.
The canopy parts are fine and show the detonator chord.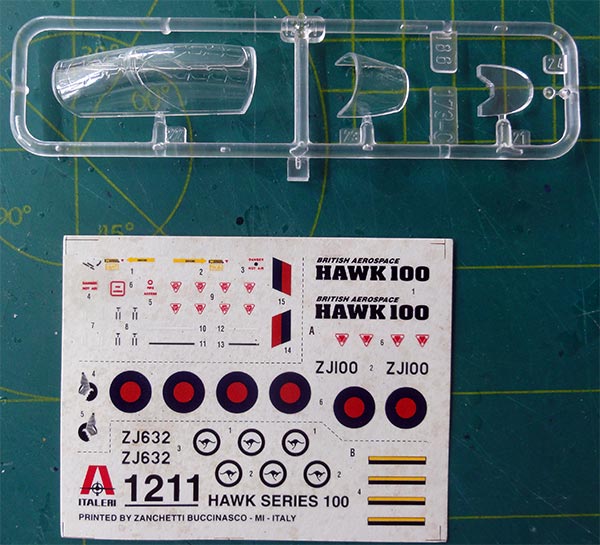 The kit decals are rather simple with a scheme of a BAe demo Hawk and a RAAF Australian Hawk with grey camouflage pattern.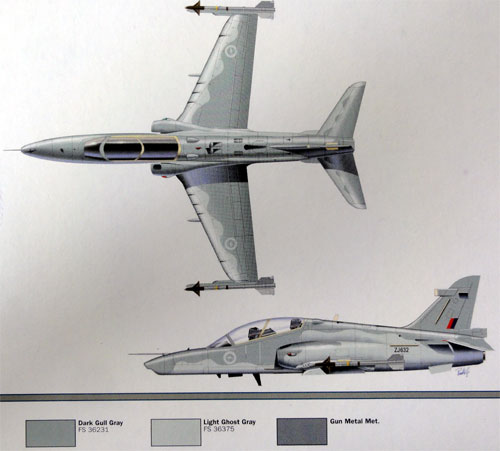 From my modelling friend Bas I got a nice set of Model Alliance decals for a Bahraini Air Force Hawk mk.129. I will make this model in this scheme.
NOTE: on hind sight I should have removed the adapted parachute pack... discovered too late...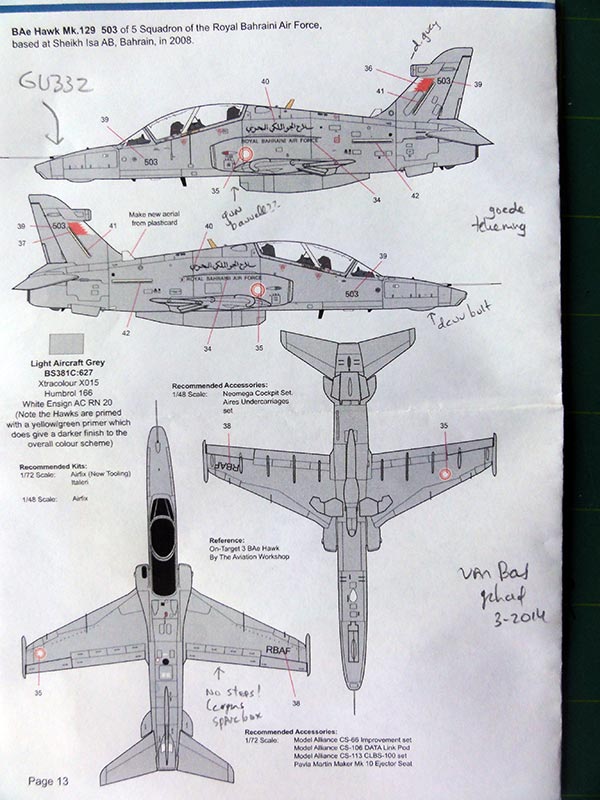 The kit assembly was done rather straight forward. (It was decided not to droop the main flaps). I had to trim a bit the rear bulkhead #6B to fit. The small antennes moulded are a bit thick and better replaced with card.
This will also help filling and sanding the joints and filler/putty is indeed needed particularly at the intakes.

The spine also needs filler.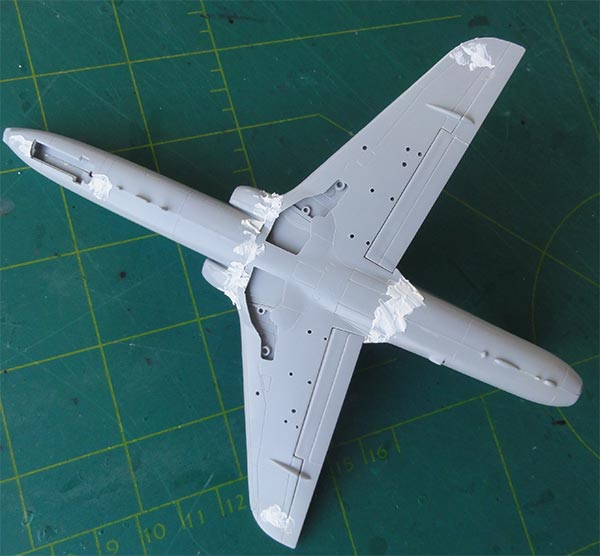 ... and after sanding...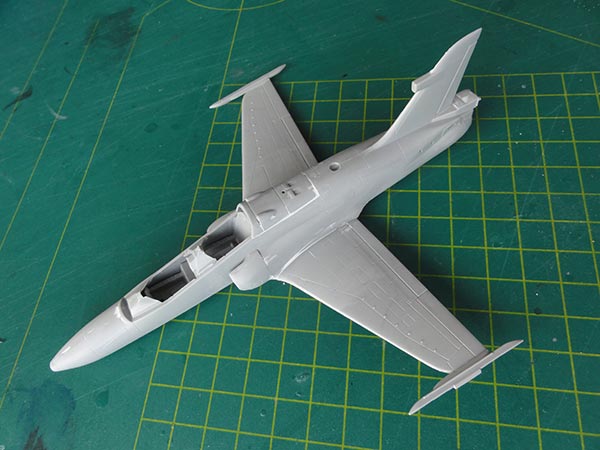 and changed wing tips and rails....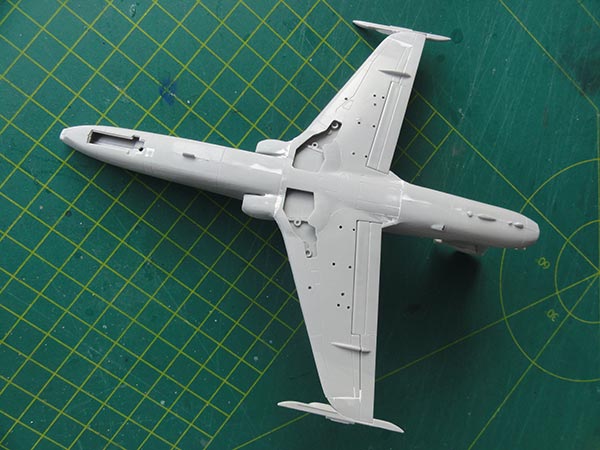 I closed the opening of the forward cockpit tub with card. The flap hinges need careful instalment, so white glue was used to close the small gaps.
Wing fences are in the kit but I saw on photos that their configuration vary, so check photos of the desired scheme and model desired. I replaced the thick fences with thinner ones made from plastic card.
At this point, the model was filled and sanded. A light grey acrylic base coat was airbrushed and any small showing imperfections corrected with putty.
NOTE: on hind sight I should have removed the adapted parachute pack... discovered too late...
For the landing gear down, the doors need to be cut in separate parts. These were also given the base paint coats.
The scheme of the Bahraini Hawk shows an overall grey scheme of BSC381C:627 Light Grey. This was airbrushed with Gunze Sangyo acrylic #332.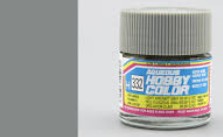 The model got a gloss varnish coat with Johnson Future/Pledge before adding the fine decals. There are no NO STEPs decals supplied, so these were retrieved from the spare decal box.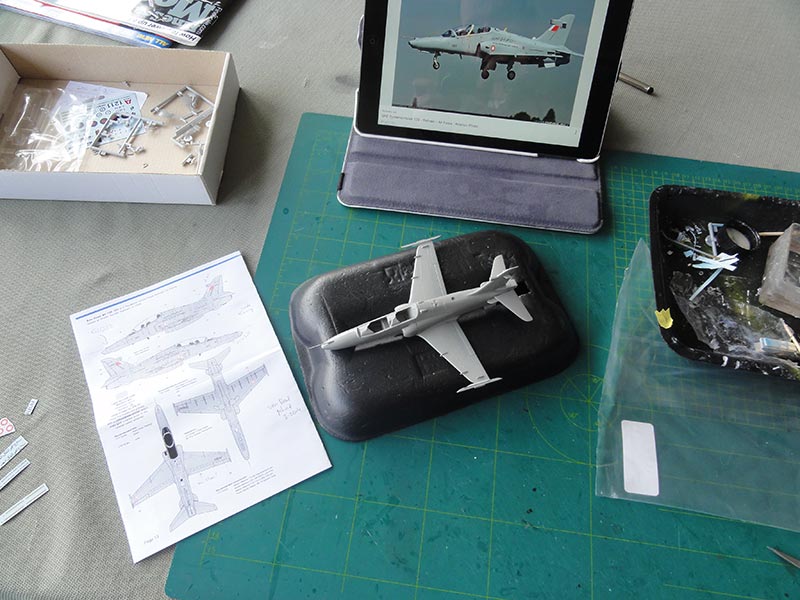 Final detailling was:
- installing a small white antenne plate below the nose and various smaller antennas.
- adding smaller probes on the fuselage cockpit sides (note: on some Hawks additional pitot tubes were also seen on the nose).
- adding small anti-collision lights on the spine and below the aft fuselage.
- the canopy edges show white lines, these were made from thin decal lines.
- smaller bits and pieces in the cockpit such as harnesses on the (kit) seats and ejection handles. Also a small HOTAS HUD from clear plastic. The canopy inside blast shield was set in place with white glue.
- 2 small rear view mirrors made from metal foil were installed in the inside edge of the canopy.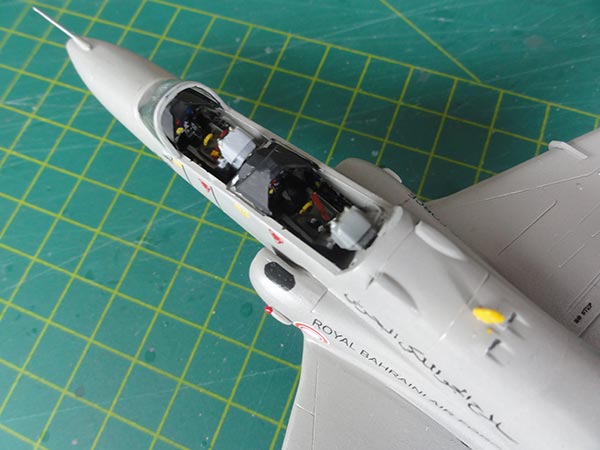 Only a gun pack was installed on this model.
The model was not really weathered as Bahraini Hawk aircraft are kept in good condition. A semi-gloss varnish coat was airbrushed through a mix of Future gloss with 5% Tamiya Flat Base X-21.
Finally the canopy was installed open on the model. That's it!