Work space


No separate dedicated workshop is used, but.... a table for the Works... So don't think that you need a whole workshop to get nice model results! Any simple setting can be used!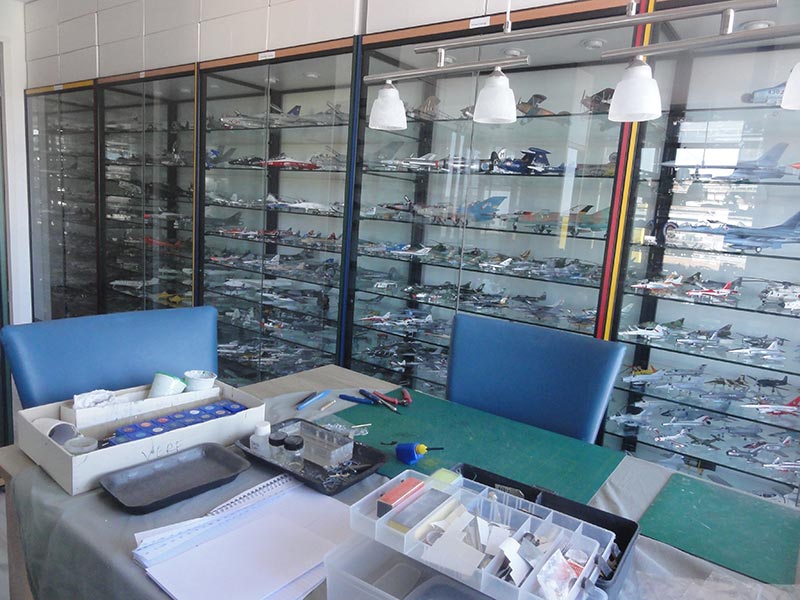 The table is next to clear windows so to get plenty of light. Sometimes I use a handy electronic tablet with USB stick or IPad with internet connection to have photos nearby while modelling.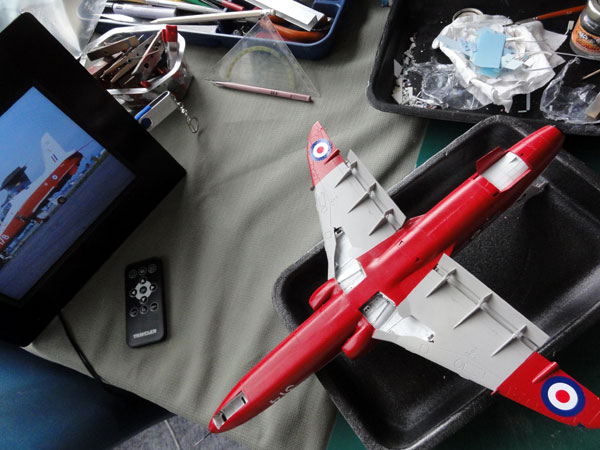 The required references are also not far away. Hundreds of books and magazines and an index/reference book is kept and maintained to find info. But nowadays I use the INTERNET to find lots of information!!!!




DuckDuckGo is my favorite search engine with much more privacy.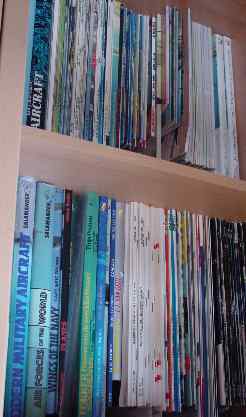 Tools
The most used tools are not that many and strange enough I always use the same handy ones:
- the X-acto knife
- a piece of metal to cut and protect the table
- scissors etc
- tweezers
- Olfa P-cutter to make recessed panel lines
- superglue from Eduard that does not "fog" with moisture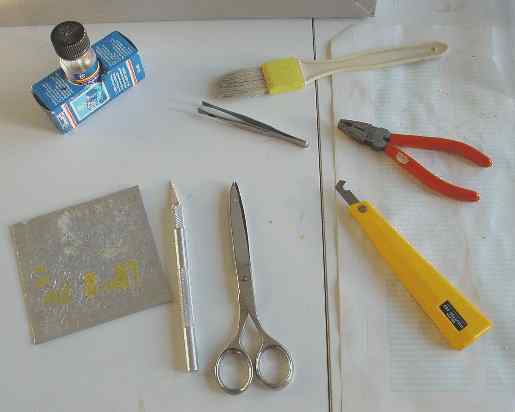 Sanding


On all models, always a bit of sanding is needed to remove ridges, flatten puttied surfaces etc. Besides wet sand papers in varying grid surfaces of 400 up to 1500, sanding sticks come in handy.
Very good and the best there is are the FLORY MODELS sanding sticks that can be bought in various grids and bargain packages.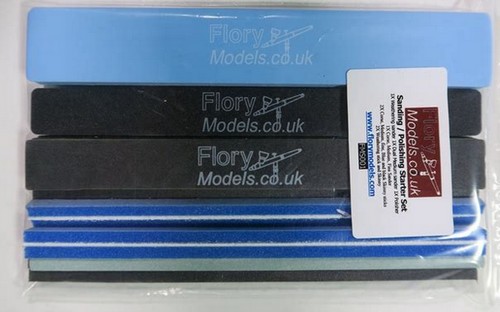 After sanding, to remove small scratches, nail polishing blocks come in handy. Also, polish paste sometimes is used with an old -shirt. Also, simple cheap toothpaste can be used for that!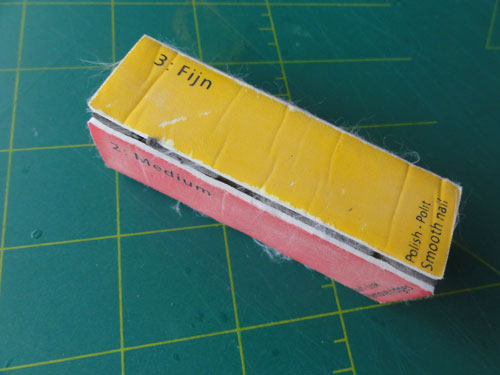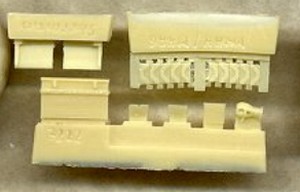 Working with resin


Resin is also often found in model kits, next to parts also complete kits are in resin. Also many after market sets are made in resin. Resin is very harmful for your health, especially when components have not dried out completely. Also, when cutting off the resin cast blocks and sanding resin parts surfaces, the fumes may harm. Allergic reactions at your skin and breath is not unlikely.


It is therefore very essential when cutting and sanding resin parts: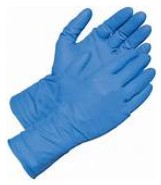 - always wear hand gloves; use nitrile gloves (not rubber nor latex gloves as the resin is not stopped)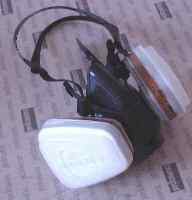 - wear a face mask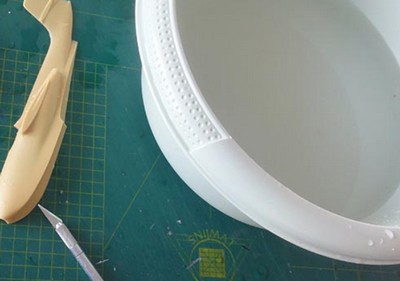 - cut and sand resin parts "under water" with a razor saw

- sand (smaller) resin areas "wet"
- when prepared, clean all parts with water and dry
- when handling the resin parts during assembly, again wear the nitrile gloves. (face mask not needed now).



(resin parts can be glued with superglue and the larger parts with 2-component glue).






Also, the TIGER razor saw is often used with very fine teething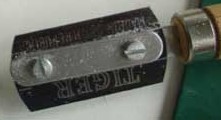 For rougher work, this saw is used: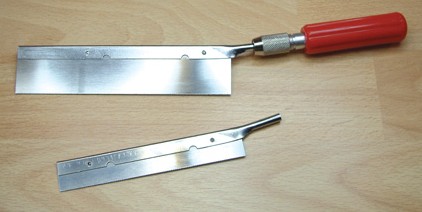 All the other stuff is kept in a portable carton box... it is a mess but lots of handy materials can be found in here....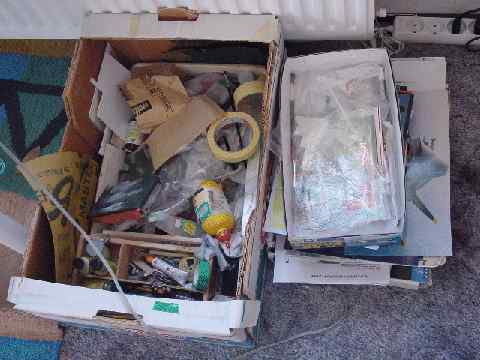 Airbrush corner
Airbrushing is done in a corner of the modelling room near a door and plenty of ventilation. As I use most of the time acrylics and wear a face mask, opening the window is often sufficient. When airbrushing enamels of even worse, ALCLAD, I open the whole door for ventilation.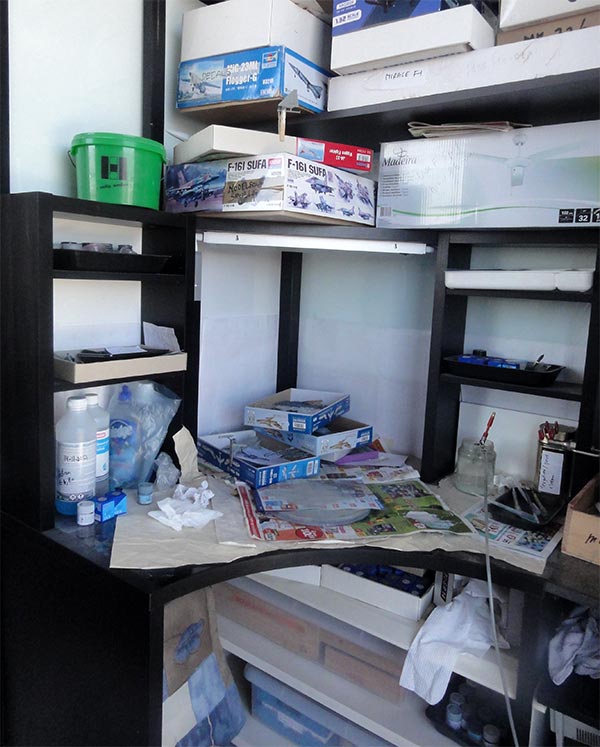 Airbrushes used

The airbrush I use is usually the Infinity airbrush from Harder & Steenbeck. Very good airbrush indeed ut rather expensive! Nozzles I have are 0.2 mm , 0.4 mm and 0.6 mm. For most airbrush work the 0.6 nozzle distinguishable with "2 rings" engraved is used. Compressor pressure varies in most cases between a very low 1.2 bar up to 1.6 bar. It has a paint feed from above.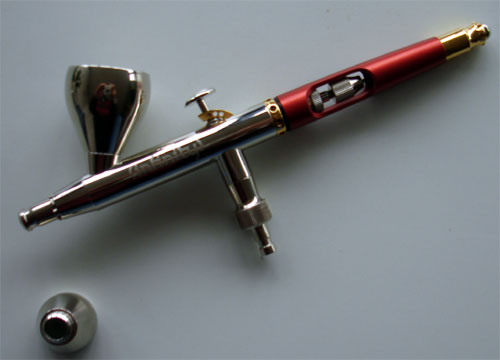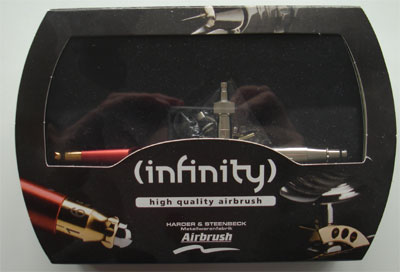 ============================
I also often use a much cheaper airbrush, the MODEL ELIZ #BD183 from Fengda. In the package you get various needles of 0,3 mm for small spread, 0,5 mm for middle spread and 0,8 mm for wider spread. This airbrush has a paint feed from the top. It can be cleaned easily.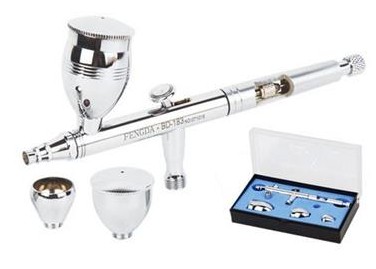 =====================
I started decades ago with a Badger model 150 double action airbrush. It is still sometimes used to airbrush large areas; sometimes a new head was purchased.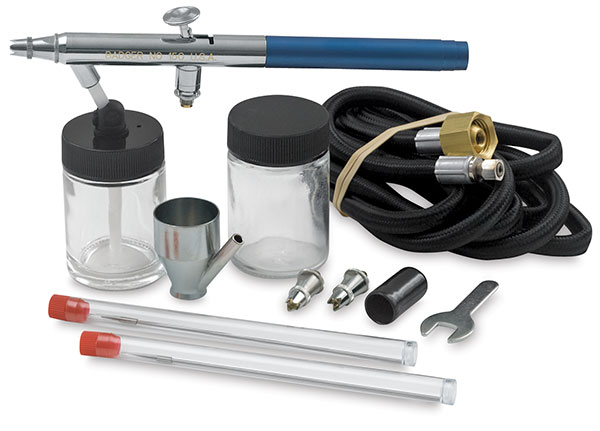 Compressor
Compressed air comes from nowadays from a SilAir compressor, an excellent and very silent compressor complete with air regulator and water trap. Compressor pressure varies in most airbrush work between a very low 0.8 bar up to 2.5 bar.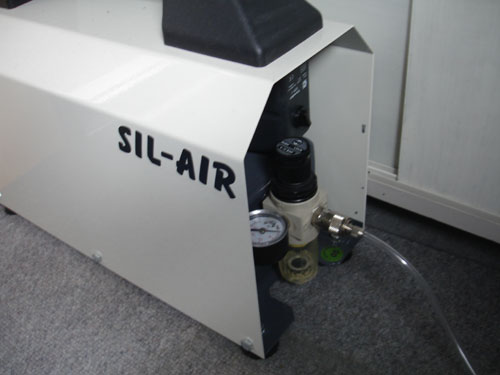 3M mask
Very important is the health protective mask, a 3M model 7002 half mask respirator with two filters. I use it every time I airbrush with also window or door open. Regularly I also replace the special carbon filters.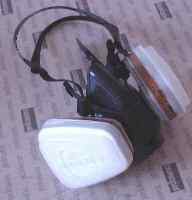 ---


PAINTS
Modelling paints used where for many years enamels from Humbrol, Revell, XtraColour.

Nowadays, I prefer acrylics particularly from Gunze Sangyo "Mr.Hobby" and Revell Aqua series.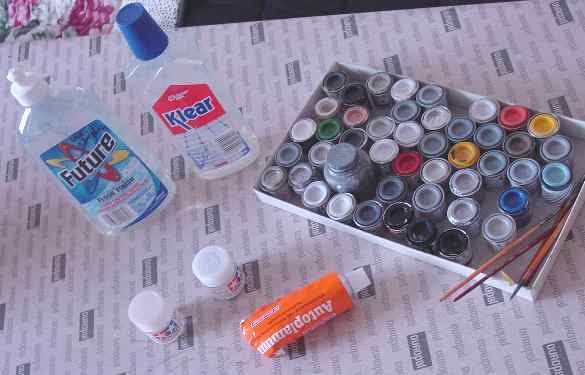 Over the last years I try to use acrylic "non - toxic" paints as much as possible. I really recommend you try to use these as well. Much healthier and far less bad air. For each thinner, use their own brand thinner!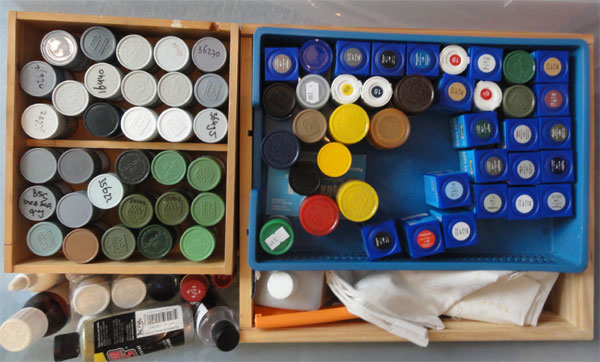 > acrylic paints such as:

Gunze Sangyo "Mr.Hobby" acrylics, these are my favorites.

By far the best acrylic paints and very good!

They are sometimes hard to find. Be sure to use their own acrylic thinner for best results.



.
REVELL AQUA acrylics in the blue square containers.
Thin these not with water but with the special Revell acrylic thinner from the glass bottle with the "light blue" label and blue shell on top. Aqua can also be thinned with a 50% IPA and 50% distilled water mix.



Sometimes for Russian aircraft, I use AKAN acrylic paints that, after being thinned with their own thinner, are airbrushed.

FINAL NOTE: I do not use Valejo acrylic after some bad experiences with adherence and drying time.



Decalling....
When a model is ready for the decals, first a couple of gloss coats were added to avoid "any" decal silvering. Usually I use...


JOHNSON FUTURE / PLEDGE
For finishing the models, usually for the acrylic clear coating used is Johnson FUTURE (renamed Pledge) as it is known in the USA.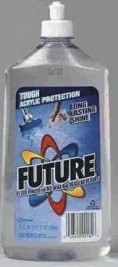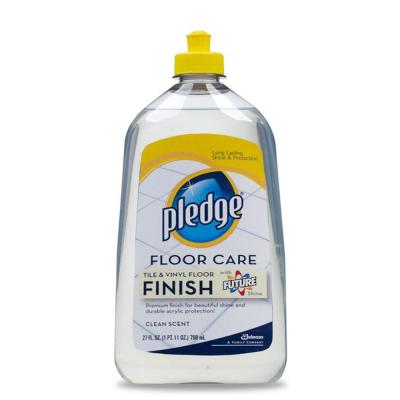 Note: often Johnson KLEAR as sold in the U.K is mentioned in the modellers world. It is noted that Johnson Future from the USA is to be preferred as it does not yellow in time. The Klear does a little bit so should not be used on white surfaces! For other coloured surfaces it is fine. And I know: I have both varnishes as used for wooden floors and have used them for many years... The Klear becomes a little yellow after some years.

Nowadays in the USA the Future is now called "Johnson Pledge Floor Care". It appears to be the same stuff as the old Future.

Future and indeed many acrylics can be thinned for a better airbrushing result. Use 70% Alkohol Ketonatus or IPA Isopropylalkohol. A mix of 60% FUTURE + 40% Alkohol gives good results. For better flowing of this varnish mix add a few drops (0,5%) of "Glycerine" that can be purchased at pharmacy drug stores, this really helps!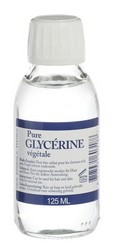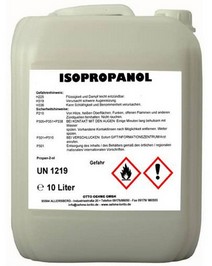 Future can also be given less gloss effects; you can mix in acrylic Tamiya Flat base X-21 .
This acts as a matting agent. Mix in ratios between 5 - 15% max ! The more matting agent added, the more matt the Future becomes. Be aware of the fact that 15% is really the maximum otherwise you get a "white" sheen over the model. If you use Tamiya, always use their own brand thinner.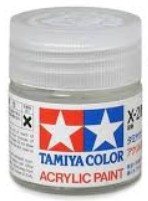 --------------
In many cases the fine Harder Steenbeck airbrush was used with 0.6 nozzle with pressure at a very low 0.8 Bar. The Future mix is usually not thinned. Spray from not less that 15 cm distance in very thin layers. This gives a nice even sheen.




Prevent Silvering


Tiny air bubbles trapped below applied decals spoil the appearance of a model. The bubbles are caused by a combination of bad decal glue and uneven under surfaces. Future can help here! Here is how it works....
1. as usual, apply a gloss undercoat on the model with Future (see above);
2. cut out the decal to be applied;
3. soak in water and wait a few minutes;
4. pick up the decal with fine tweezers and turn it to its backing; have a wet glass plate ready and use this to help handling;
5. REMOVE the decal glue with a brush soaked in water; slide/move it onto the glass plate;
6. Add FUTURE on the back of the decal with another brush; this will act as glue!
7. Apply prepared decal to model;
8. Carefully rub out any air bubbles with a brush soaked in water.
9. clean the surrounding area directly
This trick will prevent air bubbles very effectively!





End finish
A model looks better with an even sheen. It also protects the decals for many years. In most cases a semi-gloss coat can be added, best done with the airbrush. As described above, Future gloss can be mixed with say 5% Tamiya Flat Base X-21. For a matt sheen, add more Flat base to the mix. Again, for better flowing of this varnish mix add a few drops of "Glycerine" fluid.

---


Spares/ Parts


Also, the inevitable but very handy spares box is needed; keep all stuff that you don't need from kits, get from older kits etc. These parts can also be used for scratch building, conversions etc...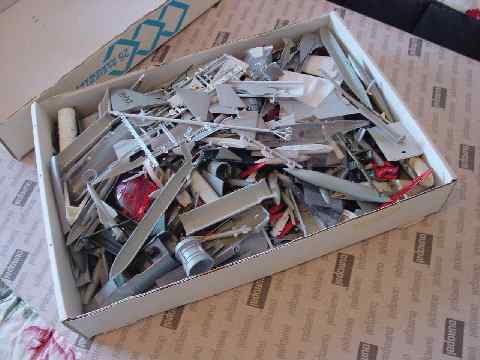 Always, prior to the assembly of any model, the smaller parts are given a basic coat of paint as required (black, white etc) while still on their sprues. A lot of model kits and sprues are than handled at the same time. This saves lots of work and time later on, instead of having to spray every set of parts for each model separately, you will get a whole set of models to "start with".... please note that only in smaller parts are sprayed and the interiors of bays, cabins etc..
A similar box has lots of spare decals and sets.

---


Masking tape
We often need to mask already painted areas, so masking tape is often needed. Very fine low tack masking tape is from Tamiya but a very cheap alternative is to use "wasi tape". It has similar characteristics.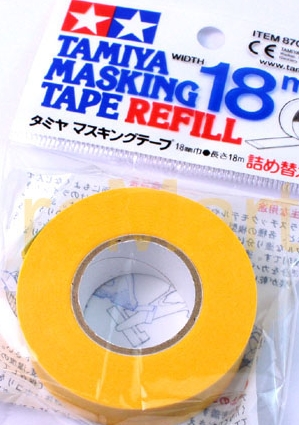 ...and .....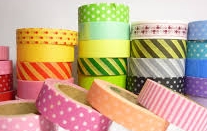 Wasi tape

---



Nailpolish remover
This stuff bought in department and drug stores can be used to remove putty without sanding! With tissue dipped into the nail polish remover you can sweep off any surplus putty. It works excellent on eg. Tamiya putty. No sanding needed and you protect your model surfaces from scratches.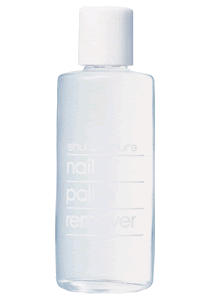 Cleaning up material
Sometimes, the paint jars, air brushes and other stuff becomes dirty no matter how well you clean up stuff every time you work with it. For drastic measures and clean-up, I use an UltraSonic cleaning device one in a while. The idea is to have the part to be cleaned up in a fluid, the molecules are triggered by the ultrasonic sound. The cleaning fluid is a mix of 80% water and 20% Tickopur R33. Try to avoid any air bubbles in the fluid as it will reduce the effect.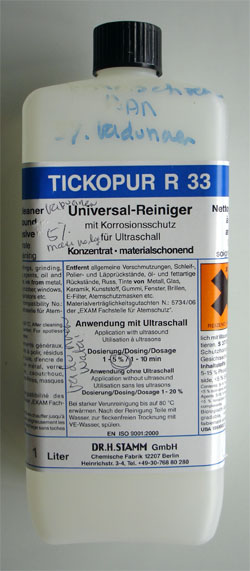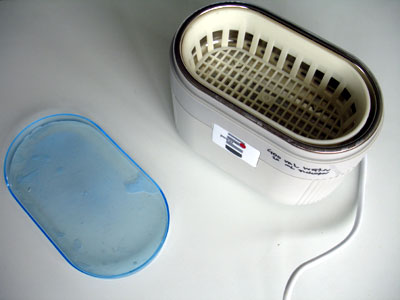 .
An alternative is called "Blue Wonder" found in many department drug stores: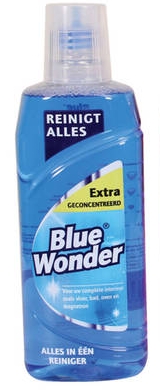 ..
Back to DESIGNER MODELLING