... continued from Hawk page 3....

Italeri released a 1/72 kit #186 in 1995. (

My modelling friend Eric gave me some additional information, Thanks Eric).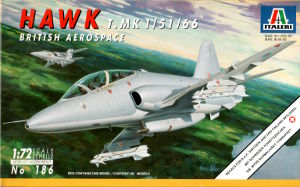 I had the same moulded kit as released by Revell(#04622) in 2001 but the box came with new decals.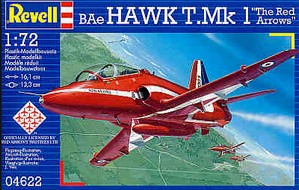 box R1
Decals in R1 for Swiss AF Hawk in a red-white scheme and RAF Red Arrows (are a bit translucent like on the REAL Red Arrows Hawks!)
There appears to be some tiny shape issues:
- the spine looks to squared aft of the canopy and canopy shape is also a bit too squared.
- nose a bit too pointy; mounting the nose wheel doors a bit different will "hide" this small error.
- exhaust pipe a bit too small.
Otherwise a nice kit with good fit. Stores include central gunpack, underwing fueltanks and Sidewinders.
[NOTE: later in 2015 Revell released a complete new kit #04921 that was based on their larger 1/32 Hawk kit]