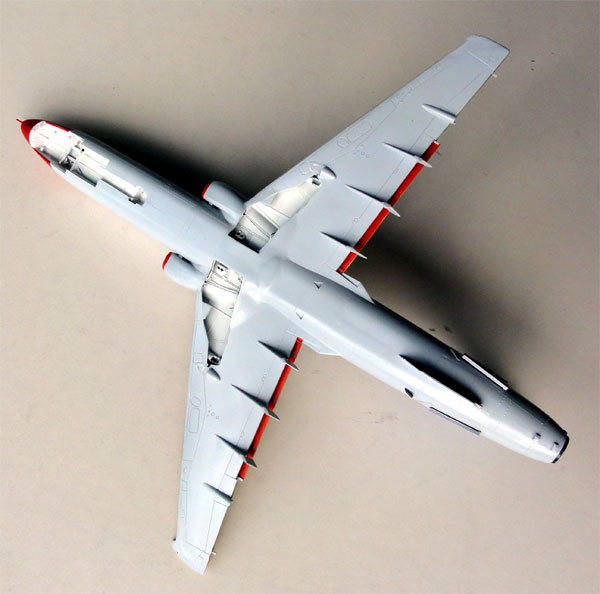 It was now time to apply all the needed DRAW DECALS (as noted on page 5...)
Each DRAW DECAL was cut out as they are all on "one" carrier film. The silk decals are a bit opaque, but as the main underlying surfaces are light, this is no problem. Only on the blue tail, double decals were set on. These are provided on the sheet. The decals otherwise look fine and accurate.
The decals are set using the usual technique: each cut out decal is set in water. Wait until it is movable on its backing paper. Slide onto the model at the correct position. Dep and dry a bit with a cloth. Let dry.



A big challenge was to apply the tow upper old fashioned US roundels over the wing vortex generators. With a very sharp scalp cuts were made in the decals. Plenty of DACO decal softening fluid was used, this took considerable time to settle. The small damages were re-touched with the appropriate paint.
The decals were now onto the model. Now final finishing was done.
With a small paint brush and a tooth pick, tiny small black details were applied on the model like missing stencilling, markings and so on.

The unique T-45 wing is now to be finished. The prepared forward leading edge slats were set onto the model. These are typical for the T-45 Goshawk. The trailing edge flaps were also set. (note that these were also slightly altered.). Note the red vane.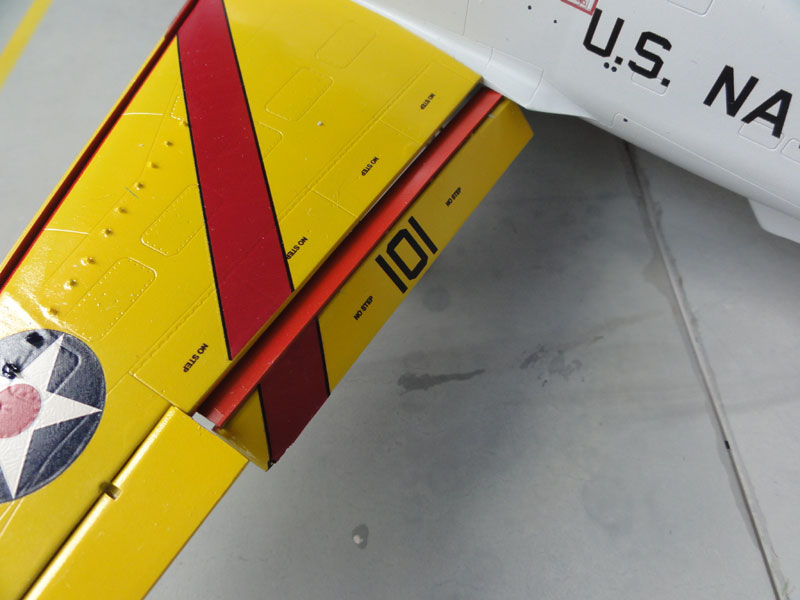 For the old style roundels, some extra paint still to be applied. Note the many vortex generators.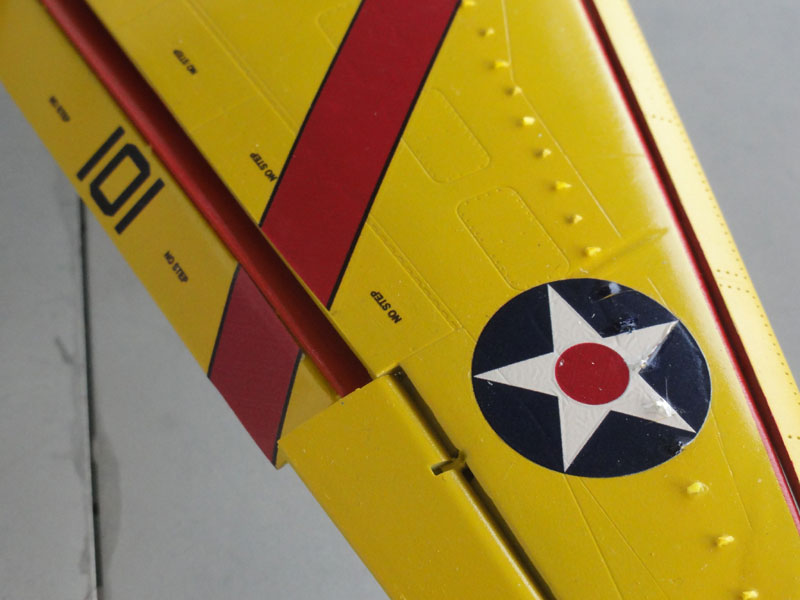 The undercarriages, that were already adapted and mostly painted white, were fitted. The twin nose wheels were set. The forward nose bay doors were set open. On a T-45 they are also often seen closed on the ground, so this is optionable.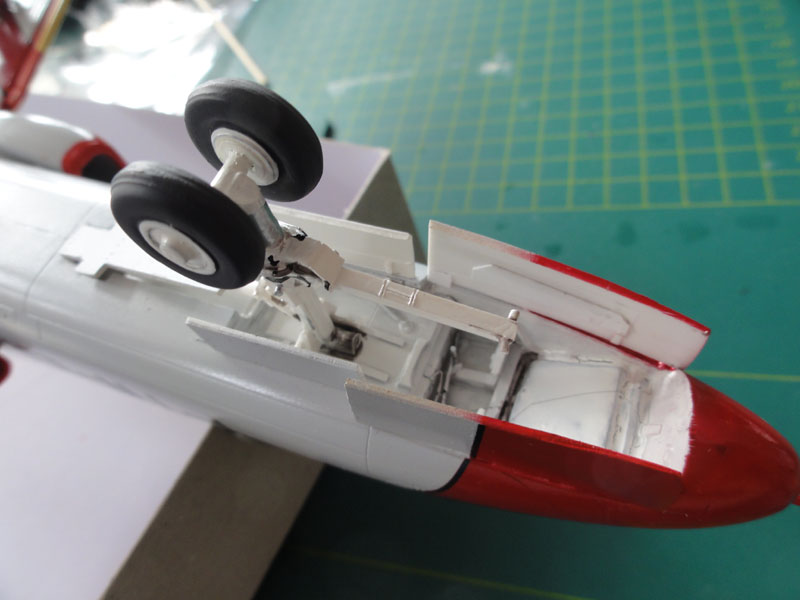 Some more weathering/adding some wash will be done later, but the aircraft are kept in good condition.
The main inner gear doors were also set open. (closed is also seen on real T-45's). The main gear sidestrut was made from card and rod previously. The doors were also adapted in an earlier stage. On some doors, a decal is also seen for the picked T-45 scheme.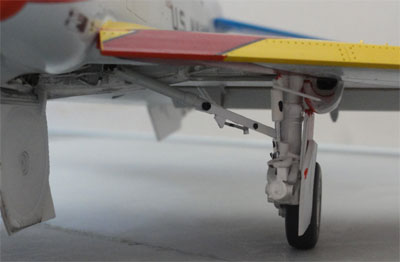 On the gear legs, details were painted. The forward swivelling fairing was made from parts of a droptank found in the spares box.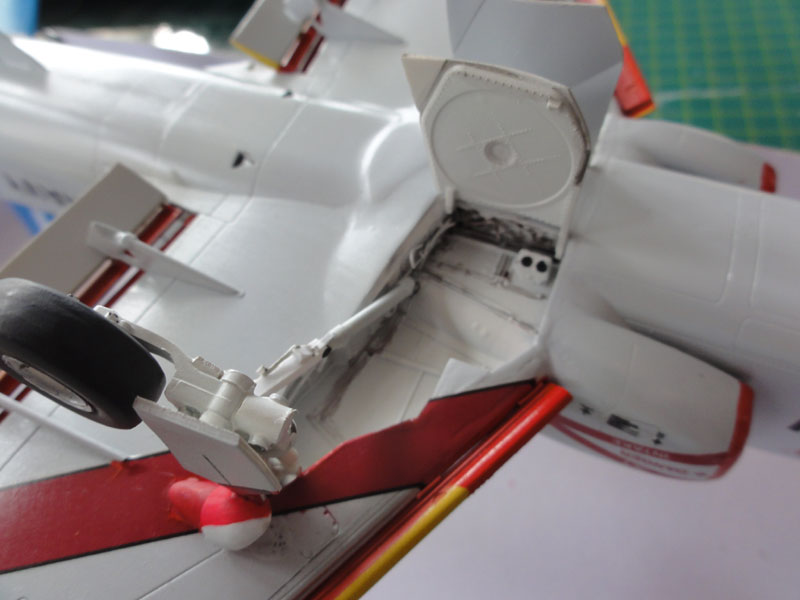 Some touching up with the appropriate paint was also done.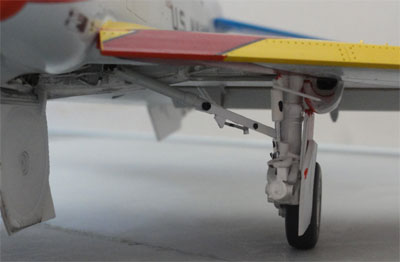 ..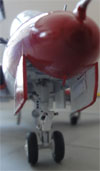 For the tailhook, the black striping was applied with a paint brush. It was fitted to the single central tail strake.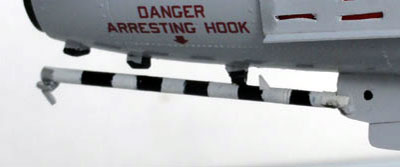 Stabilizers were fitted, that was easy. The T-45 tail vane, that was made from thin card, was set near the stabilizer on each side. Also now well seen are the raised rivets.


Overall, the result looks fine. Here a lower view shows the details.