M- two perforated airbrakes on rear fuselage
Seen above here is also a small plate on the rear fuselage area to accommate the specific T-45 side air brakes. These were made from card. Some sanding with a file still needed.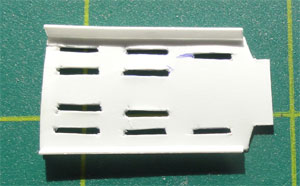 Raised rivets on the rear fuselage end are also well visible on the T-45 (just like on the Hawk). With MICRO MARK rivet decals, the rivets were added in several rows. The rivet pattern is different as compared to the Hawk.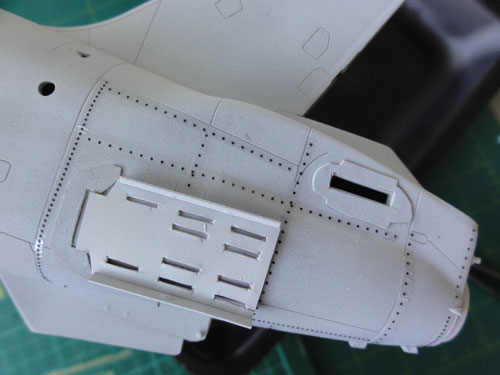 .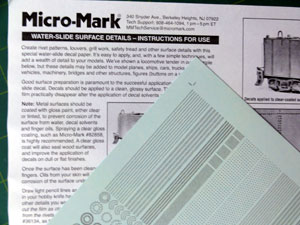 STEP 22
The nose wheel doors are completely different on a T-45. These were made from plastic card. Note that the forward nose gear doors are here opened, but on many parked T-45's these are also often seen closed. So it's up to the modeller what to choose.


STEPs 25-26
D- twin nose wheel gear with catapult launch bar (and larger nose wheel diameter)
The T-45 has a completely different nose gear with twin wheels. Wheels were found in the spares box, they have a diameter of mm in 1/32 scale. (I don't know their origine). The nose leg was made from plastic rod and sprue. It was painted white.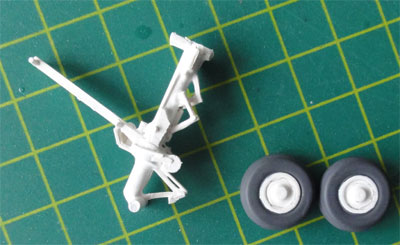 Additional painted detail to be added later.




STEPs 29-30 and STEPs 36-40
The T-45 has...
F- stronger undercarriage with larger main gear (bulged) bays (and bumped fairings on the wingtop root area)
The main undercarriage legs are more thicker and different in shape though. The kit parts were used but severely adapted and new bit and pieces of rod, card and sprue were used here. White glue was used to get smooth shapes. Photographes were carefully looked at of the real T-45.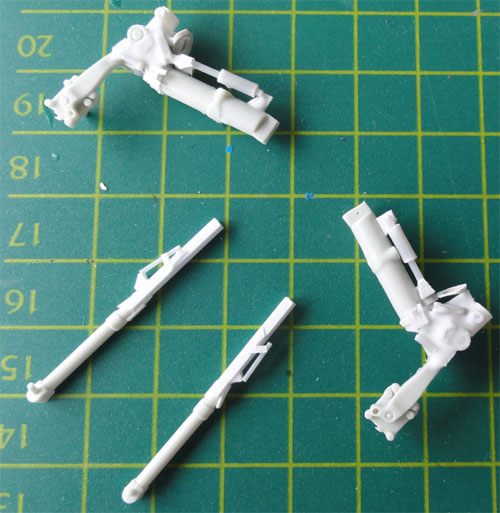 .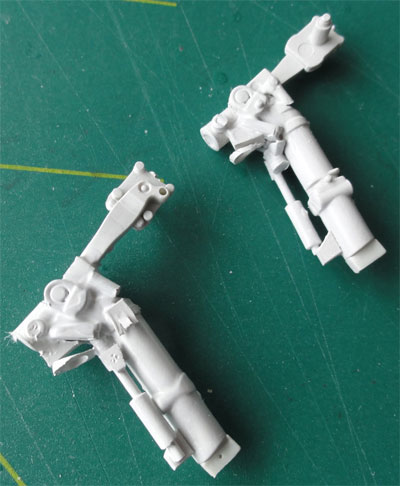 G- thicker main wheels with larger wheel-hub
It was not 100% clear if the T-45 main wheels are thicker than on a normal land based Hawk, but they looked thicker. It was decided to add two round plastic disks between the 2 wheel halves of 0,5 mm thickness each. Made from card, these were glued and gaps filled. Sand smooth and paint black.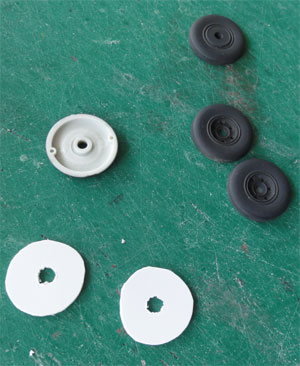 .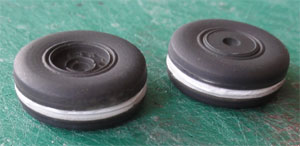 STEP 33 with the antennas was skipped as well as STEP 35 for the nose gear.




STEPs 41,42,43
The main gear doors are a bit different as well. The inner doors (section of kit part #100 and 107) is more bulged and has a slightly different shape. Some new doors were made from plastic card. There is also a movable bulge fairing on the outsides of the main gear bay. These will be made of 2 spare fuel tank halves.


STEPs 42-43
Inside the main gear bays, some additional details like hydraulic pipes and wiring was added made from stretched sprue and rod. The gear doors were not yet fixed, will be done as a last stape when they have been painted.
STEPs 44-45: not needed for the T-45, a different ventral fin was already made.
STEPs 46-53 Armament: were skipped for this T-45 model.
STEP 54
The kit nose pitot tube #120 was added. The nose glass was added previously and sanded and puttied.