The fuselage was further prepared with putty and sanding. Here the rear end is seen, with the closed airbrake area of the Hawk and improving the curve at the exhasut pipe.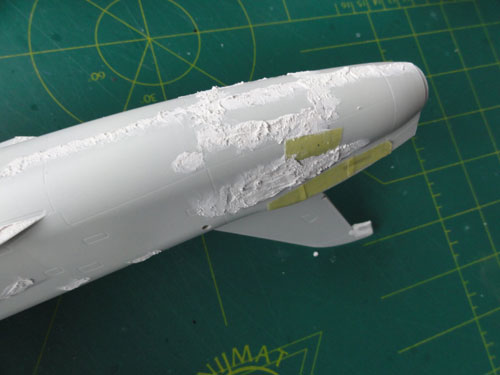 The wing was also puttied and sanded as a separate assembly. NOTE: the bulge next to the main gear bay is a movable part! It opens up when the gear is down (so not fixed glued on here).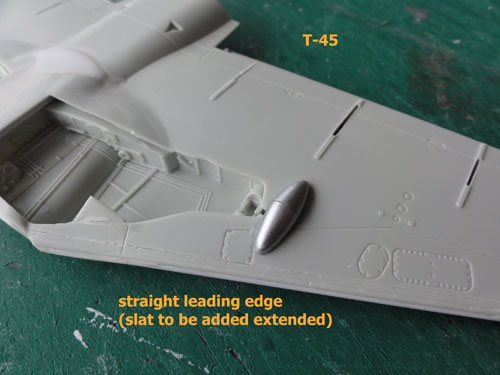 Here, the wing tip change is also seen for the T-45. The fence is not on a Goshawk, so also needs further filling.
On the upper wing, the slat recess area will be suggested with a red paint leaduing edge, to be done later.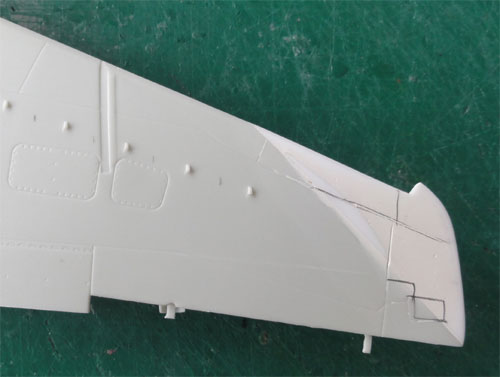 The main assembly was done setting wing to fuselage.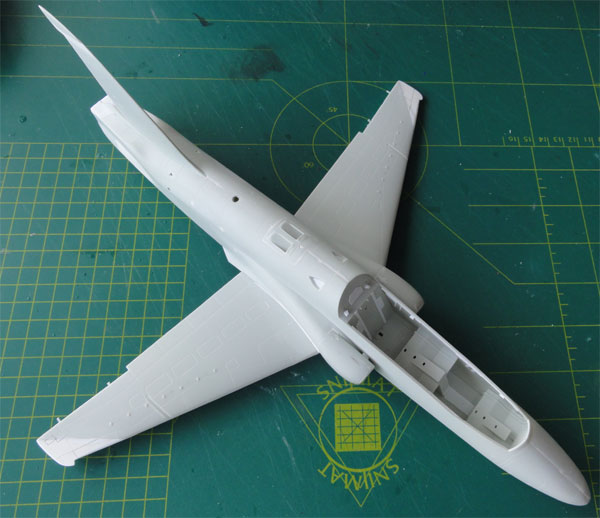 The gaps were filled and some work is still to be done...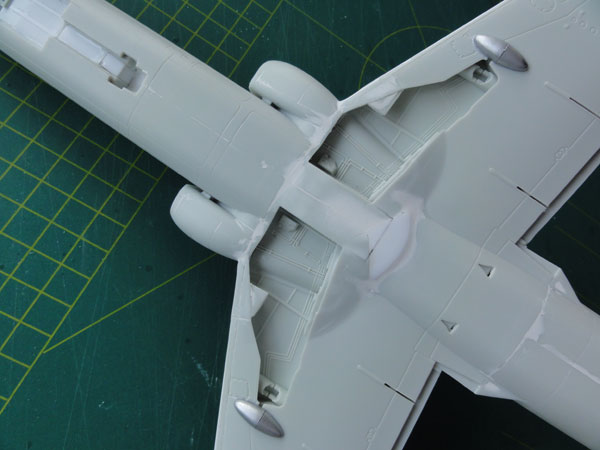 The assembly was given a light grey primer coat with the Airbrush to check for any irregularities. These were corrected with putty again.
F- (bumped fairings upper wing-root)
The wing fuselage joint has also a bumped fairing on the upper wing-root area (thanks to Daniel who informed me on this). (on the Kinetic 1/48 kit these are missing as well).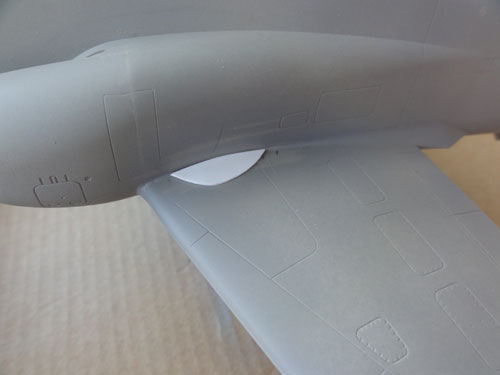 These bumps were made with card and putty. Sand in shape.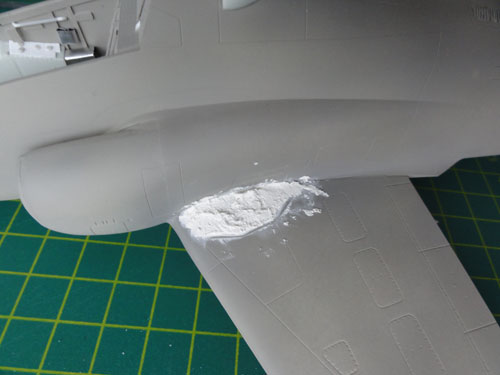 These are very subtle but important details.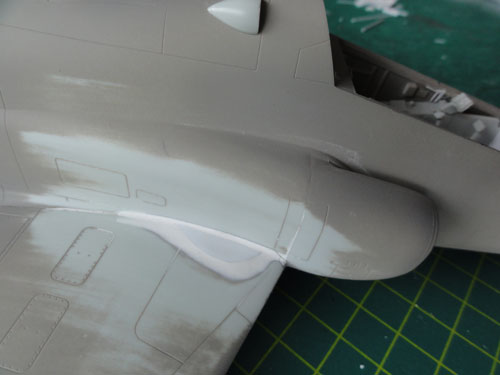 Here on the right hand side wing.
STEPs 54- 55
The upper fuselage intake scoops (kit parts #52 + 53 ) are also seen above. These were reduced 2 mm in length at their forward edge This looks better as compared to the real scoops. Antenna #119 and parts #115, 116, glass 51 were not fitted on the T-45. The nose pitot #120 will be used but fitted at a later stage
K- single ventral fin (with arrestor hook)
The T-45 has a single ventral fin. This was made from thick ard as sanded in shape.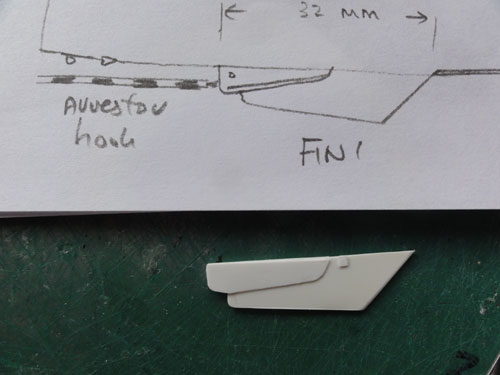 A sort of end-plate is seen at the horizontal stabilizer, this was made from very thin card: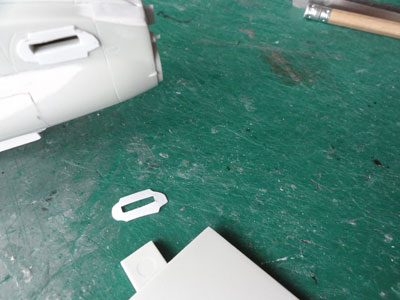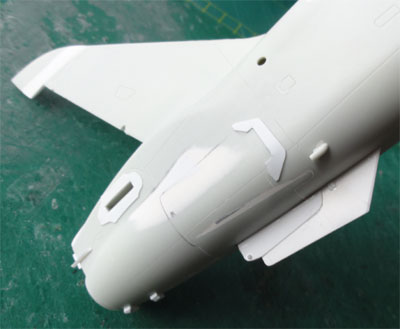 STEP 20
The kit ailerons were simply assembled but not yet fixed onto the model. The leading edge fences (parts 384) are NOT required for the T-45 Goshawk.
STEP 21
The wing assembly was discussed on previous pages. flap hinge fairings (parts #81,82,83) were adapted to accept a drooped trailing edge flap as always seen on a parked T-45. This is quite some work. The kit parts were cut and a rod added for the actuator.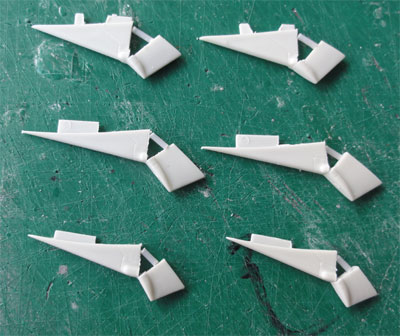 The hinges are seen here set on the lower wing...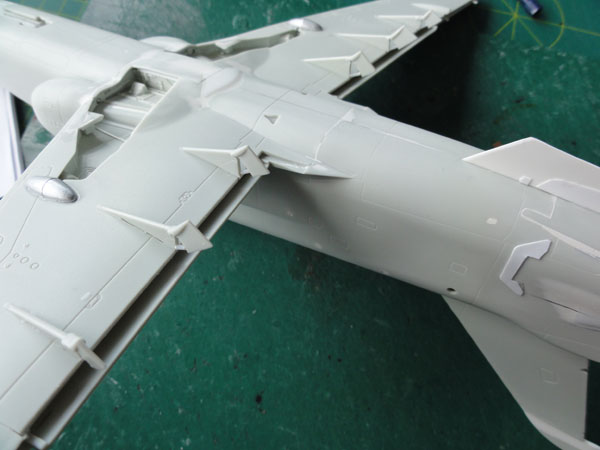 STEPs 23-24 and STEP 27 for the larger horizontal stabilizers were already described on page 2....
They were not yet fitted though.
STEP 55
The upper scoops #53, 54 were reduced 2mm in length. Next they were fitted on the fuselage spine. (The antenna #119 was not used).
A base coat of very light grey was added again with the airbrush in areas to check for any flaws.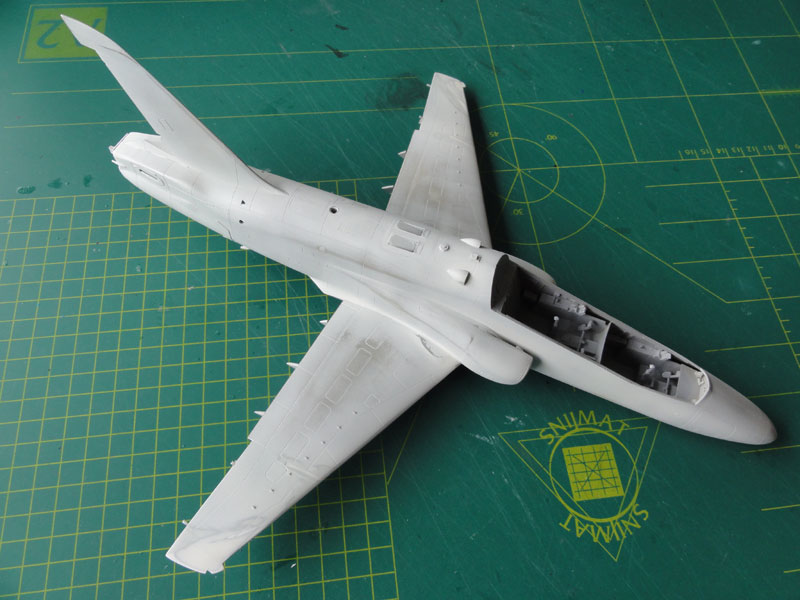 *(note: the extra wing vortex generators of the T-45 are still to be added...)