The main "razor saw" work was done for the T-45 Conversion. Now some kit assembly is done.

OPEN UP Scoops
On the fuselage some smaller intakes scoops are only inscribed, these cry for opening up.
Scoops were opened with a knife:
- one on the nose
- one on each side of the rear fuselage near the vertical fin base
Close the internal gaps with some card to prevent "see through...".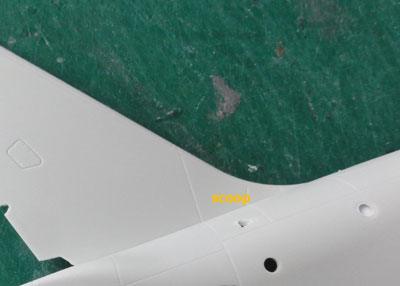 STEP 1
The inner walls at the cockpit need some extra detail with stringers and panels. With EVERGREEN strip and thin card, detail was added also on the rear bulkhead #13. This is seen here for the Hawk, that needs similar details: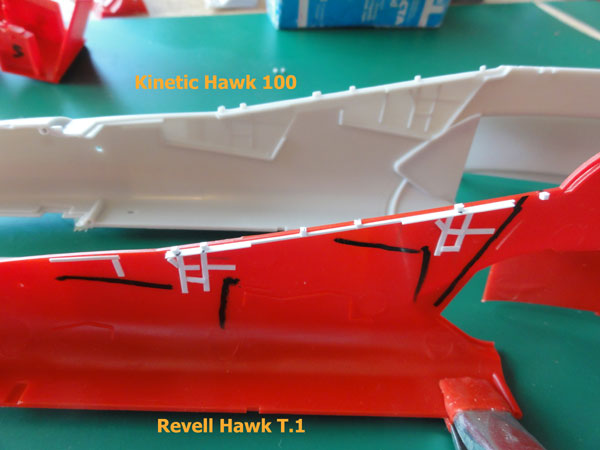 NOTE: for the T-45, do not fit yet the cockpit sideconsoles #3,4,5,6 yet!
Cockpit detailling will be done later using photo's.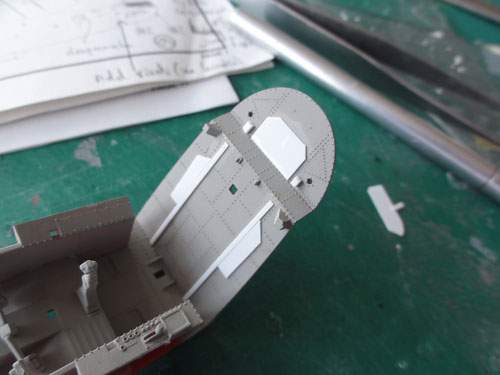 (here the Hawk kit is seen)
Note that the T-45 cockpit itself is not yet detailed!


Skip STEPs 2,3,4,5
STEP 6
Close the fuselage holes (for lights #21+22 + 36 in STEP 13) with card. Will be filled on the outside later on.
STEPs 9, 10, 11
Assembly the very nice air intake tunnels, the colour is white. Nice that Revell provides these tunnels, but not a lot can be seen later on. Also assemble the jet exhaust pipe, paint black inside.
STEP 12 combined with STEP 15
Insert the prepared cockpit tub/ floor inside the forward fuselage. Insert the two intake tunnels (the airbrake bay part #34 is discarded).
The intake tunnels are now best aligned with the air intake parts #40,41,42,43 as indicated in STEP 15. Do this now, it will reduce any remaining gaps and reduce the sanding work. I found the fit is much better if the guiding locating pins are removed, e.g. flatten intake parts #41,43.
The fit is than very good, but I found an awkward injection mark on the inside of the left fuselage #35, seen here: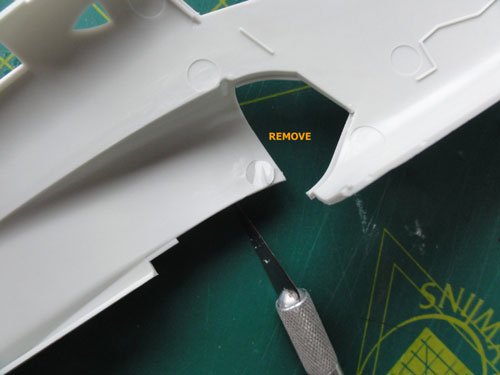 Remove this with a scalpel and the fit is excellent.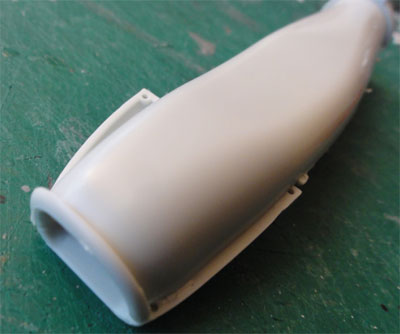 Adapt the speed brake #65 is used to close the gap (see STEPs 43, 44). Remove the bulge on the brake. Later on a single ventral fin is added as seen on the T-45.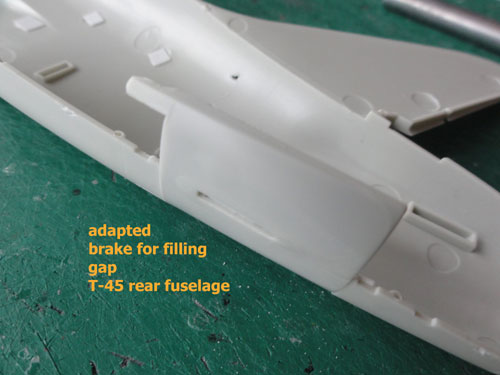 The fuselage can now be closed...... (kit STEP 14).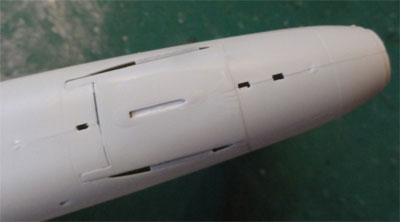 A tiny strip is inserted on the nose (a larger 2 mm insert was fitted previously on the lower nose in front of the nose wheel bay.)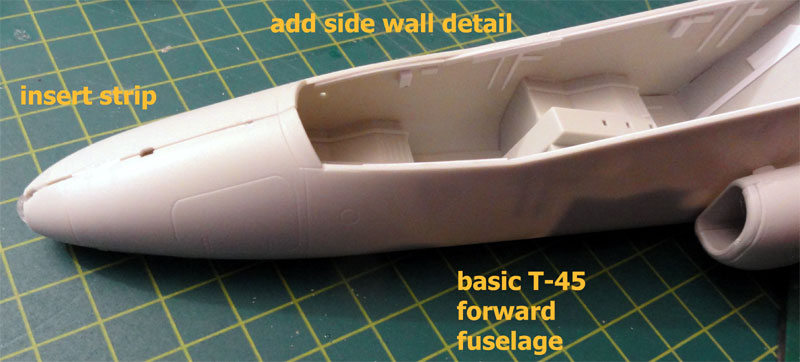 Cockpit detailling will be done later.
STEP 15
The upper exhaust panel #39 has a good shape (in the Kinetic kit a wrong shape). Set in place.
Now filling with putty is done on various areas. The separate fuselage and wing will make handling easier.