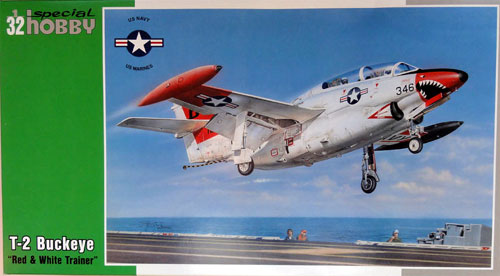 The Special Hobby kit was released beginning 2014 in two boxes:
- Red and White US Navy trainer , kit no SH32037
- Camouflage trainer, kit no SH32059 (Greek)

I had the "Navy trainer" kit. It is a short run kit, but the quality comes near a normal injection kit. The only difference are the large number of sprue gates. There are some 7 plastic sprues and resin in the box, total about 200 parts. The parts as the clear canopy and windscreen are in separate bags.
The A5 size instructions are in colour and clear.

The decals look fine to 3 US Buckeyes in a white-dayglow red schemes:
(1) VT-23 Town of Waterman with shark mouth, US Navy
(2) VT-26 , 1975, US Navy
(3) CTW-6 US Marines
(the blue in the US stars-and-bars is too bright and should be darker blue, so replace). The decals are VERY thin so take care when applying them.

Full intake ducts and exhaust pipes are provided. Inside the gear bays, the sidewalls have details and some mechanisms for the doors. Two ejection seats in resin are inside as well and look fine. Considering the IPMS NL Walkaround (see below), the kit looks nicely detailed. Flaps are separate as well as elevnators, rudders and ailerons. No armament is in this kit, being a trainer. Two wing tip tanks are to be fitted.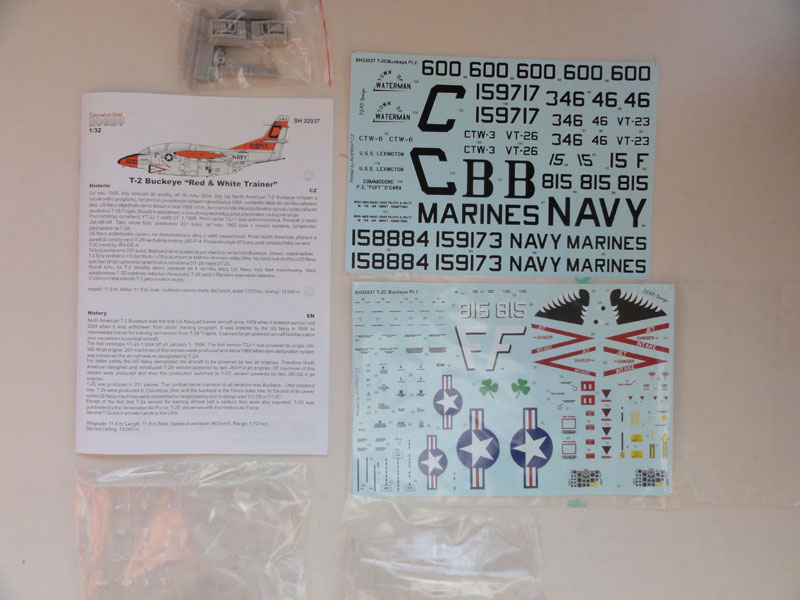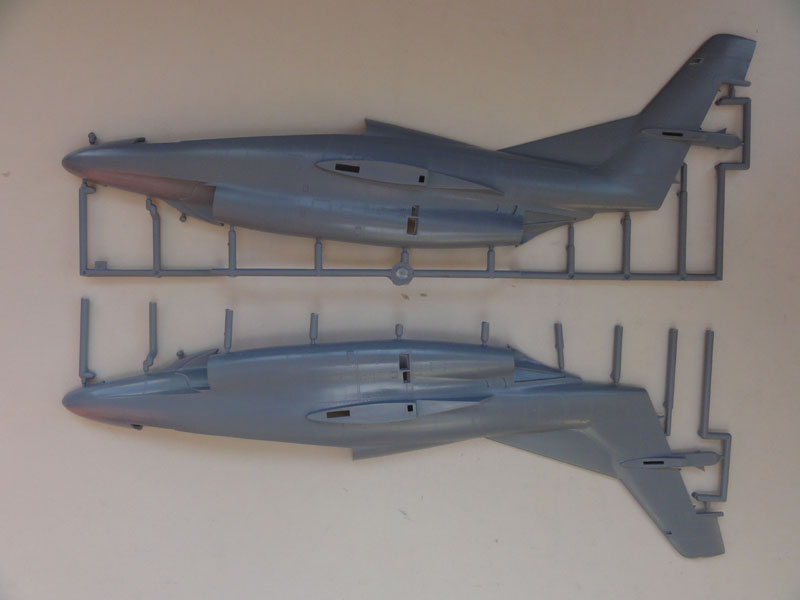 The parts in light grey plastic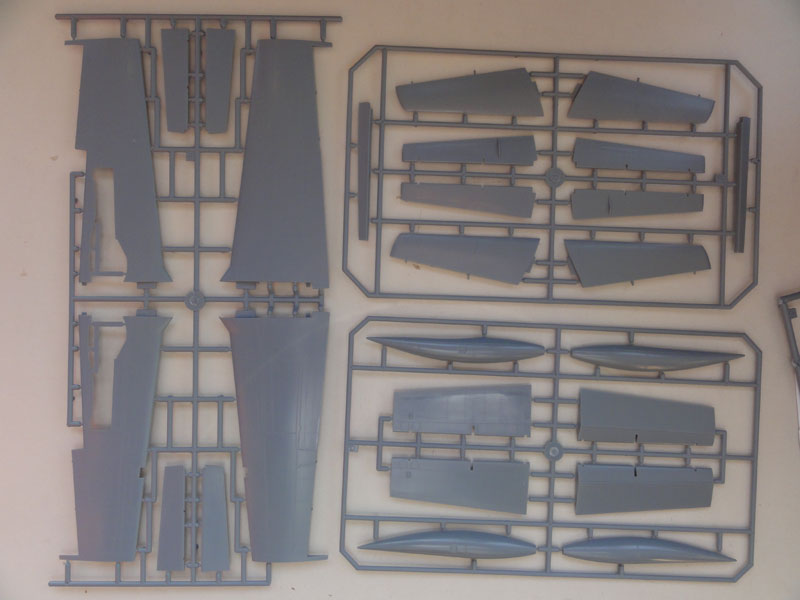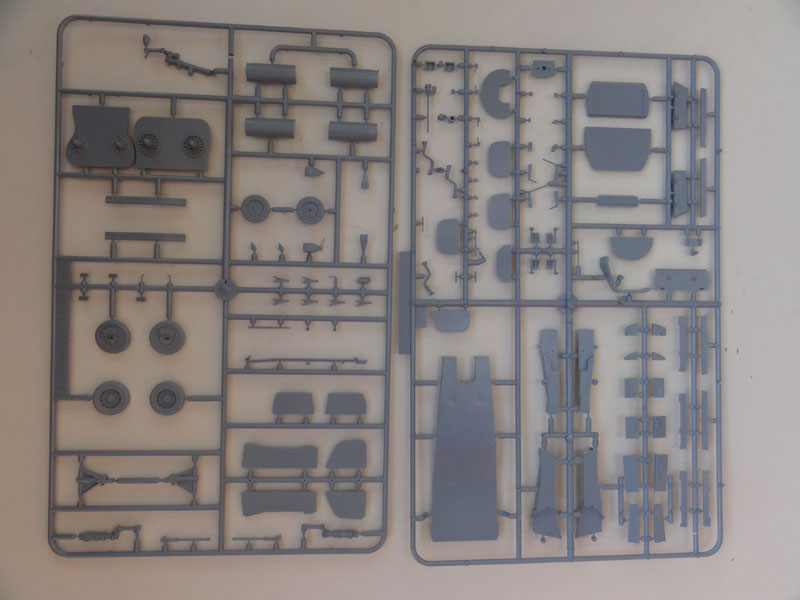 Below are the resin parts with 2 seats and some small detail parts.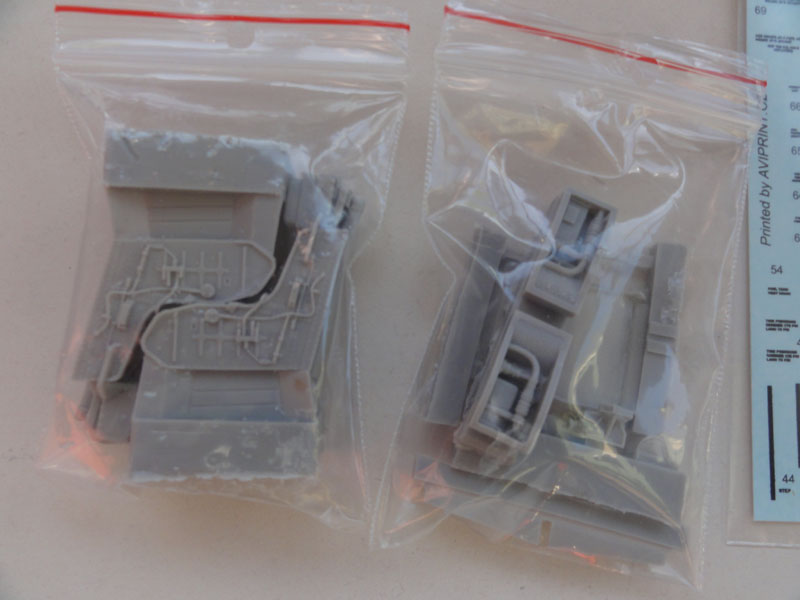 Panel lines of the kit are engraved with also nice rivet detail. The removal of parts from this sprues and cleaning up their sprue gates/attachment points takes time on each part.
The cockpit is nicely done with instrument and side panels with raised details. For the instrument panels, decals are also provided. Some added detail is welcome in the cockpit as it is very well visible: some tubing added on the bare sidewalls, some electrical wiring on the rear instrument clockwork and some tiny bits and pieces on the coaming between front and rear cockpit and some added details on the canopy framing etc. This can als be done with bits from the spares box, some rod and stretched sprue.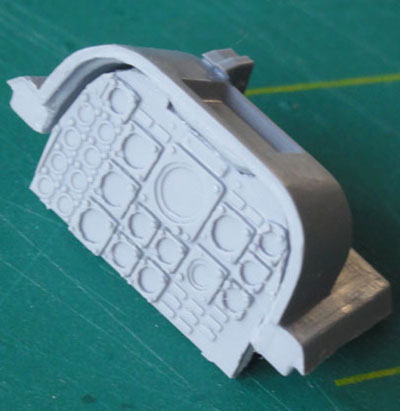 This kit will be made as a T-2D of the FUERZA AEREA VENEZOLANA as when it was first used with the FAV roundels and flag. Ordered in February 1972, 12 T-2C's were designated as T-2D and delivered mid 1973. It had slightly different systems, an attack capability with 6 pylons and no arrestor hook (this I discovered later on).