A

very old

Revell kit was made. The kit, no. 04318 dates from 1988 and was based on the first released kit #H-222-3800 (seen here...) but got some changes like a one piece shaped canopy. It also got

a new

additional sprue with a new tail, new seat and larger stabilizers.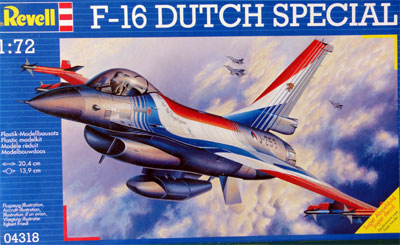 The title "Dutch Special" refers to a special scheme and the included decals for a Royal Netherlands Air Force demo aircraft, coded "J-253"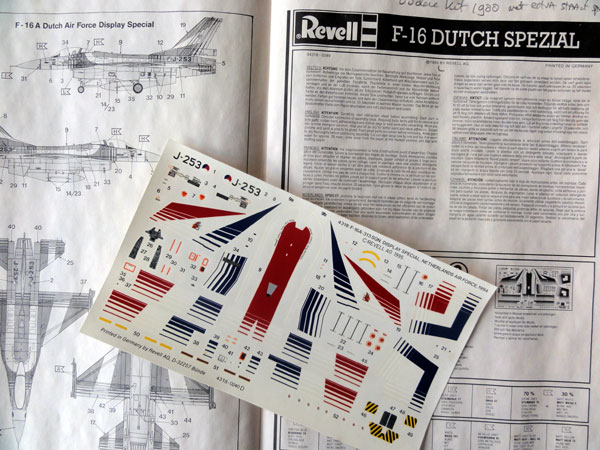 (the decals, of which I have 2 sets, will be used for another KLu F-16A demo aircraft model in the future).

In this release the sprues with goodies such as engine, its transport dolly and pulling tractor are still included. But the old stores in the kit are almost unusable and better replaced. If you have several kits these is no problem.

The kit has also a good looking intake and the option to set the rear air brakes open. But they look a bit crude and better set closed.

Panel lines are engraved though a bit thick do not look bad.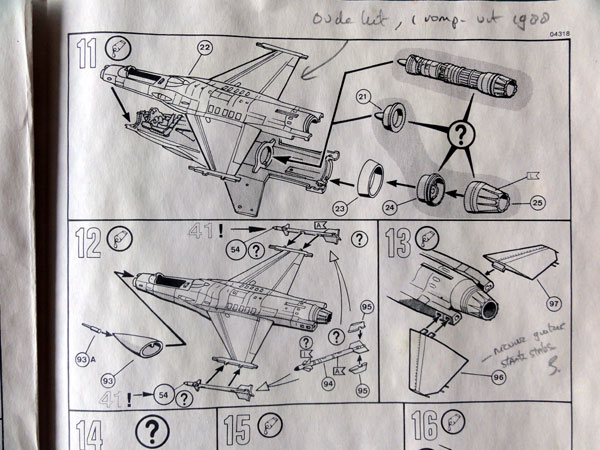 This aircraft had the upgrade with the long parachute fairing at the tail base.
So Revell included a new sprue in the kit with also this tail fairing as seen here...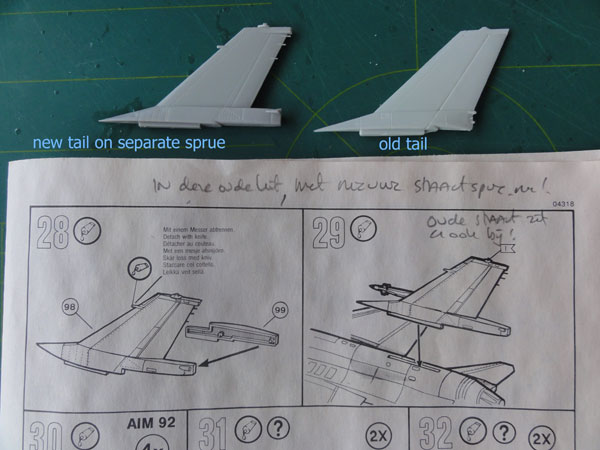 The sprues also had the new enlarged horizontal stabilizers.


This kit was made as an F-16A Block 15 OCU aircraft as delivered to the Indonesian Air Force TNI-AU (Tentara Nasional Indonesia - Angkatan Udara) with first delivery of 12 aircraft being probably in 1990 under the program "Peace Bima Sena".
Decals would come from AZTEC set 72-028 which is an excellent sheet with also plenty of detail stencilling. (This set has also Italian F-16 ADF markings).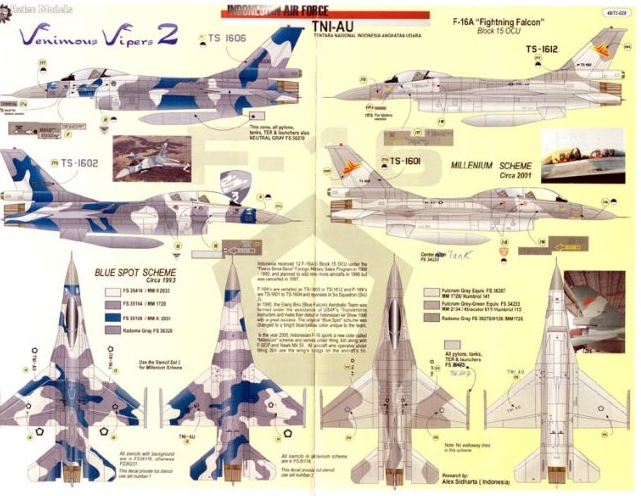 It was decided to make the old model but with a few refinements:
- the kit vertical tail was still replaced by a spare one from the new Revell F-16 MLU kit #04612 with long parachute fairing. It looked slightly better;
- the new horizontal stabilizer in the kit looks to be undersize and a bit thick; they were replaced with spare ones from a Hasegawa F-16 kit;
- the ventral fins (parts #49,50) were replaced by spares from a Hasegawa kit that looks finer and better;
- the wheels of the kit are very basic with multiple parts enabling these to "rotate". They were replaced by much better spare wheels such as wheels #46 from a MLU F-16 kit;
- wing pylons came from spares from a Hasegawa kit; the kit parts are very basic and the kit fuel tank is a very different shape.
- a new spare ejection seat was to be set in place;
- the pitot tube was replaced and made of a metal needle;
- the engine was not installed, only the exhaust.
The model was for the rest assembled. Filler was needed in many places but it can all be sanded smooth.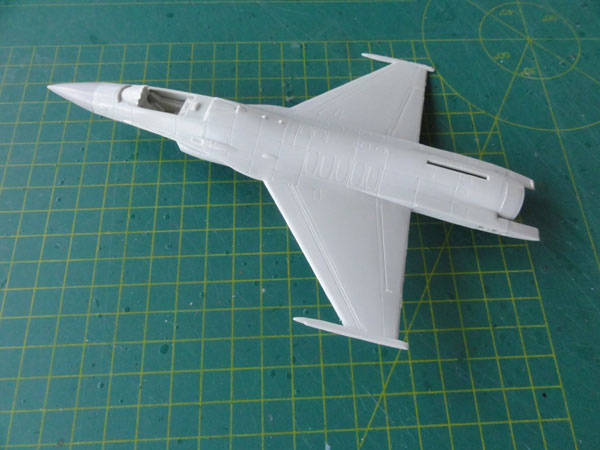 The main gear bay is undeep and just like the nose bay has no detail; it was decided not to refine this as not a lot is seen when the model sits.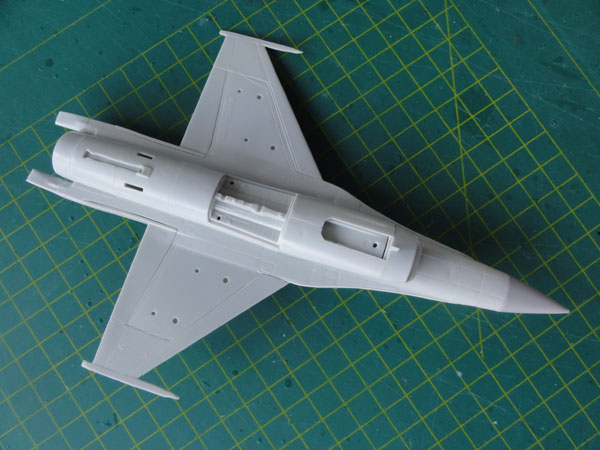 After a base grey coat, any surface errors and gaps were corrected.

The Indonesian F-16 colours for the desired Millennium scheme were a bit a guess.
AZTEC suggests:
(1) - grey "Fulcrum" like FS36307 (Humbrol 141 enamel) ;
(2) - pattern with medium grey-green "Fulcrum" about FS34223 (Humbrol 115);
I used these acrylics to be airbrushed:
(1) overall first base Gunze Sangyo H324 applied
(2) a mix of 50% Gunze Sangyo H321 + 50% Gunze Sangyo H324 + drop of dark blue; this second colour was determined looking at various photos.
Before applying the second colour, masking was done for which I used Revell Masking Film and low tack tape.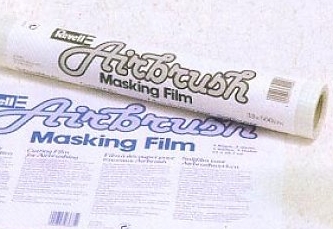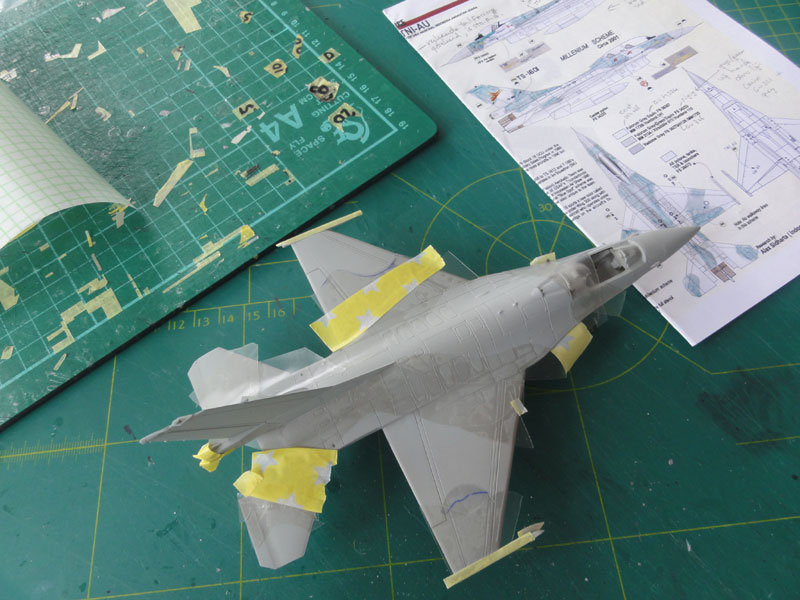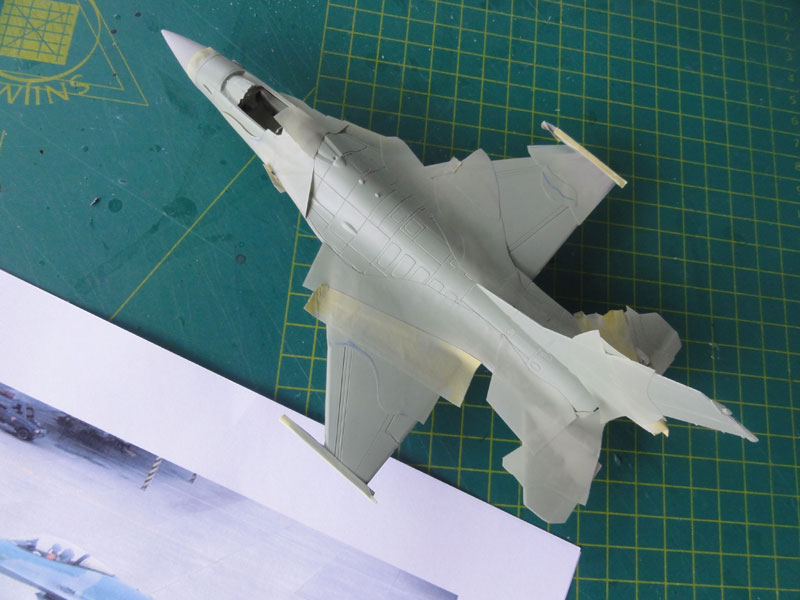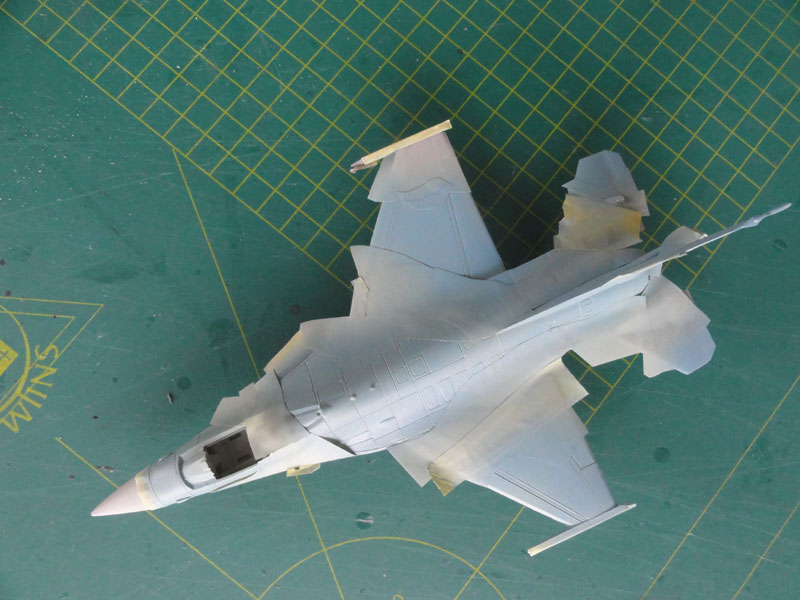 The other colours were also applied such as white inside gear bays, doors and so on. Some with the airbrush, some by brush painting
The landing gears were installed but with better spare wheels from other F-16 kits.
The single piece kit canopy has a slight smoke sheen and looks good. Part of the frame was painted black. It was to be set closed. The tiny gaps were filled with white glue and painted when dried.
The model now got prior to decalling a gloss coat to avoid "silvering". I airbrushed a thinned Johnson Future/ Pledge applied in a few coats but you can also use your oww preferred method off course.
The AZTEC decals 72-028 were put onto the model. There appears not to be a lot of stencilling but there are a few very dark walkways.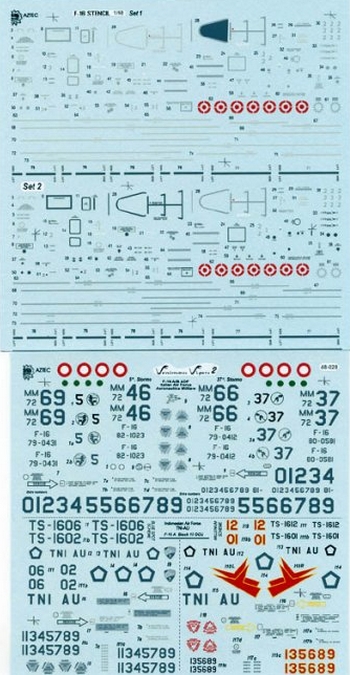 A bit wash was added with a brush at the center fuselage maintenance panels and inside the gear bays and gear legs; a mix of acrylic varnish and black paint will do. Swipe off when applied, the corners and panels will retain the wash.
At all trailing edges fine static dischargers were added made from fishing wire (that were painted black).
The model got a semi-gloss varnish end coat with the airbrush with my usual technique... The canopy was masked off when this was applied.
A nice F-16A model of TNI-AU was completed. (Another one will be made from an ESCI F-16B sporting the "Blue Spot" colour scheme in the future).