TURKEY
Another Revell F-16C kit released in 2014 was kit #04844. This has very nice decals for a Turkish "SOLO TURK" demo aircraft which is F-16C-40-CF Block 40 aircraft, coded 91-0011 c/n 4R-70 and delivered January 2014. Probably also flown by no.141 Filo. It has the GE (General Electric) engine.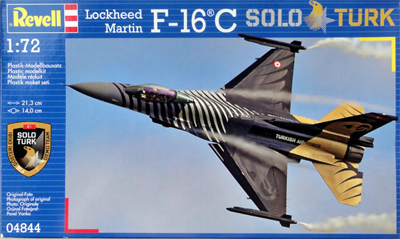 It was decided to make this attractive scheme!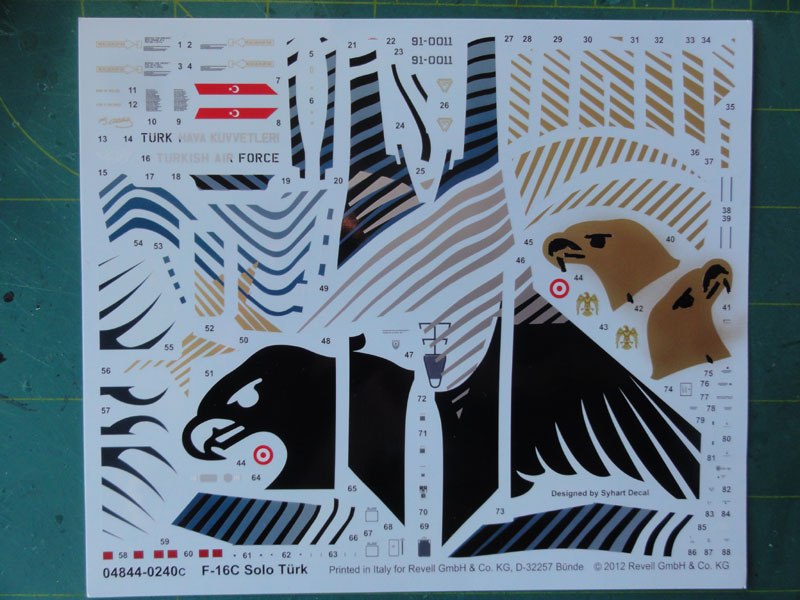 The kit is very similar to the F-16C kit described above, but some small adaptions are needed for the Turkish F-16C Block 40 aircraft, these are well indicated in the Revell instructions.
The tail of SOLO TURK is slightly different with the parapack and can easily be adapted as indicated...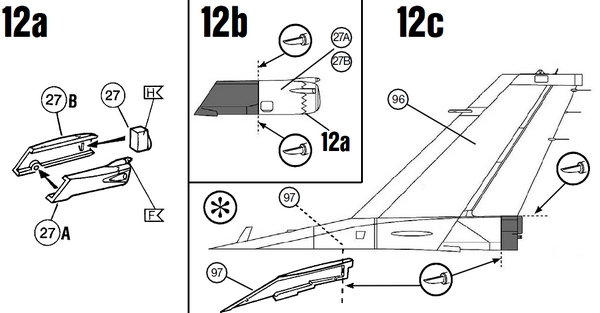 The IFF panel is not fitted on the F-16C Block 40 SOLO TURK , so was also not needed on the nose, so use part #86.
(NOTE: other Turkish F-16C have them, but a different type of panel: on a "raised base plate" the IFF antennas are fitted).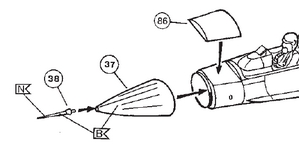 The GE engine parts #98, 99 were used.
For SOLO TURK, the old fashioned Sidewinder wing tip launchers were also set in place.
The model was further made and got a base grey coat.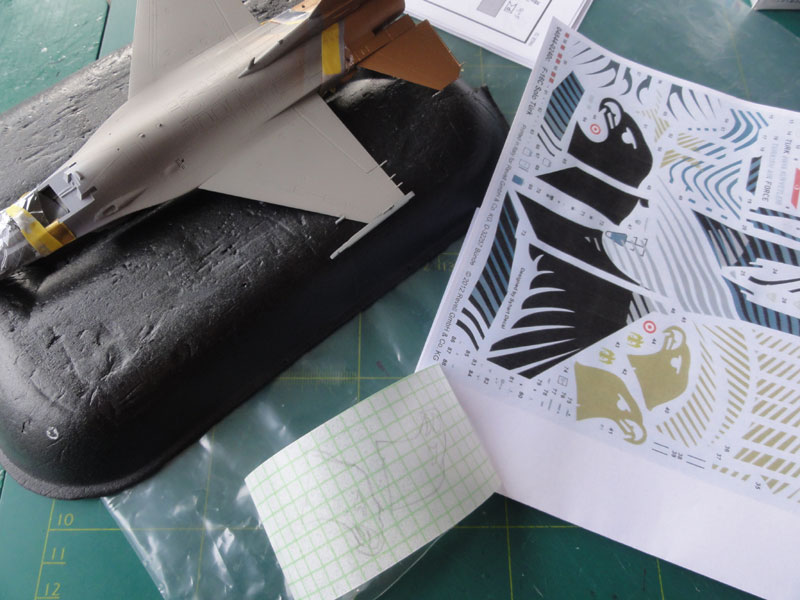 Than, using the kit instructions various areas got the other colours. For black Gunze Sangyo H2 black acrylic was used and for the gold colour Mr.Color enamel #217 Gold was used. Masking was done by making a copy of the decal sheet on paper and using masking film to follow exactly the contours. Let dry for 72 hours when done.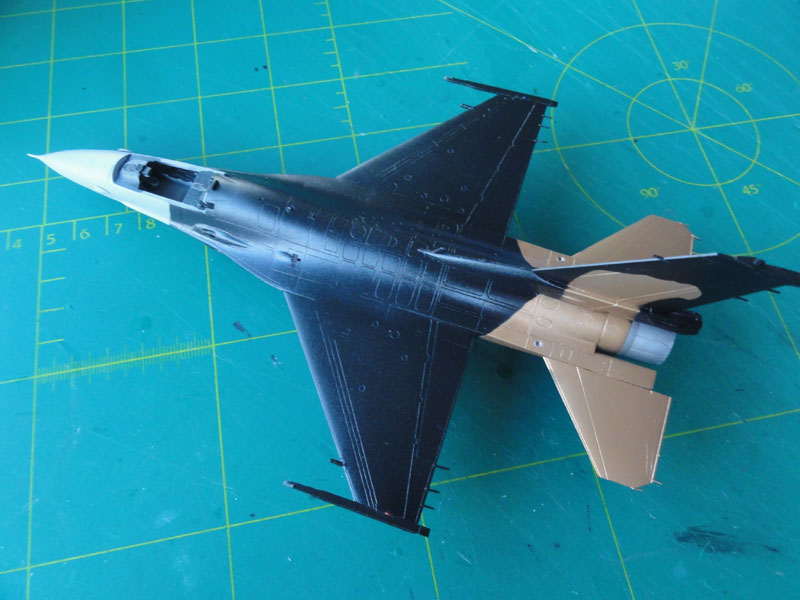 .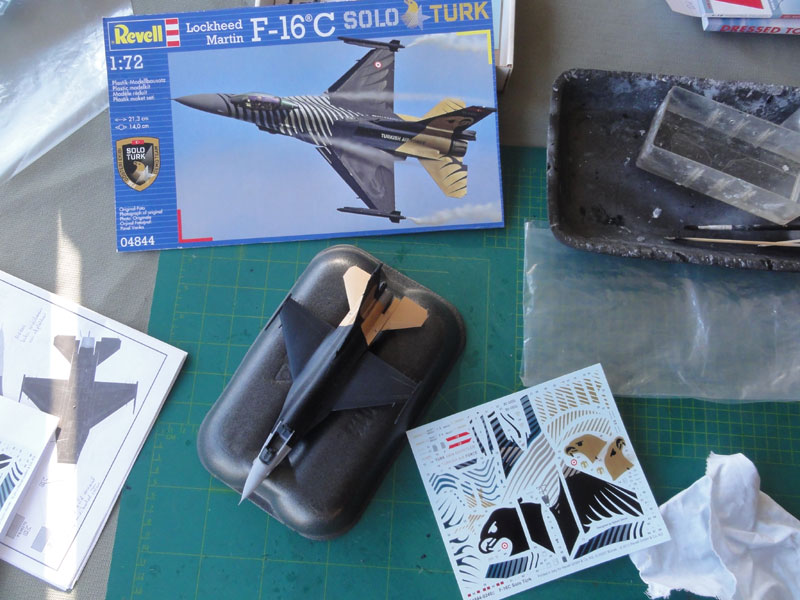 The decals looked good, but I thought there were some errors in the grey-black paints. I decided to reverse some of these colours by cutting out some of these and airbrushing these with other reversed colours. I think that things were mixed up..... PLEASE SEE NOTE BELOW!!!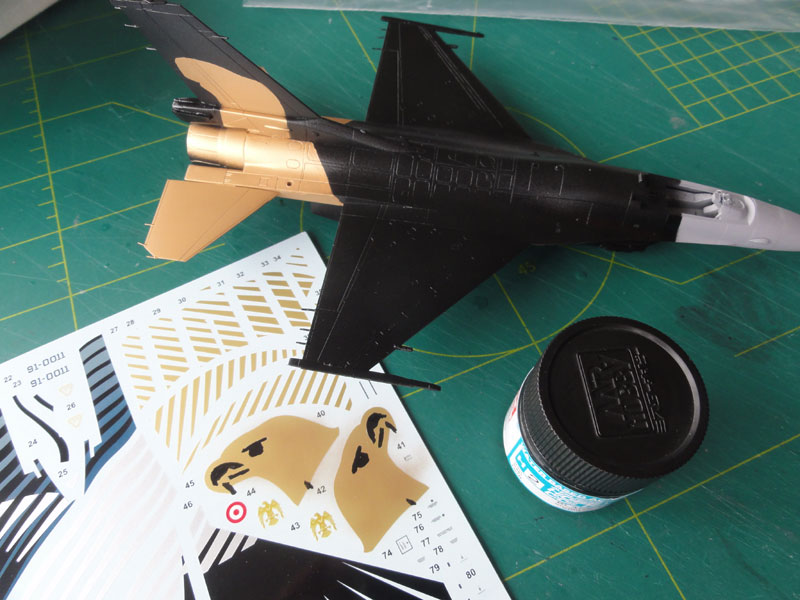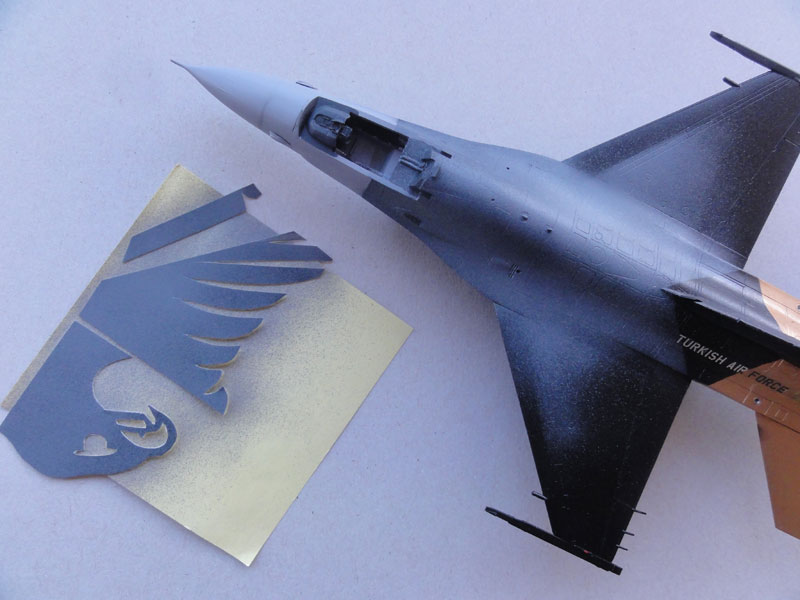 and these by me "reversed coloured" decals were applied....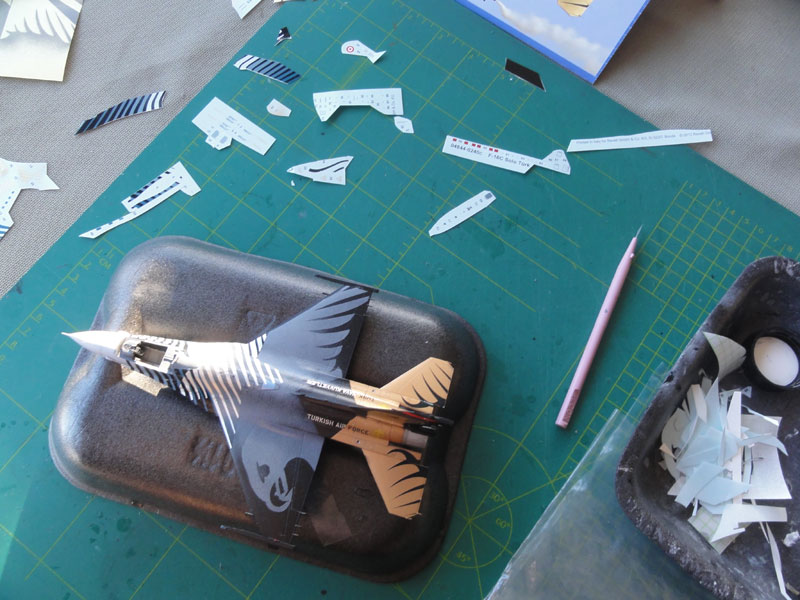 I LATER FOUND OUT THAT REVELL DECALS HAD IT CORRECT BUT THAT LIGHTING CONDITIONS CAN MAKE THE REAL PLANE LOOK DIFFERENT. So, you DO NOT need to correct anything.
I found out when the model was almost finished and thus simply retained the model. It's not perfect but OK.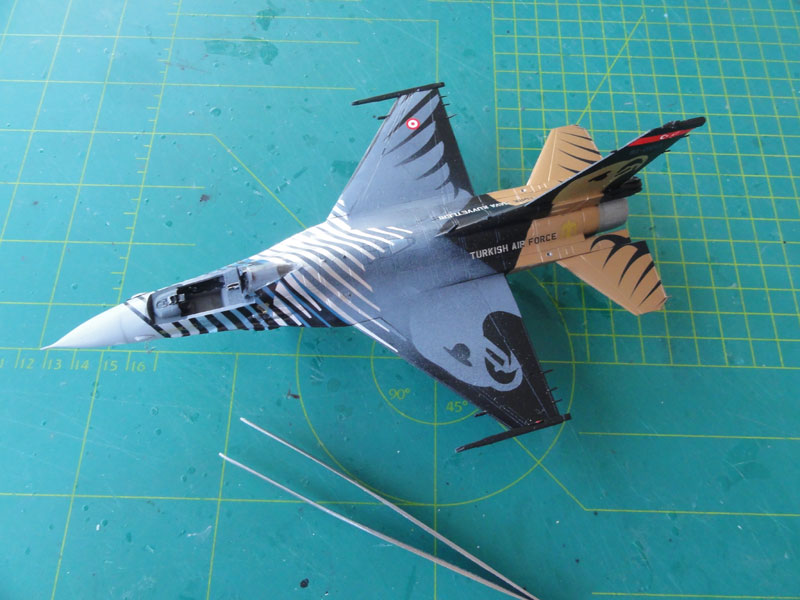 The rest of the model was set in place like landing gear and so on. The main gear wheel bays are white but some wash was brushed in.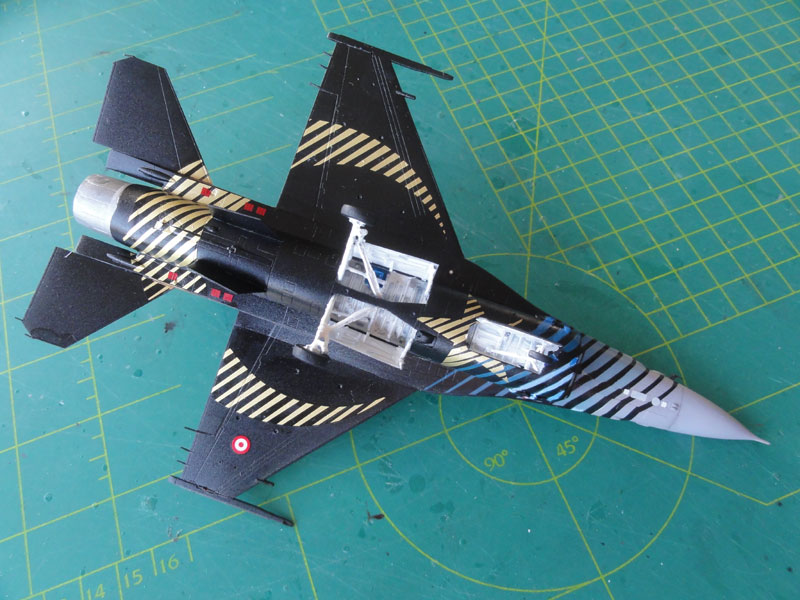 Final kit finishing was mostly as done on the other F-16C kits...., such as....
- the thicker main wheels #100 as per kit for heavier GE engined F-16's the usual type, but unfortunately the kit does not have any parts for the than needed "bulged" main doors.
- The nose pitot was made from a metal needle.
- The anti-collision lights on the intake and wing tips got a drop of blue and red paint followed by a drop of Micro Kristal Clear.
- Inside the clear uncoloured canopy, 2 handling bars were added made from thin rod. These are always seen inside a F-16 canopy.
- The wing tips and stabilizers "static dischargers" extended kit bits are too thick so were replaced with thin fishing wire painted black.
(You may also add the Smokewinders, but I kept the launchers clean.)
This model got a semi-gloss varnish coat, this will give an even sheen and will protect the decals. A few coats of Johnson Future/ Pledge airbrushed with some matting agent with the airbrush is several thin layers using the usual technique...
The canopy was installed after its frames were hand painted with a fine paint brush and the stripe decals added. The canopy was kept clear and was set open and the rear glass section "glued" in place with clear drying white glue.
No stores were installed for the F-16C SOLO TURK demo. That completed a nice demonstration aircraft model.