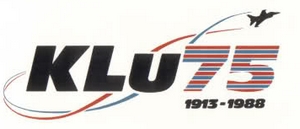 Another Hasegawa F-16A PLUS kit #601 as described above was built.

I had a vey old MODELDECAL sheet no.98 which had very nice marking for a Royal Netherlands Air Force 75 YEARS anniversary scheme of 1988.
The aircraft was the first generation F-16A with the conventional USAF style short base tail fairing, no upgrades and with the Pratt & Whitney engine. So the kit can be almost be made straight out of the box, only some refinements were made.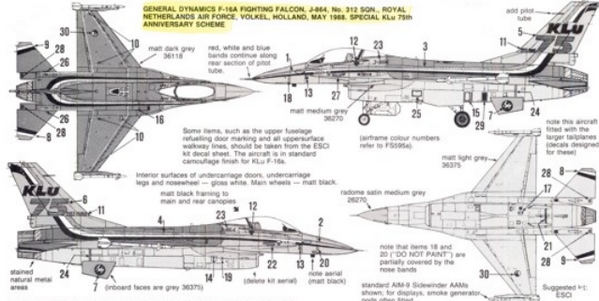 MODELDECAL 98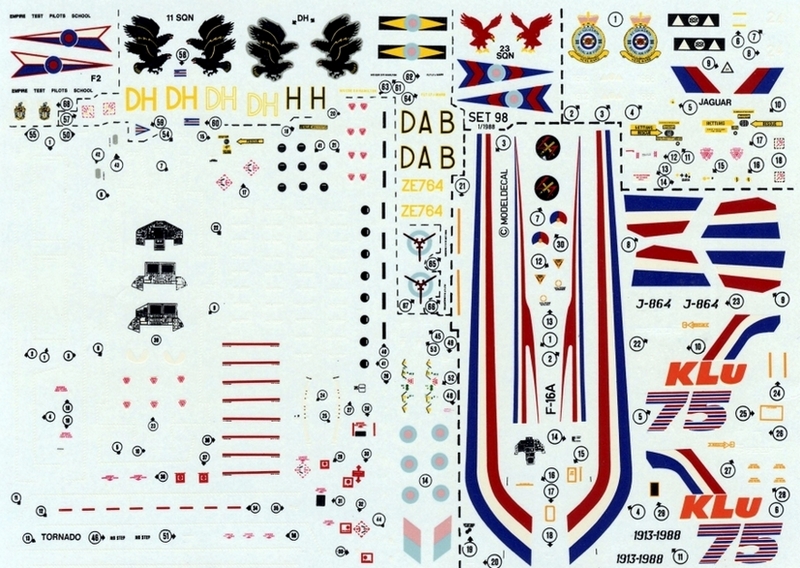 After assembly it got the standard NATO F-16 colours of lower surfaces FS36375 (using Gunze Sangyo H308 acrylic), FS36270 un upper forward surfaces and upper section of intake (using Gunze H306), and aft upper areas FS36118 (using Gunze H305).
A gloss undercoat of Gunze Sangyo was airbrushed to get better decal adherance as Modeldecals are very sensitive for "silvering" (air bubbles below the decals that spoil the looks).
The red-white-blue strip is a decal. Some uncovered edges were painted with a brush e.g. at the stabilizers. The stencilling and walkway lines came from kit decals. The spine refuelling receptable was painted aluminium.
After decalling the model was completed the gear and so on were installed.
The gear bay got some extra details in the bays like the battery. Ensure a horizontal "sit" here. A few hydraulic lines inside the bay and on the gear legs were added made from very thin metal wire as well. All interiors of wheelbays and gear got a gloss white coat.
The first generation cockpit got a medium grey interior with black details on side consoles and instrument panel. In the cockpit another the ACES II seat was installed after it got some a harness made from painted tape.
The pitot sees the red-white-blue stripe continued so this was painted with a very fine brush. An option would be to fit "smoke winders" on the wing tips, but this model was kept "clean". If you want Smokewinders, you can make them from Sidewinder missiles by cutting of their front fins and sand this area smooth.
Inside the canopy, that was to set open, two handles were added made from black stretched sprue. The HUD was made from thinner glass fro scrap.
The static dischargers at all trailing edges were replaced and new ones made from fishing wire (and than painted black).
A bit wash was added with a brush at the center fuselage maintenance panels and inside the gear bays and gear legs; a mix of acrylic varnish and black paint will do (or use PROMODELLER wash). Swipe off when applied, the corners and panels will retain the wash.
The model got a semi-gloss varnish end coat with the airbrush with my usual technique...
Canopy was installed open and....ready!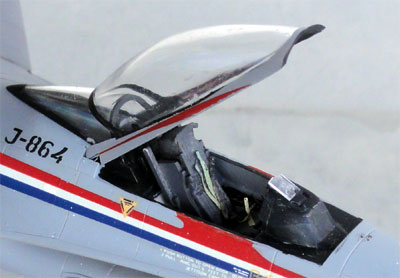 As the Royal Netherlands Air Force had their 75 year anniversary in 1988, this F-16 with code "J-864" got a red-white-blue (Dutch flag) striping and looked very smart. This aircraft of no.312 squadron got initially the squadron badge on the ventral fins but soon these were banned and also there was a coloured stripe on the intake that had to be removed. The aircraft represented the whole air force and not only 312 squadron as such. In the vertical tail a large "75" is seen. The aircraft flew aerobatics during air shows across Europe.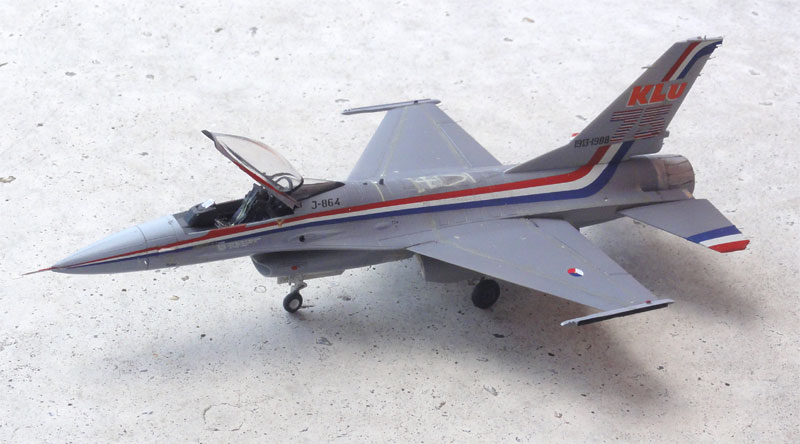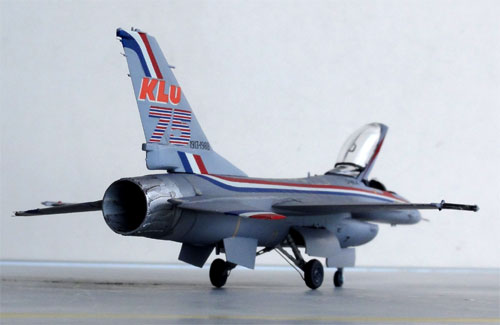 F-16AM, coded J-864 (this aircraft was later sold to Chile)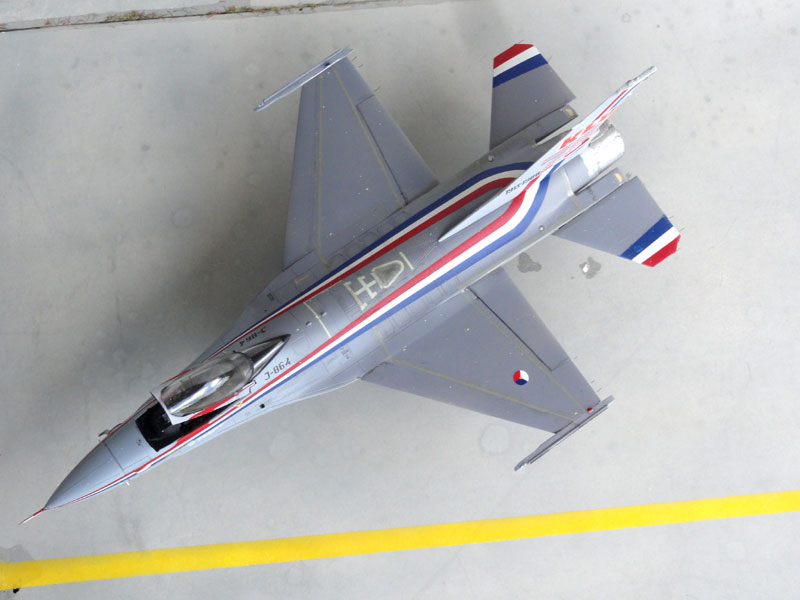 A nice demo F-16 is now in the KLu model collection..