Another Revell Mirage 2000D kit was made, now in a scheme of an early Mirage 2000 of the

PERU

Air Force in South America.


Assembly was even simpler than as described above as any items for a "modernized" Mirage 2000 were not required. Peru had the standard Mirage 2000D. So the kit can be made as per Revell instructions. No extra's are required.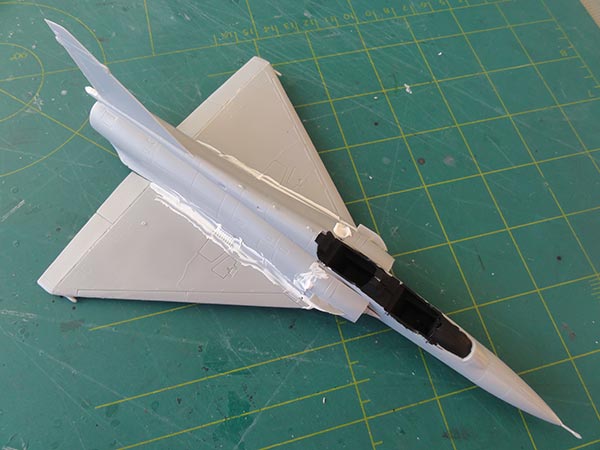 The Peru Mirage colours are for a brown desert scheme.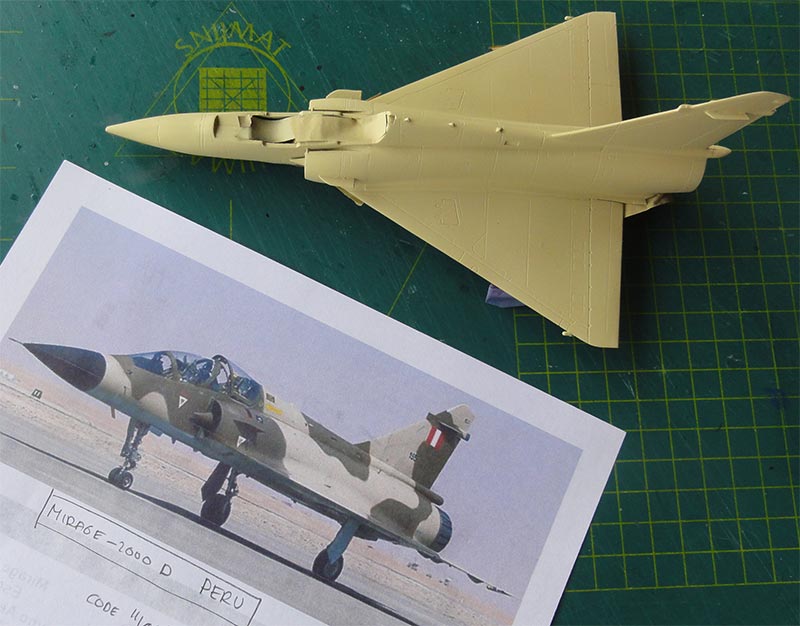 Colours were a bit difficult to establish. I began with looking at Dassault desert schemes such as used by the French Armee de l'Air. After study I saw many different Mirage 2000 colours and even different patterns on these. So if you want to model a particular French Desert War 1990 scheme, check photos.
The Peruvian Mirage showed a rather light sand paint with a dark brown pattern. The lower colour looked light grey.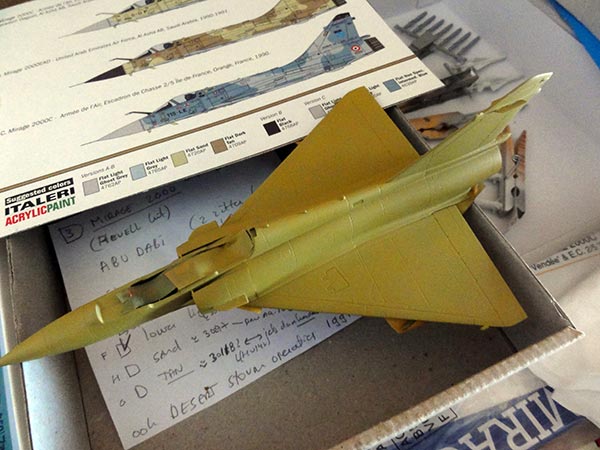 I settled for these Peruvian Mirage colours:
- lower surfaces light grey approx. FS36375 using Gunze Sangyo 307 acrylic;
- lower base: sand a mix of 50% Revell aqua 16 sand + 50% Revell aqua white;
- brown pattern: Revell aqua 86 braun;

Between airbrushing the colours masking was done with Revell Masking film and tape.
The nose was black.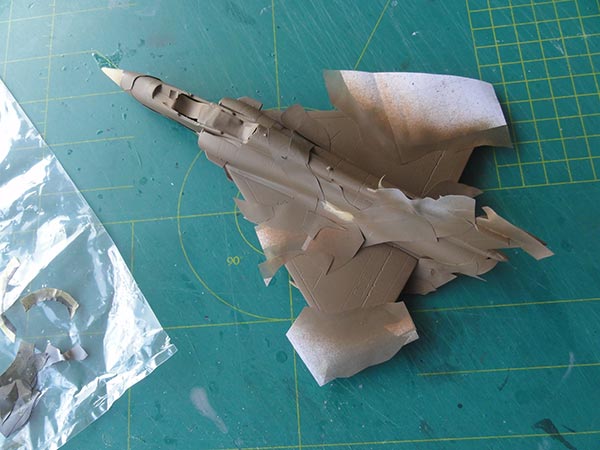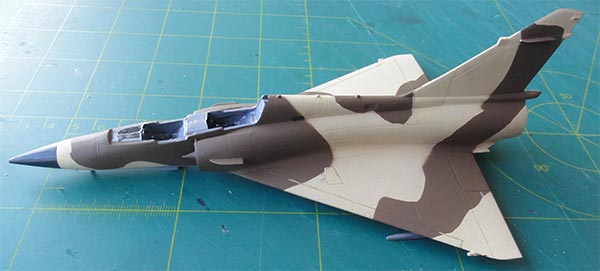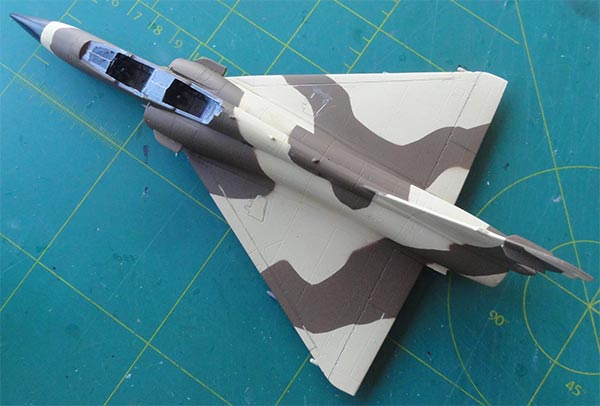 Decals were to follow but I airbrushed first some coats of gloss varnish using Johnson Future/Pledge to get better decal adhering.



Decals are a mix. It seems that the walkway lines are less than standard with "NO PULAR" markings. I used some smaller spare stencils from an AZTEC A-37 set and Mirage 5 sets.
I was lucky to find the Peru roundels: I had decals from the Heller Mirage 2000N decals with the blue dots not printed in the center; I simply now inserted red dots from a RAF roundel set from the spares box.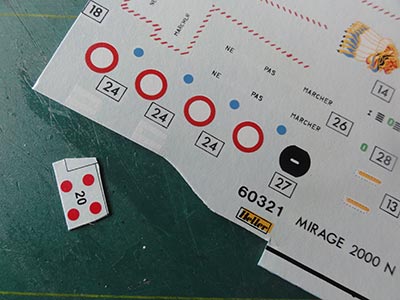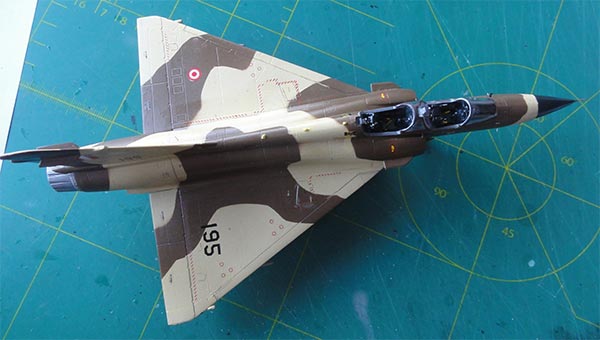 Some extra details were added in the cockpit. I improved the seats as described earlier on the Qatar model. The smaller nose probes were added and the nose pitot made from a metal needle.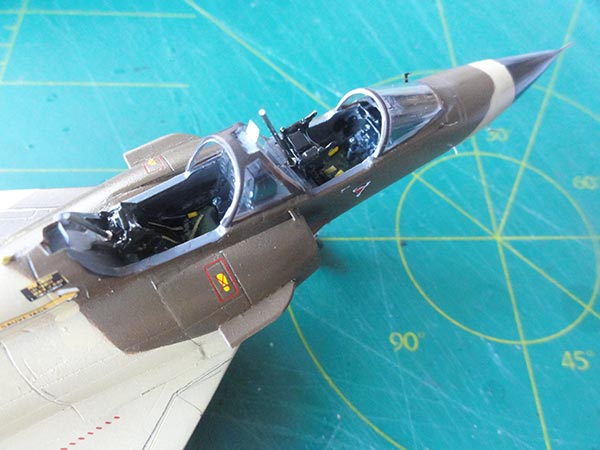 A final semi-matt-gloss coat was airbrushed overall with

Johnson Future/Pledge with some 10% Tamiya X-21 FLAT BASE mixed in. Shield off the clear canopies and windscreen while losely airbrushing this coat.



Canopies would be set open so actuators were installed made from metal needle pieces/ pins.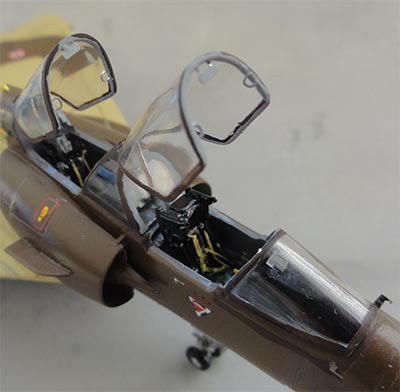 That completed this nice model!


PERU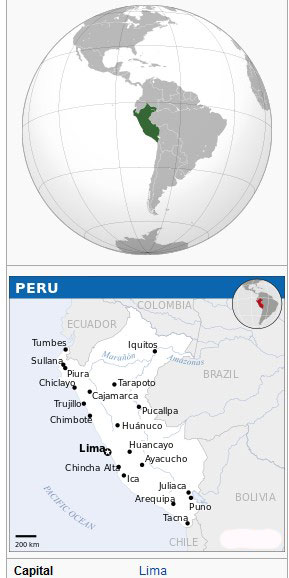 In Peru aviation started in 1910 with a "Liga" established flying Bleriot and Caudron aircraft. In 1920 a small naval flying section was also set-up. In the 1930s a mixed bag of types were deployed including Curtiss Hawks, Caproni's, Potez and Douglas 8A and North American NA-50.
The Fuerza Aérea del Perú was established as a separate entity in 1950. The jet age started with over 60 jet aircraft such as Lockheed T-33's as in many Latin American countries and soon followed F-86 Sabres, Hunters and Canberra's. In the mid 1960s the first South American supersonic fighters were put into service with Mirages 5 from France with over 30 delivered. In the mid seventies Peru had a more neutral course and Soviet aircraft were acquired starting with Mil helicopters and Antonov transports. Spectacular was the acquisition from 1977 of 32 Sukhoi SU-22A Fitter fighter-bombers and SU-22U trainers. Some additional 16 SU-22M2D and 2 SU-22UM2 trainers were delivered from 1980. From 1981 a dozen Aermacchi MB-339 jet trainers were acquired from Italy but license manufacturing more aircraft abandoned. In 1981 there was a border conflict over the Cenepa with Ecuador and SU-22 were deployed.
Meanwhile some US aircraft were also acquired like C-130 Hercules, A-37, Bell helicopters. The SU-22 fleet was also upgraded.
From 1986 from France Mirage 2000's were acquired though less than first desired due to costs. Some 10 Mirage 2000P and 2 Mirage 2000DP trainers were delivered acting mainly in the air defense role. First no AS-30 nor AS 530 missiles were obtained, but the more advanced Magic 2 could be deployed. In 1995 there was another conflict with Ecuador in the "Condor War" but t
he Mirages "Halcones" were not deployed. In stead
a rather surprising action was that mid 1996 some 20 second hand MiG-29 fighters were acquired from Belarus as well as some SU-25 "Frogfoots".

In 2009 followed additional Mirage advanced weaponry including the ATLIS pods, AS-30L laser missiles and laser guided bombs.
Currently the fleet is very mixed and this means a lot of trouble to keep aircraft in flying condition.