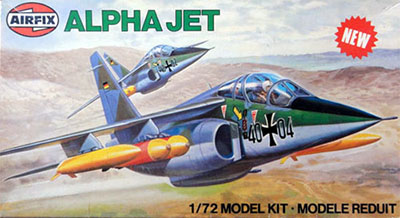 AIRFIX
This kit #03035 was released in 1980. Parts are in the typical light grey/blue soft plastic.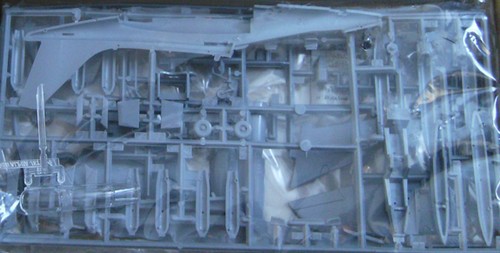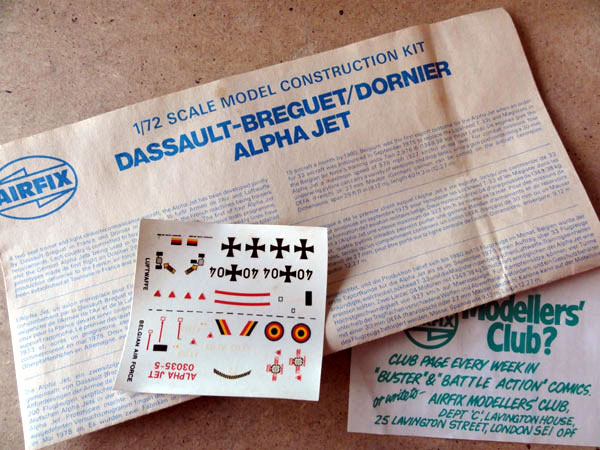 The markings are for 2 schemes: a Belgium air force "E" and West German Luftwaffe "A". So 2 different noses are in the kit.

This kit is obviously quite old and to current standards simple. Panel lines are raised but fine though it is hard to retain these as sanding is needed during assembly.

A comparison of the Airfix and Heller kit fuselage (fitted with "A" nose) shows they quite agree.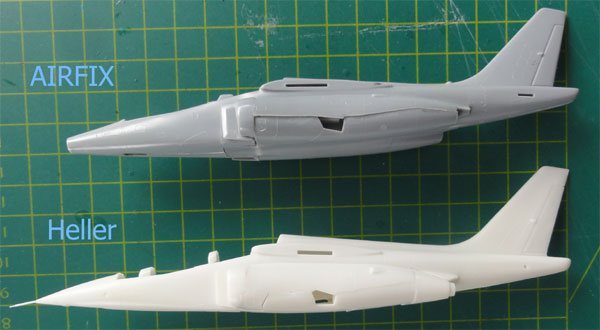 There is in the Airfix a sort of tub for the cockpit, the seats look inaccurate and to be the usual style seen in other kits. The canopy is one piece so needs cutting up when you desire opened up canopies. I also recommend to inscribe the detonator chords in these.

The exhausts are undeep; I opened them up and inserted 2 long tubes inside.

The main wheels #14,15 are 1 mm too small in diameter. The Good Year tyres should be 8,5 mm in 1/72 scale so better replaced.

The wheel doors are a bit too thick as well so sand these on their insides.

There are quite some stores in the kit with their pylons like some "cluster type" bombs and long fuel tanks. T pylons look to be about 1 mm too long in length.
NOTE: if you want a clean configuration, you will need to separate the flap hinges from the pylon parts.

I made the model rather straight from the box but found out too late that I mis-aligned the large wing dihedral angle. So make sure not to make this mistake!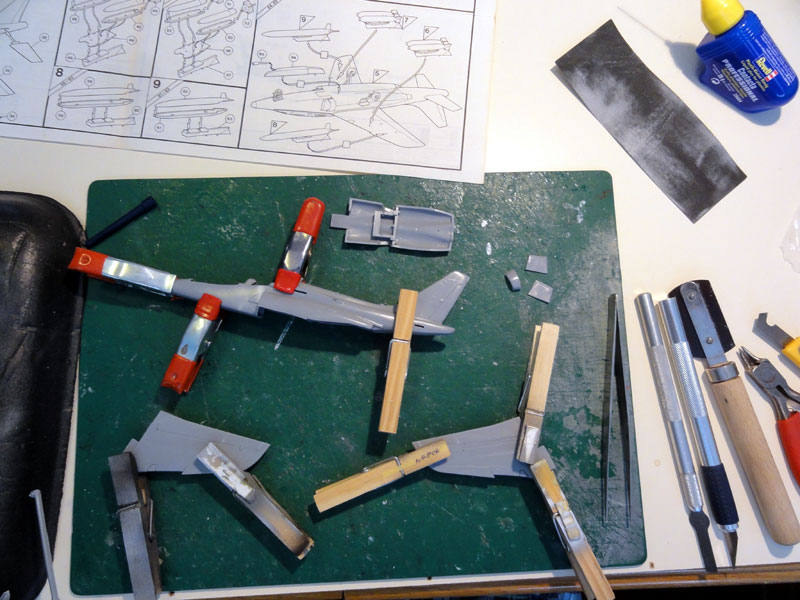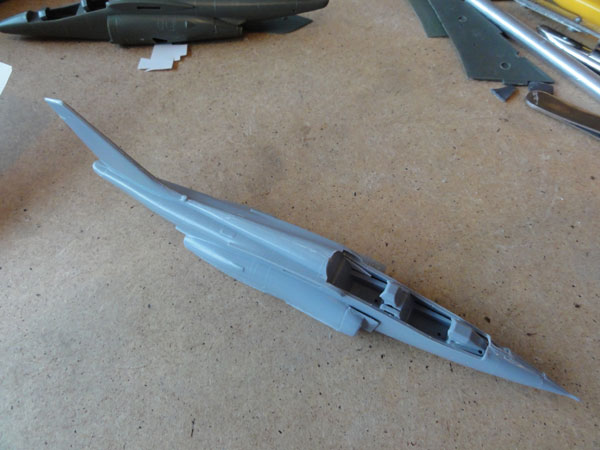 Adding putty and sanding is needed in many places.





The first Airfix kit was made for a

Qatar Alpha jet "E"

and some "add-ons" were needed:
- longer higher fuselage spine; this was made from rod with putty and sanded in shape.
- nose strakes, made from thin card.

Colours airbrushed were:
(1) lower surfaces light blue Gunze Sangyo H25 acrylic;
(2) Sand (approx. Fed.Std FS 20400) using approx. Revell aqua 16;
(3) Darker brown (FS 30219) using Gunze Sangyo H310;
Masking was done between each colour, often wanting a soft demarcation with held bit of paper.

I set the single part canopy closed and added (corrected) long range fuel tanks obtained from the Heller / Revell kits (see page 2...)

Completing was done. I replaced the too small Airfix kit main wheels, better ones could be found in my spares box with now correct 8,5mm diameter.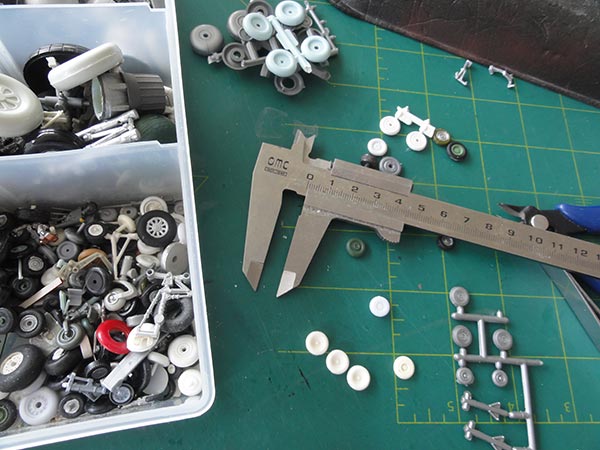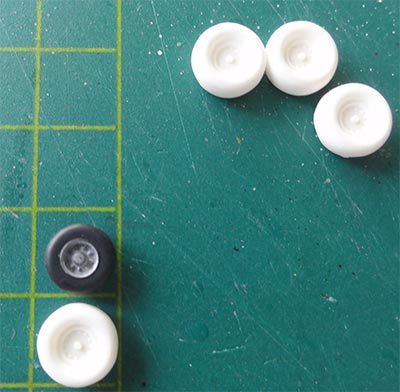 Now I found out now that I had mis-aligned the wing dihedral angle. Well, nothing can be done without major rework, I kept this model as assembled.

Some small scoops / intakes were added on the lower fuselage as well as near the wing-fuselage joints.

Add-ons also needed for this Qatar Alpha jet: 2 nose strakes and also a larger raised spine. (see page 1)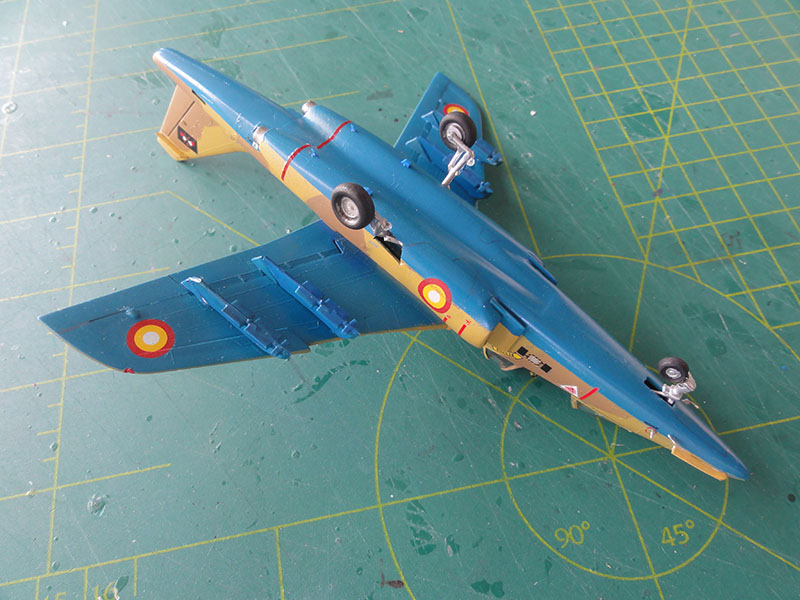 ... and the fuel tanks and belly pod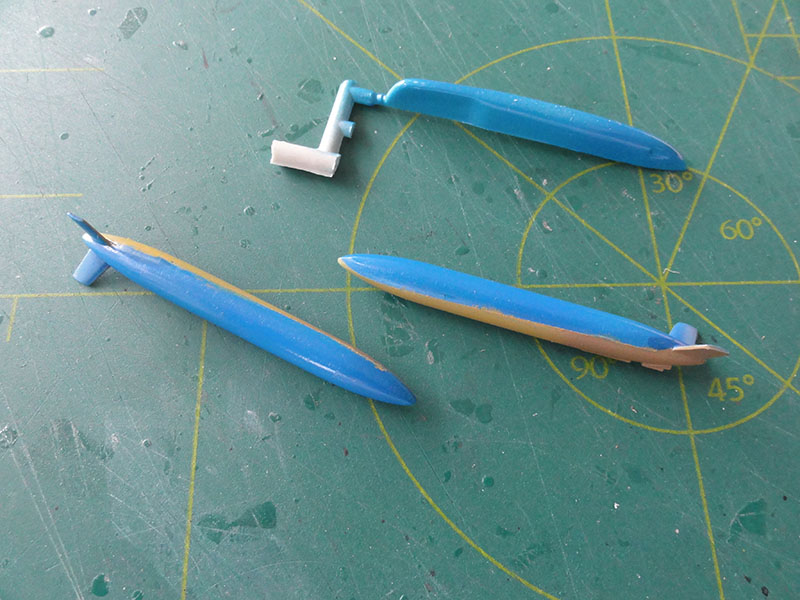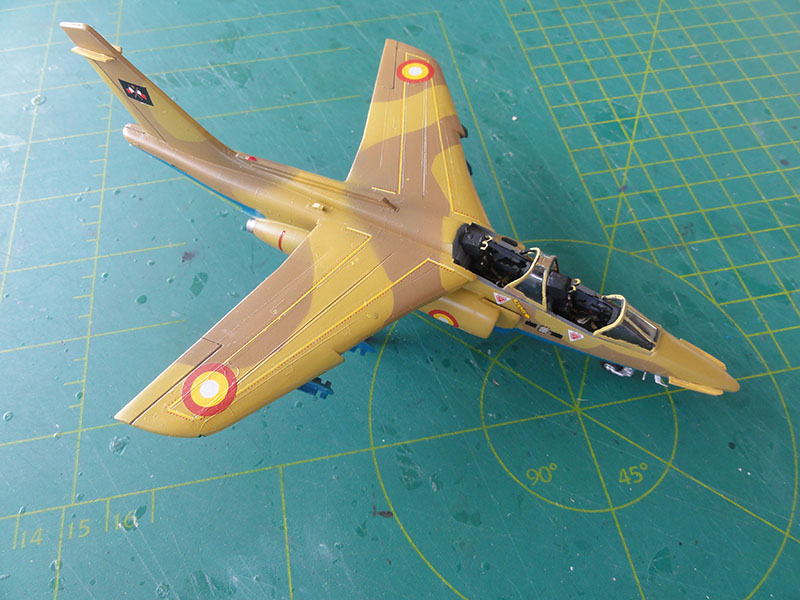 The canopies were set open so the single piece Airfix kit canopy was cut in sections with a TIGER razor saw. All frames were painted and mirrors installed from scrap using thin metal foil. On the seats I added some harnass straps from tape and ejection chords on top. Small pitot tubes were added as well on the nose.

Finally a semi-gloss varnish was airbrushed with a flat base Tamiya X-21 mix with Johnson Future/Pledge.

That completed this Alpha jet.



QATAR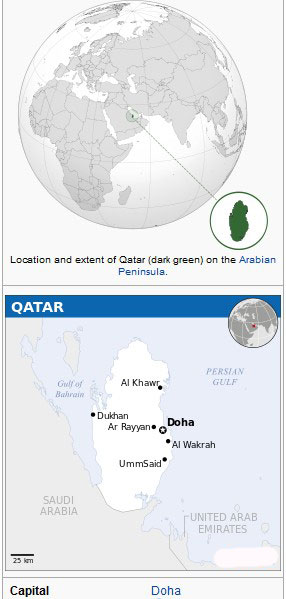 Before the 1970s there was a British military presence in the Gulf. In 1968 for the Gulf States including Qatar a security force was set up with a few Whirlwind helicopters and in 1971 3 ex-RAF Hawker Hunters arrived.

The Qatar Emiri Air Force was established in 1974. Other types were a few B727 and B707 jets and BN Islanders. Some Gazelle and Seaking helicopters were also delivered. In the 1980s followed 6 Alphajets fir training and light ground attack and a dozen Mirage F-1 fighters. During the first Gulf War in 1991 it supported the Western armed forces against Iraq. Near Doha a new air base was established, Al Udaid.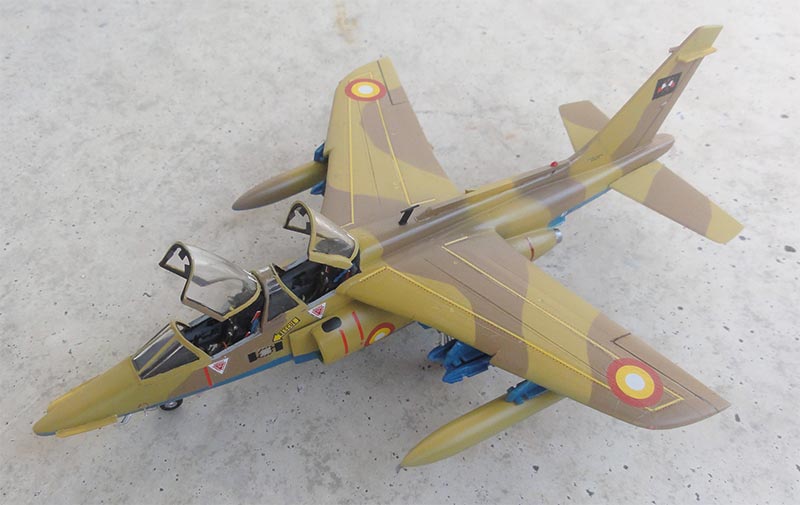 This side view of this Alpha jet model shows the error made in aligning the significant wing dihedral. So better check first before proceeding!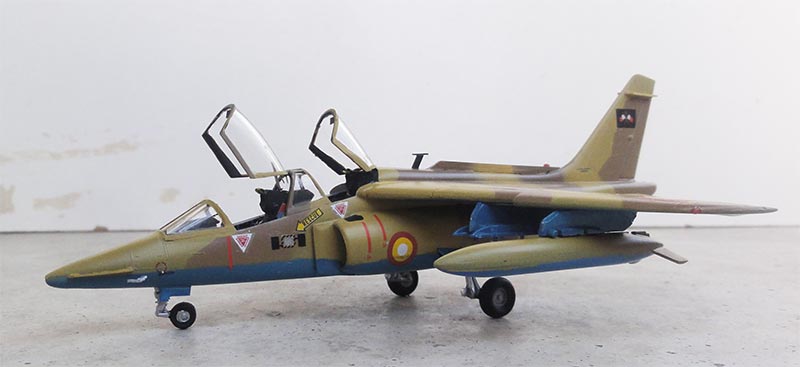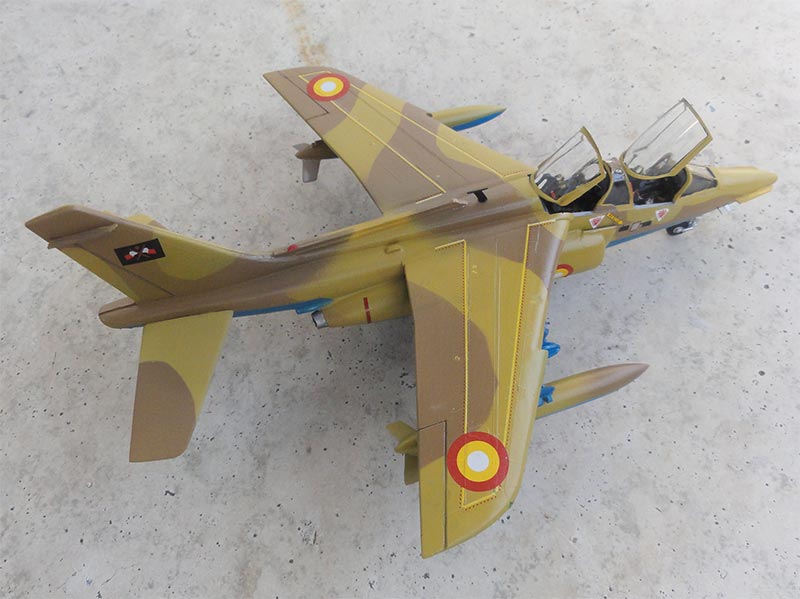 Another 1/72 Airfix kit was made but this kit was released under the US AIRFIX label.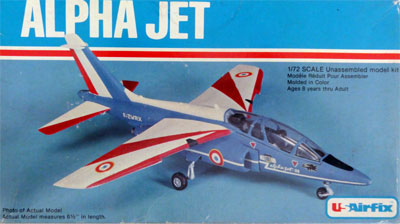 The labelled SCALEMASTER decals are just for a single "Patrouille de France" demonstration team Alpha jet. The plastic content is unchanged.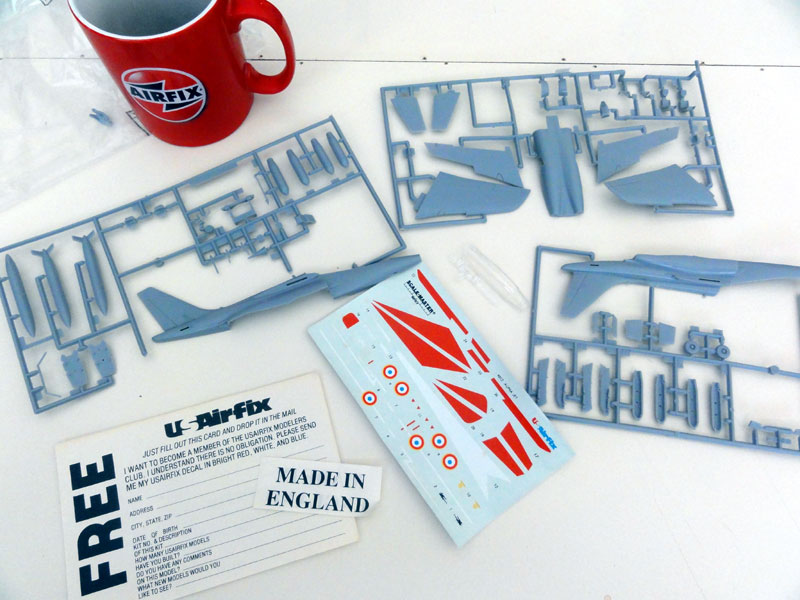 I opted make another scheme: for a Portugal Air Force Alpha jet "A" (ex-Luftwaffe used). I used the nice PRINT SCALE decal set for this.

Also it was decided to open up a few panels to show systems. At the intake a gap was made as well as in the nose side.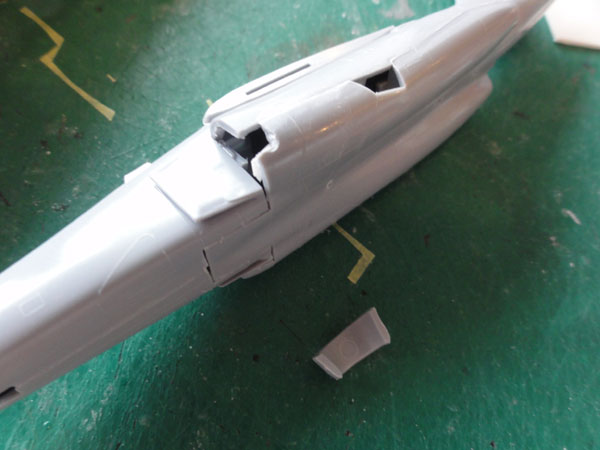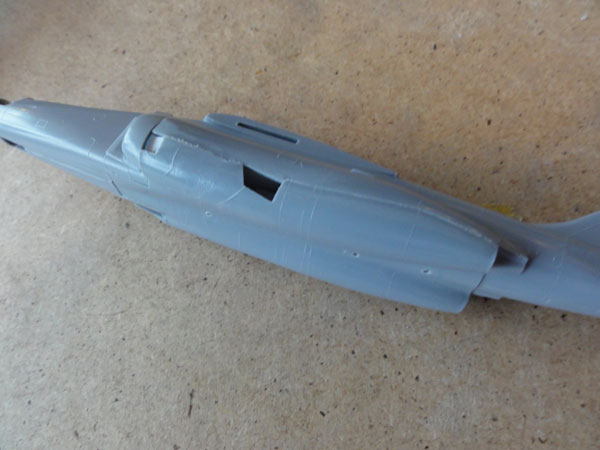 Here I did not forget the significant wing dihedral angle.....

For the Alpha Jet of

Portugal Air Force

the PRINT SCALE set provides decals. It has a remarkable dark wrap around camouflage scheme with several greens of FS34102, FS34079 and Tan FS30219.

But I also saw real Alpha jets with a green and not tan but what appears to be a darker coal black pattern. This was also shown the Scale Aircraft Modelling July 2014 profile drawing for a "Esq 103 Caracois" Alpha jet.

I opted for this one and these acrylic colours were airbrushed:
(1) olive green RAL 6003 using Revell 361 aqua;
(2) coal black using Revell aqua black / schwartz 08;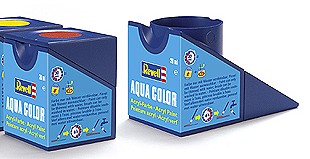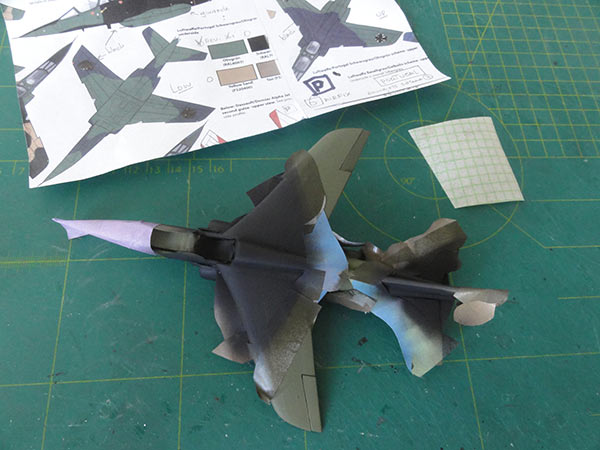 Masking was needed.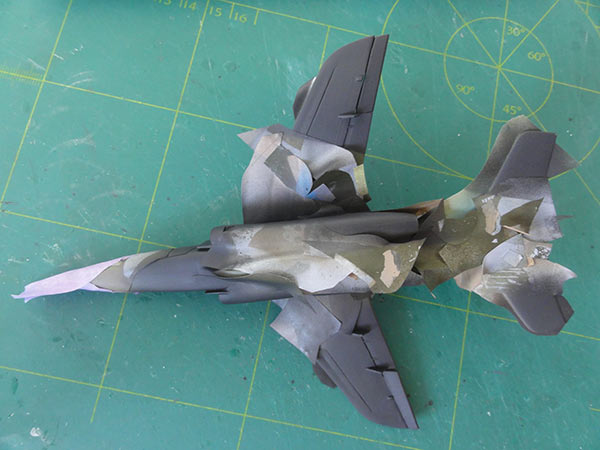 The finishing was very similar as described for the other made kits. I also added a central belly gun pod with an added barrell.

Note the separated flap hinges and arrestor hook...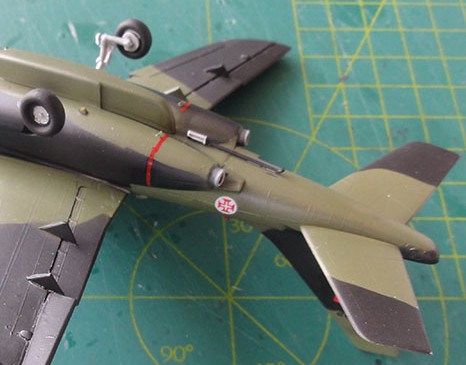 ... and the striped walkway lines.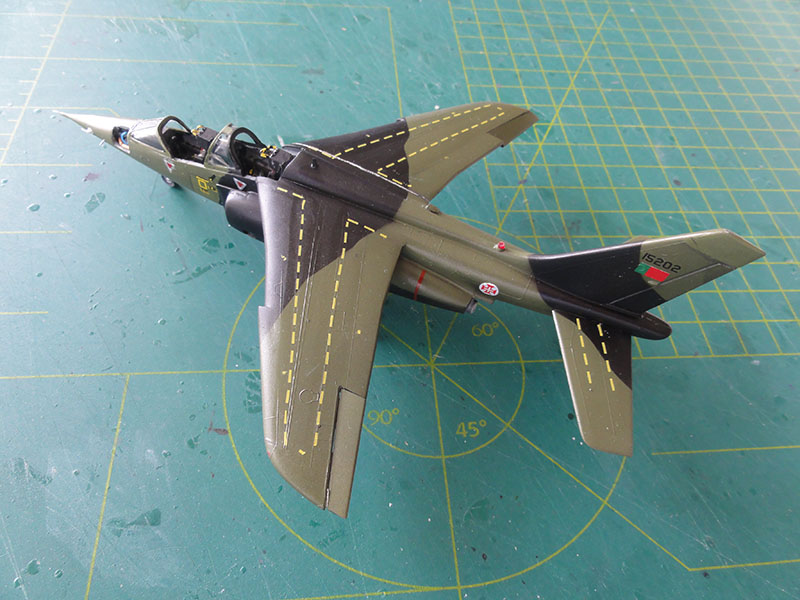 In the opened up bays I added some scrap details and made bay hatches from thin card.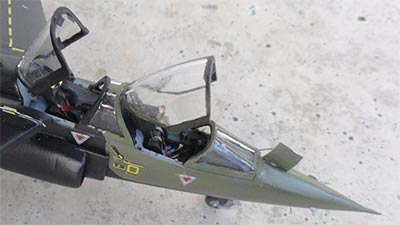 The canopies were also set open as on some of the other kits made.



PORTUGAL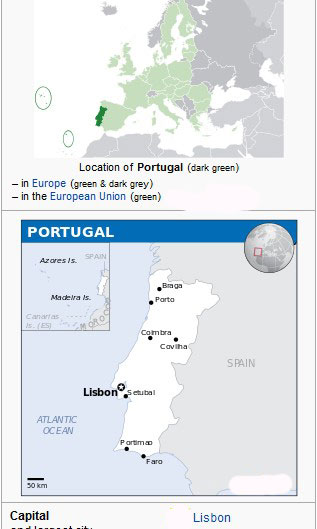 In the earlier 1900s some flying activities were focussed within the Air Club of Portugal. In the colony Mozambique even some Farman F.40 biplanes were used around 1917, some of the earliest usage of military aircraft in Africa. During the Second World War Portugal remained neutral but the Azores were of strategic importance. In mid 1941 some Allied aircraft were stationed in the country and Curtiss 75 fighters delivered as well Spitfires, Hurricanes, P-39, Blenheim light bombers and some others aircraft from Allied origin. After the Second World War in Portugal, an air force was not officially set up earlier than in 1952 with a merger of the Naval and Army air arms. In 1958 the first F-86 Sabres arrived and other aircraft were types like the C-47, C-54 and DC-6 transports and PV-2 Harpoons. There were still colonies that required long range liaison transporting and the armed forces where involved in local colonial conflicts like in Angola, Mozambique, Timor, Guinea. Other aircraft were Fiat G-91, B-26 and various helicopters. From the 1980s F-5 fighters, T-38 and T-37 trainers and A-7 Corsairs were acquired and C-130 transports and P-3 Orions. In the mid 1990s F-16 fighters arrived as well as some 50 Alpha Jets (many second hand from Germany) that replaced the remaining G-91's. Some (second hand from the Netherlands) additional P-3's were acquired. There are about a dozen airbases (BA's) including Lajes on the Azores and at Madeira with most fighters based at Monte Real (BA5).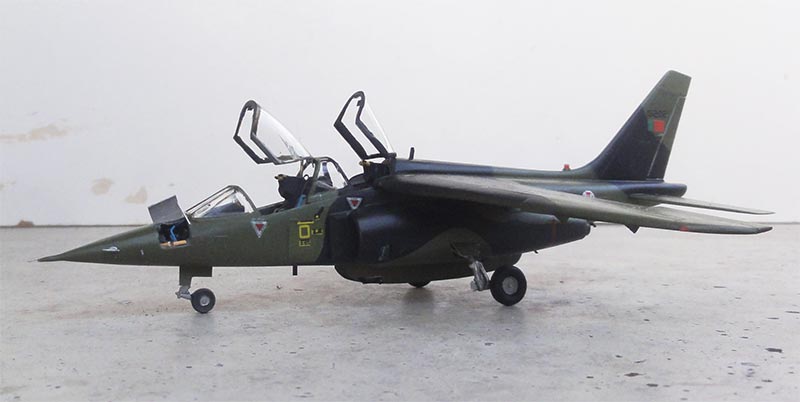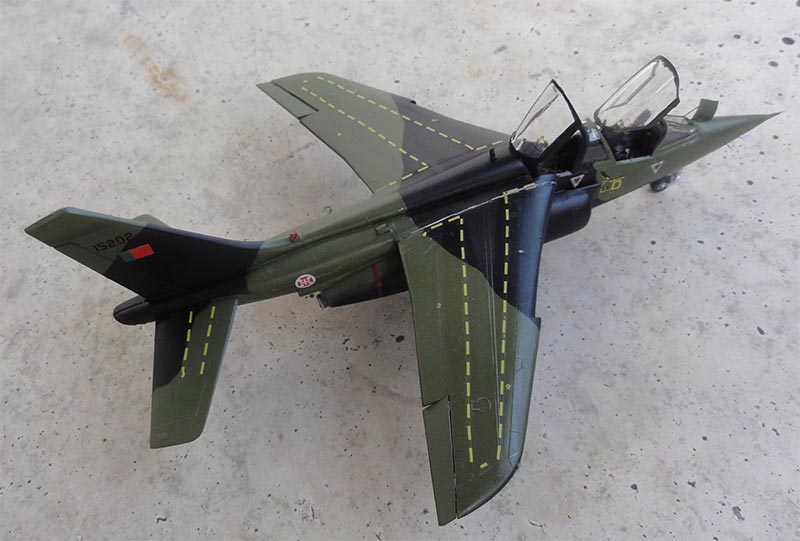 Forca Aerea Portugesa Alpha Jet of Esq. 103 Caracois of BA11 Beja

. Year 2000s.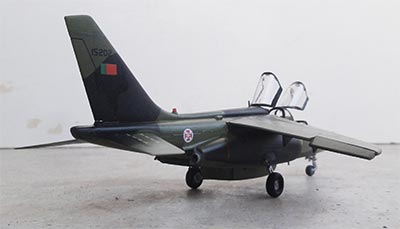 That completed for now the 8 Alpha jets models made for the World Air Force collection in Plastic! Still a few kits left in the loft!