... back to Jaguar page 6....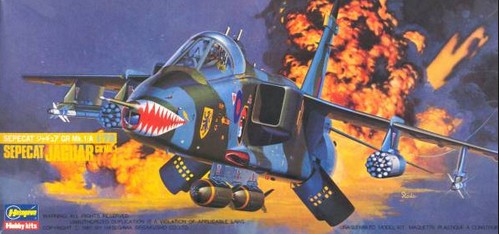 ..

[9] Jaguar ACT

Another HASEGAWA Jaguar GR mk.1 /A kit in 1/72 was made. As previously other interesting Jaguars were made (see other pages), this kit will be converted into a model of a Jaguar used for "Active Control Technology" (ACT) testing. I got a spare decal sheet from my modelling friend Bas, from COMBAT DECALS set CD72-005.
..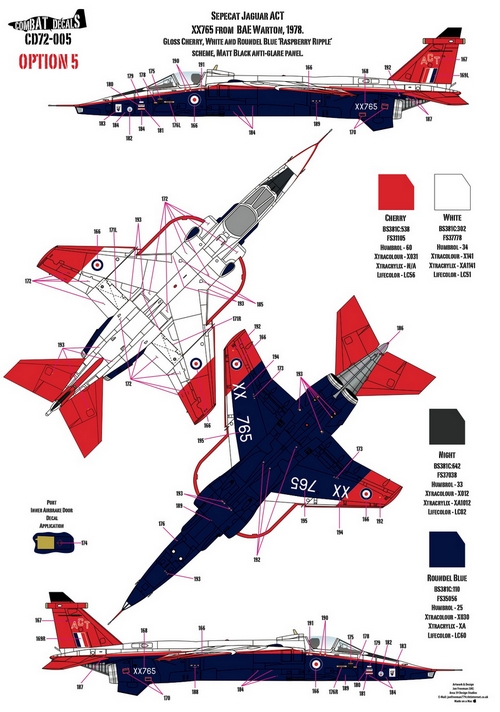 The Jaguar ACT was a former RAF Jaguar GR.1 coded "XX765" that flew in active service for about half a year with no. 14 squadron at Bruggen in Germany and later also for 17 squadron and the OCU at Lossiemouth. As research work was done at British Aerospace (BAe) on Fly-by-wire technology and active controls, this aircraft was used by BAe and RAE and modified for the job. It got a digital quadruplex fly-by-wire system.
The Jaguar ACT first flew October 1981 and was painted in the typical "raspberry ripple" scheme of gloss signal red- white and "Oxford" blue.
Testing was done at Warton but also Boscombe Down and the RAE Farnborough. In 1984 externally large wing root extensions/ strakes at the intake sides were added to move the centre of lift more forward to developed further fly-by-wire control laws. During tests also some smaller modifications were done internally with for example weight distribution and also external fuel tanks sometimes fitted. The ACT Jaguar performed also at the SBAC Farnborough air show in September 1984.
About 100 test flights were made until end 1984. All things learned were used for the subsequent development of fly-by-wire systems for the EAP and later Eurofighter / Typhoon. Later jaguar "XX765" was used for some other ground testing and as teaching aid for university students. It later went on display at the RAF Cosford museum.
REFERENCES: World Air Power Journal , Volume 11 has a very nice Jaguar special, including the ACT test aircraft.
A very nice ACT walk around can be seen here....
A nice PDF download from the RAF COSFORD museum can be found here [external link]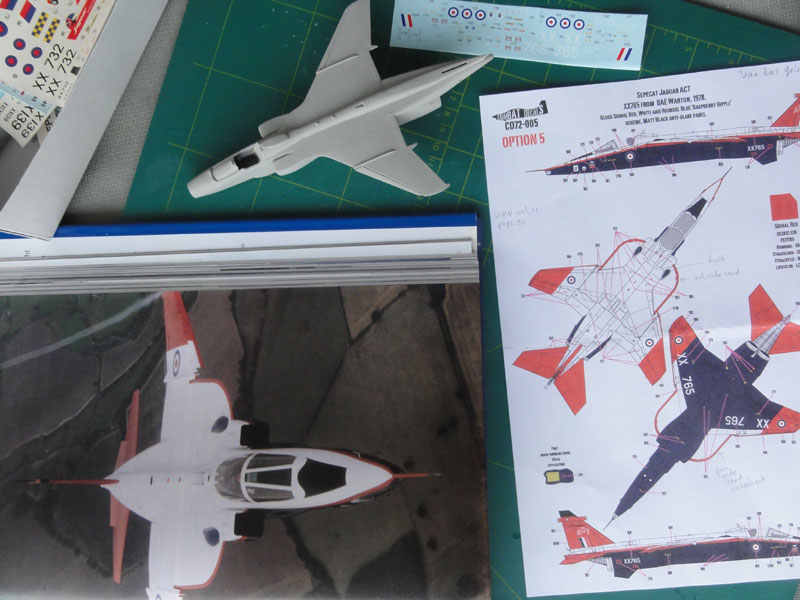 First, I opted to have the Jaguar ACT model with drooped flaps, ailerons and slats as often seen on parked aircraft (This was done previously on some of my Jaguar models). The remainder of the model was to be kept clean e.g. without stores so this would add some interest to the model.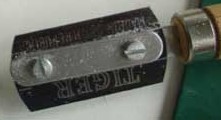 So, the rear section of the flaps were removed with a fine Tiger razor saw.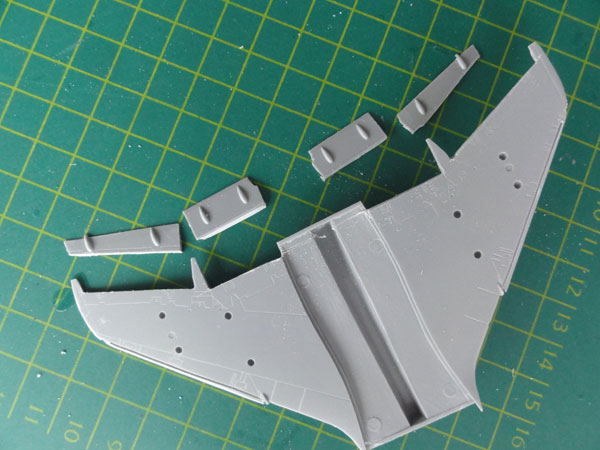 ...
The upper wing area removed was "closed" with thin card and the removed flap lower area sanded to get the "flap". The seperate slotted forward flap was made of thin card.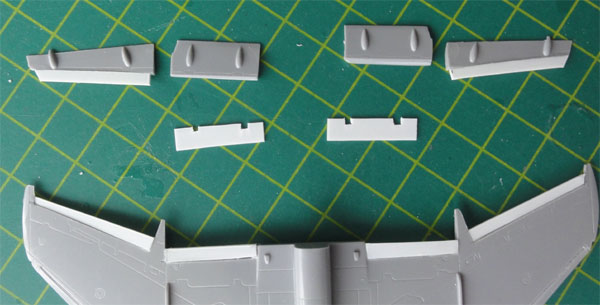 The leading edge slat was simple cut in at each side and tilted/drooped with some bending down.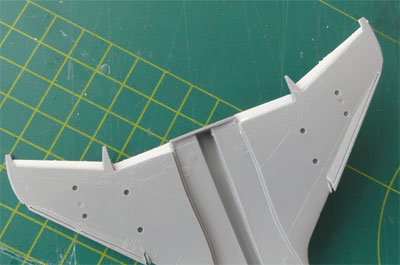 .
The main model parts of fuselage, wing and nose were now first simply assembled. A little putty was needed in some places and sanded when dry. A first base coat of grey was applied with the airbrush and any flaws corrected with putty again.
NOTE: the airbrakes were to be replaced (as on the other Hasegawa kits) with home made ones from thin aluminium foil sheet in which it is much easier to make the holes. (these air brakes are almost always drooped down for a parked Jaguar). So these air brakes were not yet set in place.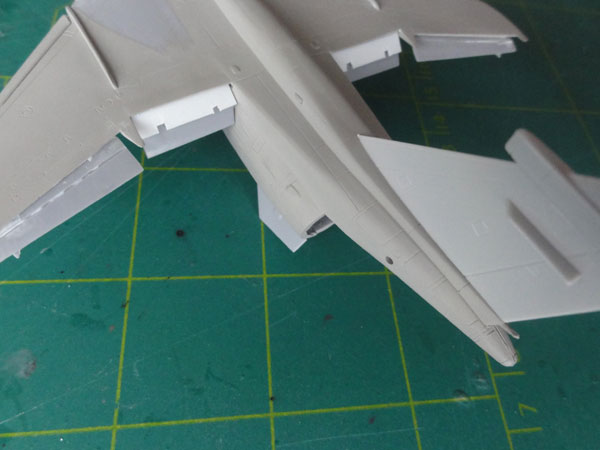 The model's largest conversion work to get the model as a ACT Jaguar is now done: add the two large wing root strakes.
These were made of 1,5 mm thick plastic card, sanded in shape using the drawing the decal set and the model edges at intake and inboard wing leading edge.
The drawing was enlarged to 1/72 scale to get a pattern. The leading edges of the strakes were sanded sharp but blunt at the rear to join the model.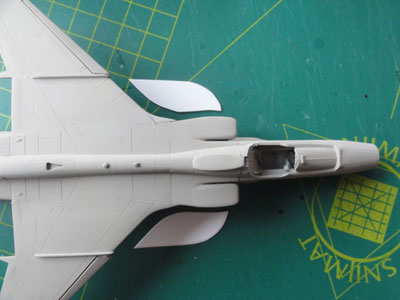 .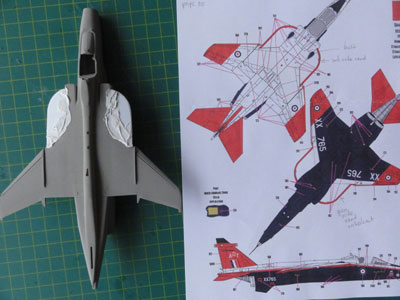 Getting the strakes of this ACT Jaguar model smooth with the model airframe using putty and sanding is quite a task, no less than 4 passes of filling and sanding were needed.
...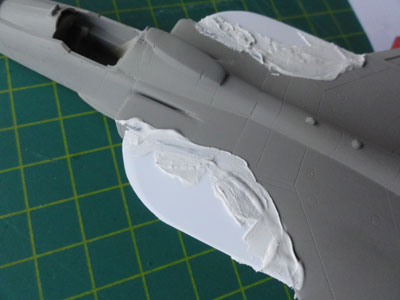 ...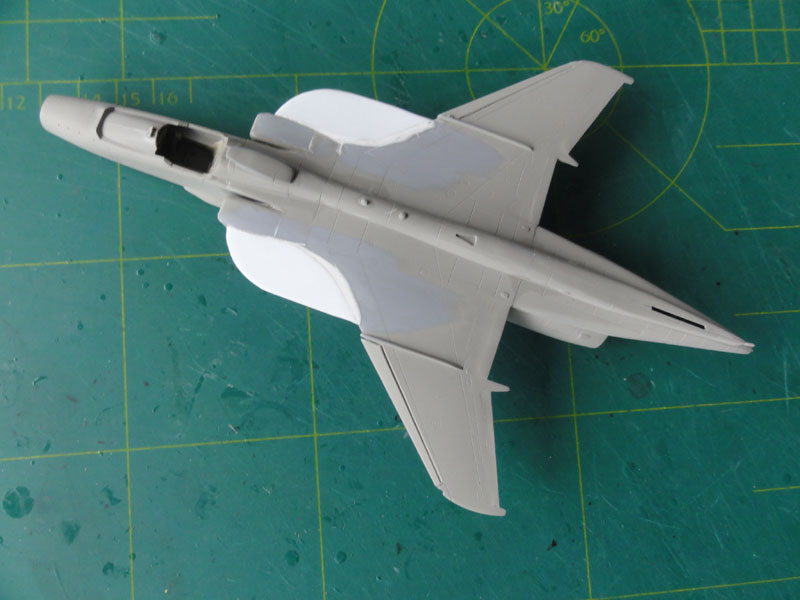 For the Jaguar ACT the usual RAF laser nose ( parts #C10+C11 ) as well as the normal RAF vertical tail were fitted.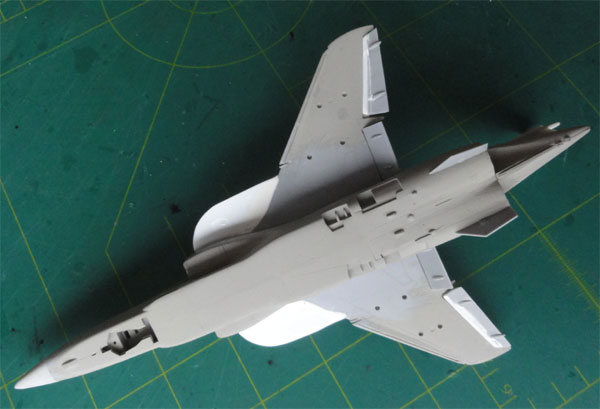 ...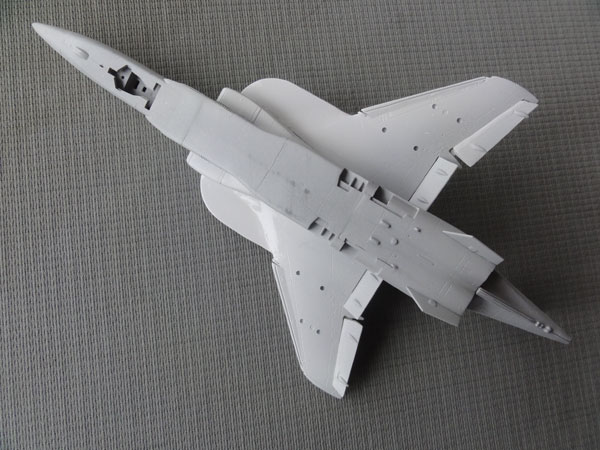 A lot of work in this model is the paint scheme, it all needs extensive masking for all the coloured areas.
But first, the two bulges on top of the strakes were set in place as seen on the ACT Jaguar, these were made of thick card sanded in shape.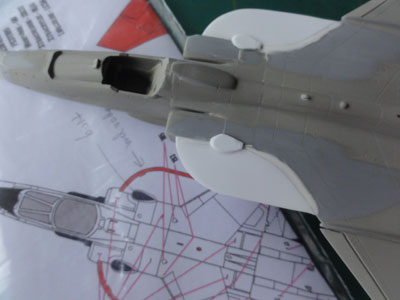 Another light grey base coat was airbrushed onto the model to check for any flaws.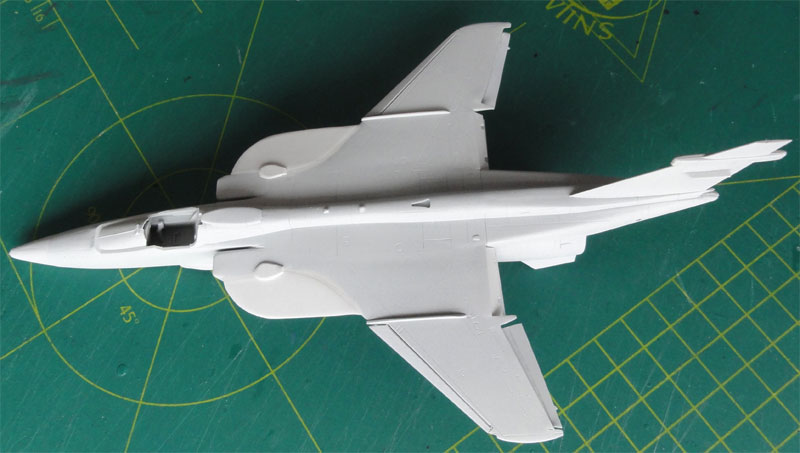 ...
After assembly, the model got first a base white coat to check for any errors. Well, again some filling and sanding was needed at the ACT wing strakes. Here we go again!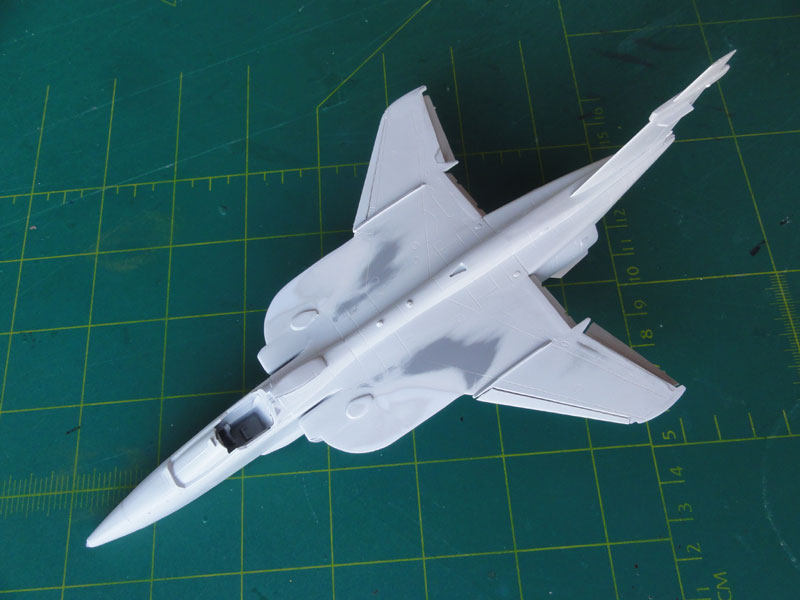 .
...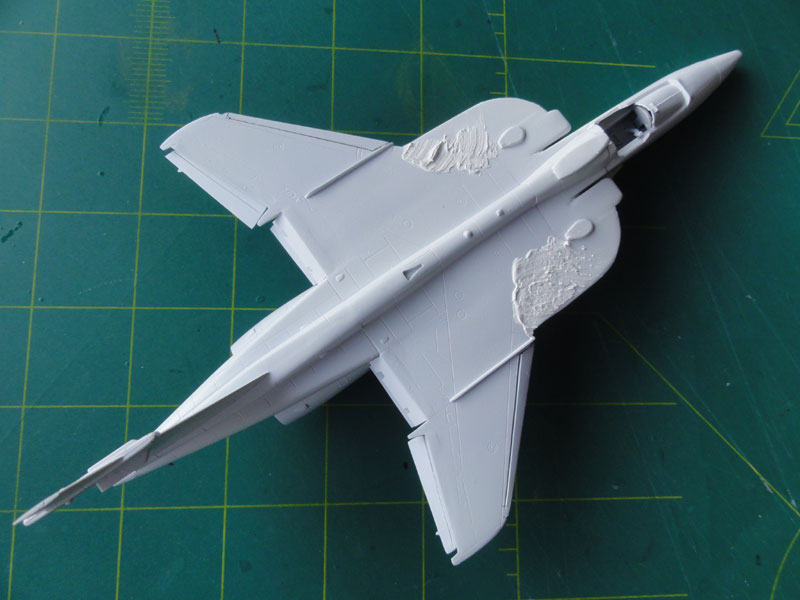 ....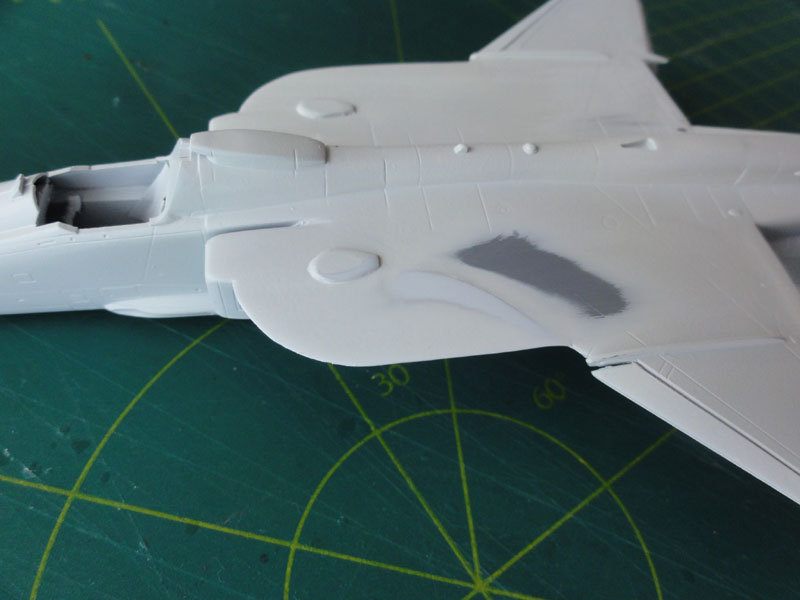 .
When finished, it was time for the colour scheme. Get the masking tape ready! I often use low tack tape from FINELINE but other tape brands are fine too.
For the Jaguar ACT "raspberry ripple" paint scheme I used these acrylic paints:
RED: Revell Aqua 330 "feuerrot" ;
WHITE: Gunze Sangyo white H1 ;
BLUE: Gunze Sangyo blue H15;
Note that "XX765" had some small variations in paint scheme during testing, particularly regarding the red edges on the strakes and slats.
All colours were applied with my Harder Steenbeck airbrush.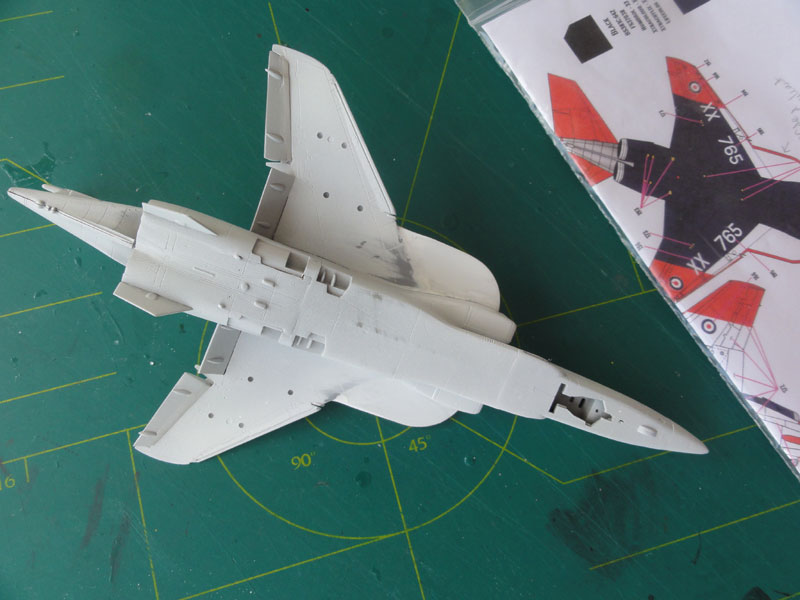 ..
...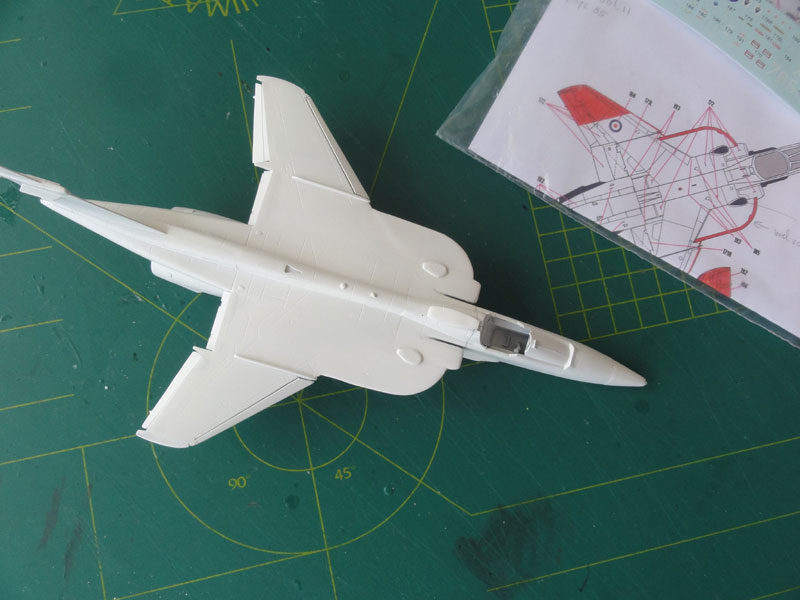 So, the colours were applied with the airbrush, starting with the white as seen above.....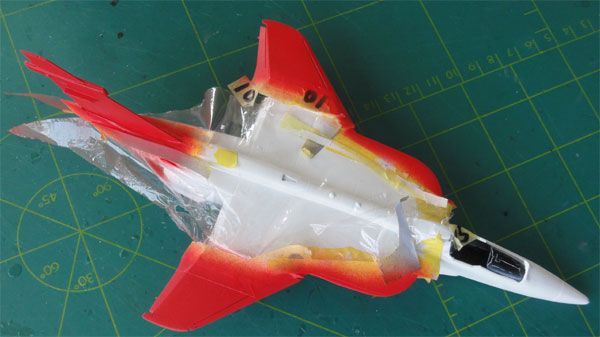 .... followed after masking the larger red (rear) areas and than after masking...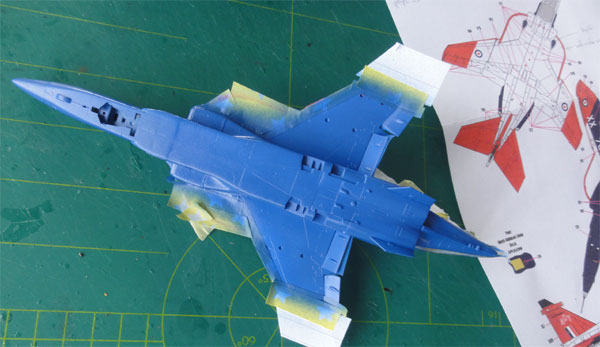 .... the rear areas of the blue. All masking tape was removed after the paint had dried. The model looked great and was ready to get the splendid COMBAT DECALS from set CD72-005 as it had gloss coats.

Note that the thin red striping were made from Signal RED XTRADECAL decals I had. Masking these thinner red lines can be done, but is very difficult. So I decided to use decals here.
The other details to be painted are the light grey gear legs and the zinc chromate wheel gear bays and air brake recesses. This was done with a paint brush.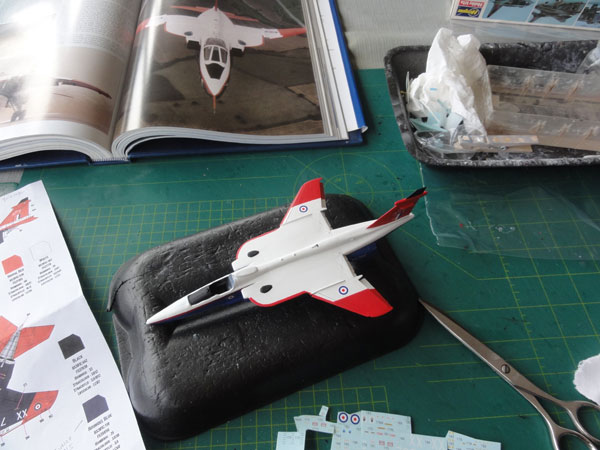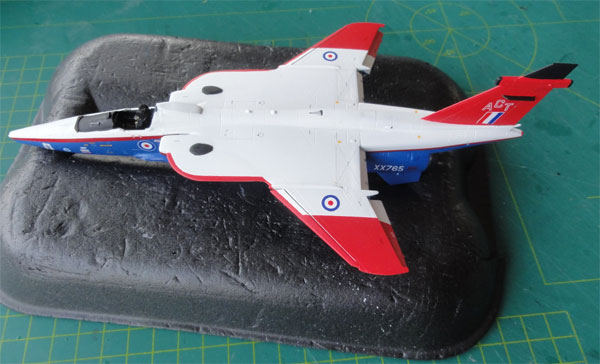 After decalling, the landing gear was installed, windscreen and canopy painted and the smaller bits and pieces. Cockpit interior "admiralty medium grey" with black details. Anti-collision lights were added on fuselage top and bottom and wing tips using Micro Kristal Klear painted in Tamiya clear blue and red and and the smaller antennas painted yellow. Also the different pitot tubes and test air data probes set-up was installed at the ACT Jaguar nose made from scrap. The black anti-glare panel on the nose came from a decal. The landing gear got a few "hydraulics lines" made from thin stretched sprue and pianted light grey.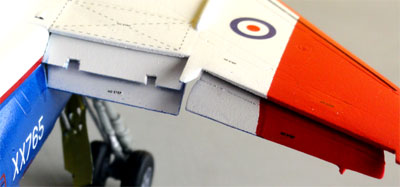 ..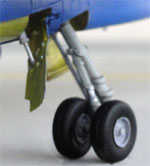 For the nose pitot tube part #C13 was used.
The kit seat was replaced by a resin one with more detail I still had from PAVLA S72024. Main seat colour is black with field green survival and para pack and painted straps.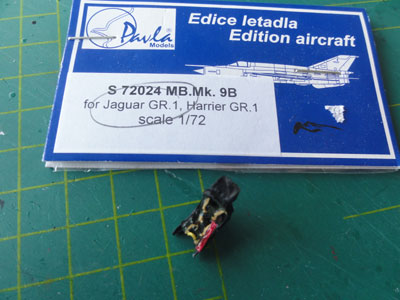 ..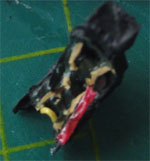 ...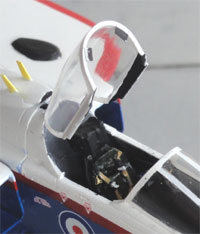 After 24 hours, the model got a couple of gloss clear varnish coats with Johnson Future/ Pledge applied with the airbrush. This gives a nice even shine and protects the decals. The canopy got 2 small mirrors made from aluminium foil inside and was installed opened up. That completed this nice Jaguar ACT model.