After the development of the Dornier Do-28A described here, it was decided in the mid 1960s to develop a new small transport aircraft with STOL performance. It had the same type number but was a different aircraft designated Do-28D with a much bigger cabin for up to 13 passengers. First flight of the Do-28 D was February 1966. The aircraft was used by civil operators but also the military. The West German Luftwaffe obtained about 100 Do-28D and the BundesMarine about 20 aircraft. Dozens of foreign air forces also used the type. Over 200 Do-28D were manufactured.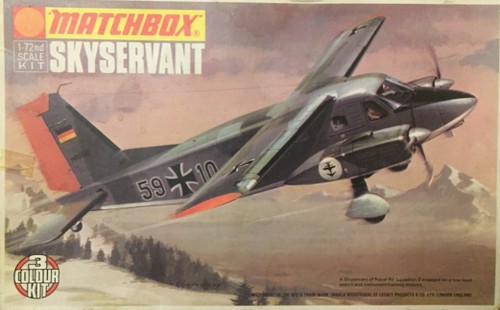 Many years ago in 1974 Matchbox came with a 1/72 Do-28 D kit PK-107 with multi coloured parts. It was a real classic kit with the side opening box with transparant view. This kit had simple decals for a West German MFG 5 scheme and a white Swedish Red Cross scheme.

The kit repopped in several releases including a combined Matchbox / Revell box #40102 in 1997 in all green plastic.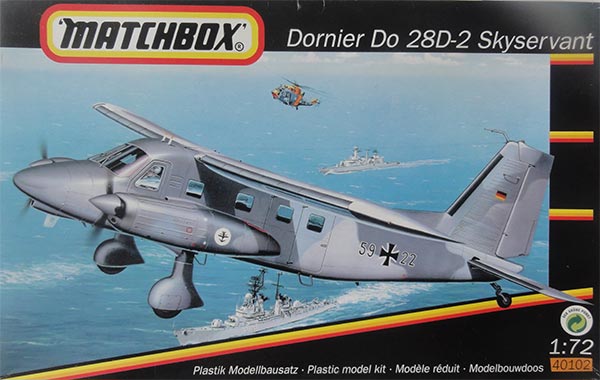 It had decals for a single West German Bundesmarine Geschwader 5 at Kiel in 1985 scheme: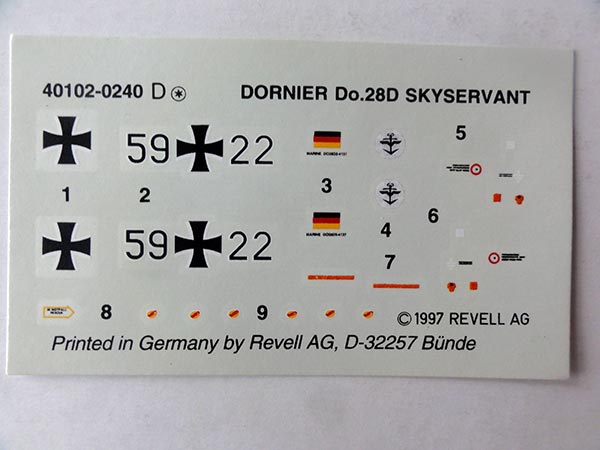 Using the same moulds released by Revell Germany several kits came as well.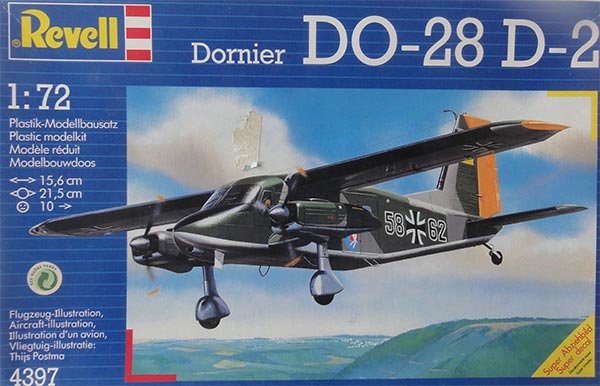 The Revell kit #4397 of 1991 had decals for a camouflaged West German Luftwaffe JaBog 36 scheme and a Bundesmarine aircraft.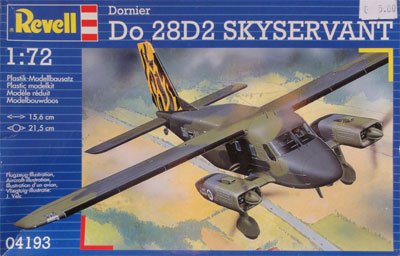 The latest Revell release #04193 of 2008 has very good decals though for a single Luftwaffe AG52 at Leck air base in a fare well scheme of Do-28D 58+29 of 1993 with a colourful tail: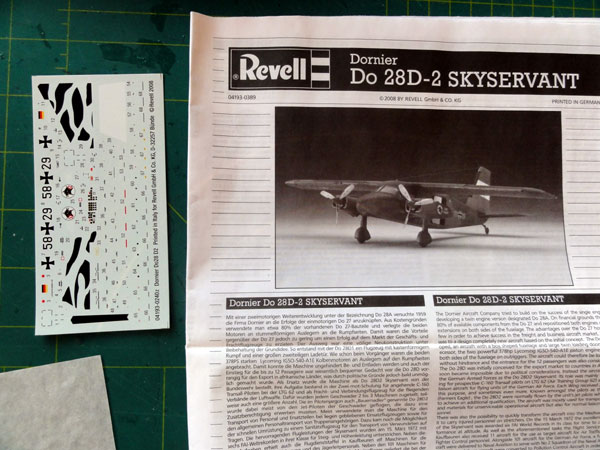 Back to all the same parts in these kits with 2 plastic and a transparant sprue with some 60 parts in total. The scale dimensions look OK.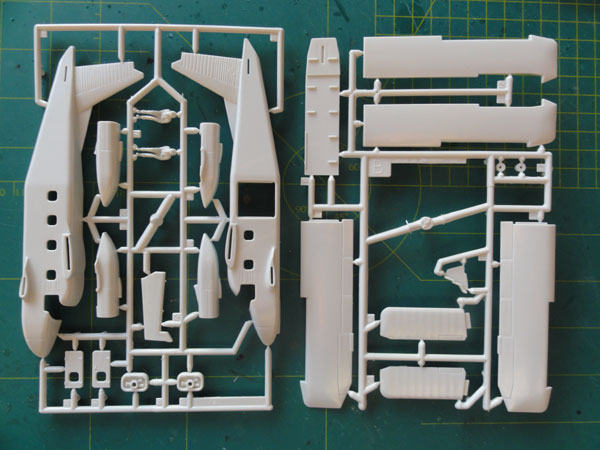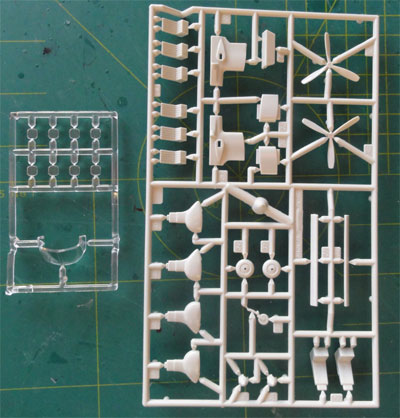 Surface detail is almost absent. You get a cabin floor with seats and instrument panel for the interior with the option to set the 2 cabin doors open. The cabin windows themselves can be set from the outside which is a big advantage as this can be done after giving the model its paint scheme.
There are not many detailed kit parts such as the large pitot on the vertical tail. Other extra details can be added easily from scrap such as flap hinges, antennas, wind shield wipers, lights and static dischargers etcetera.
Depending on the kit's age, some shrinkage can be present that needs filling.
Several kits of different releases and brands were made, but these all originate from the first old Matchbox release.

Common items that can be improved or added to a model are listed now.

Cabin doors can be set open. In that case, add some more details inside the cabin. Drawn pencil lines suggest frames and panels.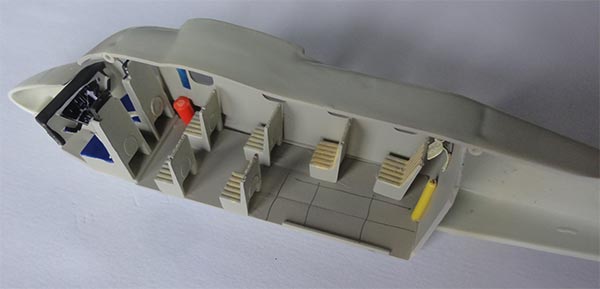 Close up the tail section inside the cabin with a bulkhead made of plastic card at rear of floor.
Add two control wheels on the instrument panel and few foot pedal controls.
Add seat belts made from painted tape and some bits from scrap like a fire extinguisher.
Paint inside of cabin medium grey for which Revell Aqua 75 grau acrylic paint is suggested but any grey paint will do as probably this varied.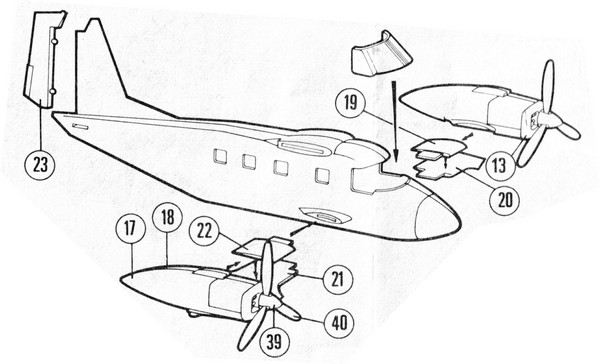 Engine nacelles do need some putty and sanding with their stubs. Retain the engine maintenance hatches inscribed panel lines. There is a bit basic engine front detail and no depth, I painted these black and metallic.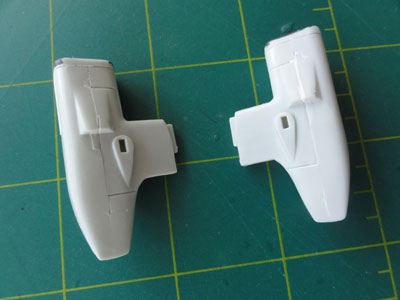 The propellers are obviously not yet set in place.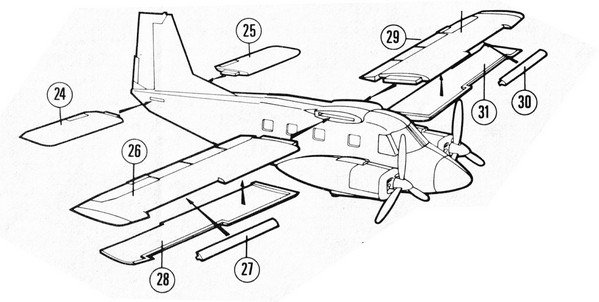 It was decided NOT to install the large wing until after painting the desired paint scheme. To get extra strength later on, a metal rod as spar will be set. This needed some hole drilling and all wil be set later on.
The wing control surfaces were sawed in with a razor saw. The aileron lines were inscribed deeper. On the lower wing the gaps were not filled, the real Do-28 has quite big gaps with simple construction.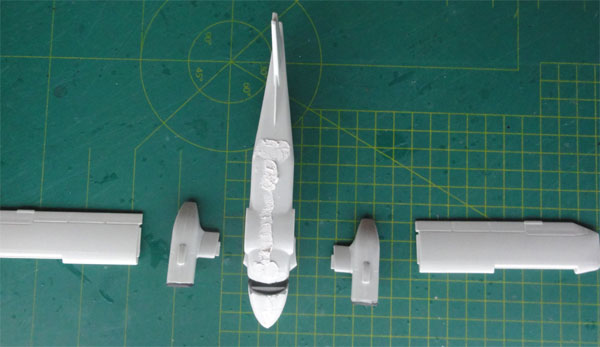 NOTE: I did see some flap hinges on photos, these are missing in the kit so will be added later on from plastic card.
The wind shield was set in place and white glue closed the gaps. The clear sections were masked with tape. (the cabin windows were not yet installed).
The fuselage, nacelles, wheel legs and fairings were joined. The two wing halves were not set yet.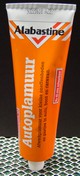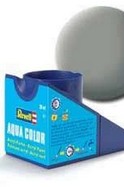 Putty was applied at particularly the fuselage joints.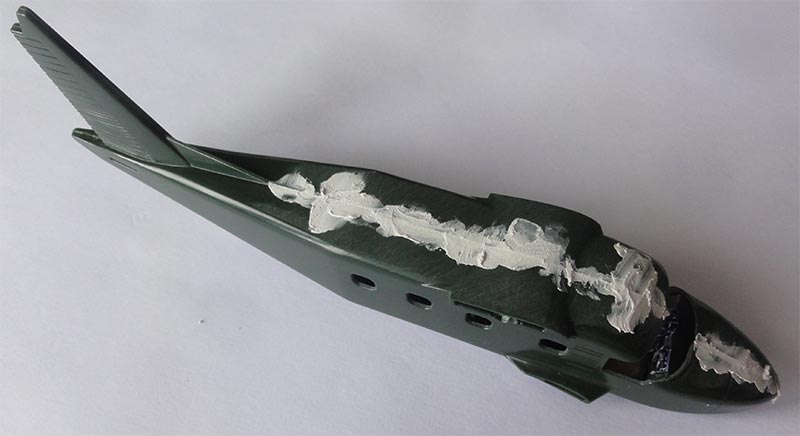 The wind shield was also installed, some Micro Kristal Klear closed some gaps (or use white glue). Note that this will be masked off prior to airbrushing.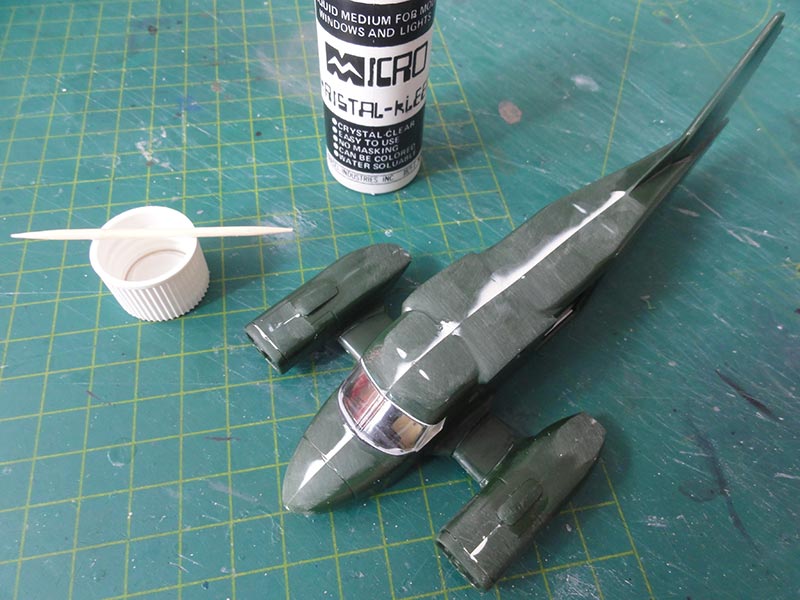 After sanding install the horizontal stabilizers at 90 dregrees angle without dihedral.
A base coat was airbrushed with Revell Aqua 75 steingrau to check for any flaws and to get an even base coat.
Each model got now get the paint scheme/ livery with usually still the wing halves not fitted. On some Dorniers the wing, stabilizers and tail have black de-icing booth on the wing leading edge but not always. Mask at this stage and airbrush black if needed.
The propellers are light grey and were airbrushed. After drying they got the black edges painted with yellow propeller tips with a fine brush. The spinners often have the surrounding paint scheme colour.

After the paint scheme has been applied the wing halves can be set in place. I used a metal rod for extra strength as "spar". I did not bother too much about the step between wing halves and fuselage as on the real Dornier these are also seen, the aircraft has a simple low cost structure. White glue was used to close gaps.

Next add the various details:


Fit a large pitot from scrap on the vertical tail tip. This is seen on all Do-28D aircraft. Set a big transparant anti collision light on the rudder top, made from clear transparant red plastic. On the lower tail a smaller red light was added, the wing tip lights were painted red (left side) and blue (right side) dots.

The tail wheel is installed as per kit.

The cabin doors were set open, it appears that often only the rear doors is open and folds onto the foward door. Next came 2 what seem steps at the fuselage sides aft of the nacelle stubs made from thin metal wire. Another entry step was set at the fuselage cabin doors.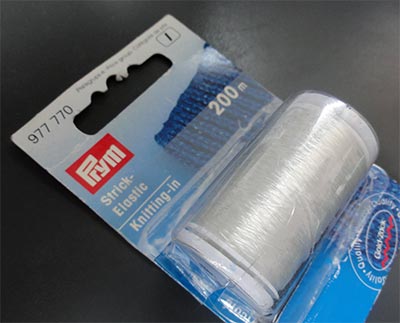 Usually the Do-28D has a long wire antenna; this was made from Prym "strick elastic" wire (or use fishing line). A small hole was drilled in the cockpit roof to get a first base point and the rear end is at the tail pitot and the wire is set with super glue.

The many static dischargers seen on the Do-28D were made from wire (use flex wire or EZ line bits ) and set with super glue: 2x4 at main wing, 2x3 at each horizontal stabilizer and 4 at the rudder and 1 at the fuselage end.