... continued from page 2....

More than a year after completing the previous Mirages, more Mirages were made.

A Heller Mirage was made and finished as a Belgium Air Force Mirage 5 BA (V BA). The type entered service in 1970 as replacement of the old F-84F Thunderstreak. The Mirage V BA had no radar and was used exclusively for ground attack.

The brake disks on the main wheels are slightly different as on a Mirage 3 ( III ) but the Heller kit parts were used. I retained the kit (raised) panel lines.

The BAF Mirage was special as it had an arrestor hook fitted as well. The arrestor hook was made from strip. Other tiny intakes and scoops were added as weel from scrap.

Some smaller intakes were made from card, particularly at the lower area near the canons (see page 1 as done at the other Heller kits...)

The cockpit interior was mainly black. The model fin tip got a black edge and small ECM fairings made from thin rod and plastic card. Small anti-collision lights were made by cutting out nothes in the wing leading edge tip and , after painting red and blue, filled with Micro Kristal Kleer.

Also suggested was the later installed chaff dispenser on the lower fuselage tail.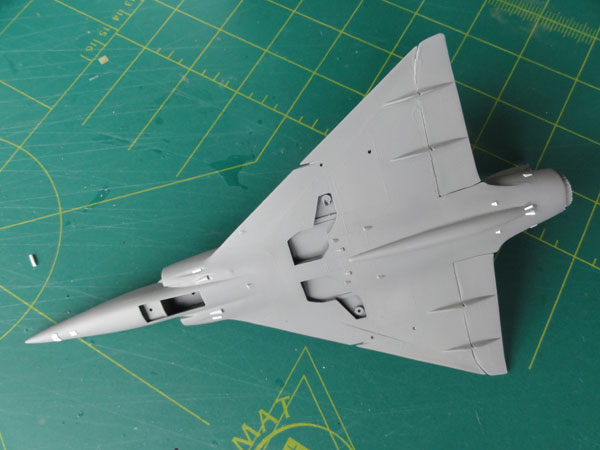 Here the assembled Heller 1/72 model for the Belgian AF is seen with a grey base coat using Revell Aqua light grey #371 to check for any gaps and errors and applied with the airbrush.
I had an old IPMS Belgium magazine (kit #54 of Summer 1984) and also a very old DACO decalset D7222 in the decal box and it had markings for a Mirage V of with code "BA 26". It sports a wrap around camouflage scheme applied after 1981 and indicates the appropriate Fed.Std colours.
On the model were used these acrylics:
FS 34102 green using Gunze Sangyo 303;
FS 30219 tan using Gunze Sangyo 310;
FS 34064 olive drab using Gunze Sangyo 304 (or use Revell 361 acrylic).
The camouflage pattern varies considerably between individual Mirages of the Belgian Air Force. (note that older BAF Mirages had light grey/white lower surfaces FS 36622).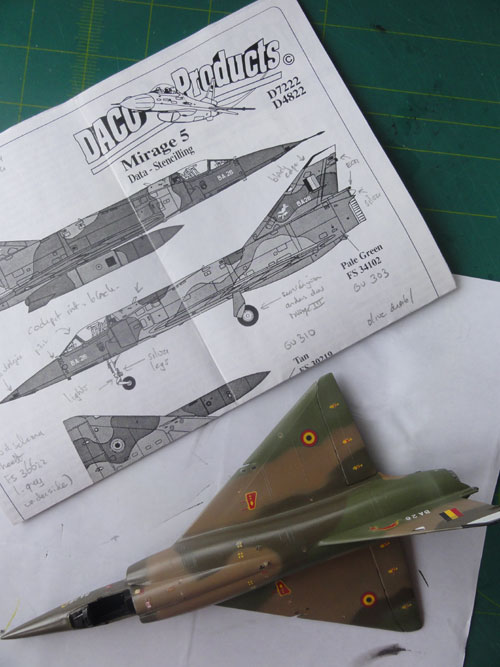 Time to apply the decals. As usual to prevent "decal silvering", the model got as other models a couple of gloss coats with the airbrush using Johnson Future, thinned with 20% IPA Alkohol.
The DACO decals were fine. The "yellow" no step markings were used, but these vary between aircraft.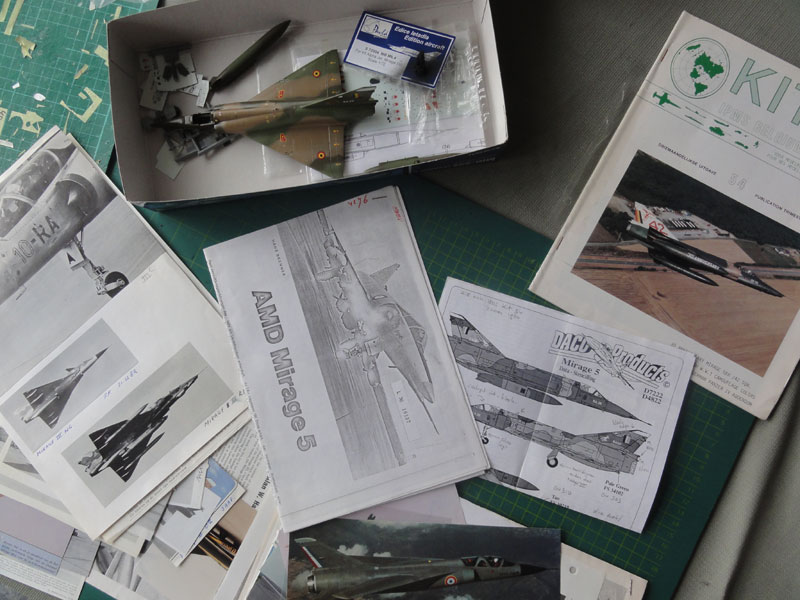 After decalling, the rest was completed. Undercarriage fitted and also a couple of large fueltanks. The wheel bays and gear legs got a metal aluminium finish painted.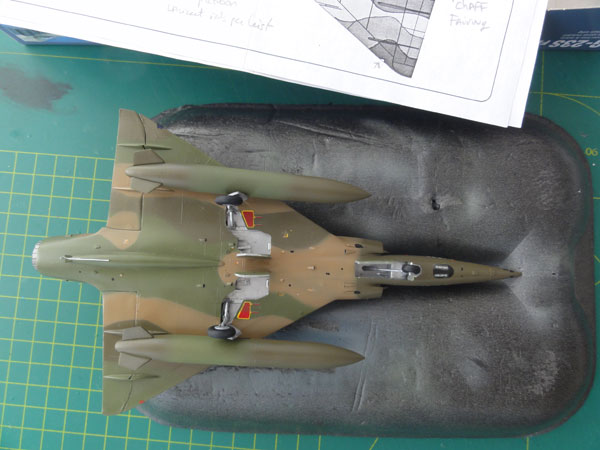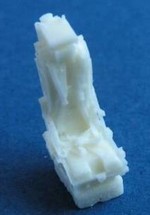 Again the simple kit seat was replaced with a Martin Baker mk.4 resin seat from PAVLA #S72004. (Note: from 1990 the Belgian Mirages got the Martin Baker mk.10 seat).
Some tiny cockpit details were added as well from scratch.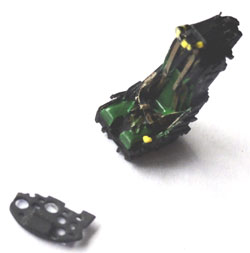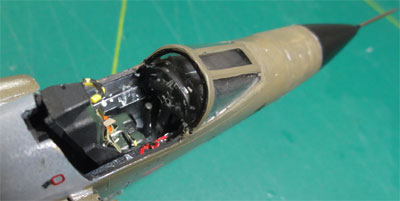 After this, some areas got a light overspray with the airbrush using the same 3 camo colours. This "blends in" the decals into the model and gives a very good scale effect.
After that, the model got a semi-gloss coat to get an even sheen and protect the decals. Johnson Future thinned with 20% iso propyl alkohol was used with some 10% Tamiya matting acrylic X21 "Flat base" mixed in.
The canopy was painted and set open with some tiny mirrors added as well. The canopy at the rear can be fixed with a small piece of etched metal or aluminium BBQ plate bended bit and superglue.
The Heller kit exhaust was covered with a red cover plate and some "remove before flight" vanes were added. A metal pitot tube was made from a piece of metal needle.
That completed this kit which had been in the unbuilt stack for far too long.




Mirage 5 BA of the Belgische Luchtmacht / Force Aerienne Belge.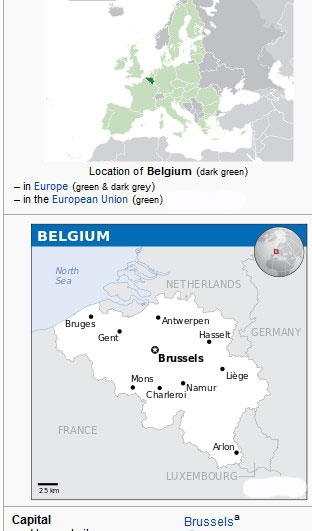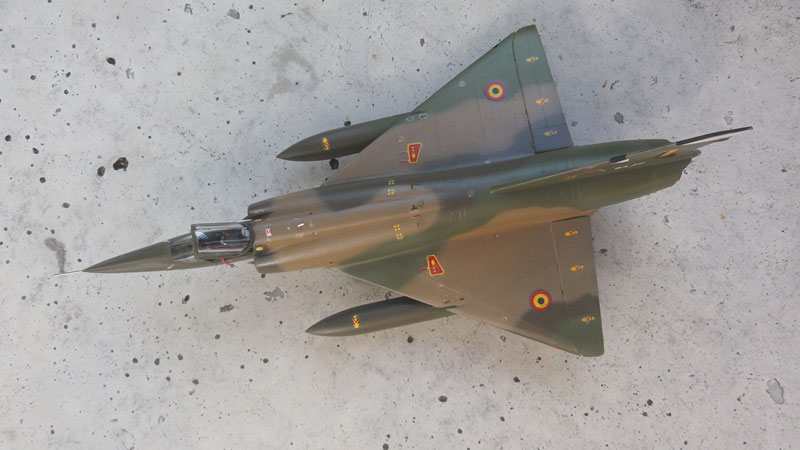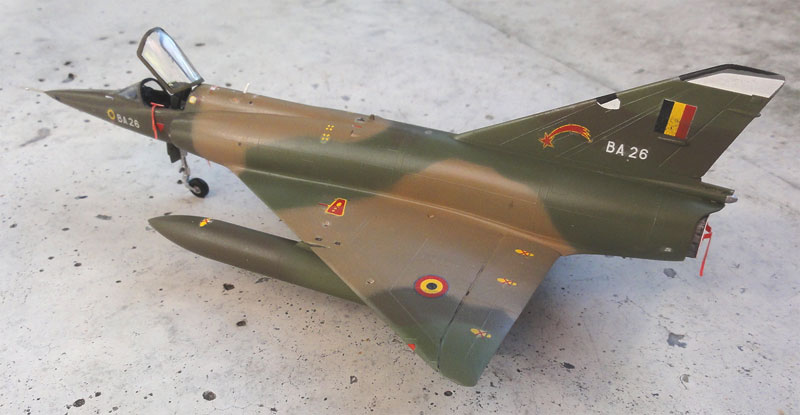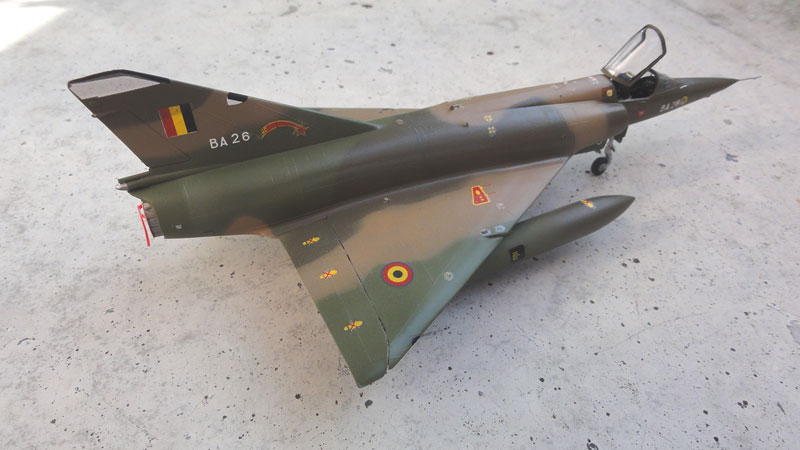 Note that this BAF Mirage 5 BA does not bear any walkways lines as seen on most other Mirages.