Another Heller Mirage V kit was made in a similar fashion as the earlier made kits.

It was finished in a scheme for a "Force Aerienne Gabonaise" ( Gabon air Force ) Mirage 5G, the G standing for Gabon Export Model. A profile drawing is seen in the book Mirage III Planes and pilots on page 46 with a camouflage scheme.

I used these Mr.Hobby Gunze Sangyo acrylic paints:
lower grey: H 308
olive drab: H 304
light medium grey: H 305
These were applied with the airbrush.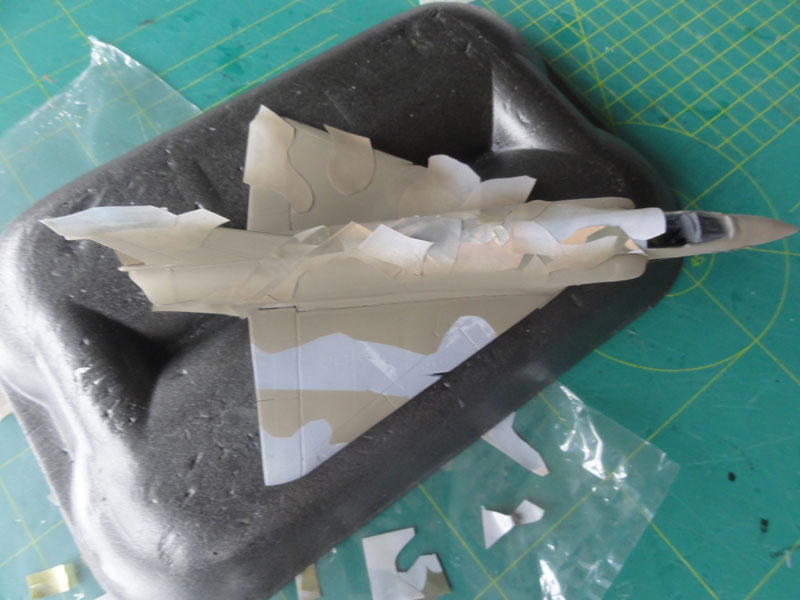 It has a similar camouflage pattern as most Mirages, using the French pattern layout. Masking was done also with low tack masking film.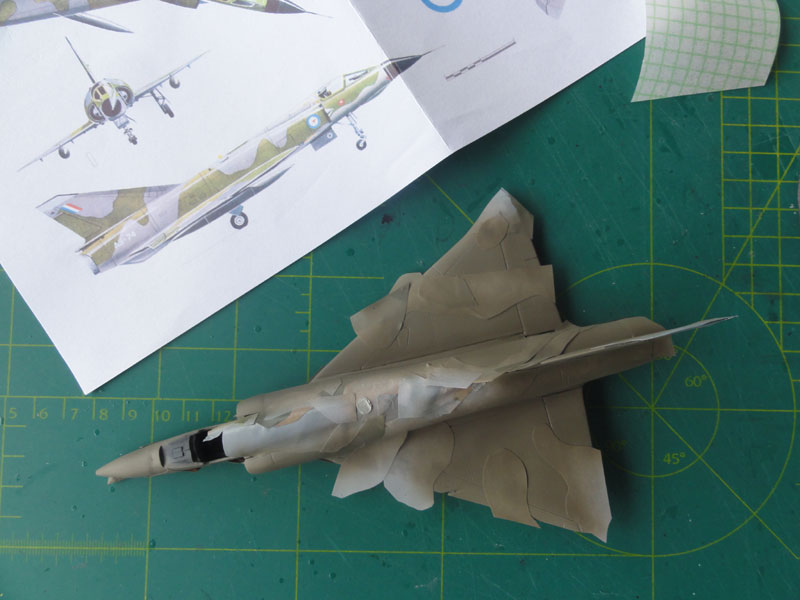 Decals had to be found in the spares box. The roundels were made by combining 2 decals.
The model was finished as usual. The smaller parts like undercarriage was added as well as tinier parts like the pitot tube (made from a metal needle) but also for example mirrors in the canopy.
The final coat was a semi-gloss one with the usual technique. With the canopy installed, that completed the model.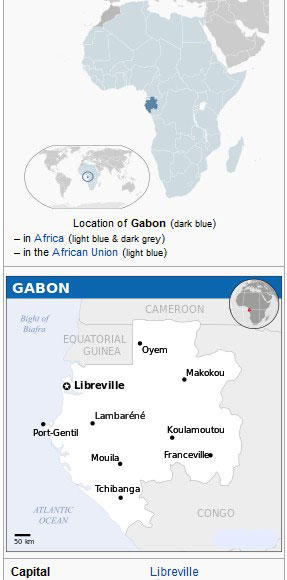 ..

...

....
[ area: 267,600 sq.km | inhabitants: 2 million | capital: Libreville | GBP 7,700 USD per capita ]
The Gabon air force "Forces Aeriennes Gabonaises" was established with French assistance.
Aircraft types were a number of second-hand Douglas C-47, Max Holste Broussards and even a few Japanese NAMC YS-11 transport aircraft. At the beginning of 1972 the Gabonese Air Force ("Force Aerienne Gabonaise") became a separate branch of the armed forces.
All these years, Gabon has purchased planes from the West and especially France. It is one of the few African countries that had modern fighter jets at a relatively early stage. In 1975 a contract was signed for a first five Dassault Mirage (V) 5-G including a pair of 5-GD two-seater. The G stands for model Gabon export and the first delivery was in 1978, later followed by four additional upgraded 5G-2 aircraft. Other types were helicopters such as the Alouette III, Gazelle and Puma and five second-hand Fouga Magisters. The Magisters were armed "to protect the president." They also had six Beech
T-34C
Turbo Mentors, the first of which was delivered in 1982. From 1988 a Fokker F28 from the airline Air Gabon was used for VIP transport and 6 Embraer Bandeirantes for light transport tasks.
In the early 1980s the Air Force was set up differently with the main base at Libreville. Around 2008, nine Mirage F-1 hunters could be taken over from South Africa. Most Mirages fly from the base Franceville which is more strategically located at the eastern border with Congo. The Air Force currently also has some transport aircraft such as a C-130 Hercules and a CASA CN-235 from the main base at Libreville. Various small air strips are also located in the country.
A large proportion of the aircraft have been allocated to the Republican Guard for use by the president and family. This fleet has VIP jets such as the Falcon 900EX, Gulfstream G-IVSP and even a Boeing B777 as well as various helicopters with VIP interior. Other aircraft assigned to this Guard are oddly enough also MB-326 Impalas, which were also taken over from South Africa to be able to carry out ground attacks. From Libreville, the police also fly with various Aerospatiale helicopters, but also the Eurocopter EC135 and a single Bell 412SP.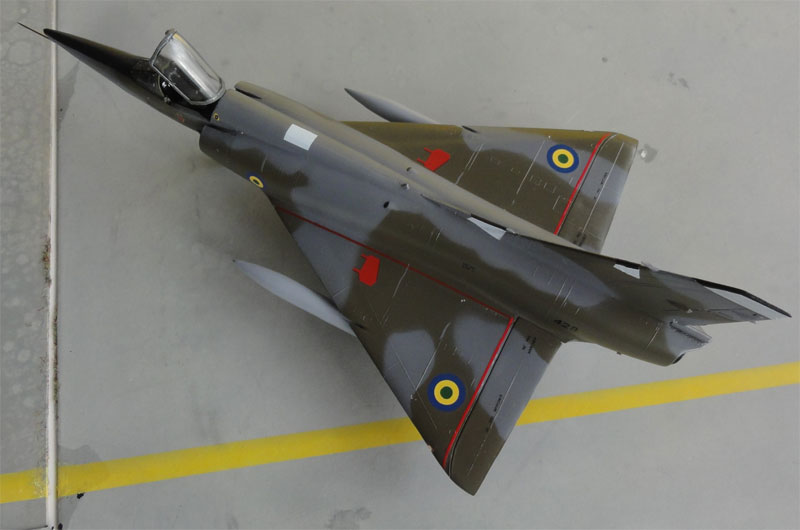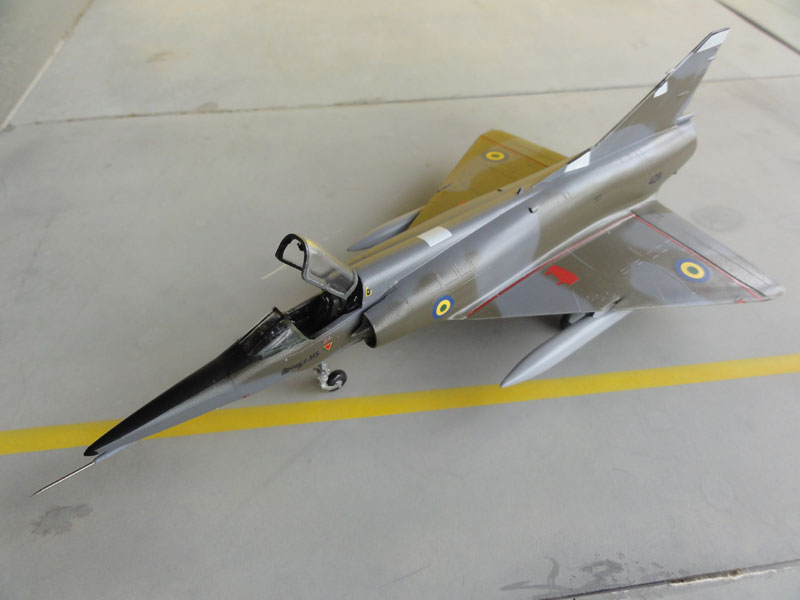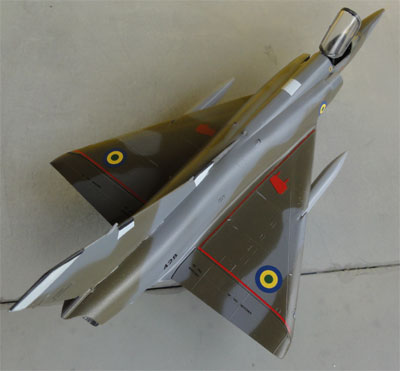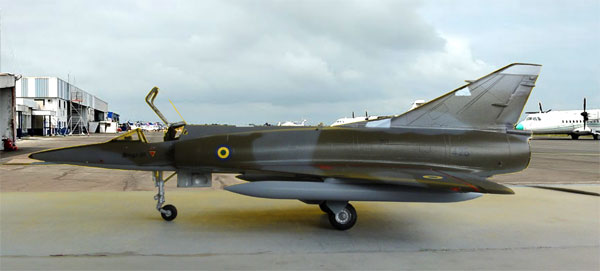 Here seen at Libreville, Gabon