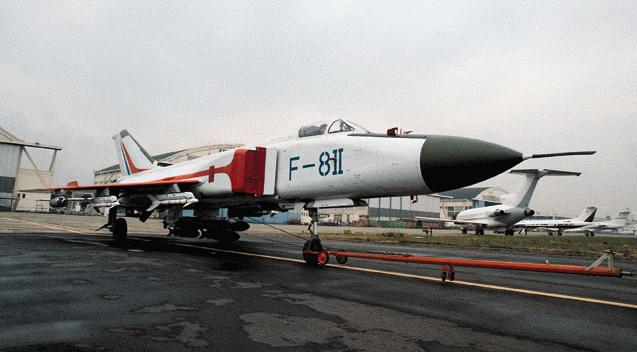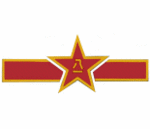 This is a Chinese single-seat twin-engined air superiority fighter, with secondary capability for ground attack. Development started way back in 1964 ! However there were many development problems and the type went into service with the PLAAF much later, the numbers being unknown. PLA Air Force operates probably this type in 4 regiments.
It has one 23 mm Type 23-3 twin-barrel cannon in an underfuselage pack immediately aft of nosewheel doors. Also pylons are fitted below the delta wing, capable of carrying various stores and fueltanks.
Max speed is claimed to be about MACH 2.2 but this seems a bit a too high...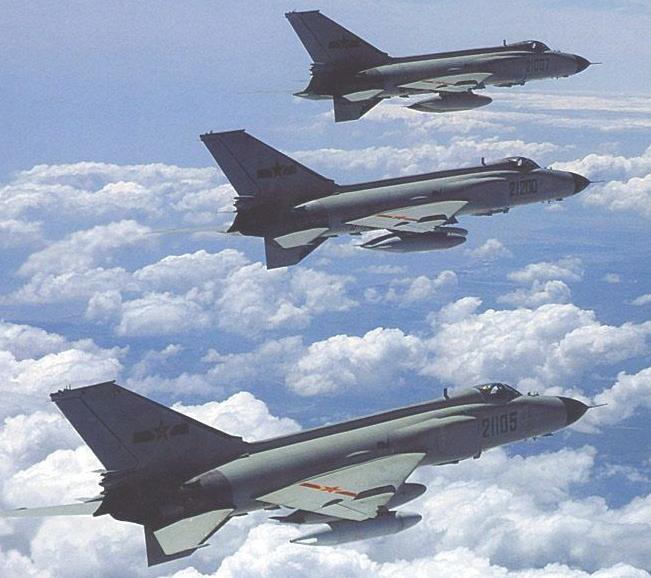 References: website of Janes
A couple of drawings were discovered: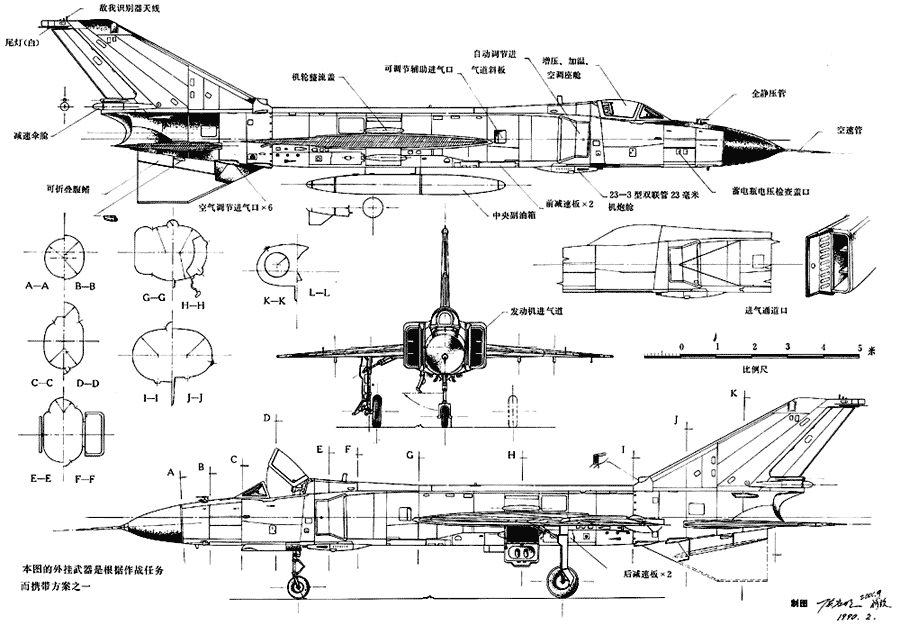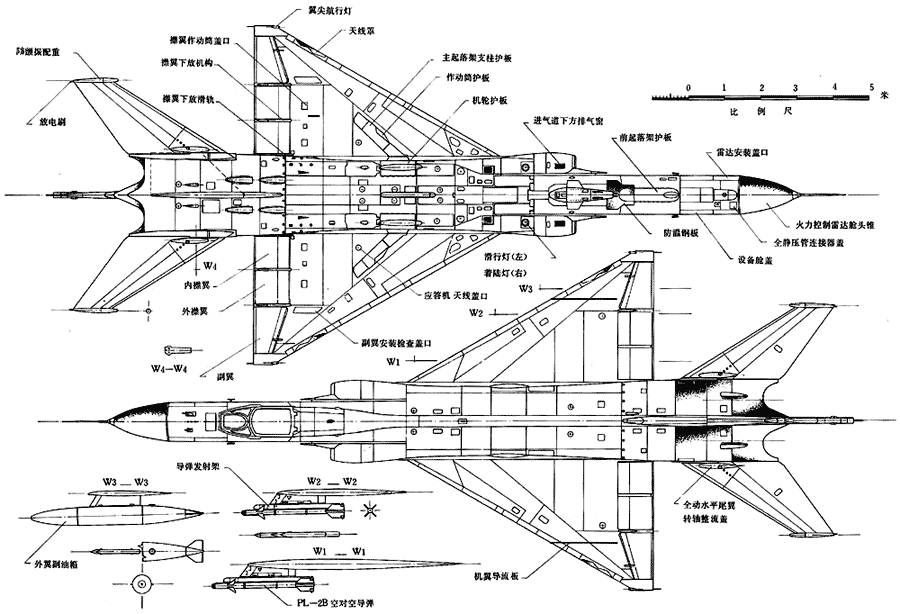 Dimensions of the real plane are a length of 21.59 m and wing Span of 9.34 m.

---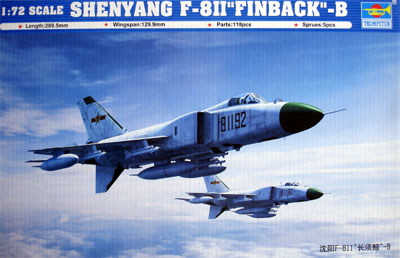 ...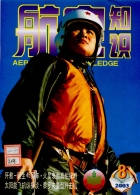 The Trumpeter 1/72 kit #01610 has about 120 parts which are crisp and with fine recessed panellines. It represents the F-8 II type. Decals are provided for Chinese planes with options for several Red nose numbers.
Instructions are clear but with some "vague" colours, the overall plane being white but with a nice colour scheme print.
At 1/72 Scale the length is 295mm and wingspan 130mm, and the Trumpeter kit matches with these figures.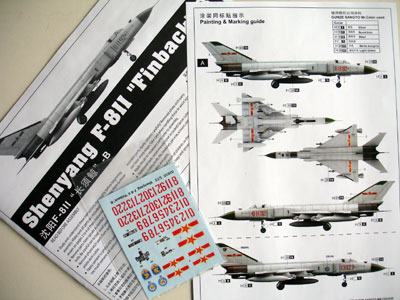 Accuracy seems OK, which indicates Trumpeter had access to a real plane. Detailling is as can be expected for a kit at this scale but is not exceptional but with good undercarriage, panels and exhaust pipes which are of enough depth. You may add some extra details in the cockpit area. Stores are fuel tanks and chinese type PL-8 ? missiles. The plane is rather "clean".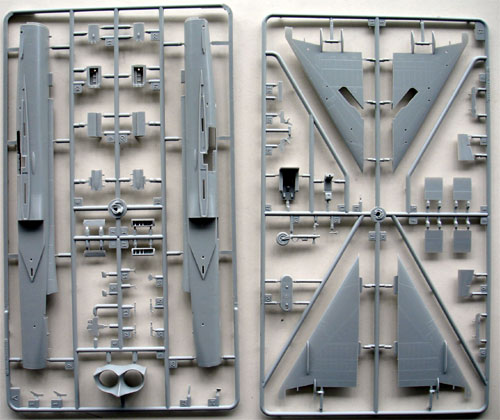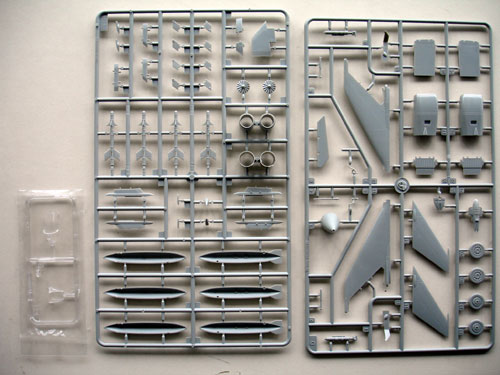 The kit was made straight out of the box. Only limited amounts of putty filler were needed, but nothing uncommon for the average modeller.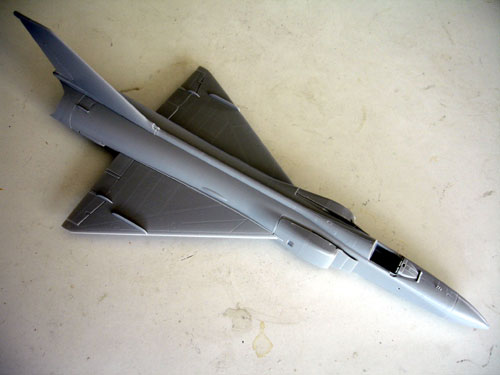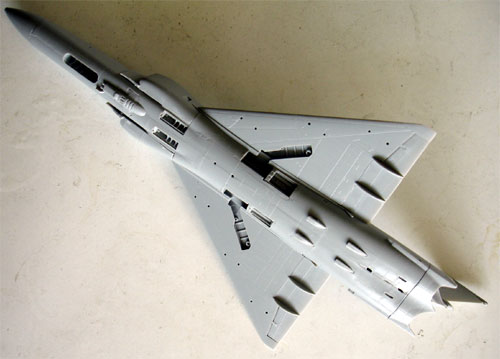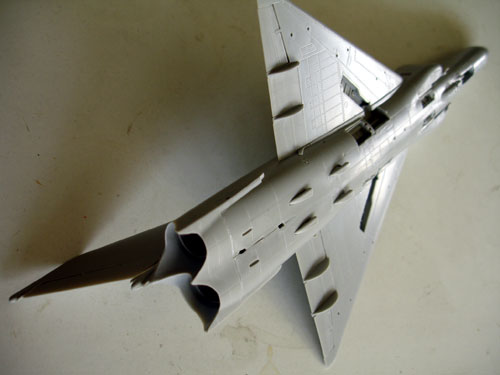 Colours
It seems "all" Chinese operated F-8's are white.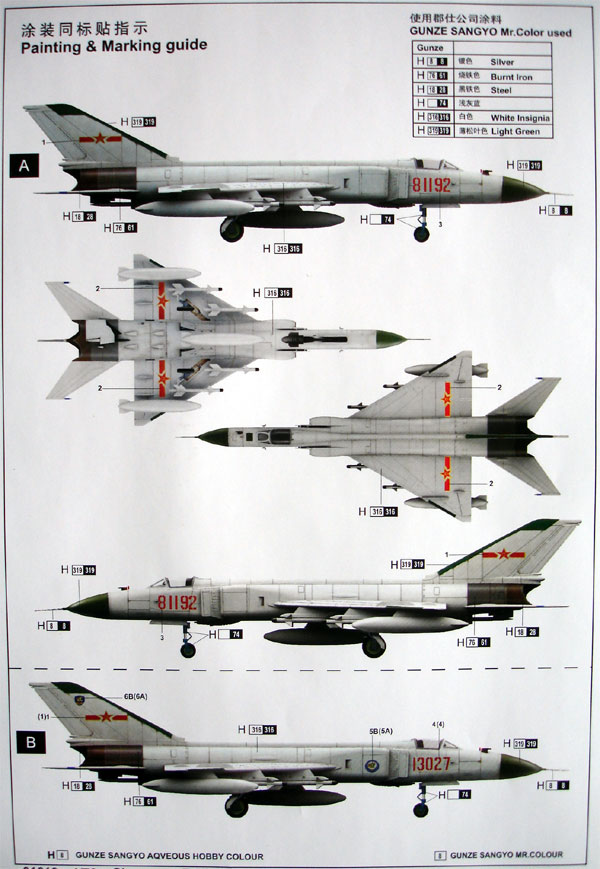 Overall, this is a model of a unusual subject.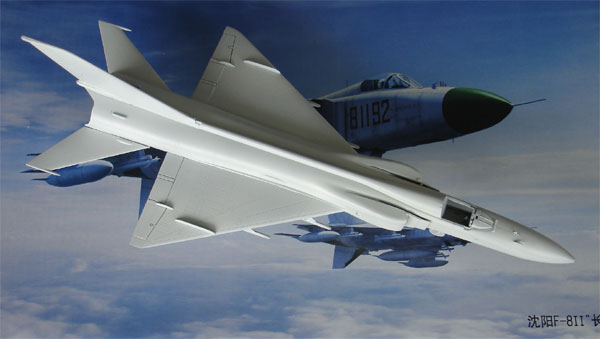 The overall model was assembled, sprayed light grey to check voor any surface imperfections. After some minor correction with putty, it was given a mat white and than gloss white coat with the Badger 150 airbrush. The exhaust area was given a coat of metallic. The nose, fin leading edge and gear wheel hubs were painted green. The nose wheel leg has some blue areas.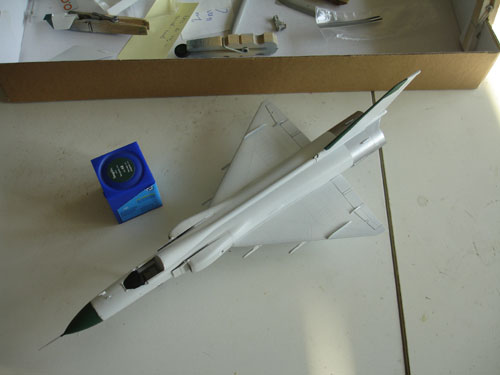 Decals are very nice, although I feel a bit oversize, especially the special markings. Application of the decals went OK. Cockpit hood was set open and the model was ready.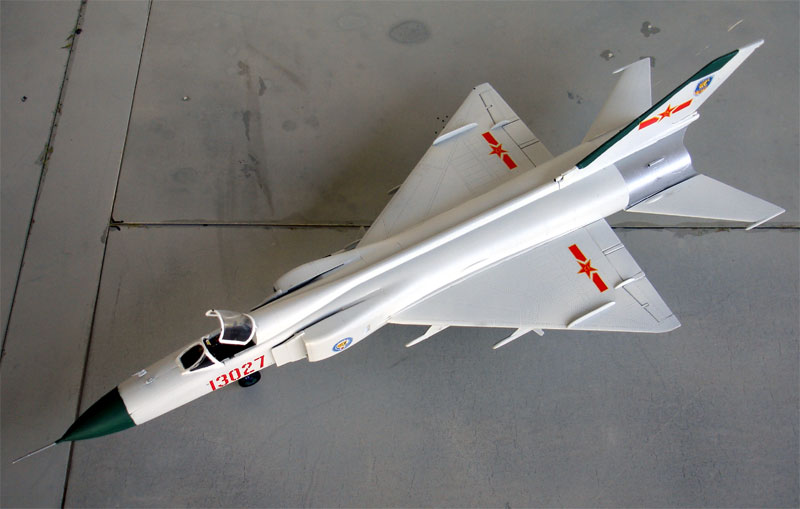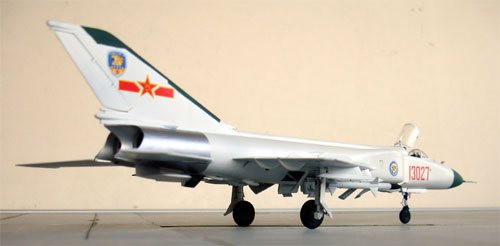 .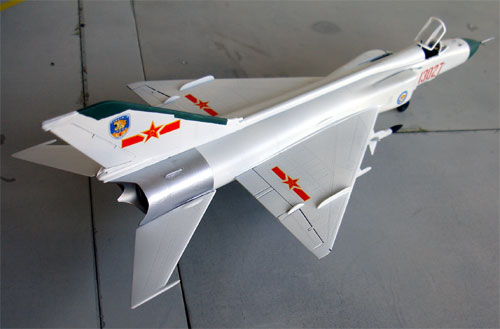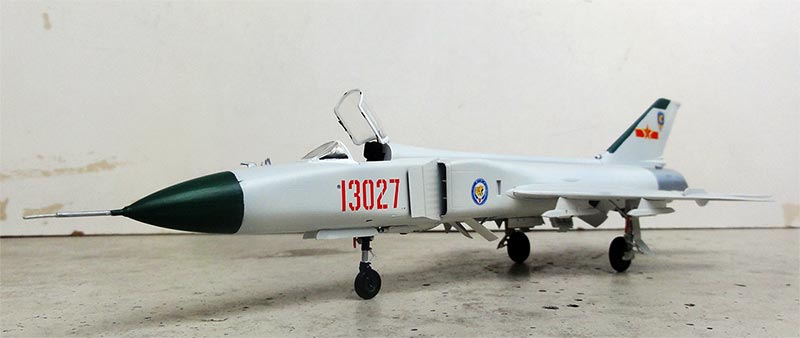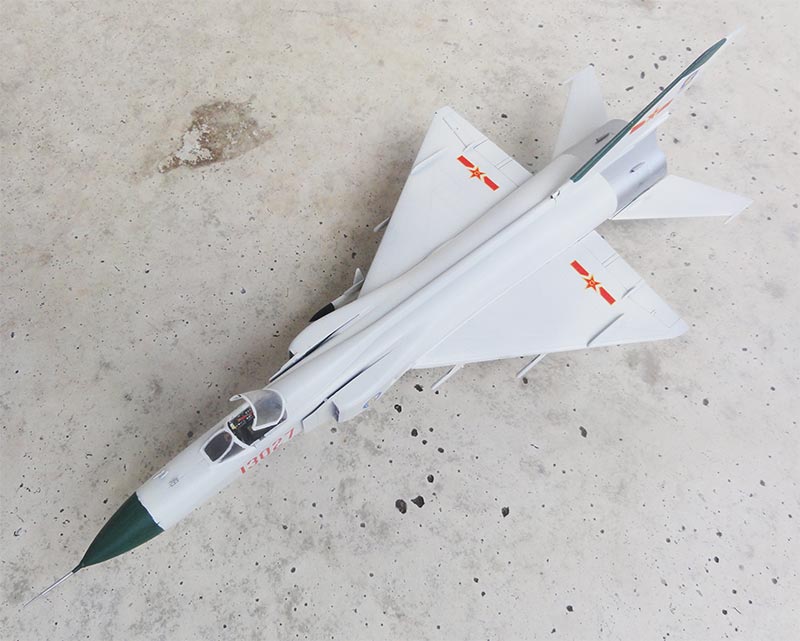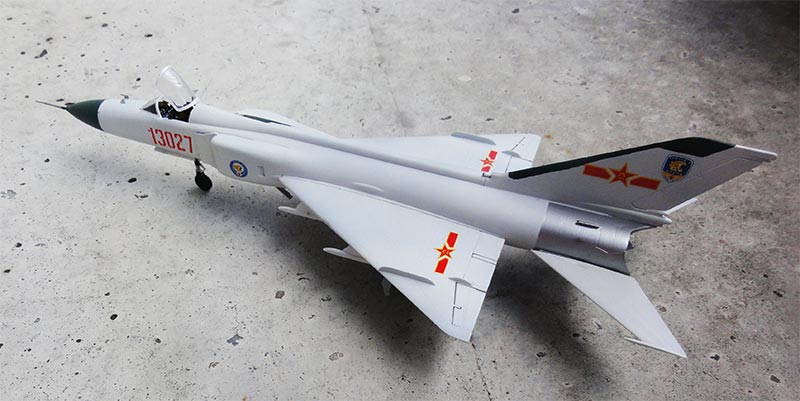 A nice straight out the box model in the 1/72 collection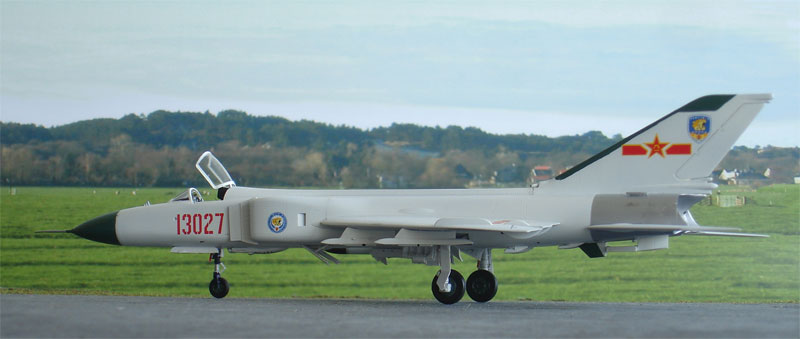 ---