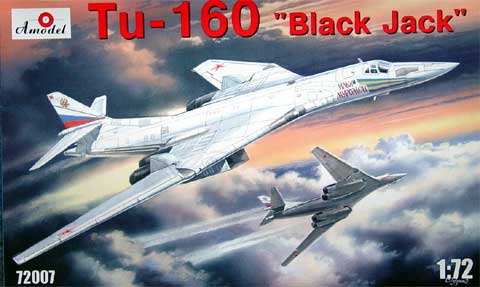 AModel kit
The Amodel kit number 72007 in 1/72 scale was released in 2003. It has a glassfibre fuselage and 2 wing halves, the remainder being supplied with hundreds white plastic parts. The kit comes in a big box measuring 40x70 cm.
There are 30 racks with about 250 parts, decals and instructions, all bagged. The kit has many details including a nice cabin section and nice undercarriages. However, no missile/bombbay is supplied as this area is needed for plastic parts to enabling the wings halves to swivel.
Amodel has obtained more experience now with making clean mouldings and the connecting gages are not so thick as with their older kits. The kit is not "short run" but also not a normal kit as the plastic is soft and needs cleaning up and sanding to get things to fit right. This makes the kit suitable for experienced modellers only.
NOTE: well, just as I had finished the model.... Trumpeter released a good injection kit in 2005!
Looking at various real photos (see references ) , it can be seen that AModel did their homework, The many parts look like the real ones and the model certainly like a Black Jack. It is not a big surprise as AModel comes from Kiev in the Ukraine. With Russia, these countries only operate the Black jack. AModel had thus access to enough information. I rate the accuracy good.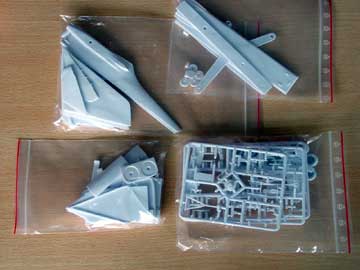 Parts are packed in bags. I removed some connecting sprues of them already as seen...

As with many AModel kits the instuction steps are not in a logical correct order. I used the a different order as indicated in the modelling report.

---
OK, Lets start now!
How to tackle this kit?
First, on a couple of evenings I cleaned up the many smaller parts of white plastic.
Next steps?
Wheels
Step 13;
I started with making all those wheels. They have a bad fit and I needed to open up each and every hubhole. All wheels need sanding and it is not a very nice task.
Forward fuselage section
Steps 1 , 2 , 3 ;
The forward fuselage is of white plastic. First you need to open the 2 windows for the rear crew members. Also, I added some detail in the camera opening in the lower nose part.
The kit comes with a nice interior with adequate and correct details. Not much of it is to be seen as the cockpit glazing is fixed and the crew enters through a hatch in the nose wheel bay. The fit of the interior gave me some troubles as the bulkheads are a bit too large and the nose halves are a bit warped. After some sanding a cutting, you get a good result. The cockpitglazing is OK and clear and needs only some minor sanding on the edges to fit.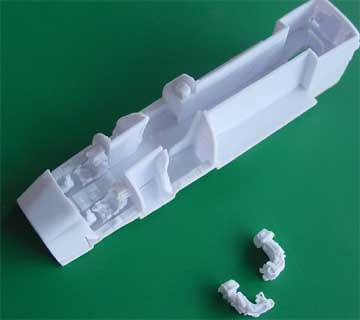 Step 4 was finished without the nose gear and noze glazing. You need some clamps here to minimize the sanding later on.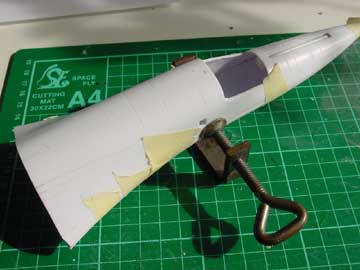 ..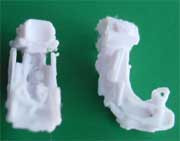 The seats are also OK and look like the real ones; replacing them is not needed as not a lot of them can be seen later on anyway...
Bays
Steps 14-15; Steps 17-18; Assemble and set to dry.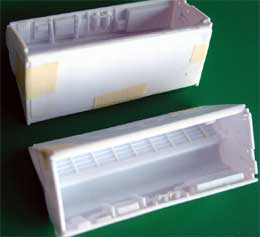 ---
Wing prep.
The wing halves are OK and are made of glass fibre. Only some cleaing up on the leading and trailing edges was needed. I also made some cuts are the rear surfaces of aileron and flaps. The wing swivelling points were cleaned up as well.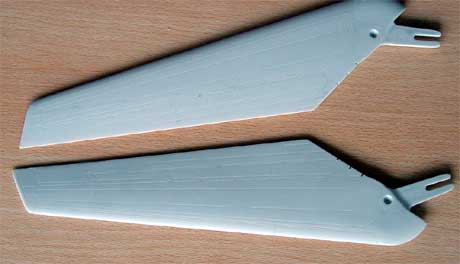 Exhausts
Next was basic assembly of parts in Step 20 to check engine exhaust fit . This was done in order to check their fit first! As expected, I had some troubles with nice fit of the engine exhaust pipes. The glass fibre edges of the large fuselage part # 1 were a bit thick and warped. So I had to adjust here and there. I also damaged the edge of one engine fairing, which needed repair.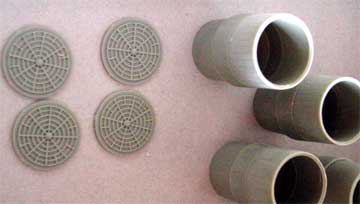 Some assemblies are seen below in the box...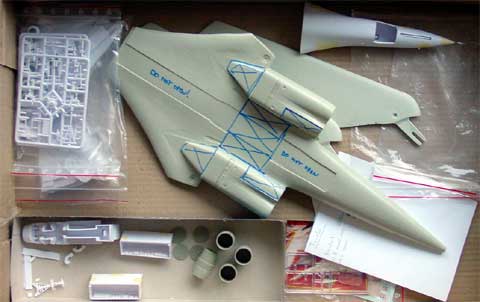 ---

Major fuselage prep.
Step 7
Next was preparing the major part like the glassfibre fuselage. It needs cutting and sawing out various lower sections to get wheel bays and the engine pods in place. This is quite a complicated and difficult task. I had to use a household drill to make holes to get a start. After that, a thick saw was needed.
Use a mask to protect your health here!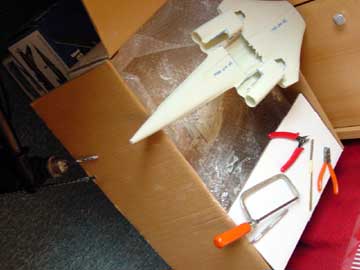 The wheel bays were cut open and also PART of the centre lower fuselage section. I did NOT cut open the entire length as suggested with the instructions. If you do so, you will loose a lot of strength here.
Only the crossed areas seen in the picture were opened.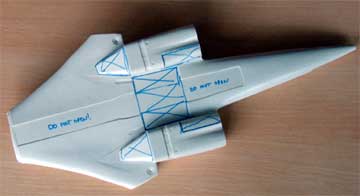 The larger opening is only needed in order to fit the wing swivel mechanism, see Step [6].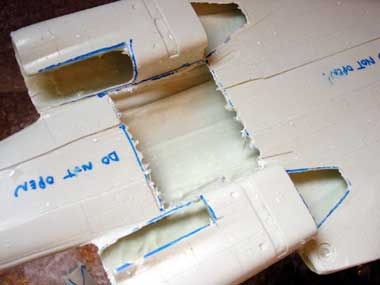 Also cut open the engine intakes, the fibre "triangles" should be removed. I did however NOT cut open the engine fan slots as these can be fitted in from the rear. Also, the inner rear engine fairing panels were opened for which parts #73+74 are supplied. Also open up the wing rotating points.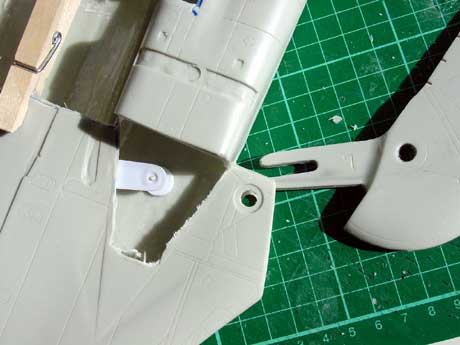 Quite some rough work is needed!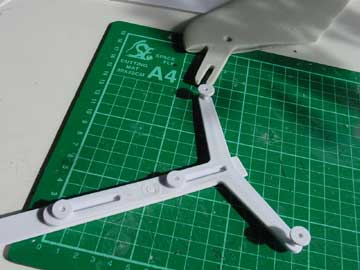 In Step 6, I did not use part #130 and was able to get the swivel mechanism inside from the rear main gear holes. It was fixed after assuring a correct position.
Fit the swivelling mechanism inside.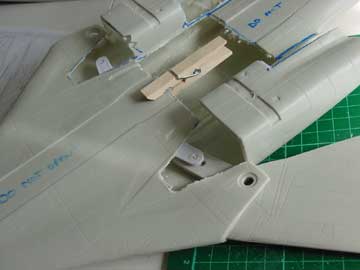 After drying time, the main wheel bays were fitted inside the fuselage.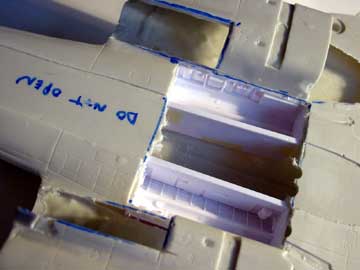 Fuselage main joint
The Main joint needs quite some work. I need to adjust and cut some material of the connecting "lip". But fit nose part (see step 26 ) without the gears. You need some adjusting on the glue edges, sanding and cutting in order to get a smooth joint here.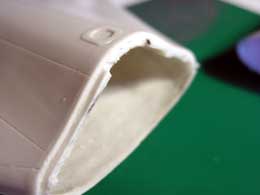 ..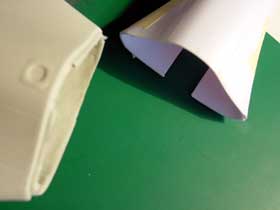 Two component glue was used here as you need a lot of strength!
Set aside to dry for 24 hours.
..
Sand, and check all edges and gaps. Fill and sand as required. Several passes were needed to get the nose section to fit the rear section.


But this beast is huge! It measures here about 72 cm in length, being quite accurate in scale.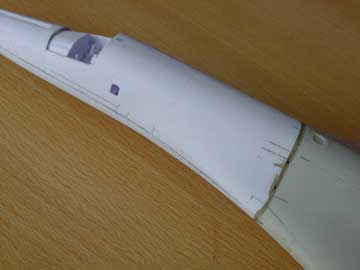 Spray on a light grey coat to check for irregularities...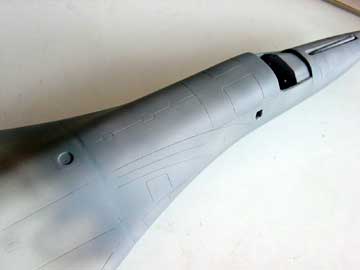 to next Page [2]...