The

T-50 is a supersonic advanced

jet trainers

and

light combat aircraft

. It was developed by

Korea Aerospace Industries

(KAI) with

General Dynamics with studies starting in 1992 as KTX-2 to replace T-38 Talons and Hawks

.

The design became the T-50 and was named "Golden Eagle".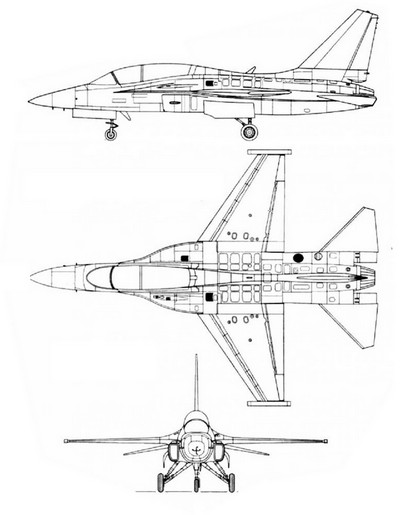 KAI also produced the F-16 in license so experience with this jet was used in the development which began in the late 1990s. Lockheed Martin acquired General Dynamics and continued with KAI the program with a full scale KTX-2 contract signed Oktober 1997. The type got a US made GE F404 jet engine and a two man cockpit. First flight was made August 2002.
The Republic of Korea Air Force Air Force (ROKAF) introduced the type in 2005. The South Korean air force's aerobatics team Black Eagles flies the T-50B type. Several variants were developed as trainer T and "fighter attack FA". A 20mm M61 gun is also an option with a gun nozzle in the left LERX. Other capabilities are Sidewinder missiles (also on wing tip rails), Mavericks, ECM, JDAM and various bombs.
The type was ordered by South Korea (>140 aircraft operated), Indonesia as T-50i, Philippines FA-50PH, Thailand T-50TH. Also "freed" Iraq T-50IQ ordered the type that were delivered from end 2019. It is reported that Colombia ordered TA-50 and FA-50 jets in April 2022. Poland and Malaysia ordered the type as well.
For the USAF T-X program for a new trainer a variant was proposed as the KT-X with new systems, a dorsal fairing and refuelling receptable. The USAF competition was lost however in 2018.
DATA: Length: 13,14 m; span with missiles: 9,45 m. Max speed 1,800 km/hr, Range 1800 km, Max TO weight 12,300 kg.