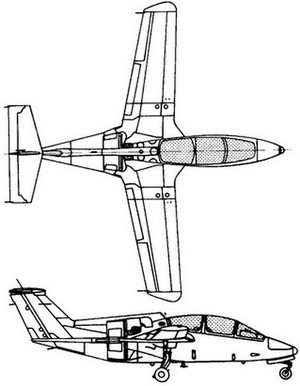 In the 1970s, Rhein-Flugzeugbau, a West German company, developed a unique light two-seat trainer with a mid-mounted ducted fan and forward-swept wings. This aircraft was designed to be a low-cost trainer, and it had a spacious bubble canopy that covered the crew seats. The first prototype was flown in 1977 using two NSU Wankel engines. Later, the engines were replaced with Allison 250 engines. Although the German Defense Ministry did not place any orders, the Royal Thai Air Force ordered 31 FT400 and 16 FT600 Fantrainers from Rhein-Flugzeugbau in 1983. The Thai Air Force also arranged for local assembly and production with some structural modifications. However, it is unclear how many Fantrainers were completed, with reports suggesting that no more than a dozen were delivered. The Fantrainers that were delivered were primarily used as "lead-in" trainers for Thai F-5E fighters.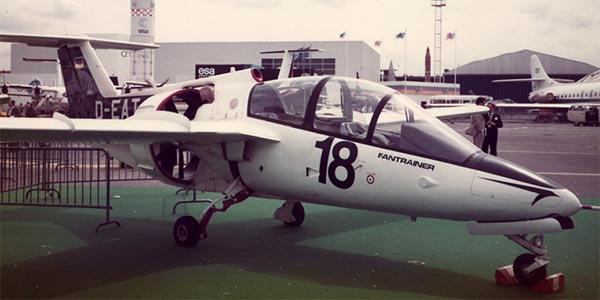 photos made at Le Bourget air show in the 1990s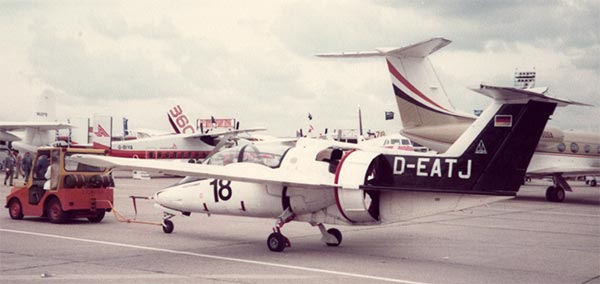 Some data: crew 2; length 9,2 m and wing span 9,74 m; maximum speed about 417 km/hr and 4 hours endurance. Typical take-off weight 1700 kgs.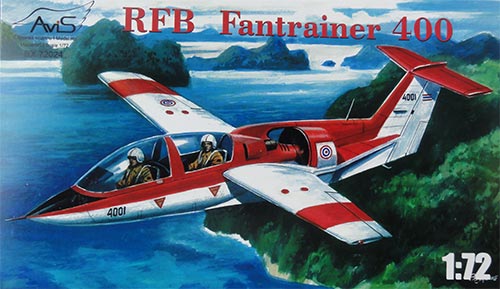 AVIS, which appears to be associated with Amodel, released a model kit of the Fantrainer 400 in 2017 under the kit number BX72024. Although it is a short run kit, the roughly 40 parts are cleanly molded with fine details. The transparent canopy is crystal clear and the kit also includes a small etched metal fret with parts for the cockpit interior.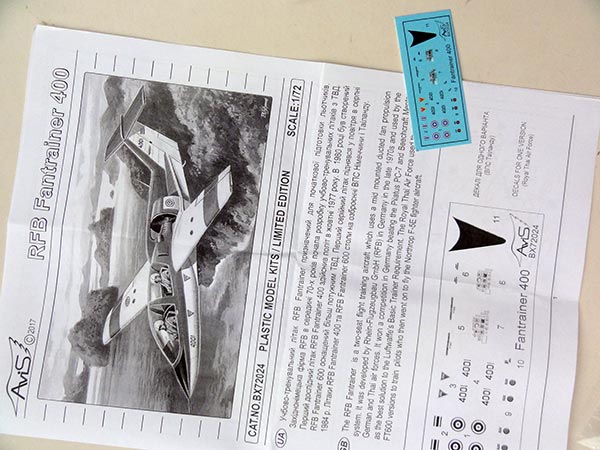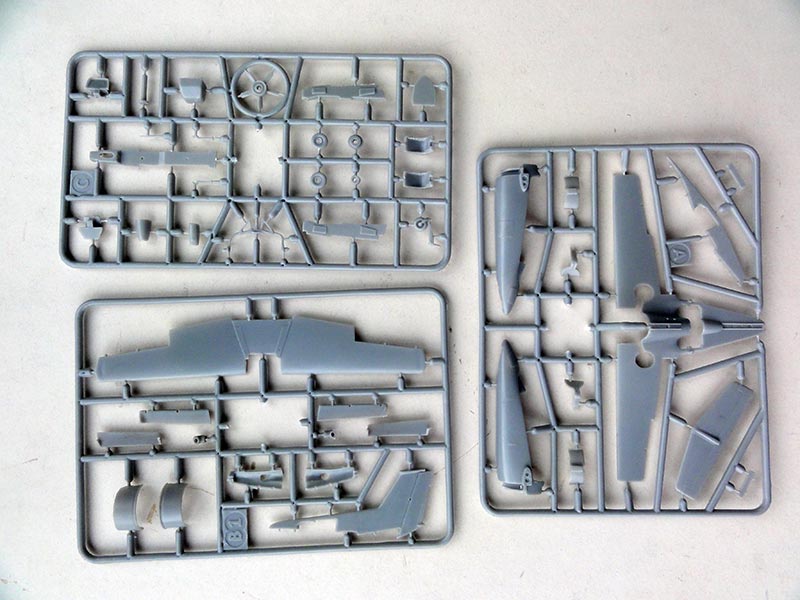 The decal set is designed for a single Thai Air Force scheme featuring small roundels and the code "4001". However, the corresponding paint scheme is quite intricate, featuring white and red colors with cheatlines. It will require careful masking and painting on this small model.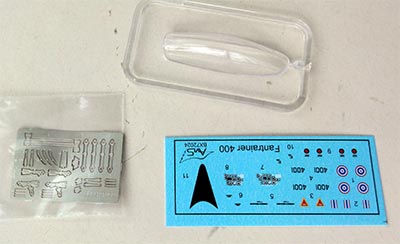 It was decided to finish it as per kit scheme for the Thai Fantrainer, nice for the "World Air Forces in Plastic" collection.




Assembling the kit can be a bit challenging due to the mid-mounted fan. Additionally, the cockpit seats are too wide and require some trimming to fit properly. It is recommended to delay the cockpit detailing until later in the process, as the cockpit area is easily accessible at a later stage.

It is important to add weight in the nose before closing the fuselage to prevent the model from becoming tail-heavy. However, be aware that the undercarriage is somewhat fragile, as this is necessary to prevent the model from tipping backwards.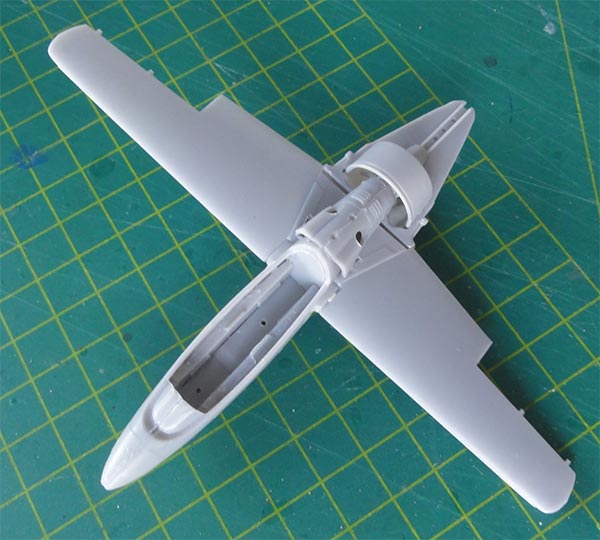 The assembly af the duct and fan showed the fan to be 0.2 mm too large in diameter. So trim as well. There is a small correction needed in the wing part #33, this is indicated in the instructions.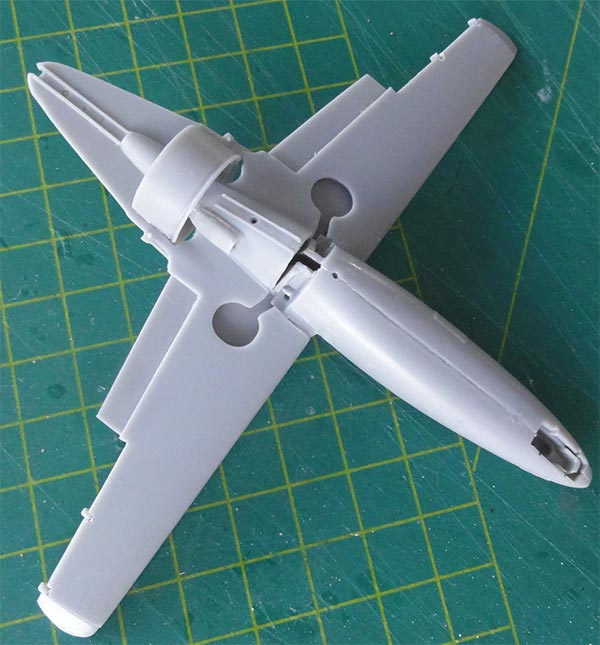 Aligning and getting parts symmetrical needs care. Also some putty and sanding is needed, particularly at the wing - fairing and forward fuselage. I removed the small pins at several parts to get a better fit.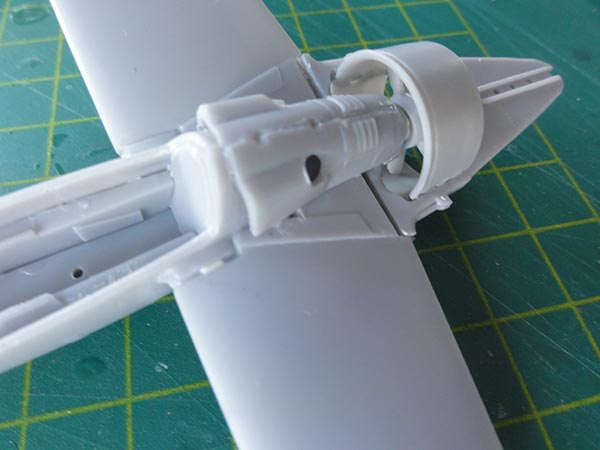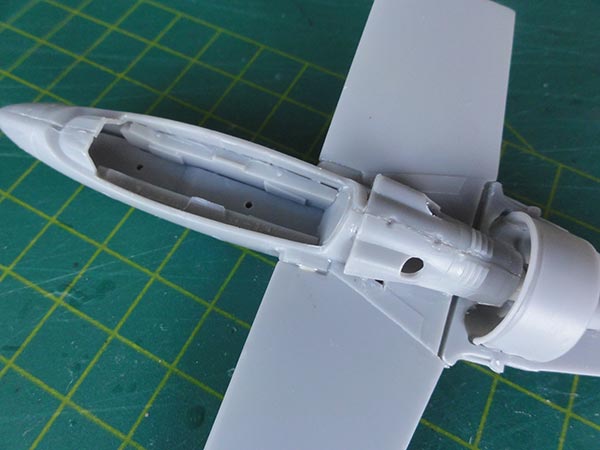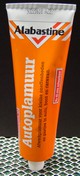 I decided to cut the main undercarriage leg part in 2: this enables installing it at a much later stage. Otherwise it may be damaged quickly.

Sanding and putty was needed, also at the lower fuselage.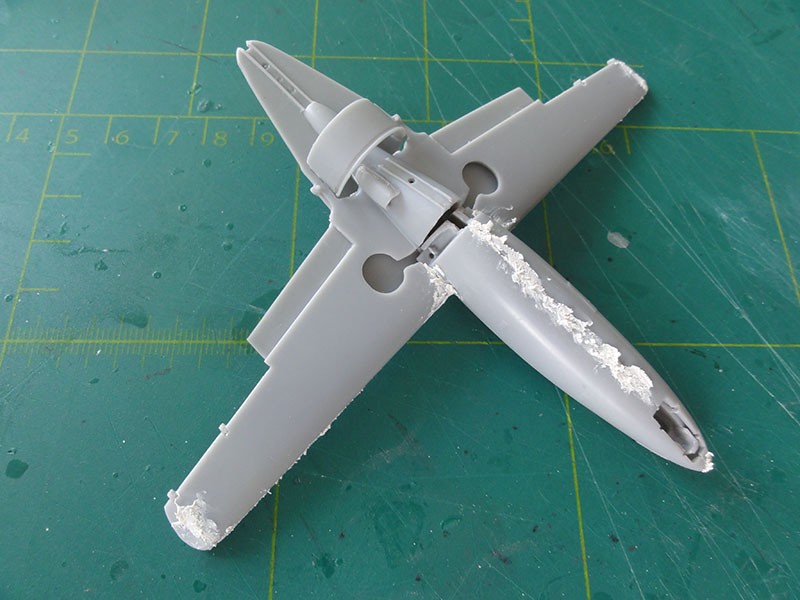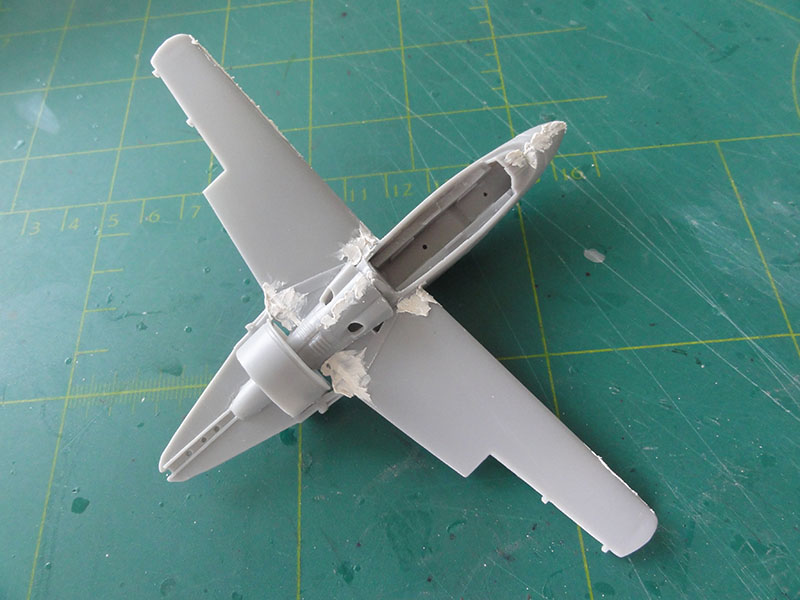 I also reduced the ailerons span by about 2 mm and used a little bit of white glue to get a better looking gap.

Now first airbrushed was a primer: base grey with Revell 75 "steingrau" aqua to check for any errors in filling.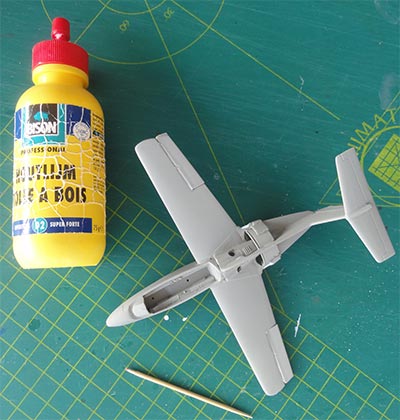 The paint work was done before adding all the smaller parts.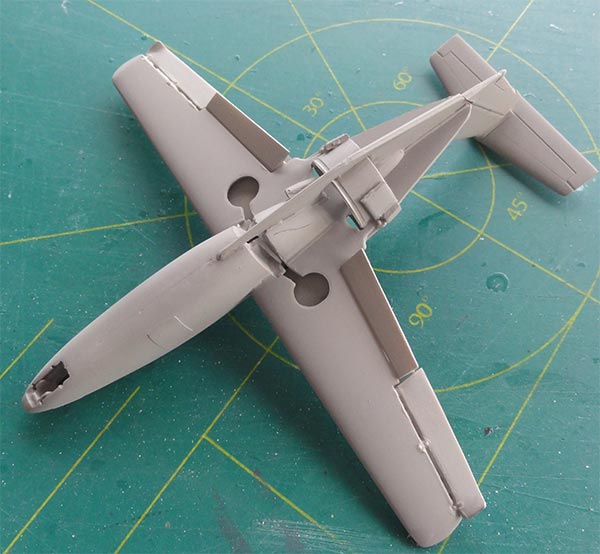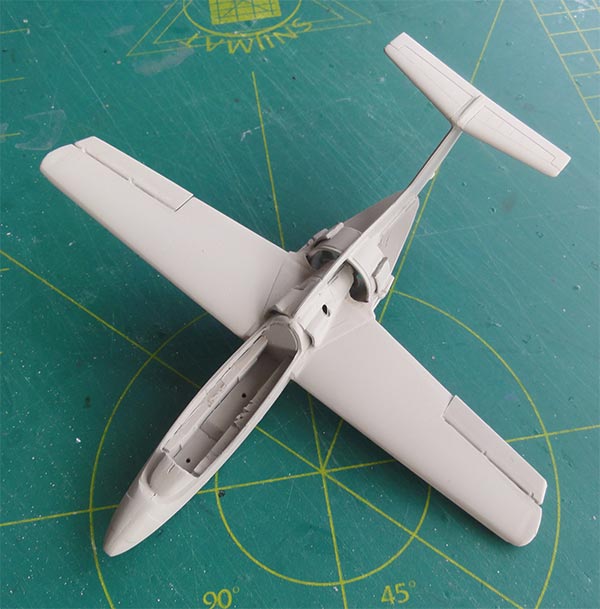 After a good result, a base coat of mat white was airbrushed followed by a few gloss white coats. Next the masking was required for the red trim. Some red paint was also applied with a brush.

I covered the model also with a few coats of gloss, in this case with Johnson Future/Pledge FloorCare acrylic. The decals are a bit thin so take care. To be on the safe side, cover the decals with a coat of MicroScale Liquid Decal film.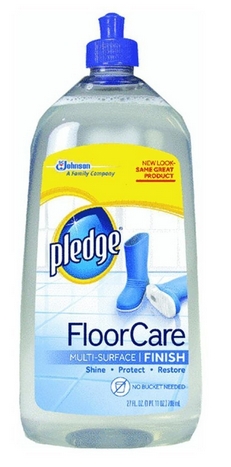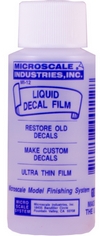 The few decals were set on the model.

The Fantrainer model's cockpit was meticulously detailed, with additional parts such as seat straps from the etched metal fret added after painting. The interior featured a variety of colors, including a base medium grey finish. To achieve a streamlined appearance, I used a small amount of white glue to seal any gaps and set the canopy in a closed position. However, I later realized that the red paint was darker than intended and should have been lightened with a touch of white. Additionally, the airframe's red color appeared lighter due to thin coats of airbrushing.

The next step was installing the gears and doors, which are known to be delicate. As previously mentioned, I cut the main gear strut in half to ensure a symmetrical installation. Finally, I added a few "static dischargers" made from thin, flexible fishing wire to the wing and tail tips to complete the model.

This completed this neat looking Fantrainer model. A nice addition to the World Air Forces collection.



THAILAND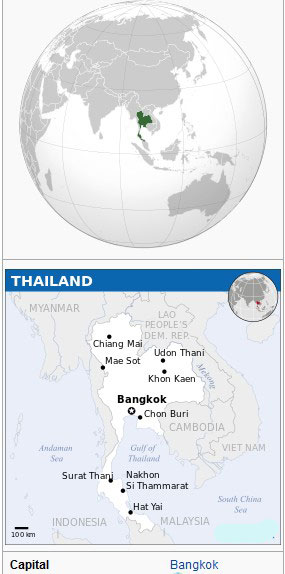 [ 513,000 sq.km | capital: Bangkok | 69 million inhabitants | GDP per capita $7,600 ]

Thailand, located between Burma, Malaysia, and Vietnam in Southeast Asia, has a population of almost 70 million, with Bangkok as its capital. It is home to many different ethnic groups, and from the sixteenth century onwards, it had contacts with the Portuguese who called it Siam. Although the area of Siam was never truly colonized, in the east, there was French Indochina. Thailand has elections but still has a monarchy, with the Royals of Rama.

On January 31 to February 6, 1911, the Belgian pilot Charles Van Den Born made the first aircraft demonstration in Siam at the Sapathum Horse Racing Course (now Royal Sports Club) in Bangkok. Thai King Rama VI was so impressed that in 1912, he sent three army officers to France to learn to fly. Military aviation started in December 1913 when the Army Aviation was established, and the ordered Nieuport IIN and IVG with 4 Breguet III planes arrived. From March 1915, flights were conducted from Don Muang. In the 1920s, Nieuport Bebes 11 fighters were acquired, followed by Nieuport 17, 21, 24, and 27 fighters, and a few SPAD VII/XIII as well. About 30 aircraft were locally built. Eight Breguet 14 were also used for several tasks in the 1920s, such as mail flights. Some were locally built. In 1924, another dozen Nieuport 29D fighters arrived. In mid-1928, four Consolidated PT-1 trainers were acquired, followed by a pair of Bristol Bulldog II and 20 Avro 504N in 1929. Two Heinkel HD43 fighters came in 1930, and two Boeing 100E arrived at the end of 1931.

After a bloodless coup d'état in 1932, Thailand became a monarchy. In the 1930s, more than 70 Curtiss Hawk II and some 84 Corsair V-93 biplanes were acquired, of which around 75 were built locally. In 1936, Hawk III were also acquired, and about 50 were built locally. In April 1937, six Martin 139 WSM bombers arrived, as well as 12 Curtiss Hawk 75N fighters.

In April of 1937, the Thai Air Force, officially known as "Kong Thap Akat Thai," was established. Initially, three Fairchild 24 liaison aircraft were delivered, followed by an additional ten in 1940. During the Franco-Thai War in early 1941, there were air battles against the French Vichy in Indochina. After Japan's attack on Pearl Harbor on December 8, 1941, a local agreement was reached after two weeks, in which the Thai rulers could remain under Japanese control, but a declaration of war was required against the United States and England. Thailand acted as a buffer towards British India, and military support from the Japanese followed, although the battlegrounds were mostly elsewhere. However, aircraft such as 25 Ki-30, 9 Ki-21 "Sally" bombers, 24 Tachikawa Ki-36, 24 Ki-43 Hayabusa "Oscar," and 12 Ki-27 "Nate" were received. From the occupied Dutch East Indies, three Martin 139 and six Martin 166 bombers were transferred between August and November of 1943 by the Japanese, designated as Type 41. Many fighters were used in 1945 for the defense of Bangkok against air raids by the Americans.

Following World War II, Thailand aligned more with Western countries, including the United States, due to the threat of communism and the Cold War in Asia. Dozens of second-hand US aircraft were obtained, such as ten Stinson L-5 liaison aircraft, six Beech C-45s, and over twelve C-47s. From 1947, 18 Miles Magister trainers followed, along with over 60 DHC-1 Chipmunk and Tigermoths. Thirty Spitfires were acquired, along with three Westland WS-51 Dragonfly helicopters. Some 204 Grumman Bearcats

were delivered from 1951 under MDAP, along with trainers such as over 30 AT-6 Texans, Pipercubs, a Hiller 360 helicopter, YR-5a, and Hiller UH-12 helicopters. In 1951, a dozen Fairey Fireflies were delivered, as were six Curtiss Helldivers. In 1957, the jet age began with the introduction of the Lockheed T-33 and eight RT-33A.

Not much later followed 31 F-84 Thunderjets and 45 F-86F-30/40 Sabres, followed by 17 F-86L in 1963. One C-54 VIP and 8 C-123B transports were also obtained and T-37 jet trainers.

Four H-43B huskies helicopters were also used.

During the Vietnam War, in the sixties the air force was also strengthened with from 1967 a dozen Northrop F-5, some 40 and later 80 extra T-28 Trojan. In addition, the USAF also flew from Thai bases such as Udorn and Ubon, even with bombers. At the end of the Vietnam War in April 1975, the crews of some 100 former South Vietnamese, Cambodian and Laotian aircraft had fled to Thailand and several were put into service. Additional aircraft obtained were F-5, Bell Hueys, A-37, OH-13, T-41D

and over 30 OV-10 Bronco's

.
After the end of the Vietnam war, there were still threats from communist groups along the Thai-Cambodian lines. A dozen SIAI SF-260 trainers and 24 NZA CT-4 trainers were used. A local developed trainer was the RTAF-4 Chandra. Transports were also a few C-130 and GAF Nomads.

From 1978 reinforcements from the USA followed with dozens of modern F-5E and F-5F Tiger fighter-bombers.



In the eighties Fantrainers were ordered and produced locally, but they were not a success. In 1985 the US Congress approved the sale of about 60 second-hand F-16s to Thailand. A dozen trainer PC-9, some 36 L-39ZA Albatros and from 2000 about 25 second-hand Alphajets arrived.
The current fighters are 13 modern Saab Gripens and still the F-16. The fairly large and modern air force has about 26 squadrons flying from a dozen air bases.
The air force uses a specific designation system with B.Kh for fighters, B.J for attack aircraft, B.TL for observation, B.Th for bombers, B.F for trainers and B.L for transports.

Thailand's navy has maintained its own air force for several decades, starting with Fairey Fireflies in the 1950s, followed by the Grumman Albatross and 10 second-hand Trackers. These aircraft flew from the shore above the Gulf of Siam. In 1997, the navy expanded its capabilities significantly with the commissioning of the aircraft carrier HTMS Chakri Naruebet. This carrier is capable of operating with ex-Spanish AV-8 Harrier/Matadors. In practice these were modest operations, most 9 Matadors remained on shore and rarely were flown from the ship along with some helicopters. From 1996 to 2006, the White Shark squadron flew 24 second-hand Vought A-7 Corsairs. Currently, the Navy Air Force mainly flies helicopters, but also a number of Fokker F-27s and Lockheed P-3 Orions.




In the eighties Fantrainers were ordered and produced locally, but they were not a success.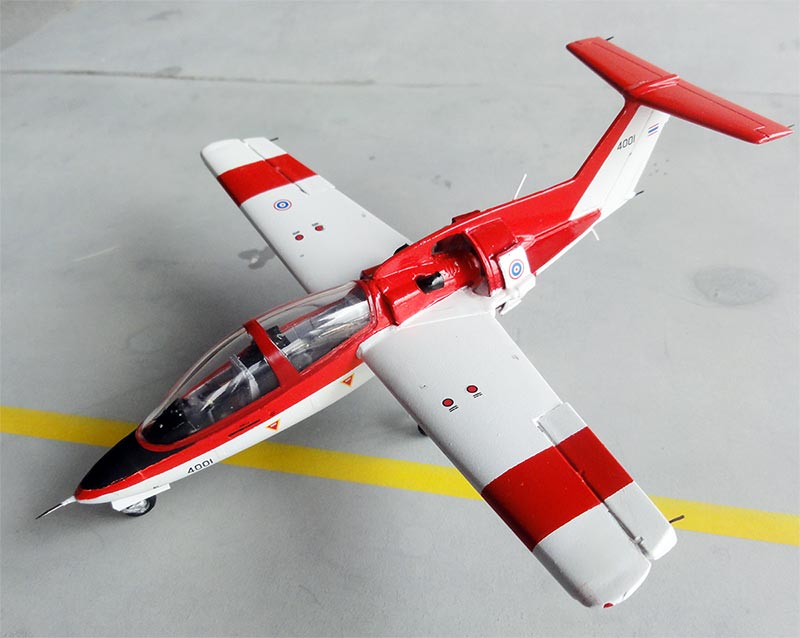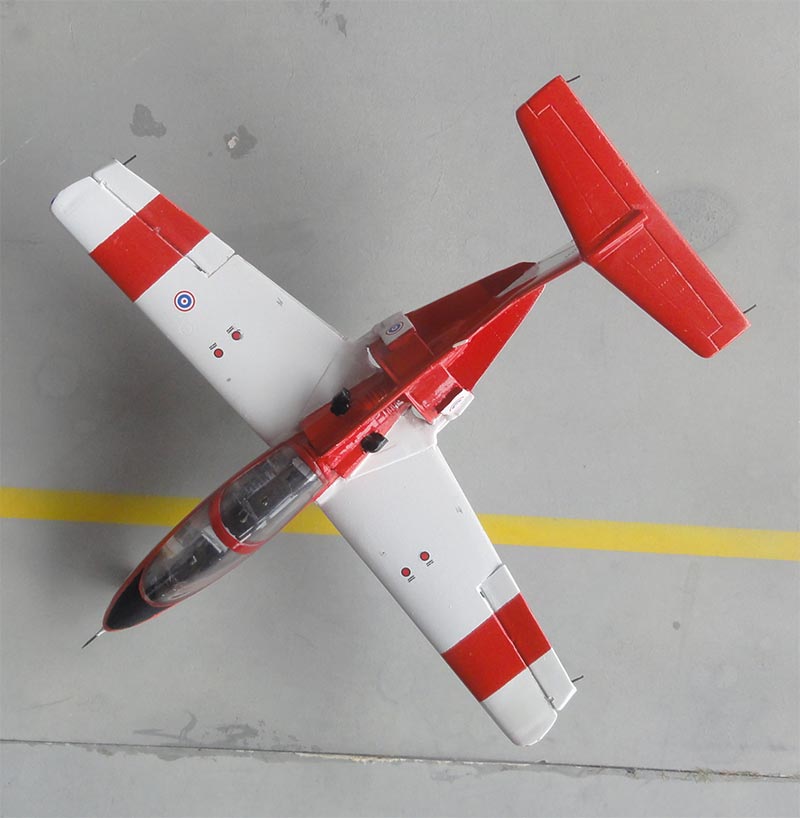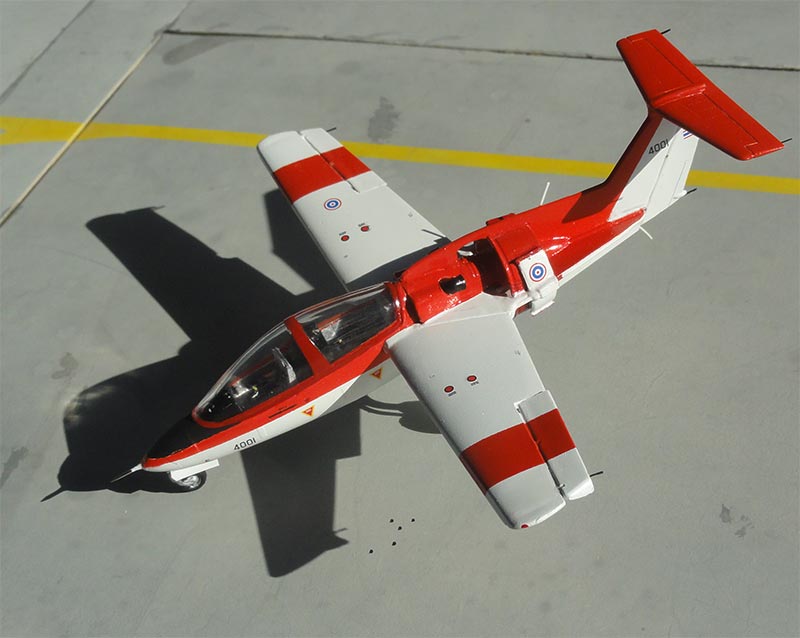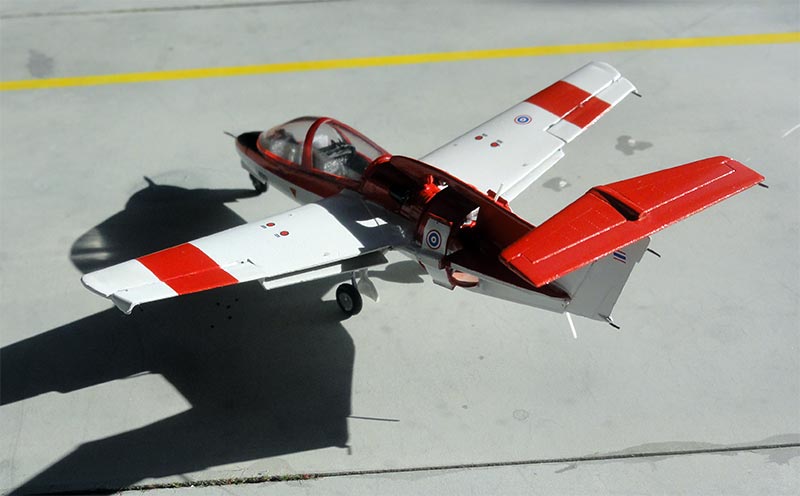 ... and set in a scenery....