The Revell Shackleton AEW model #04920 kit has 9 sprues with fine plastic parts and 2 sprues with clear parts and overall there are about 200 parts in the kit. My kit parts were mid-grey, very similar to the "dark sea grey" scheme seen on operational Royal Air Force AEW Shackletons of no.8 squadron based at Lossiemouth: "Dark sea grey" British standard reference BS381C/638.

The rivets are very finely engraved and really look good. The advantage is that any sanding that may be needed will not remove them.

I wanted to airbrush many small parts while still in their sprues, this is much easier than doing that later as separate parts. First I removed as many attachment gates from the parts but always kept a part still in its sprue using a razor saw. Note that some kit sprue gates and attachments are rather thick, a trend seen in modern kits. Probably this has to do with the finer slide mouldings made nowadays. So a razor saw is a rather essential tool to separate the parts without damage.

The various parts now got different colours and colours (to be) used were:
general cockpit: black (dark grey looks better)
seat frames, pilot seat cushions: black
crew seat cushions: leather
floors: very dark grey
interior side walls: mid stations light grey, forward areas dark grey and aft area interior green ;
main instrument panel: black
bulkhead interiors: grey
bomb bay, gear bays : gloss white
gear struts: light grey
wheels: tyre black/ dark grey with dark metal wheel hubs
propellers: black with red-white-red tips
Many interior parts were as noted airbrushed green using Revell aqua 360 green acrylic and light grey aqua 71 and the floors very dark grey. Other parts airbrushed were items like the propellers, wheels and so on as listed above. White colour was applied to gear wheel bay parts.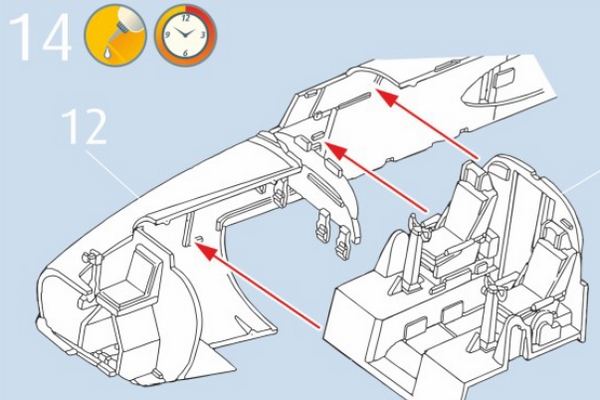 First assembly step of the kit was the fuselage and interior. The kit does have a nice cockpit, front station and some details in the rear at the entry door.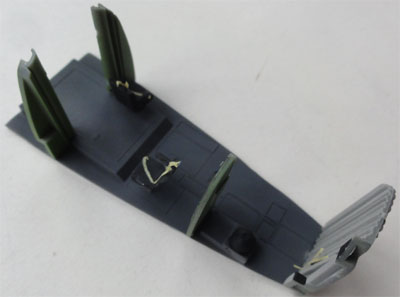 ...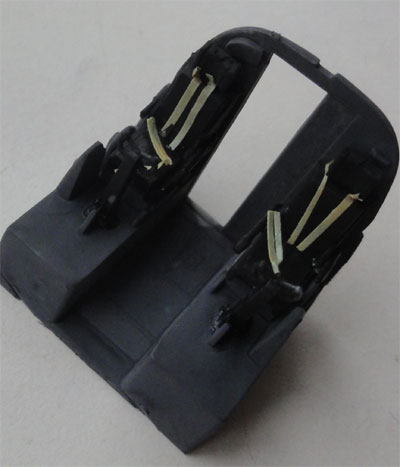 The kit's flight deck instrument panel has some engraved instruments and nice seats. But the cockpit window with its frames will hide a lot so I did not add a lot of extra detail, only some pilot seat straps from brown tape slices. The main cockpit colour applied here is very dark grey (as black is very dark).

There are many windows but they are small, so Revell saved some moulding expenses and did not include a full interior.
Although not a lot can been seen of the interior, but nevertheless I made a bit of interior amid ship with some parts from scratch using the spares box and plastic cart. I know now that in my model the interior is there with some AEW stations for the crew and the tactical coordinator.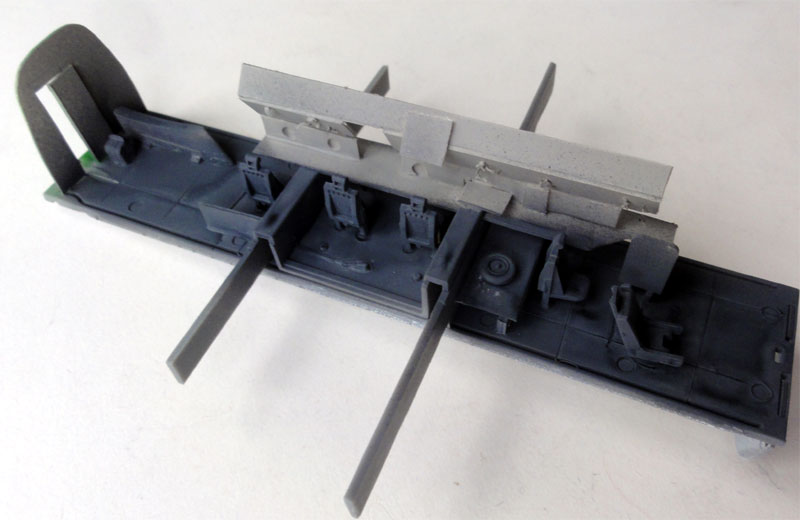 and painted a bit...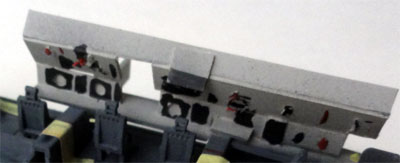 The forward observer station in the kit is a bit inaccurate, the observer seat sits on a tube structure in the real Shackleton and not on the bulkhead part #153. (see page 1 for more detail). I simply cut off the seat and "tunnel" and made with some rod and cart a new one. Later, it turned out that almost nothing is seen of this work, so you can also built it as per kit.
The aft roof top window #47 should probably not be in the centre but a bit off set to starboard, about 1mm. I left it as per kit.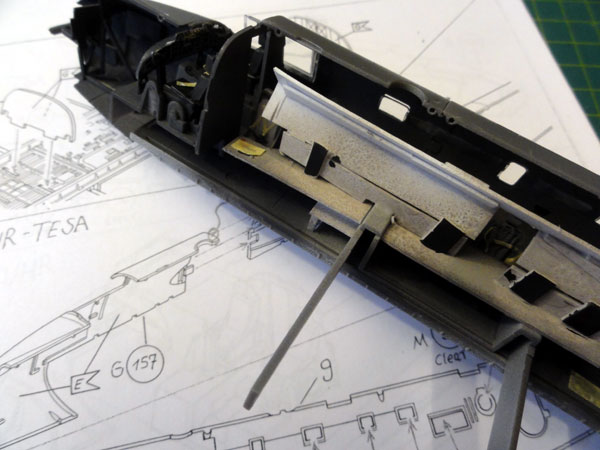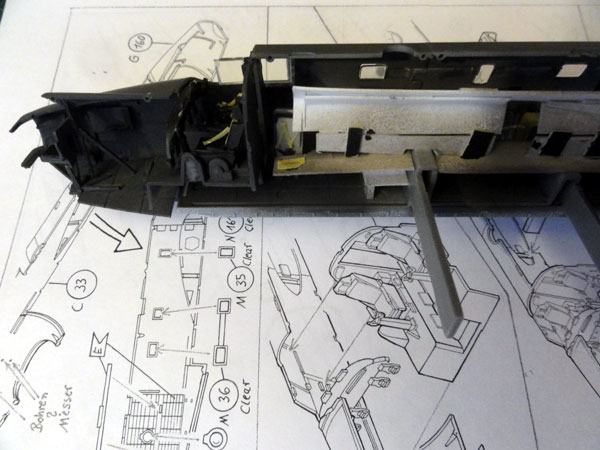 Each fuselage halve has a forward and rear section, these must be joined. Also the AEW bulge section is separate assembly. (this suggests that Revell has the option to release other Shackleton versions like the MR.2 and even MR.3).
The right fuselage halve was assembled on a flat table surface, but NOT yet the left section. The left fuselage section parts will be glued on later to get a symmetrical fuselage. The inside walls were all airbrushed in different colours: mid stations light grey, forward areas dark grey and aft area interior green.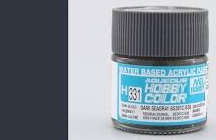 I used Gunze Sangyo H331 "dark sea grey" acrylic (reference BS381C/638 ) and this was airbrushed in several layers.
Many of the nice clear fuselage windows should be fitted from the inside, so I pre-painted the outside window areas in the envisaged camo colour of "dark sea grey". This will make masking the many windows later on much easier.
The same was done on the outsides of the nacelles and bomb bay, this will masking later on much less critical while still in their frames. I also airbrushed at some spare decals areas this colour for later "touch up" work.
After the paint dried, the windows were fitted from the inside, they are in strips (parts #24, #26) so very easy work. The fuselage was now finished with all bits and pieces. I decided to keep the inside opening rear crew door #29 open so some of the rear interior can be seen.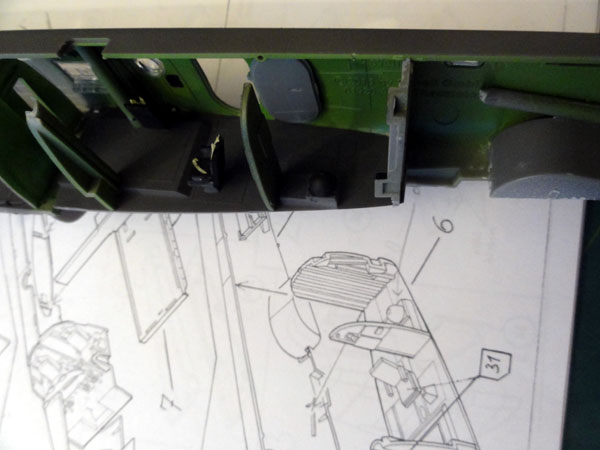 .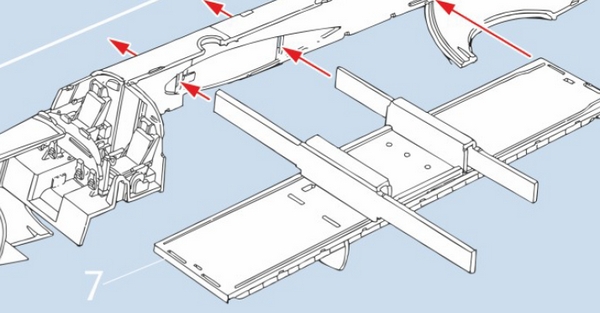 .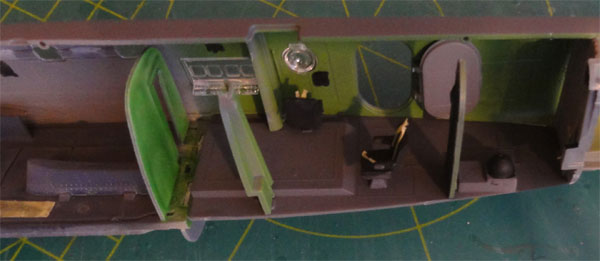 The inside opening rear door can be seen here and also the scrap mid ship interior.


The fuselage was now "closed" and although the fit is very good, I always have a sort of seam in the middle of the roof top no matter how good a kit is, more on that later. The bomb bay has bomb doors and can be set open. The bay was set in place and this went well.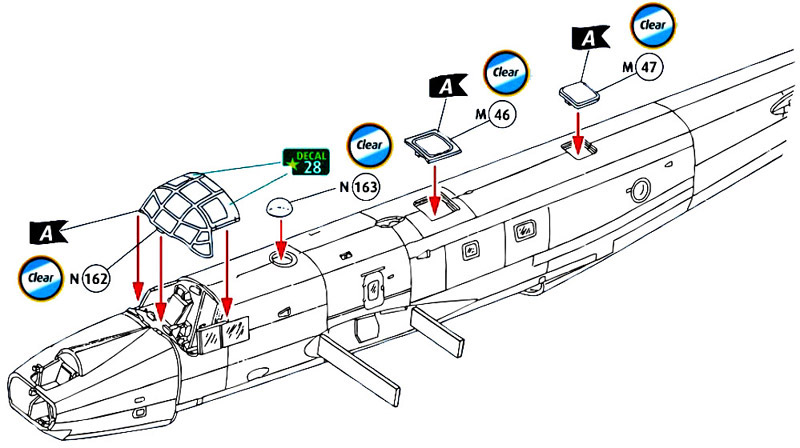 Nice is that Revell provides a wing attachment spar part#20 just like the real aircraft on top of the bomb bay. This will strengthen the wing-fuselage joint later on. At this stage, also I added the forward lower fuselage AEW radar bulge to the fuselage assembly. There is a step at the panel and gap, but only a little putty is needed. On the real aircraft this panel is well seen.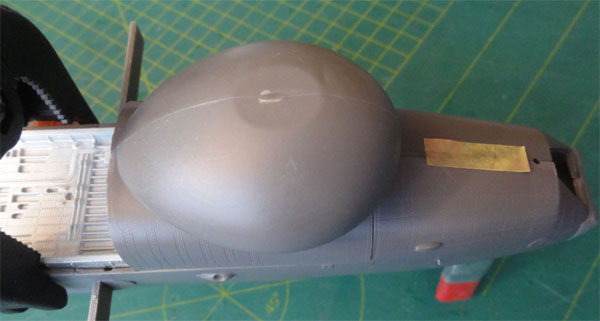 .

The smaller gaps of the fuselage outsides were filled with putty, not a lot is needed and set to dry. ( Note that all other upper roof windows like parts #46, 47, 28 were not yet installed ).



Some sanding was needed and some work with filler/putty.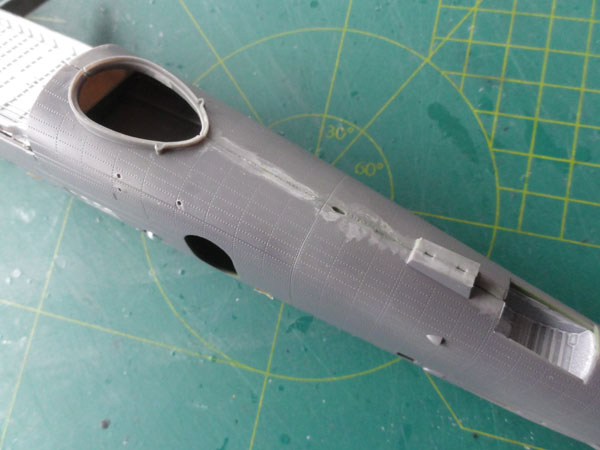 ..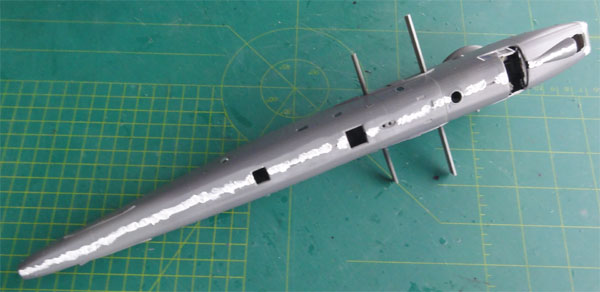 ..


The puttied edges are small but noticeable.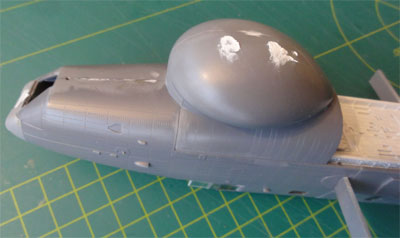 .