Next, the NF-5A model was ready to get its final surface colours.



The scheme choosen was the first scheme as used on the NF-5 type. Later, several other schemes were also used, but the plane as it flew in its first scheme remembered me of how I saw it first at Dutch AF air shows in the nineteen seventies.
This comprises a fresh camouflage scheme with light grey undersides and a Dark green and Dark grey camouflage on upper surfaces:

For the Light grey RAL 7001 : you can use Humbrol 128 or Xtracolor X255 (lower surfaces).
For the Dark green RAL 6014 : Humbrol Xtracolor X251.
For the Dark grey RAL 7012 : Xtracolor X207 or Revell 77.

During air force service especially the dark grey colour quickly faded on mostly the horizontal surfaces with the colours becoming lighter. For the faded grey DACO has a colour readily available as for the "Hunter". (Alternatively you can use mix in some white paint with the fresh colours).

All enamel colours were thinned with 60% paint, 20% thinner and 20% white spirit.

First, the model was first given an undercoat of light grey RAL 7001.

Masking and spraying takes some time and effort, but the results are worth it!
Do not forget the underwing stores, pylons and undercarriage doors outher' surfaces!

After 24 hours, the horizontal demarcation line was masked off with Tamiya masking tape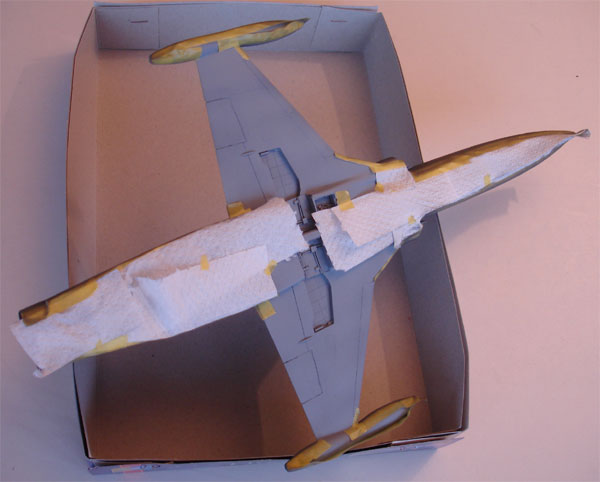 Next, the upper and side surfaces first a coat of the darker grey Revell 77. Than, on the upper horizontal surfaces the DACO slightly less dark grey was sprayed on most areas. This gives the model a good look as the vertical surfaces (eg. under the vertical tail and at the light grey demarcation) are still the darker grey.