RV Aircraft MiG-23MF
This kit #72001 is one of a series of MiG-23 kits of RV Aircraft that are the best of any of kit this aircraft in 1/72 scale. These kits came on the market 2011 and this was the first one. I described how MiG-23 ML kit #72002 was made on page 4....

The number of parts in this kit is again about 100 in light grey plastic and includes a photo etched fret for the details. Some extra parts are in the kit like 2 vertical tails: one with or without dorsal fin is provided. In this kit there are also some extra parts not indicated on the parts drawing: I also found extra intake halves (with external differences in panels for the M, MS, MF or ML,MLD). Also, two nose halves are found in the kit. Kit instructions are a bit unclear is some areas to clearly indicate what parts are needed for a particular version. Also, no detailed colour instructions are provided.

All panels lines are finely recessed and very impressive. But there are no locating pins for the parts so alignment needs more care to avoid ridges. In the kit no external weapon stores are provided so any need to be sourced elsewhere. But fuel tanks are in the kit.

Decals are provided in this kit release for:
(1) MiG-23MF in camouflage of the Soviet air force with an "eye" marking on the nose
(2) MiG-23MF in light grey, blue "21" (quoted to be about FS36375...?)
(3) MiG-23MF of the Czech air force in the "hell fighter" scheme shown on the box top (and made by me in 1/32 scale with the Trumpeter kit...)

It was decided to finish this MiG-23MF "Flogger-B" in a Bulgaria AF scheme with a Begemot decal set.

Kit construction started with the cockpit and this looks nice with details. The interior colour used was AKAN 73005 "emerald green" acrylic.

The nose section took some small amounts of filler to fit the radar nose and also add nose ballast weight.

As on other RV MiG-23 kits, the main fuselage wing gloves with the swivelling wing is not a very tight fit. I added a 2 mm extra rod on top of the rotating pins. Still, the wing "wobbles". I decided to fix it later and ensure a correct position with dihedral.

For the MF, intake part #22 was needed and the vertical taill #17 with the dorsal fin. Some sanding and filler was needed to close the fuselage-tail gap.

The separate air brakes are nice but when closed do not fit, so sanding was needed on their insides. The wing glove leading edge parts #39, 40 need some putty (but there is an unused option to get the "notches" for the later MLD). The missile emitter fairing #43 below the wing glove is also there that was fitted to some aircraft.

The stabilizers fit well but each fuselage fairing is integrally moulded as one piece.

The exhaust pipe is a multi part plastic assembly and does not fit very well, it proved to be too "wide" to fit.

(The undercarriage assembly will be done after airbrushing the overall paint scheme).

When looking at photos, quite some variations are seen at Bulgarian Floggers, also in code numbers and colours. I opted for these acrylic colours that were airbrushed:

Lower surfaces: AKAN 7008 russian blue ;
Medium green: Gunze Sangyo 340 ("FS34079");
Dark green: Gunze Sangyo 330 ("BSC381c/ 341");
Medium brown: Revell Aqua 82 braun ;


The brown appears to be darker on surfaces below the wing gloves on the fuselage sides. That may be caused by shadow so nothing was done in addition.
Decals were obtained from spare ones from a Begemot MiG-29 set #72-032. From the spares box white code numbers were retrieved, often also red ones are seen.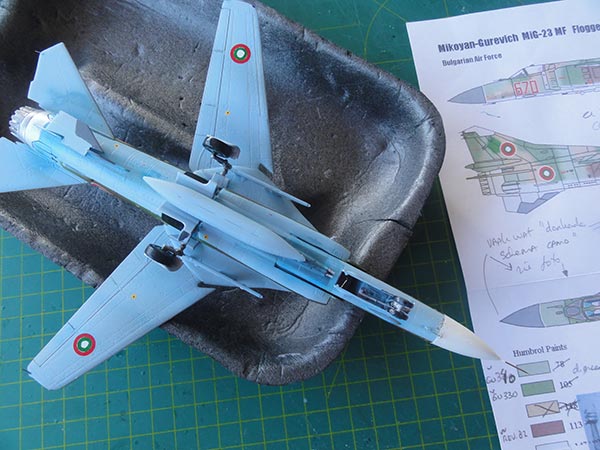 Final assembly of the undercarriage was now done. The multi part legs are a bit awkward but unused and thus spare parts are also here for different gear legs and wheels. Two types of nose wheels are also provided with parts #59 probably needed for the MF. (this is not well indicated in the kit instructions). The dorsal fin was folded.
The smaller details were set in place like the various pitot tubes etcetera. a matt coat was airbrushed with the usual technique.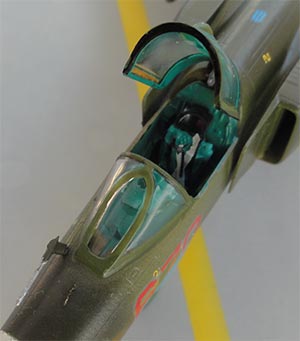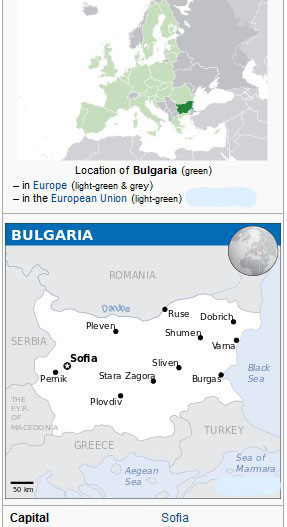 [ 110,000 sq.km | capital: Sofia | 6,8 million population | GDP per capita 10,000 Eur nominal ]
The Bulgarian air force was set-up very early in 1906. Earlier balloons were tried out and in the 1910s some biplanes were acquired. In the First World War the Kingdom of Bulgaria supported the Central Powers with various German aircraft being flown like Albatrosses, Fokkers and LVG B.II's and several floatplanes. Several captured Nieuports were also flown. After the war under the Treaty of Neuilly the armed forces were disbanded and not earlier than 1934 a new air corps was set-up. In 1937 German aircraft arrived like Arado Ar.65 fighters, Heinkel 51 fighters and Dornier Do.11 bombers and later on PZL aircraft from Poland. In the Second World War the Kingdom of Bulgaria allowed the Axis powers to use its air space followed later under German pressure with a formal declaration of war against the Allied Powers. That had dramatic effects and the oil fields of Ploesti were heavily bombed regularly by Allied bombers.
After the end of the Second World War, Bulgaria was part of the East Block and Warsaw Pact. April 1955 the Warsaw Pact was established and the Bulgaria a member. It was rapidly equipped with Soviet made combat aircraft and in the 1950s types were Yak-17 / 23 , MiG-15 and the Ilyushin Il-28 bombers. Later on Soviet aircraft "for export" delivered in the 1960s were the MiG-21F-13, followed by many other versions. In the seventies delivered were MiG-23, and in 1982 some MiG-25 reconnaissance aircraft with Sukhoi Su-22, Su-25 attack aircraft and Czech L-39 trainers. In addition to fixed wing aircraft many helicopters were operated including many Mil types.
After the fall of the Soviet Union and the "Iron Curtain", economic crisis resulted in drastic falls in air force aircraft serviceability and many went into storage. In 1992 a re-organisation started with a different command structure, new flag and new air force roundel. The MiG-25 went back to Russia but MiG-23MLD obtained as well as some new types like the MiG-29. In 2004 Bulgaria became a NATO member and meanwhile many air bases were closed and many types put out of service though the MiG-21 still soldiered on. As of 2018 it appears that some 15 MiG-29 and some 14 Su-25 Frogfoots are operated. Modern Western types are AS532 Cougar helicopters and a few C-27 Spartan transports.
End 2021 only some 12 MiG-29A and 3 MiG-29UB fighters are operational along with some 6 Su-25 Frogfoots. Mid 2022 it was announced that 16 F-16C/D Block 70/72 have been ordered to replace the MiG-29's .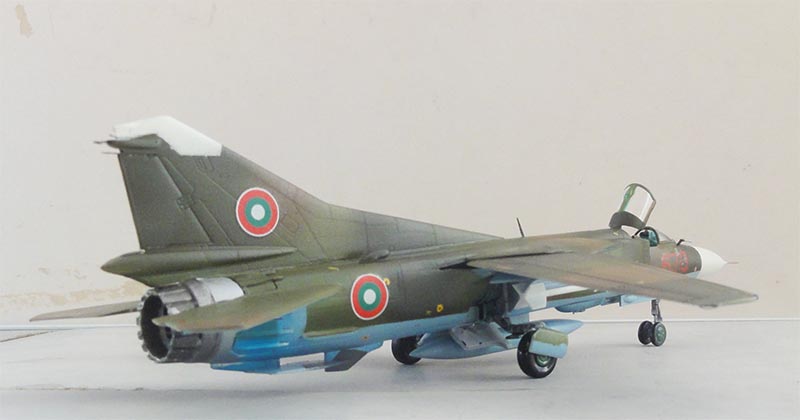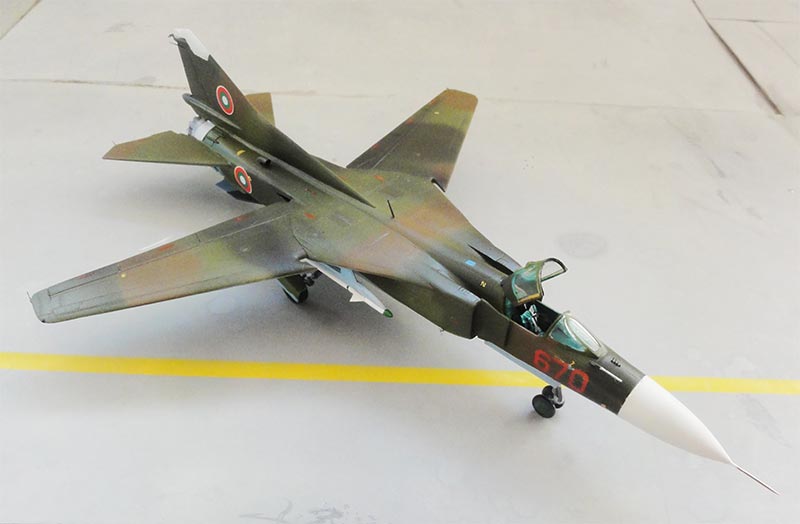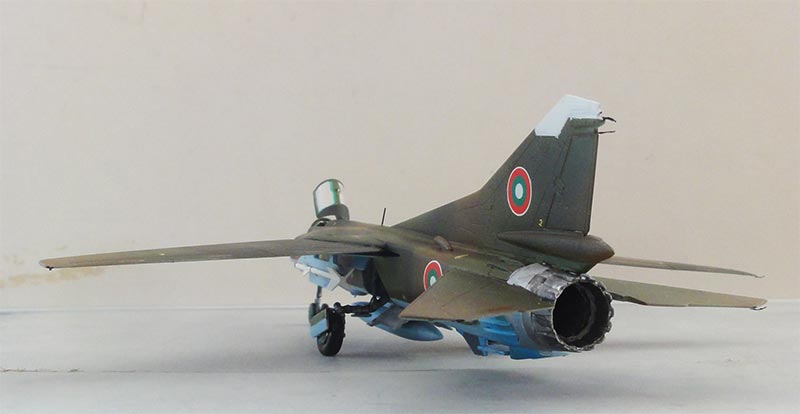 MiG-23MF , code "670", serial 0390213670/11512, based also at Dobroslavtsi, Bulgaria until 2003. With the new air force roundel.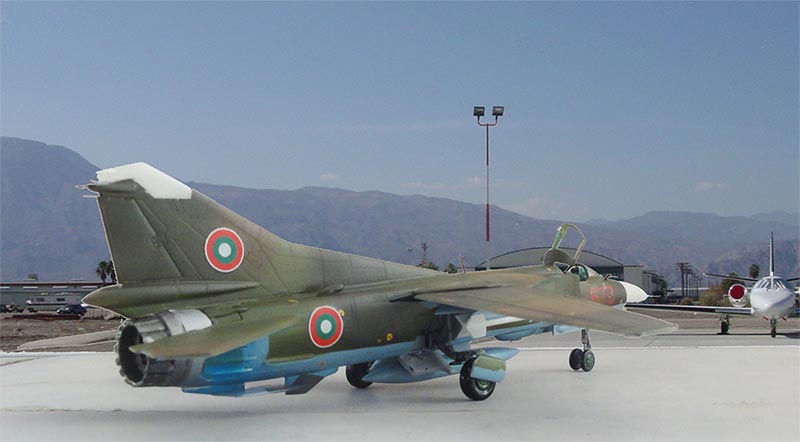 A nice series of MiG-23 / MiG-27 in the World Air Forces in Plastic collection