MiG-21 F13
Revell Germany issued a very nice kit in 1/72 scale of the MiG-21 F13 in 2004. This kit # 04346 is far better than older kits in 1/72 of the old version of the MiG-21 (e.g. the very basic Hasegawa/FROG kit or ACADEMY copied kit). The MiG-21 F13 was "license" made in China as the Shenyang J-7.

The Revell kit #04346 has fine recessed panellines and has a nice interior. The canopy of the MiG-21 F13 hinges up front and this is possible with this kit, a very nice option.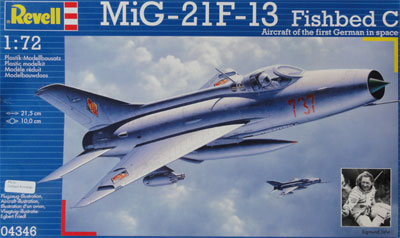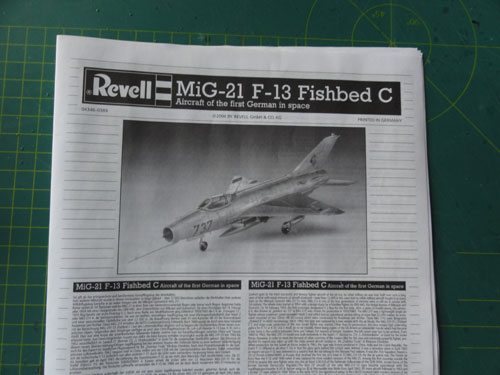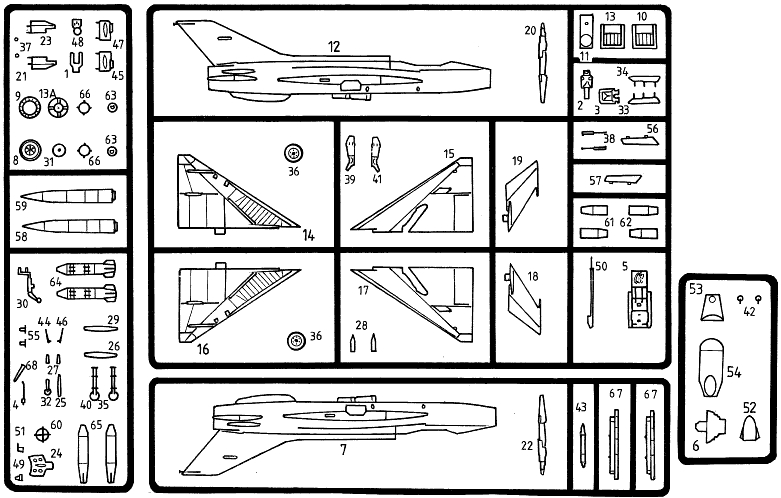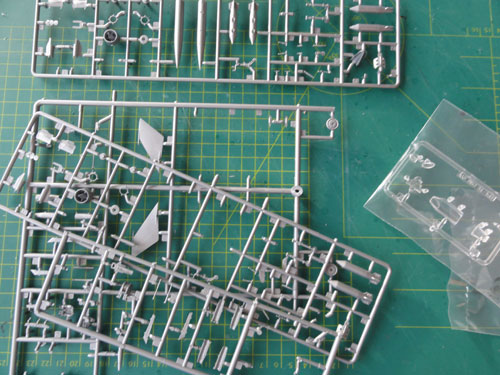 The nose cone cowl shape looks a tiny bit "off", not being a continuous curve to the intake lip. There are correction sets of PAVLA and also Quickboost (see below).
The other parts like the weapons and stores like the rocket pods look OK of this kit but the nose wheel looks a bit strange. The main wheels should be of the smaller diameter as the F13 is one of the first MiG-21 versions and look OK. The pitot probe is very thin and fine. Stores are also included for rocket pods, fueltank, a few rudimentary FAB500 ? bombs and a sort of ECM pod. But no K13 missiles though their pylons are there though the F13 could fire them. The speed brakes are separate parts.
The decals are very good with loads of smaller markings as well for a MiG-21 F13 for:
(1) DDR air force in overall metal of a Kosmonaut pilot
(2) DDR camouflaged aircraft
(3) Soviet Union overal metal, year about 1965
(4) Finland air force, year 1983 with 3 different buzz numbers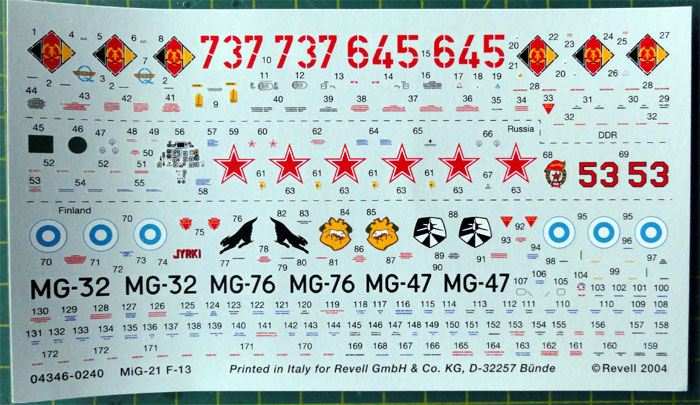 PAVLA issued a small correction set 72064 with resin parts for the MiG-21 F13 nose intake, a new resin seat, new wheels and a vacuform canopy. The nose cone cowl shape looks a tiny bit "off", not being a continuous curve to the intake lip, but I found it to leave a bit of a "kink". So the Revell kit is good enough for me if I make additional kits.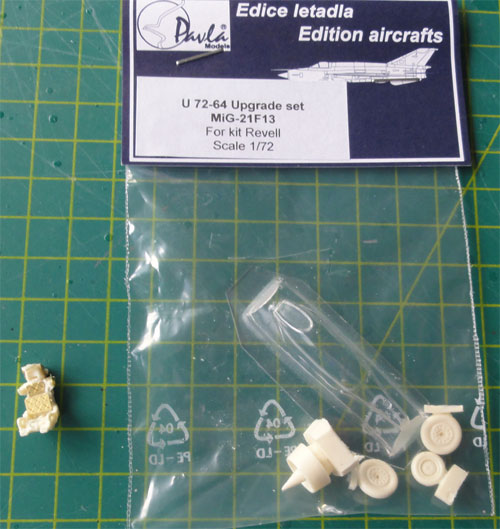 ( Note that this set was used for this model, but after making the kit I concluded it is not really necessary to buy for all MiG-21 F13 kits I was planning for).
The various resin seats from the kits and PAVLA sets are the usual Soviet KM-1 ejection seat. Paint AKAN 73008 blue or AKAN 73004 green with black head-rest, green/grey para-pack; red ejection seat handles.
NOTE: it appears that on early MiGs including the MiG-21 F13 the cockpit interior and seat were light grey (so not the later green).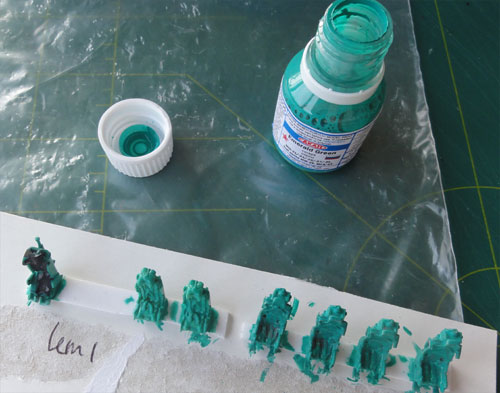 QuickBoost also has a correction set #72-012 for the nose intake and its bullit: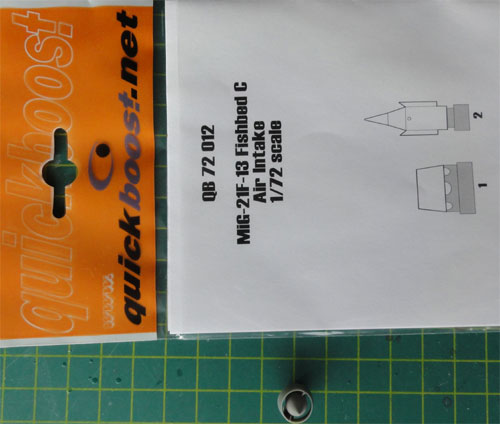 In addition, I had a etched metal set #EX72152 from EXTRATECH for some airframe details. This set was used on a few kits.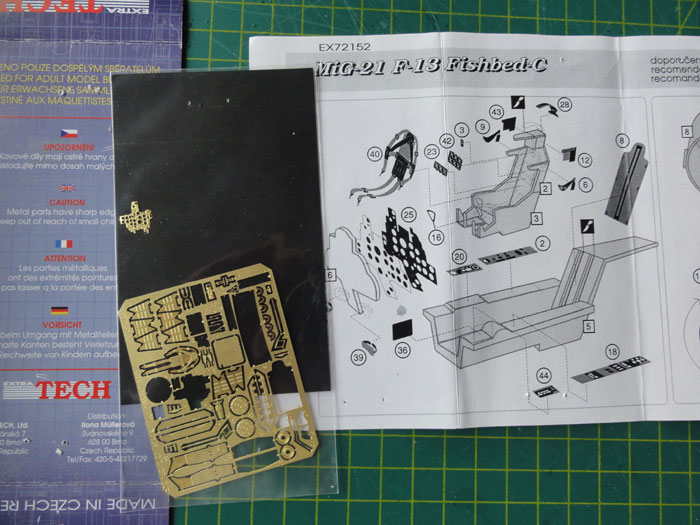 Having a whole bunch of the Revell MiG-21 F13 kits, several kits in 1/72 were made. I had a problem in one kit with one main canopy that was not very clear with the plastic too much cooled probably inside the mould (on other kits I did not have this problem though).
modelling the model is straight forward. The cockpit is nicely done.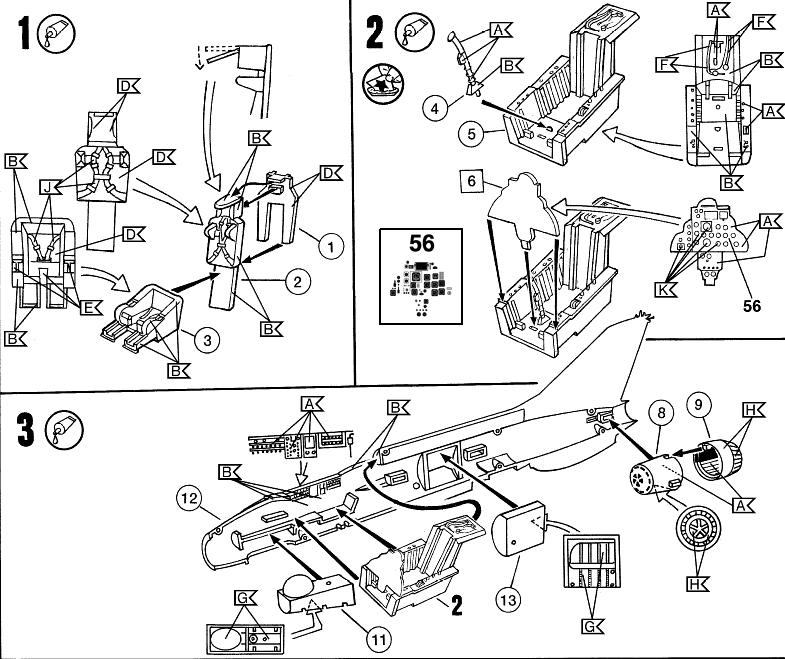 Here the first kit is seen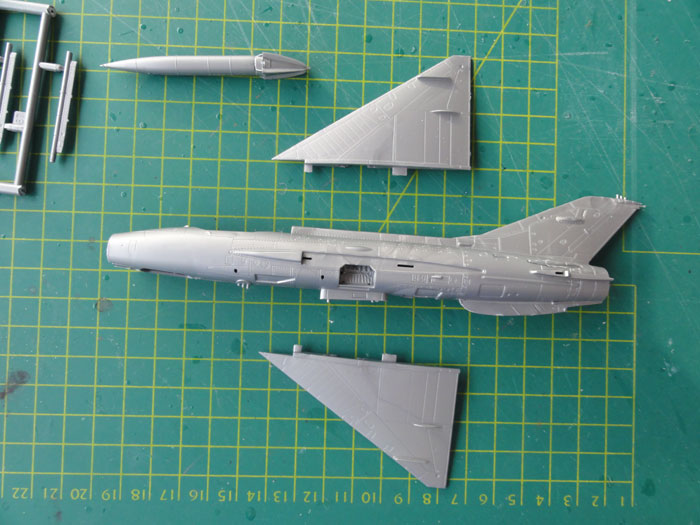 Below, the instruction step is shown for the nose intake ring.
As I had an improvement set, a new PAVLA resin intake was fitted. But it is not really necessary.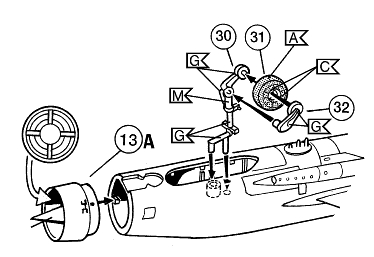 But the kit canopy was used which was better, so the PAVLA vacu canopy was not used here.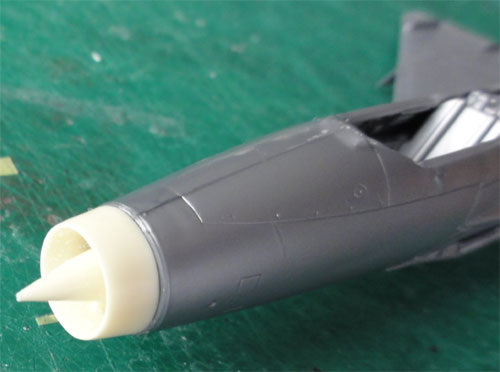 The rest of the model was assembled as per instructions and minimal filler/putty was needed. Note the "kink"of the inlet ring towards the rear and this should be filled and sanding smooth in a curve shape.


I finished this kit in an overall metal scheme of the first canon armed version "Chengdu J-7" / Shenyang J-7,
The J-7 was the Chinese license built F13 version of the China Air Force which first flew at Shenyang in China January 1966. The engine is the WP-7. The J-7 grew into a fighter family with various Chinese versions with big modifications. The J-7 "I" could fire air to air missiles and had a relocated parachute fairing. The J-7 "II" got a new ejection seat, new canopy and uprated WP-7B engine. The J-7 "III" (J-7C) and "IV" (J-7D) were based on the MiG-21 MF but ran into poduction problems and not a lot of these were put into service. Export version of the J-7 were F-7A, F-7B, F-7B, F-7M, F-7MB, F-7P and F-7MP. Meanwhile a two seater trainer was the Guizhou JJ-7 based on the MiG-21U "Mongol-A" but fitted with 2 ventral fins (and not 1 as on the Soviet original) and Type 2 ejection seat; JJ-7 first flight was in 1985 with the following he JJ-7 "II" fitted with Collins avionics.
In 1987 it was decided to further develop the J-7 "II" and design changes were a new double-delta cranked wing and better avionics. This J-7E was powered by a WP-13F jet and sort of copy of the GEC Marconi radar and a HOTAS system. It had a single 30 mm canon and 4 pylons that could fire PL-4 and PL-8 missiles. First J-7E flight was in may 1990. The J-7G followed with new radar from Italian origin and helmet mounted sight and different windshield. (The J-GB is the unarmed version for the aerobatic display team "August 1"). Next version was F-7M "Air Guard" offered particularly for export and featured Western avionics, 2 canons, different canopy and other weaponry.
Here an early J-7 was to be made. After the model got a base grey coat, the bare metal scheme was achieved by airbrushing an overall ALCLAD II dull Aluminium finish.
The China AF decals used came from PRINTSCALE decalset 72009 with buzz number "1856" black. (None of the Revell decals were used). They went straight onto the gloss ALCLAD.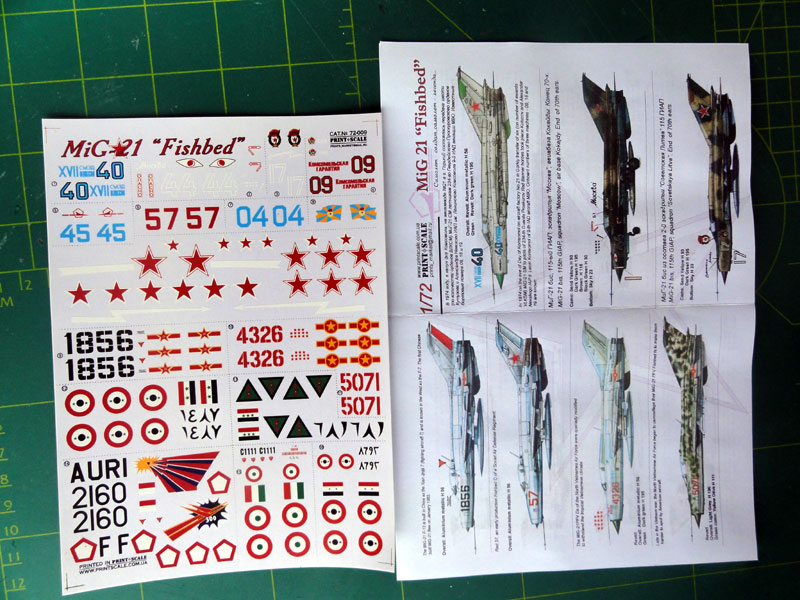 After decals were applied, the smaller parts were set in place like the gears, pitot and antenna's. The landing gear looks great. The model finally got a couple of gloss varnish coats using my usual technique with Johnson Future / Pledge thinned with 30% alkohol. A couple of rocket pods were set below the wing and canopy installed.
That completed this very nice model.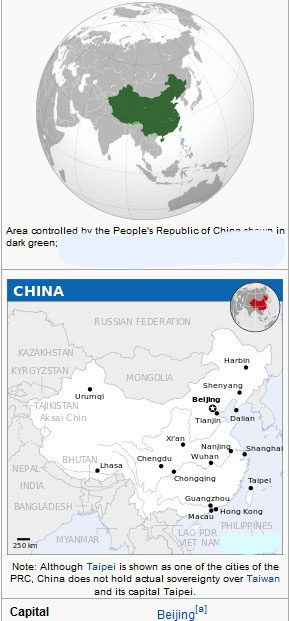 ..........

....

...China "People's Republic"
[ 9,500,000 sq.km | capital: Beijing | 1,400 million inhabitants | GDP $10,000 per capita ? ]
In March 1964, the Shenyang aircraft factory began the first domestic production of the J-7 jet fighter, which they successfully accomplished the next year. Of the initial aircraft F13 version, a dozen were probably only produced. Soon, adaptions were made to the J-7 and eventually dozens of variants were developed in China. Chinese J-7 aircraft were also exported. There are slight variations between J-7 versions, so check photos.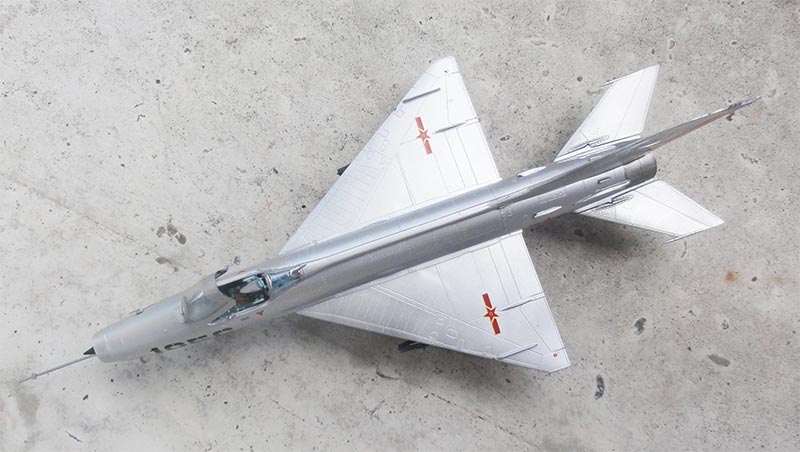 Note the long pitot tube fitted below the intake and the large canopy with aft transparant extension of the spine of the early J-7, a direct Chinese licensed copy of the MiG-21 F13.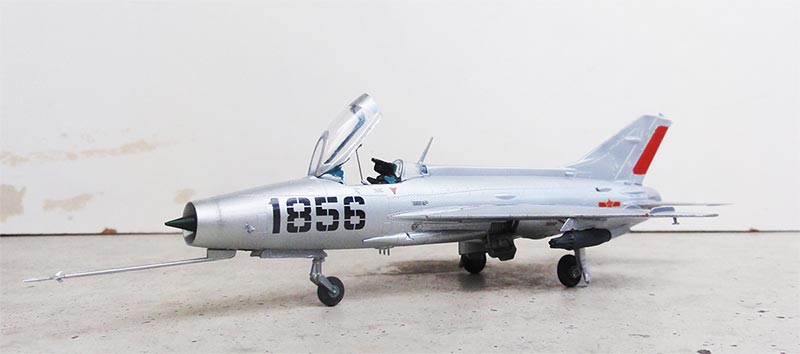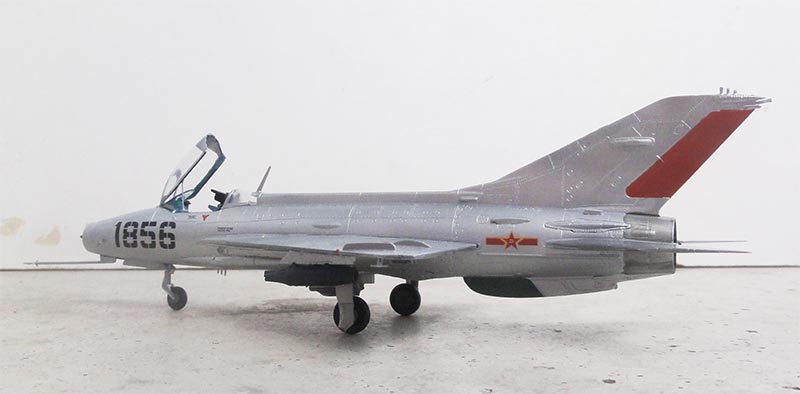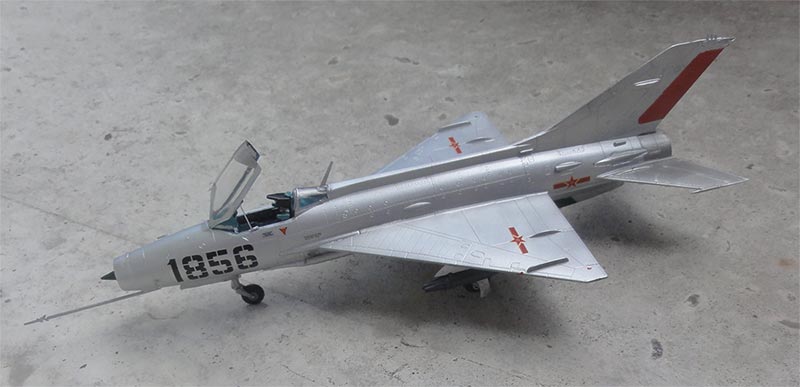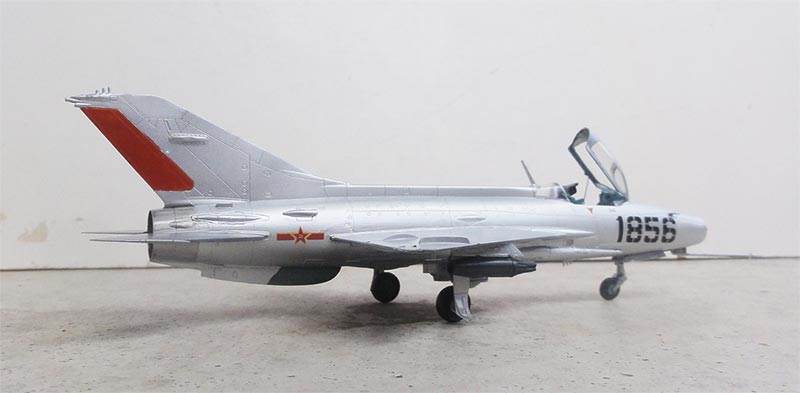 Another Revell MiG-21 F13 kit was also made, using a QuickBoost intake aset nd bullet and also here the etched metal rear cockpit bulkhead is used of EXTRATECH and seen below:



...... and the etched metal side consoles. The F13 interior is I believe that particular interior Russian green (see general colours...)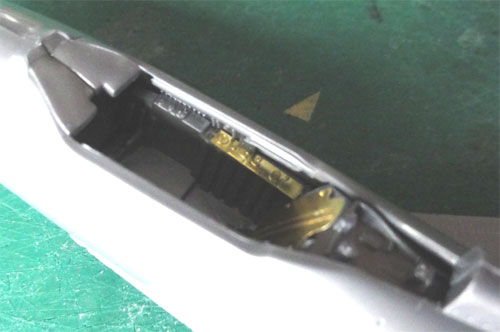 The main assembly was similar as the Revell kit above and gave no problems but the replacement resin nose requires filler and sanding.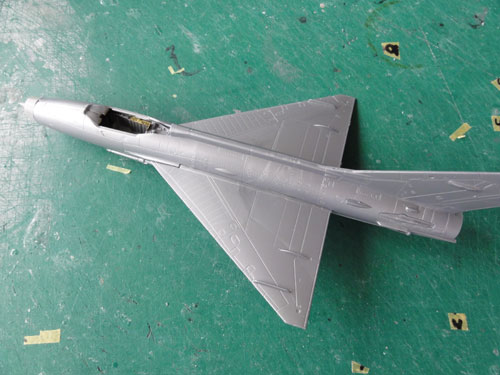 This F13 was also finished in bare metal with Indonesian markings for a colourfull TNI aircraft "2160 black" at Yogyakarta. The decals used came also from PRINTSCALE #72009 and the red cheatline came from the spare decalbox.
The wing trailing edge got a black edge painted. The large fueltank was painted red and canopy set open. Small parts were set in place. Again a gloss coat was set over the model using a mix of Johnson Future / Pledge thinned with 30% alkohol. And canopy set in place opened up completing this model.
Other MiG-21 F13 kits in 1/72 scale of Revell will be made rather straight out of the box in the future. (If you want to see my 1/32 Trumpeter MiG-21 F13 of FINLAND... look here...)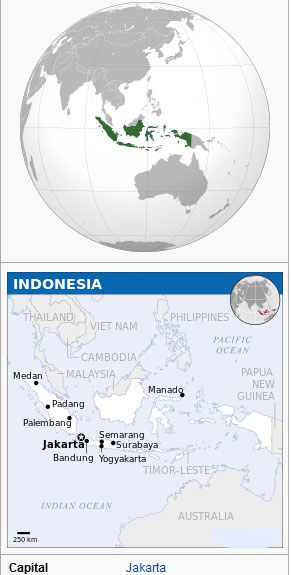 .

[ 1,900,000 sq.km on many islands | capital: Jakarta | 261 million inhabitants | GDP $4,200 per capita ]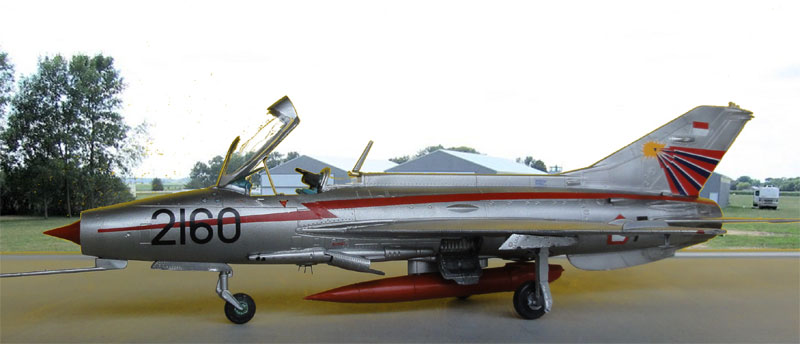 MiG-21 F13 "F2160" , Indonesia AF " Angkatan Udara" at Yogyakarta, Java. (stored in the museum)
Directly after the Second World War, Indonesian Nationalists wanted independence that was achieved in 1949. But still there were conflicts in West Guinea that was still under Dutch control. The Operation Trikora conflict in the Western New Guinea was escalating and as Indonesia had a Leftist regime the Indonesian Air Force got Soviet aircraft. That included also 22 MiG-21 aircraft with first delivery in 1962 consisting of 20 MiG-21F-13 and MiG-21U trainers. But there was a Suharto coup and regime change in 1965 with U.S. backed anti-communist forces and a new government was in place. It seems that about 4 Indonesian MiG-21 aircraft were in 1973 shipped to the USA. In exchange the Indonesian Air Force TNI-AU got T-33 trainers, UH-34D choppers and later even more MiGs were exchanged for F-5 fighters and OV-10 aircraft. Some of the transferred MiGs were added to the USAF 4477th Test and Evaluation Squadron ("Red Eagles"), a USAF aggressor squadron at Tonopah Test Range at Nevada state in the USA. (Tonopah is now a very secret USAF test base).