MISTERCRAFT / MASTERCRAFT
This Polish brandname is confusing: also Mastercraft is used in the website name.... This kit #C-14 for a MiG-21SM kit with sub-title "303 CAD". The kit looks to be a mix of KP and CONDOR but the panellines are recessed. So, a good kit but the smaller parts remain very basic however. But not a bad kit to use for its price.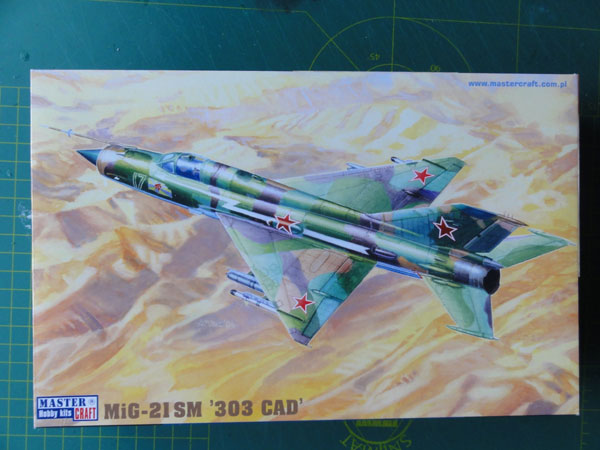 ..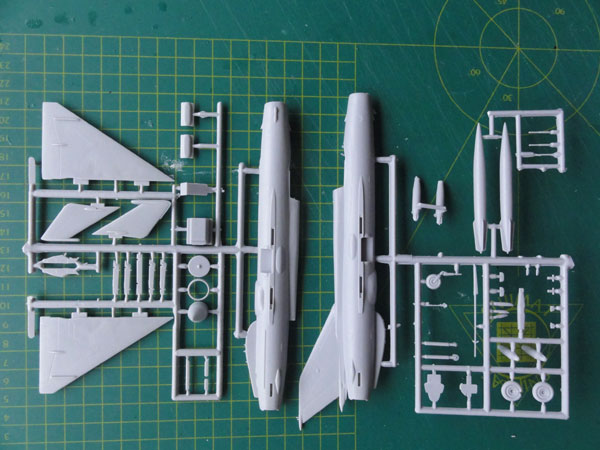 There should be a resin KM-1M seat included but mine was not in the box. The very basic plastic one is still in the sprues but unusable. The instructions have far too much text and this applies also for the colour suggestions.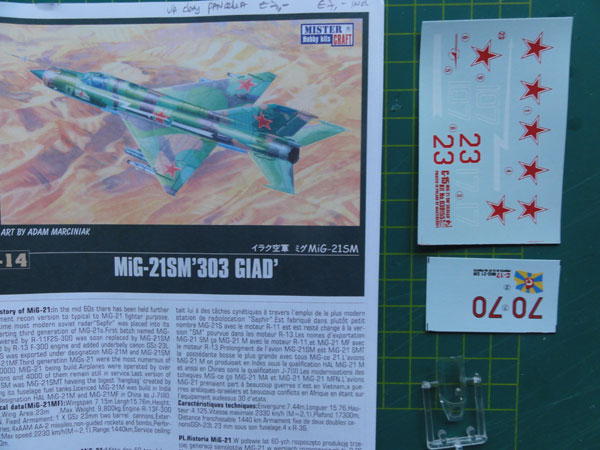 There is a big colour paint conversion table in the instructions but it looks inaccurate!! I recommend using the latest AKAN acrylic colours.
Decals are for:
(1) MiG-21SM Soviet AF (VVS) 1 squadron with a camouflage scheme , year 1985
(2) MiG-21SM that appears to be also for the Soviet VVS with metal scheme (not Ukraine as stated!)
(3) MiG-21SM Monino museum in a metal scheme, year 1985
(4) MiG-21SM Soviet VVS also of 1 squadron with camouflage scheme, year 1985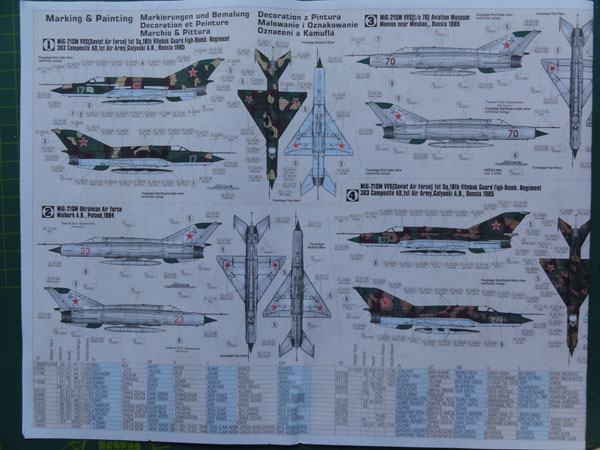 There is no exhaust pipe in this kit so I suggest to make one. I used a large bomb from the spares box to fit inside the aft fuselage. The canopy is a single piece part. The wheel bays are not deep.
There are rocket pods and a fuel tank in the kit (with spare Atolls but very basic). The lower canon fairing is also there. Mistercraft suggests to send them a Self Adressed Envelope to get some extra stores like a S-24 bomb but I would rather have this included in the kit!
I had two kits, so these were assembled in parallel.
The cockpit has a "tub" with bulkhead but is basic. I used some spare etched metal details I had (e.g. EX72152 from EXTRATECH ).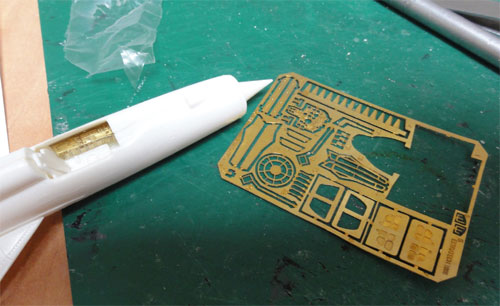 ...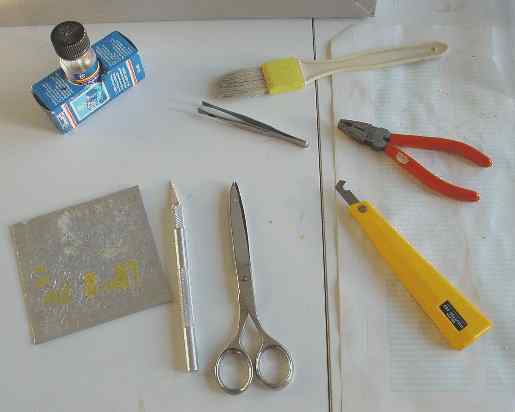 The panels lines were made a bit deeper with a scriber at the flap and ailerons at the wing. In STEP 7 the large intake scoops at the rear are parts #21 and the smaller ones #22.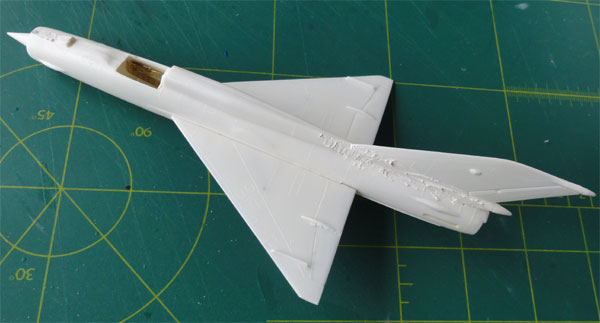 ..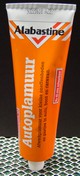 Some putty and sanding was needed and although it seems a lot of work, it is not too bad after sanding was done. I used car filler Alabastine White Putty.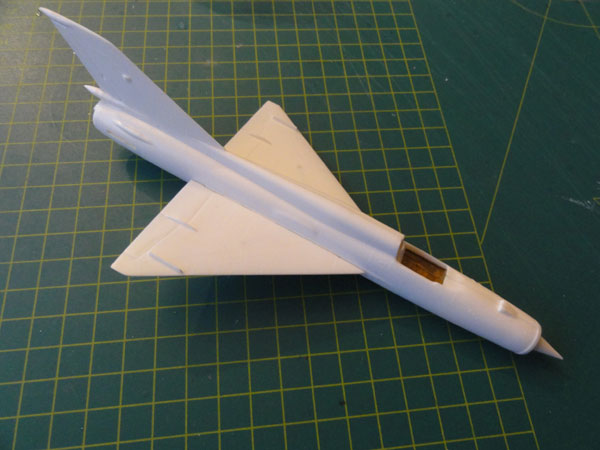 After the basic assembly, a grey base coat was applied with the airbrush. When the models looked OK, the colours schemes were applied with the airbrush.
I had seen some nice information in the very nice book "Soviet and Russian Military aircraft in Africa" (see references) and I opted using Berna decal set 72-76.
[A] MiG-21MF , Ethiopia Air Force, Asmara airbase. See info page 306 of the book which colours I interpreted as follows:
Sand : Revell Aqua 17
Olive green: Revell Aqua 361
Light blue (lower surfaces): AKAN 73008 acrylic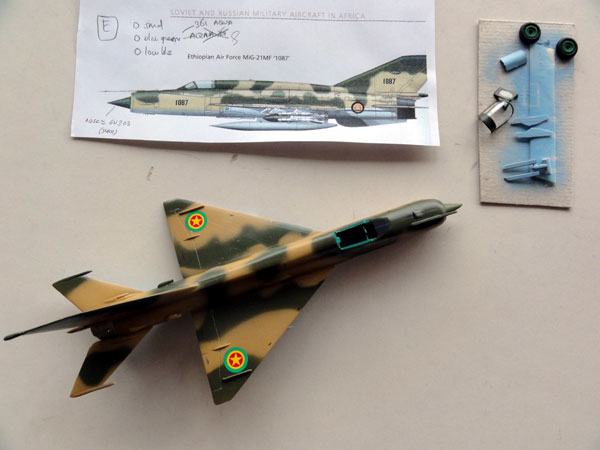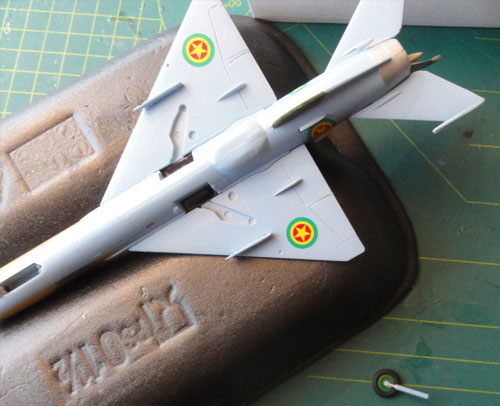 ..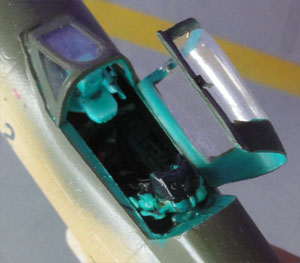 When these decals were dry, with the airbrush the same paints and decals were "oversprayed" onto the decals in thin subtle layers and this gives a worn / African sun affected paint effect. Try it, you will be very surprised.
Finally all smaller parts were added like gears, metal pitot tube made from a needle. As some spare wheels and gearlegs of an RV MiG-21 kit were available, these were used as these are finer than the Mastercraft parts. The windscreen and canopy frames were hand painted with the remaining gaps filled with White Glue and painted once dry. This seales all gaps. The large pitot tube made of a metal needle and smaller sensors set in place. Finally, I added static dischargers from thin fishing line that was painted rather than the vulnerable etched metal parts.
The model finally got a couple of semi-dull varnish coats using a mix of Johnson Future / Pledge thinned with 30% pharmacy alkohol and with a few drops mixed in of Tamiya matting agent "Flat Base" X21 acrylic to get a mat effect. The canopy was finally installed.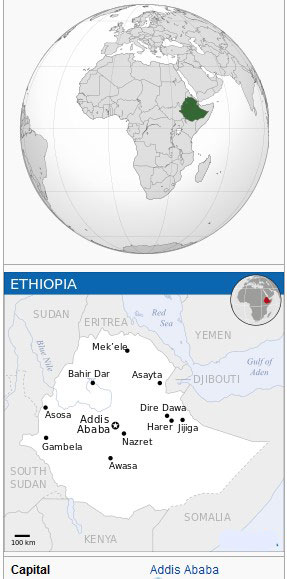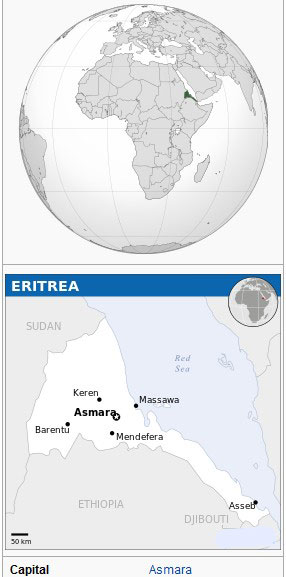 Ethiopia got the MiG-21 in the seventies and used in various conflicts. Types were the MiG-21bis, MF and UM trainers. Their status is unclear as much modern aircraft types were delivered from 2002 on including Sukhoi Su-27SK and UB Flankers!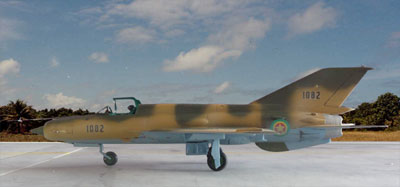 ..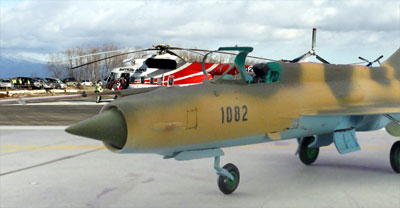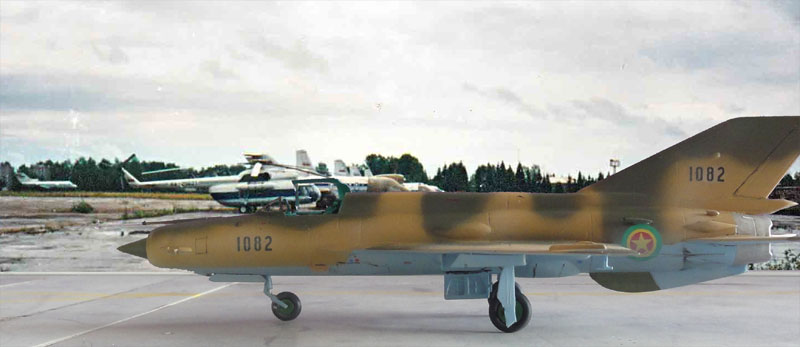 MiG-21MF , Ethiopia Air Force, Asmara (in the than Eritrea province, now a separate country)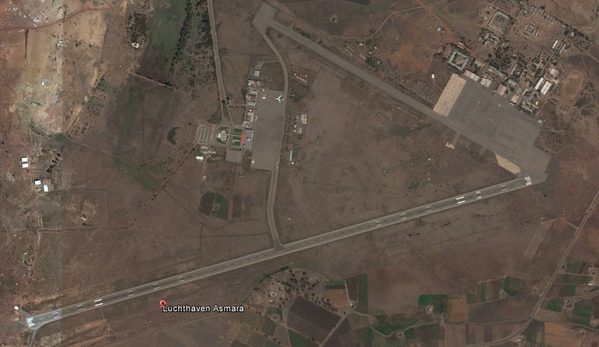 Asmara airport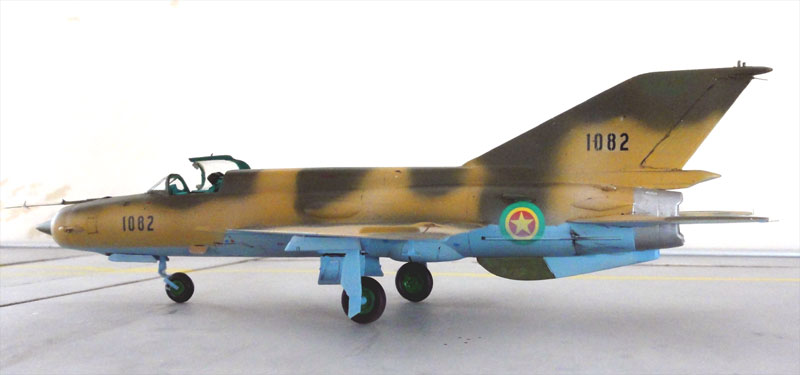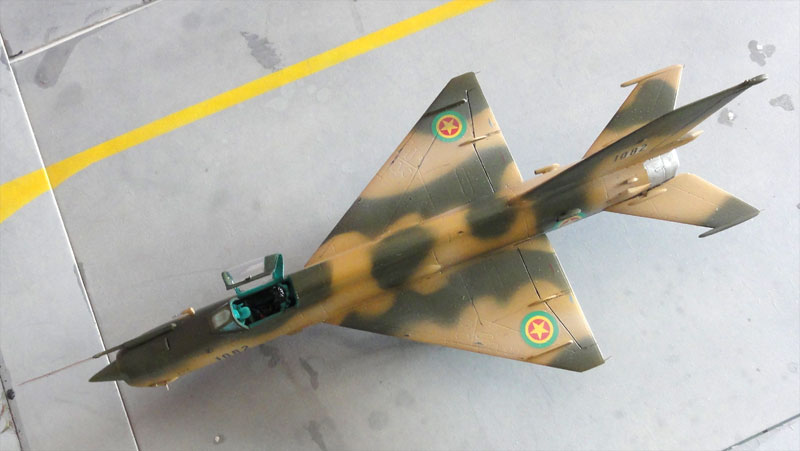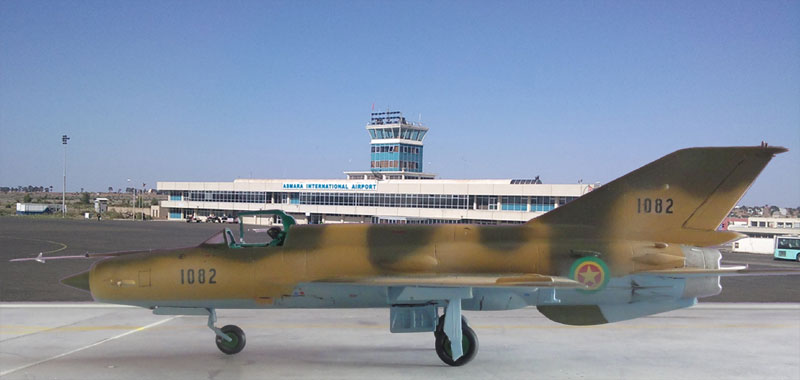 MiG-21MF , Ethiopia Air Force


....Continueing with the second Mastercraft kit.....
The Berna decals set 72-76 has also a nice markings for a MiG-21bis , Malagasy Air Army (Madagaskar) at Ivato - Antananarivo airport; The great book "Soviet and Russian Military aircraft in Africa" shows it on page 170. I opted to make it using this kit although maybe not totally accurate. The MiG-21bis spine is a bit longer but looks similar as to a SM with particularly internal updates. This model was kept simple and "clean".
For the overal light grey colour of the Malagasy aircraft Gunze Sanyo 306 grey acrylic was used. For the green antenna panels Revell Aqua 361 acrylic was used. I brush painted the gear bay interiors pale blue (AKAN 73008).
On both models, some smaller stencilling decals were used that I had from a dedicated decals set EDUARD, set MiG-21 stencils #72004.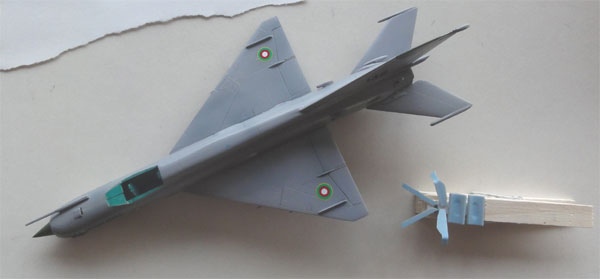 The canopy was set closed, gaps closed with White Glue and painted when dried. Two small rocket pods were fitted below the wing.
Small static dischargers as on the other models were added and final assembly was as on the other kits. And a couple of semi-dull varnish coats using a mix of Johnson Future / Pledge thinned with 30% alkohol and with a few drops mixed in of Tamiya matting agent "Flat Base" X21 acrylic.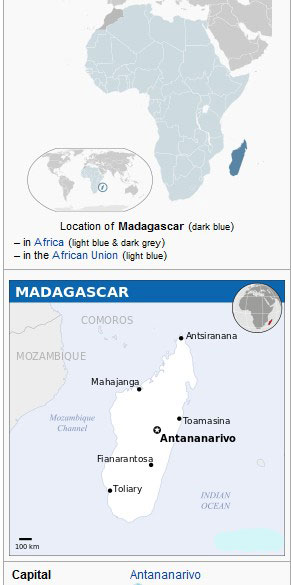 .......

............

Madagascar has a small air force (Armée de l'Air Malgache). A number of MiG-17s were used as fighters and later a few MiG-21's and it appears that these MiG-21 aircraft were delivered mid seventies with also operational support from North Korea!
Now only a small fleet consists with transports like the Antonov AN-26, Cessna's, a B737 and a few Alouette II helicopters. No fighters are available. The main base is at Ivato Airport outside Antananarivo.

MiG-21bis , Malagasy Air Army "TAFIKA ANABAKABAKA" at Ivato - Antananarivo, the Capital City of Madagaskar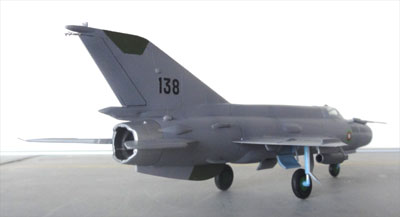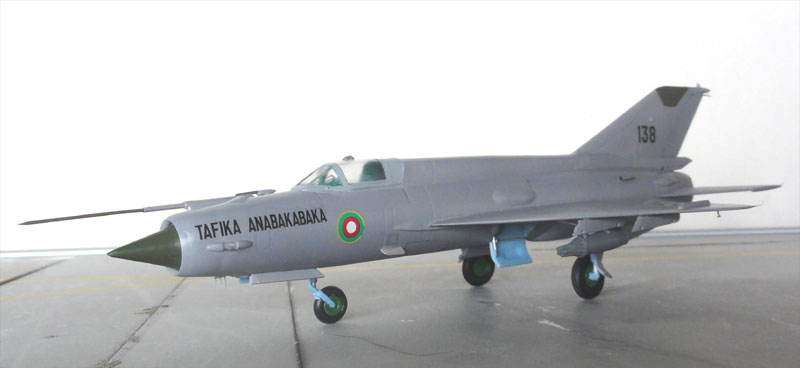 MiG-21bis , code 138, c/n 750-138 that was used from ??? at Antananarivo and this particular aircraft scrapped beginning 2011.