... continued from Kfir page 3....

[ 6 ]
Another Italeri Kfir kit # 163 was used for a Kfir TC.2 two seater conversion as I had a resin conversion set of "Classic Plane" from Modellbaustudio Rhein-Ruhr Germany (of Hr. Detlef Sjors).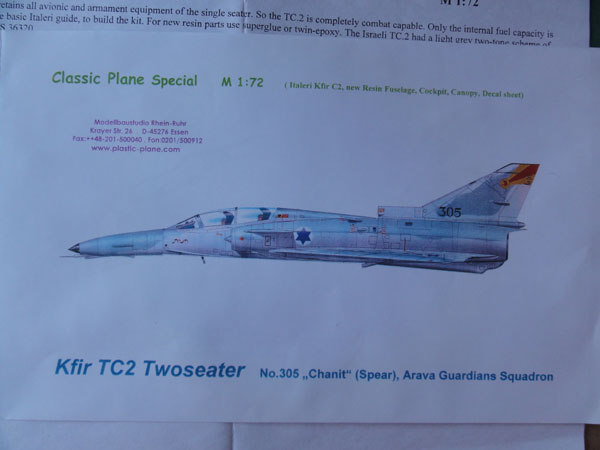 .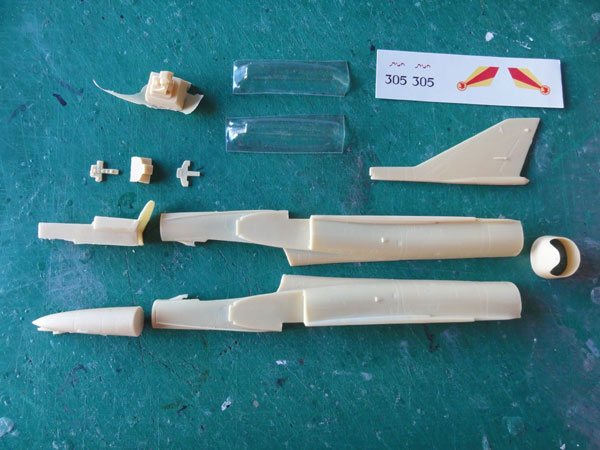 In this set you get the fuselage and longer nose, tail as well as 2 vacuform canopies. The decals sheet is very tiny for a Israeli Air Force TC.2. The other parts come from the Italeri Kfir kit (several of those were made earlier as seen on previous pages). A tiny decalsheet has markings for an Israeli Air Force Kfir TC.2.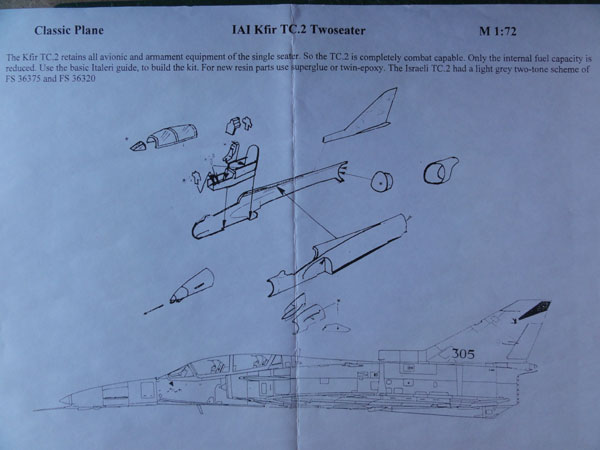 The various resin parts were sawed off their casting blocks (USE A PROTECTION MASK!!!).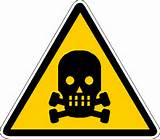 The vertical tail is also in the set but I could see a big difference with the kit part....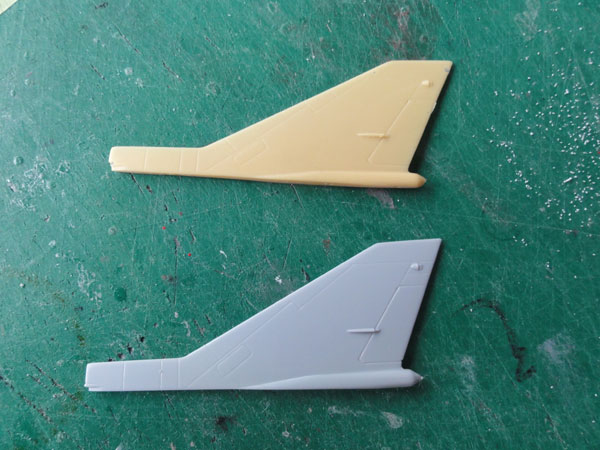 The assembly is seen here and the fit at the rear is rather crude. But nothing that putty/filler can not solve.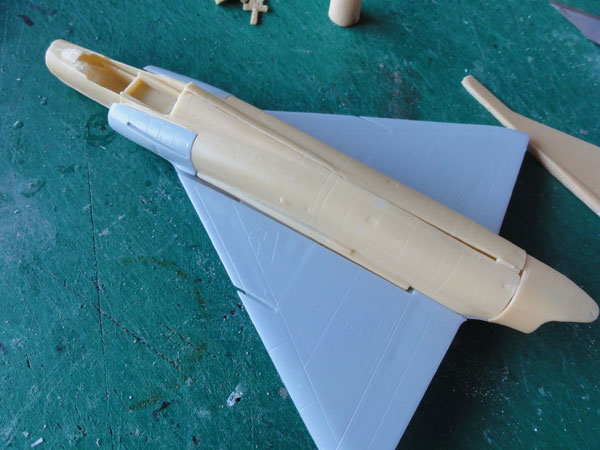 Now considerable amounts of putty and sanding was needed.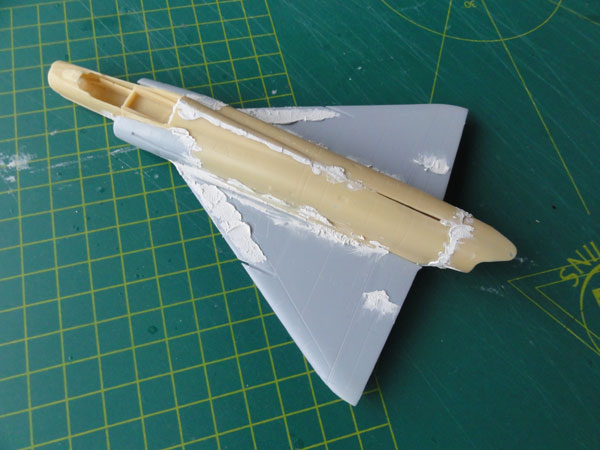 .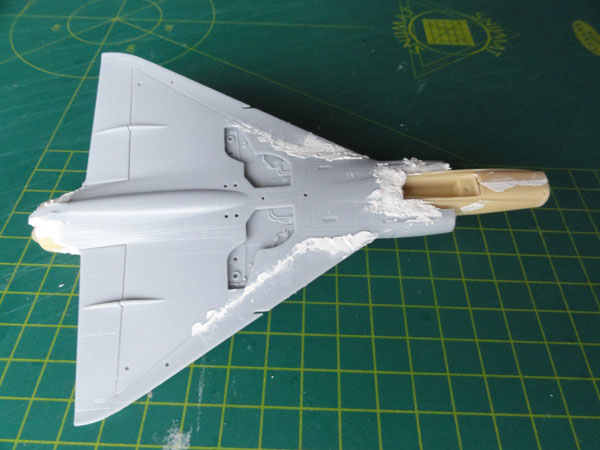 .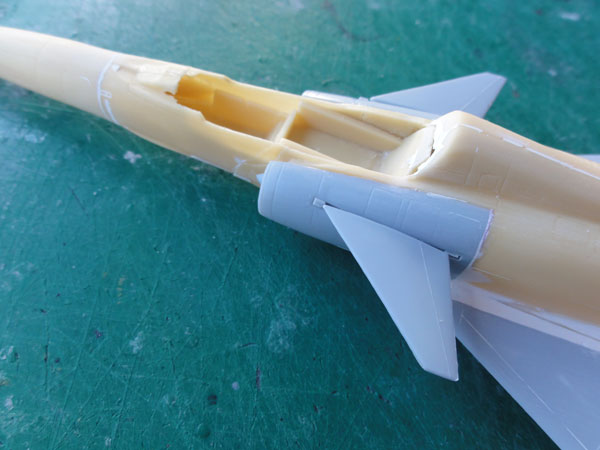 There is a sort of cockpit tub. The lower area at the nose needed a lot of filler....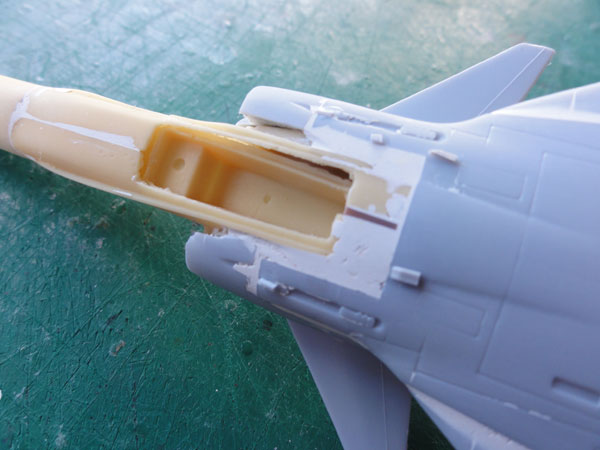 At the upper wing also some plastic shrinkage needed some filling. The TC.2 has no wing leading edge slots, so these were filled with putty. The large canards were also fitted.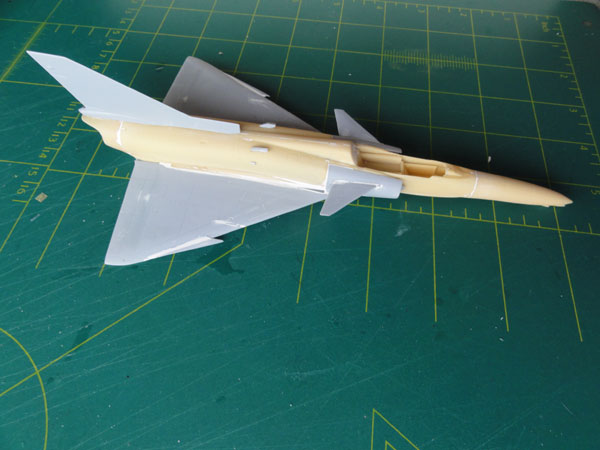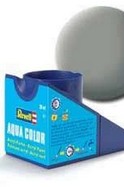 The model got a first base coat of light grey with Revell Aqua 75 steingrau to see any errors made and these were corrected.
Then some smaller details were added liked a couple of small intake scoops under the rear fuselage and near the gun openings.
For the colour scheme I picked an ECUADOR camouflaged TC.2 Kfir as I had a very nice AZTEC set #72-004. It has also a two seater version with a different camouflage with FS 34097 green and FS 30219 tan (in stead of FS34258). Photos show that there are also green camouflaged TC.2 aircraft.
Note that photos were difficult to find of this TC.2 scheme so I thrusted the AZTEC information as generally they do their research well.
The FAE wrap around camouflage colours used were indicated as per decal sheet:
Green Fed.Std 34079 using Gunze Sangyo 340 acrylic ;
Tan Fed.Std 30219 using Gunze Sangyo 310.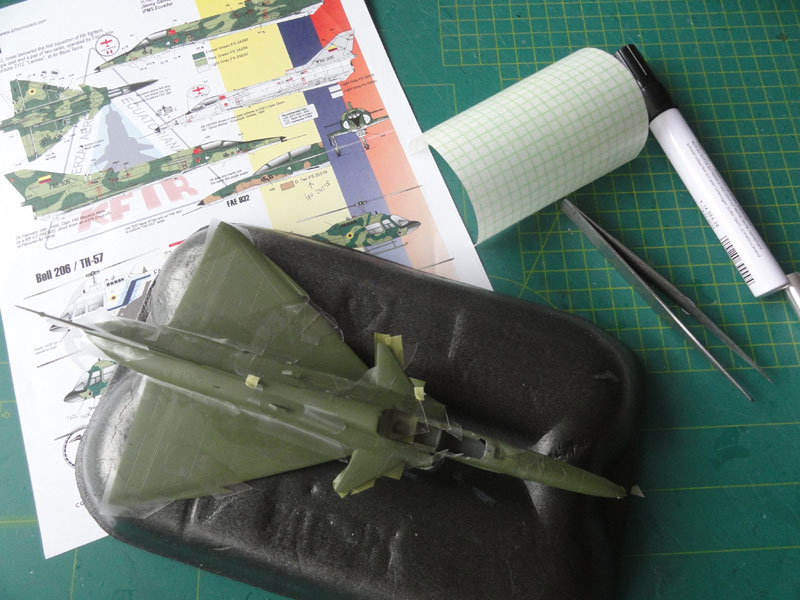 The green was done first and than masking tape and masking film (from Revell) used to get the brown colour at designated areas.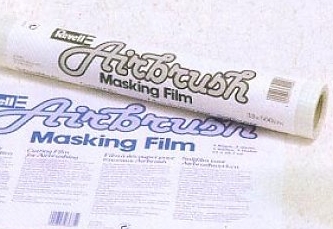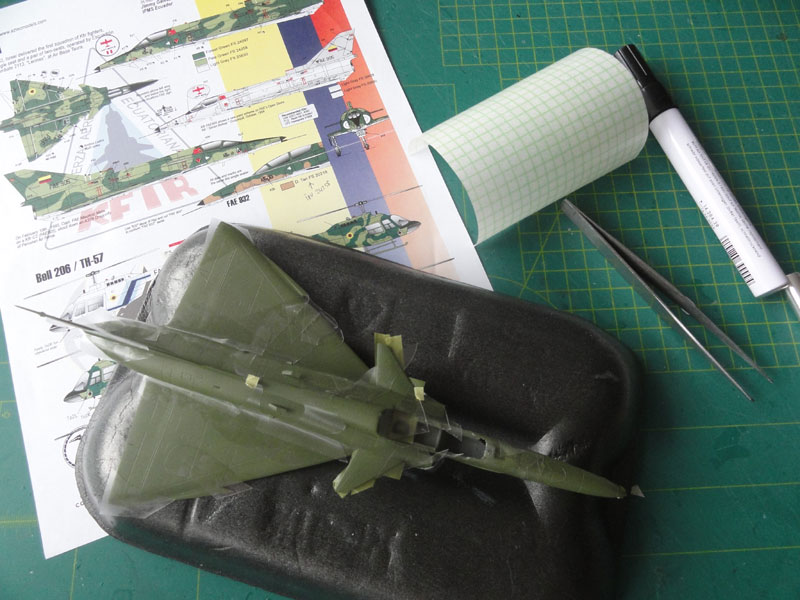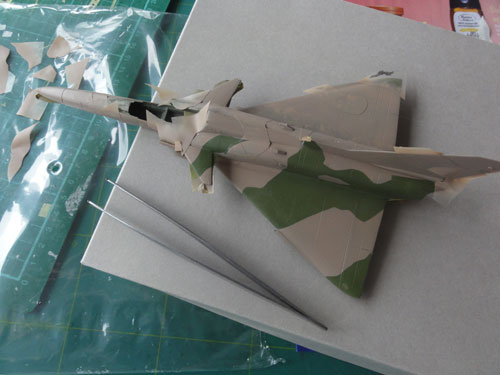 The surfaces were gloss so ready to get the decals. The decalling took a lot of time but the AZTEC decals are fine but:
- decals are very thin, make sure to soak them a long time in water before application;
- the red air brake markings are for the lower surface in front of trhe main wheel wells.
- decal unused were: K40 white stripes and red K12 on fin intake fairing, and K6 and K7 on the nose.
The white walkways are impressive and very tin but look good.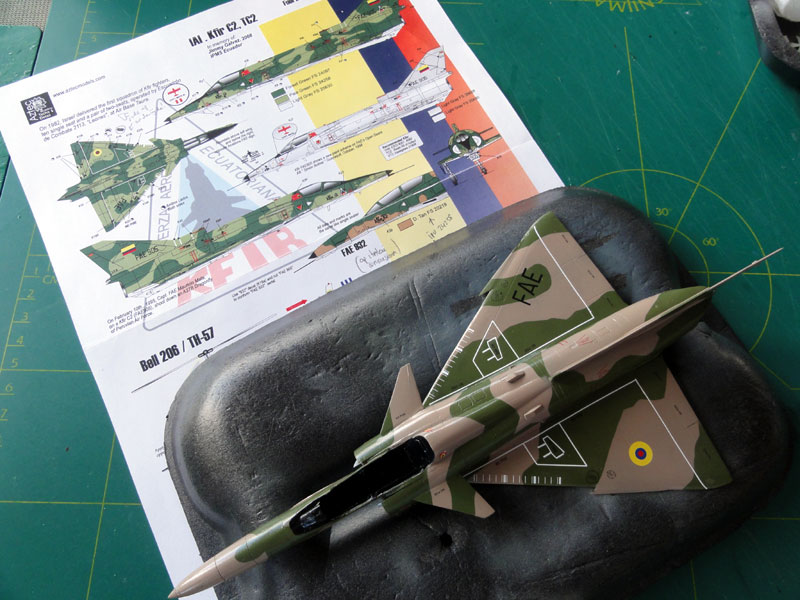 The model got a semi-gloss coat to get an even sheen and protect the decals.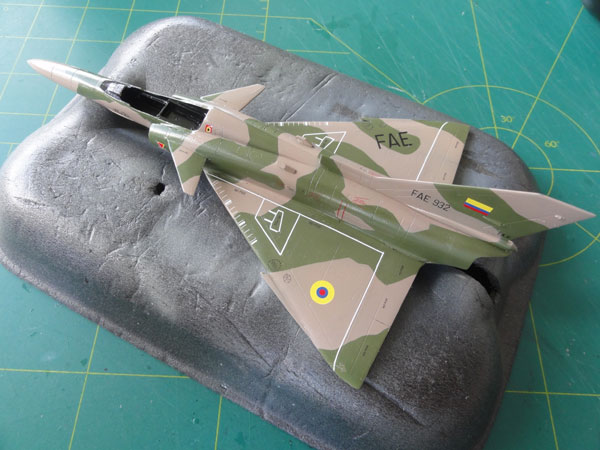 After decalling, the rest was completed. The cockpit was painted, mainly very dark grey with details of black instruments and side consoles added from scrap and spare decals. Seats installed from the kit and set. I added a few harness straps made from tape on the seats.
The undercarriage fitted and the anti-collision lights were painted and the nose tip black.
The canopy of the TC.2 is a vacuform part so needed carefull trimming with a sharp scissor. (you get also a spare one). The frames were painted and canopy set open with some tiny mirrors added as well. A pitot tube was made from a piece of metal needle below the nose. That completed this TC.2 Kfir.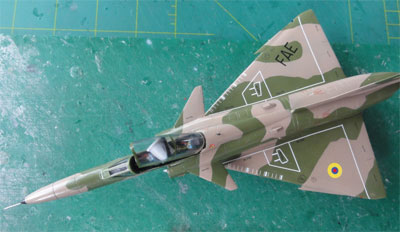 .....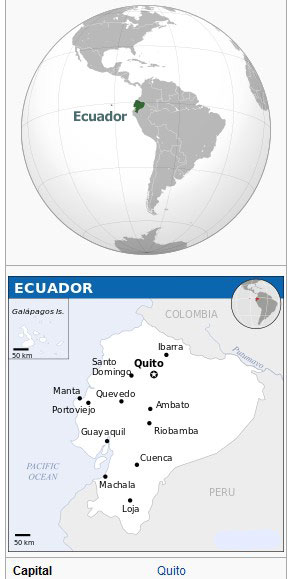 [area: 283,561 sq.km | population: 18 million | capital: Quito | GDP 6,500 USD nominal per capita ]
In Ecuador military aviation started in 1910 after a conflict with Peru. See for more info the previous page 3....
The FAE obtained (after the US President Reagan gave permission to use the J79 engine) from Israel some 10 Kfir C.2 and 2 re-furbished former IAF TC.2 trainers. Some 19 additional AT-33 from the USA and 6 Strikemasters from the U.K were acquired from 1987. Later from 1996 more Kfirs followed: 3 C.2, 1 TC.2 as seen on this page and 2 Kfir CE .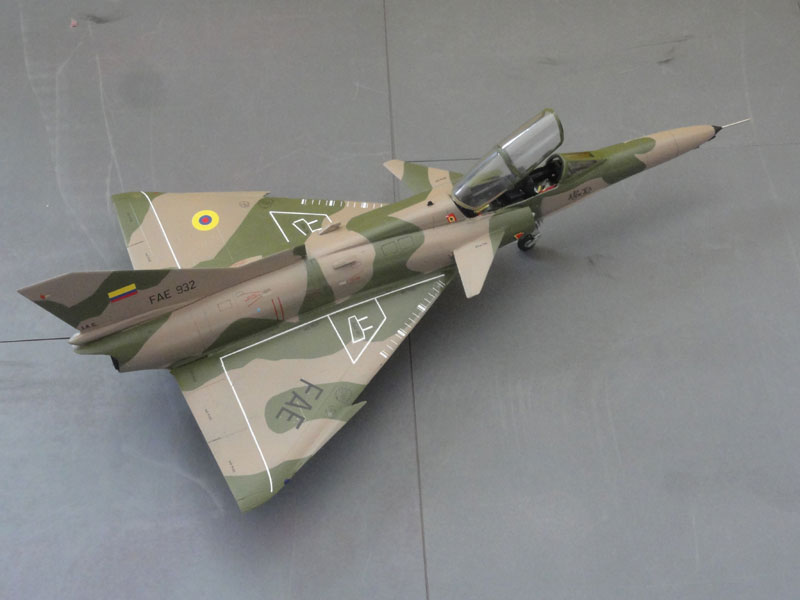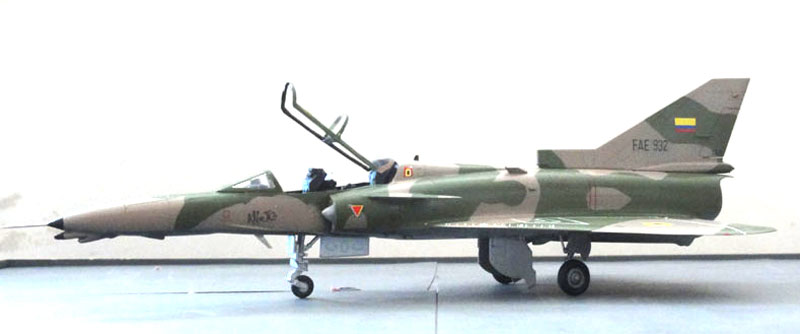 Kfir TC.2 of Fuerza Aerea Ecuatoriana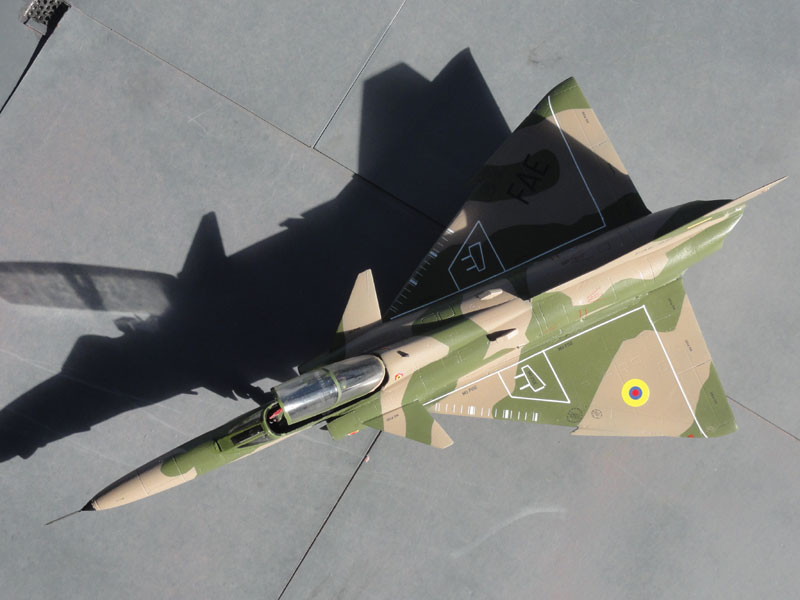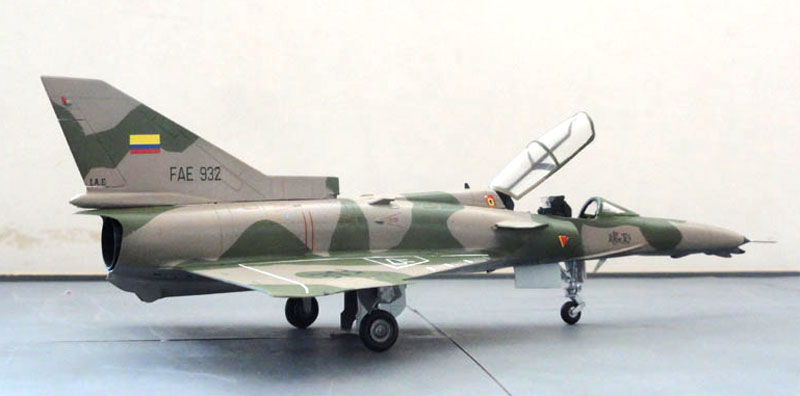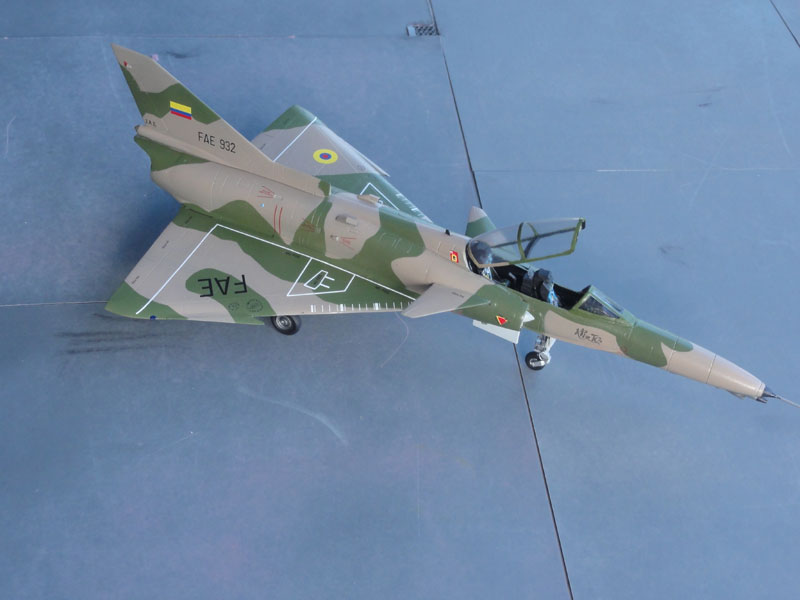 in the tropical sun light.....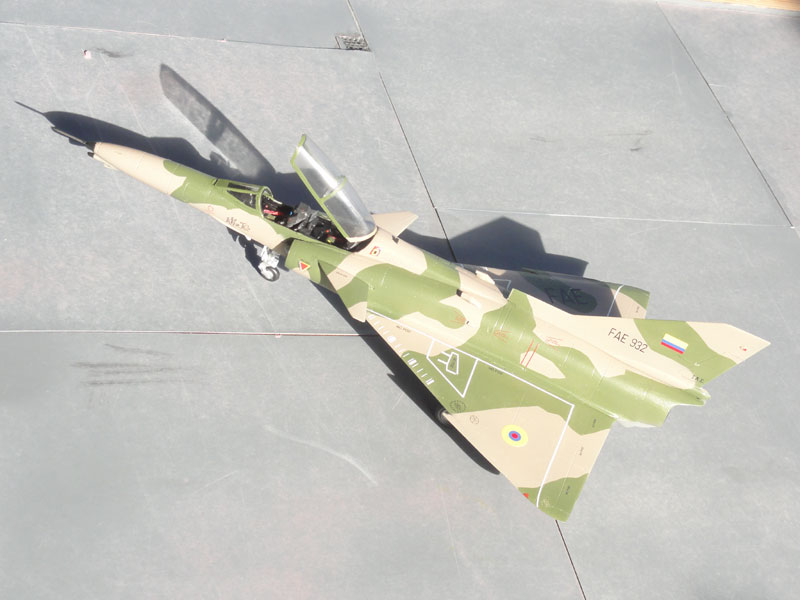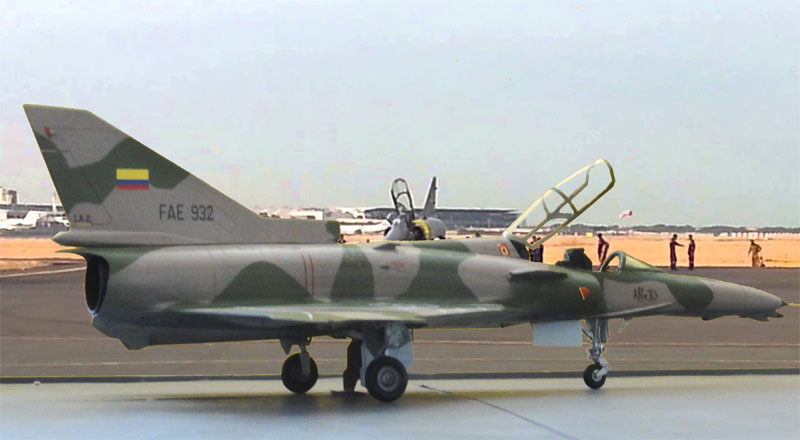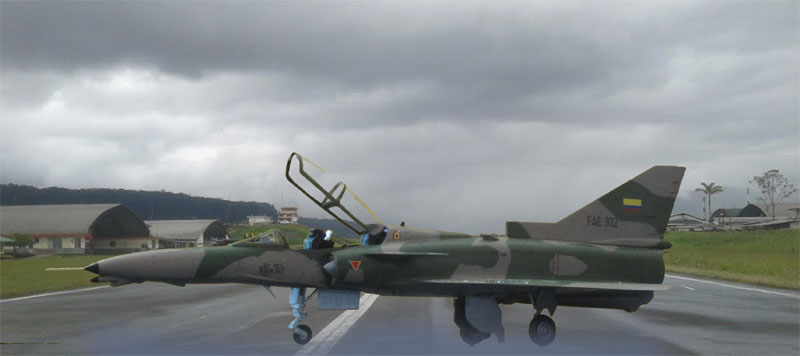 at Taura air force base, Ecuador
That completed no less than 6 Kfir models in 1/72 scale. And the AMK 1/72 kit is still waiting...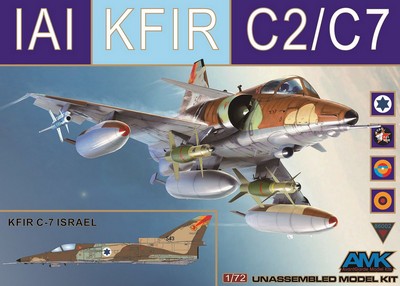 Also still I have a 1/32 Kfir project on the list converting a 1/32 Mirage III kit.