... continued from page 2 .....

The Hawk model(s) were ready in their basic shapes.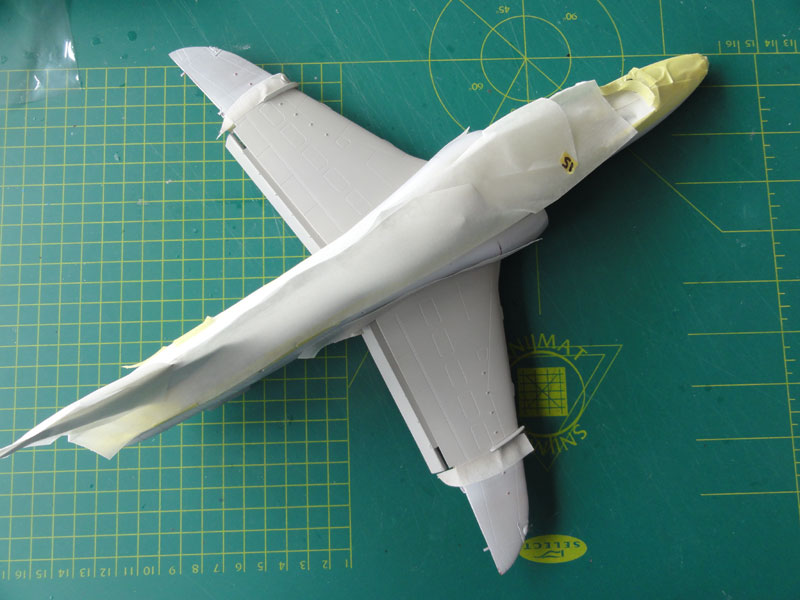 They were given each grey coat of primer. Particularly the red plastic is now really covered. Correct any gaps and flaws with putty and sand when dried.
Next it was decided to apply the Hawk colours at this stage, before fitting any other detail parts like the undercarriage and canopy. The Harder Steinbeck Infinity airbrush is used for all airbrushing work.....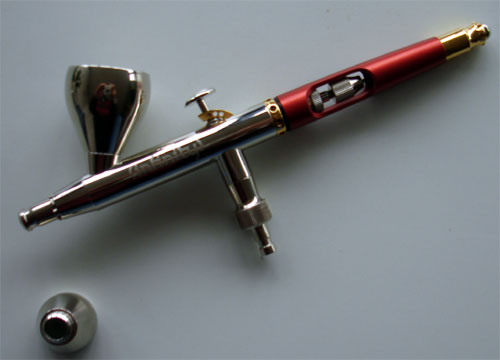 The other parts like the tailplanes, undercarriage doors, canopy frames that would require also the colours were also prepared and set aside. These would be airbrushed as well in "one go" with the main model assembly.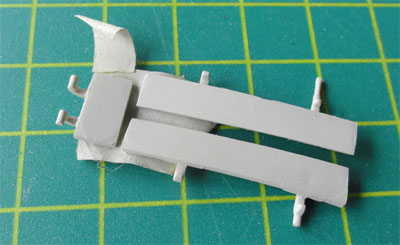 .
These parts were masked as required, using low tack tape and tissue paper.....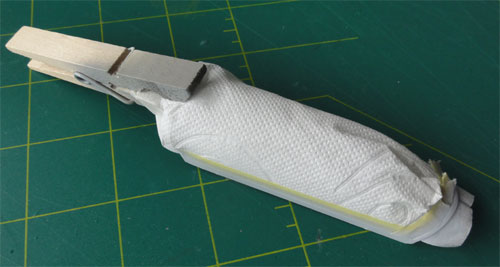 COLOUR SCHEMES
Many commercial decal sheets can be purchased for the 1/32 Hawk. Xtradecal of Hannants UK has a lot of choices. A couple of decal sheets were bought.
The first model would be finished in a RED-WHITE RAF scheme, typical for HAWK training aircraft seen in the UK. The model is for a Hawk T.1 of RAF Central flying School at RAF Valley, 1990. Decals are on Xtradecal set X32-027.
(this is a very nice sheet with no less than 7 schemes)
Colours used were:
Revell Aqua RED #330 and Revell Aqua WHITE #03 for the mat base coats. These were applied with the airbrush, paint requiring thinning with the special Revell Aqua Thinner. (Water is less reccommended here for thinning).
Next followed the gloss coats, using GUNZE SANGYO #H5 RED and Revell Aqua gloss WHITE #04 . Take care to use the special thinners for each brand, so for GUNZE the special Mr.HOBBY acrylic thinner.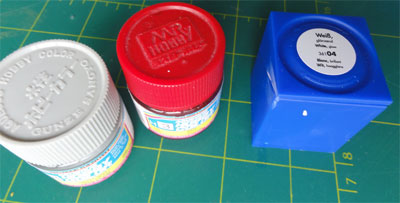 For the mid wing section, GUNZE SANGYO #H332 acrylic was used (BSC 627 grey)
(please note that if desired enamel paints are also widely available, e.g. from Xtracolour).
Start with white, followed by the grey and finally the red.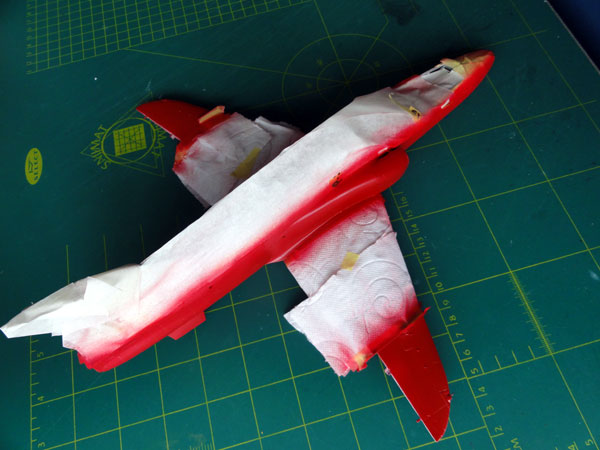 The masking and airbrushing took considerable time, but the result is fine. Note that the cockpit is not yet fully detailed, this will be done later to avoid damage to the interior.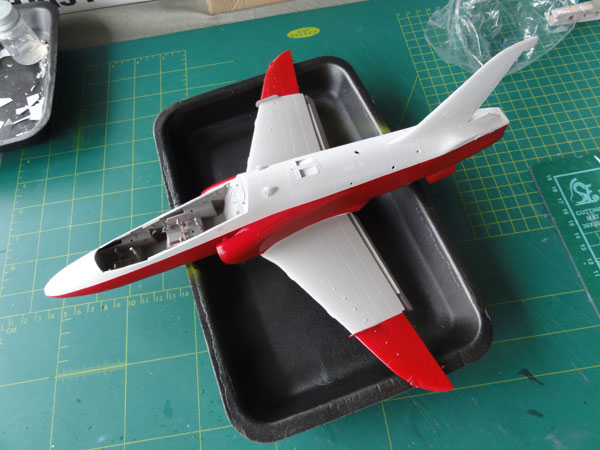 The mat black anti glare shield was also not forgotten... The pitot tube was set on, to be black as well.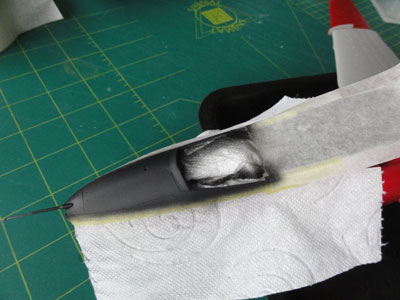 After drying, masks were removed. Any overspray was removed and the gear bays and air brake bay (again) got a white coat.
Next, the (glossy) model was ready to receive the decals. Just use the plain method, soak a couple of decals in water a couple of minutes. and slide onto the model.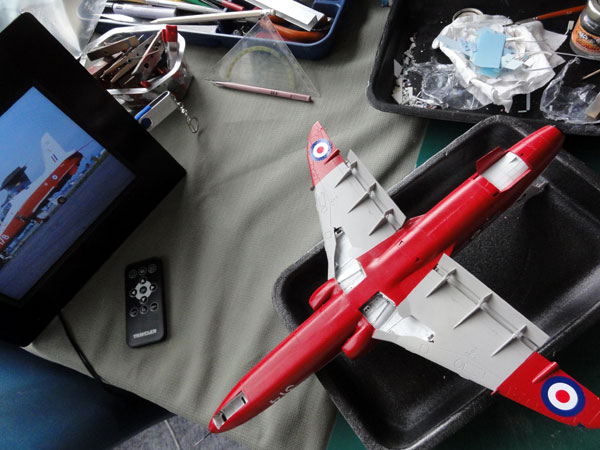 The decals went on fine. To have the decals follow the curve at the rear fuselage, DACO Decal Softening fluid was used, particularly at the rear fuselage.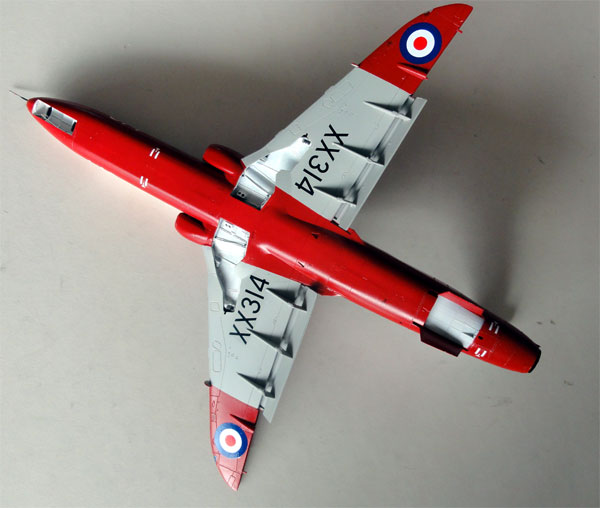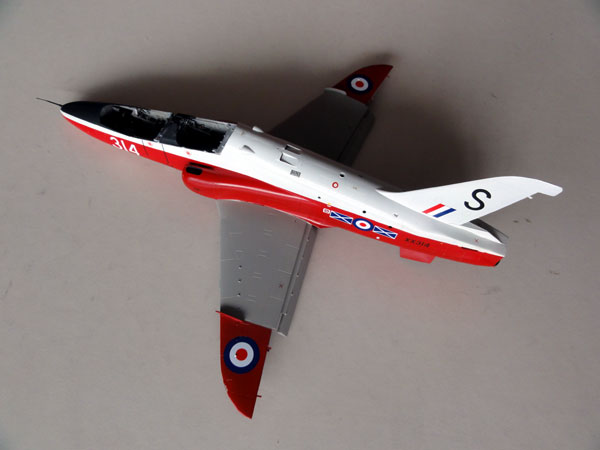 The model was ready to get all the detail parts and to be finished.