Continue from page 3 now with...

[ Step 28 ] Vertical tail
The vertical tail is OK, but remove a couple of millimeters of plastic at the lip of parts L39+L40, this will improve their fit on top.
Fit the fit onto the fuselage spin and align carefully. The base intake Part L51 could use a little refinement with a sanding stick to make it finer.

The whole model was checked for small gaps and puttied. The cockpit openings were closed with Scotch tape. Adding putty in areas, fill up any gaps and flaws. You can remove putty with nail polish remover without damaging the surfaces as no sanding is needed. Only in areas where you need some "built-up" putty, sanding is appropriate.

After removal of the putty and polishing the model, it was given a light grey base coat. This revealed eg. that the intake splitter plates needed some extra filler as seen below...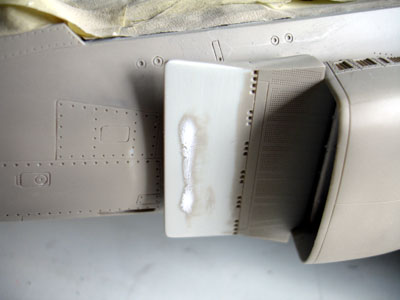 .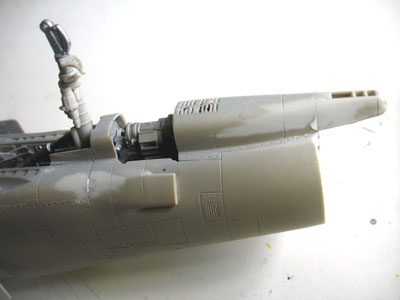 Also at the gun area some work was needed.
[ Steps 29 + 30 ] Wing tips
Next the wing tips are to be added. First, sand off completely the thick "plates" at the leading edges of the wing tips (parts A4, A8 ) and also reduce the thickness a bit of the plate at the hinge itself.
Please note that the "tilt angle" as moulded on the wing tip of the Tamiya kit is much too large! It should be 13 degrees and not 24 degrees ! This was corrected with the reduced angle. Some sanding and work is needed to fill up the resulting gap. Also putty is needed.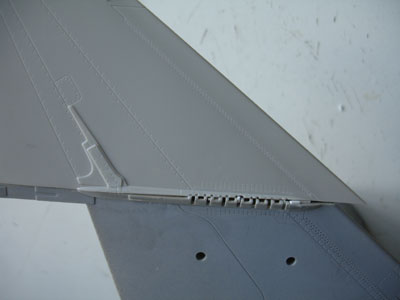 .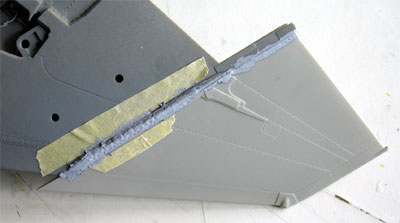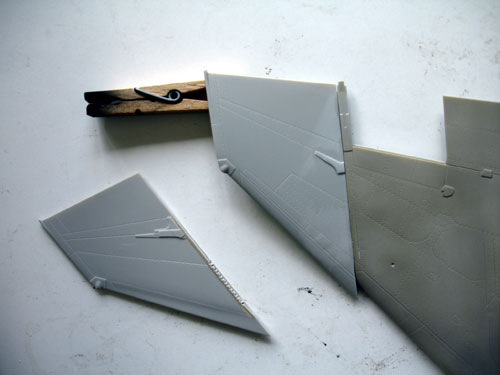 Work in progress on the tips.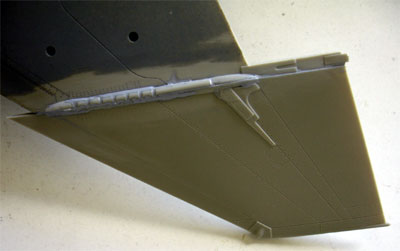 These tip corrections will vastly improve the look of the F-4 model.
(The trailing edge flaps were not yet set onto the model).
[ Step 20 ]
The main gear legs are not 100% correct, but good enough. The metal legs of the kit will benefit if they get extra details using the Eduard set. The anti-torque rods were replaced etc.