Now, finally



You may be wondering why it took so long to continue with this kit. Well actually it was the choice of colours and scheme for a nice Japanese F-4EJ. I was fascinated by the built of the smaller 1/72 F-4EJ of Fujimi and liked the scheme. This meant I had to make my own decals of this same scheme. I did but at the end I saw some very nice blueish schemes as wel.

I could not figure out what good colours where as Tamiya does only indicate a mix of their own acrylics. I could not find as Fed.Std equivalents, despite some very colourfull Japanese books and searches on Internet. So the built of this model was halted for a few years!

So after some time, looking at the kit decals and all stencilling supplied I decided to go for a scheme as in the kit. Picked was scheme no. E for a JASDF no.305 squadron plane of Japanese Air Self Defense Force at Hyakuri Air Base.



The box-art seen here. You get lots of stencils in the kit, the instructions are seen below....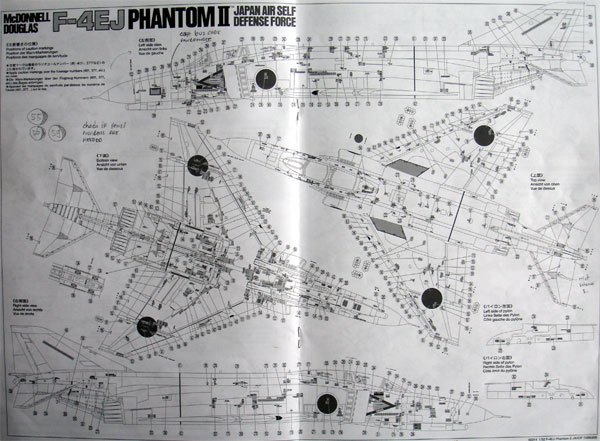 With the 305 squadron plane paint scheme.. see all my notes on possible colours... I selected the Tamiya mixed colours in the end.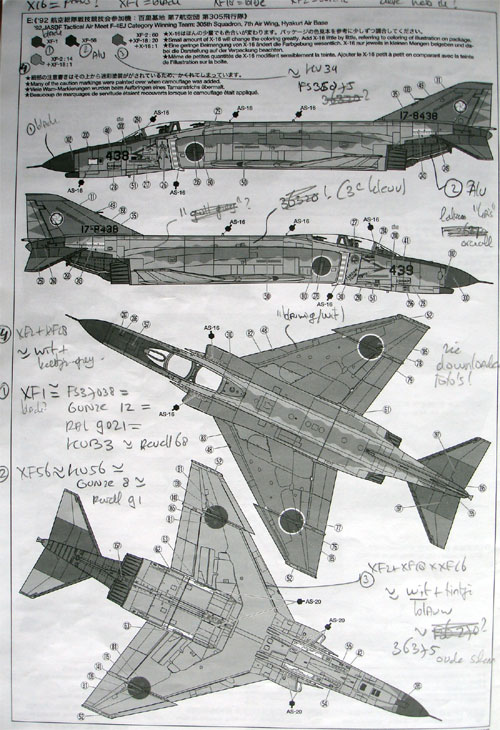 X-16 XF-18
These colours were mixed as on page 22 of the Tamiya kit instructions using these:
TAMIYA XF-18 is a blue colour, XF-2 = white, and X-16 is purple!
Other usual colours are XF-1 black and XF-56 aluminium.
You will need to thin with Tamiya thinner as well.
Not an easy task to mix these colours but on the other hand the real planes show large wear with various hues and shines. I came to the conclusion that the lower areas are white with a blue hue and the upper colours have patterns of a darker blue/purple mix.
Make larger paint quantities for re-touching the paint later on, otherwise you are unable to match the colour exactly. Also spray some spare clear decals in these colours for patch work later on if needed.


First, a pre-shade was done with black on panellines and recesses etc. Next, the intakes were sprayed white. When dry, these were masked of with paper tissue and tape.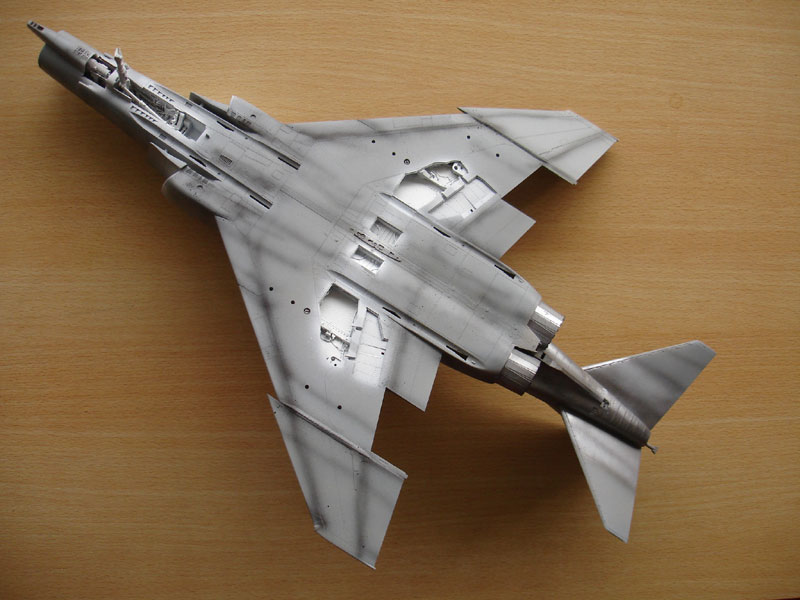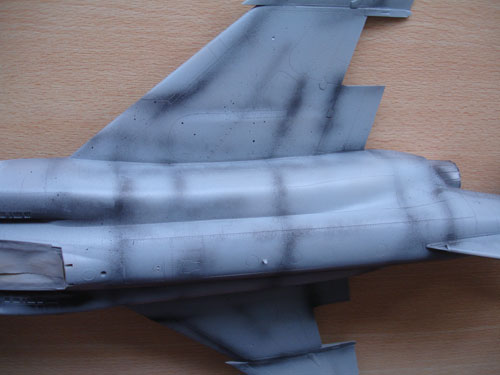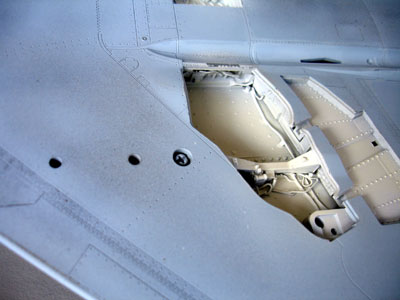 main gear bay with some added details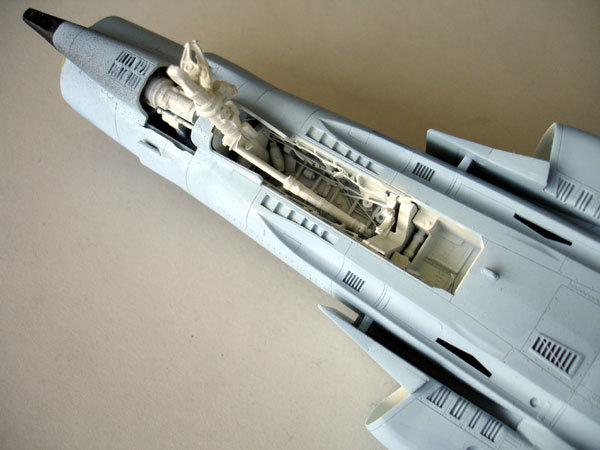 Starting with the lower surfaces and the upper light colour "white/blue" the model was sprayed with my Steinbeck airbrush, using the largest needle. Do not forget to spray on the low visibility light stickers as well... I forgot and had to do that later.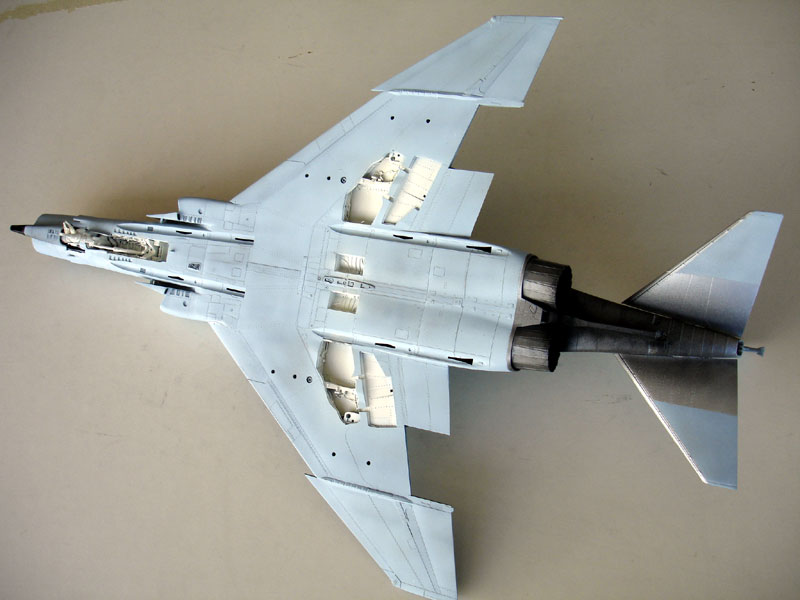 Than, the darker blue patterns were sprayed freehand. After drying, I again removed some overspray inaccuracies with the lighter colour.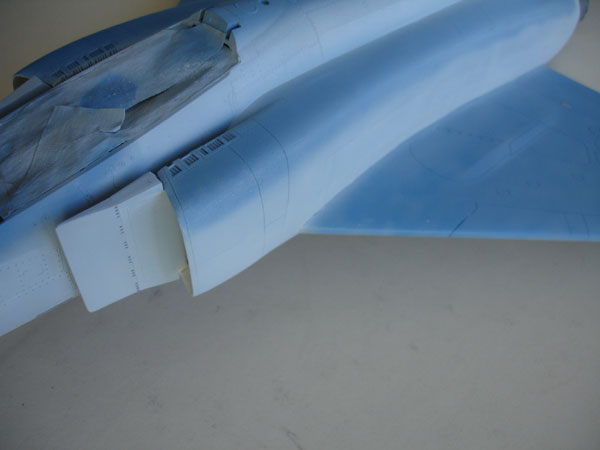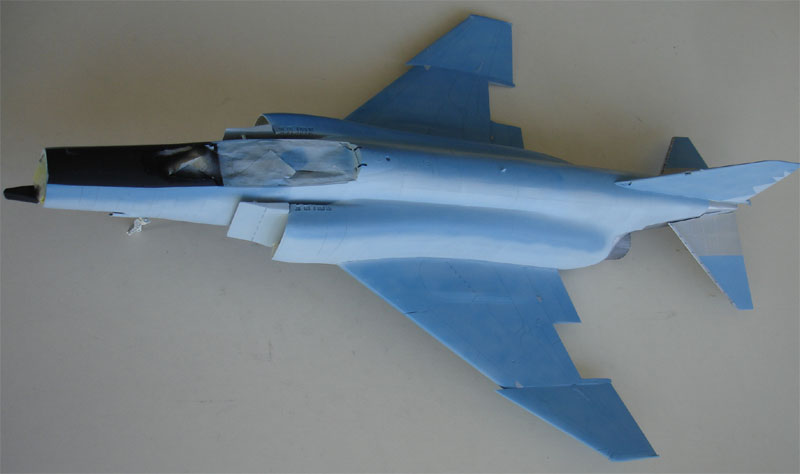 Also the anti-glare area at the nose was sprayed mat black and the metal area at the exhaust and stabilizer were sprayed metallic, using variuous paints like Gunze 8 metal. (The tri-angle stickers are not required for this scheme E).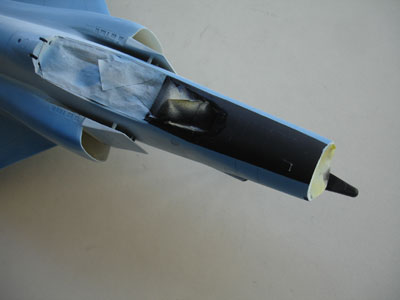 .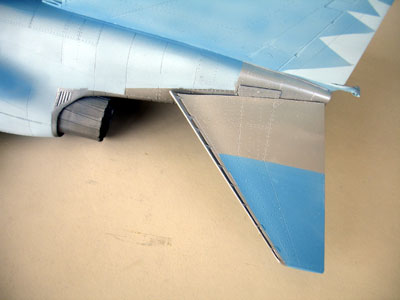 .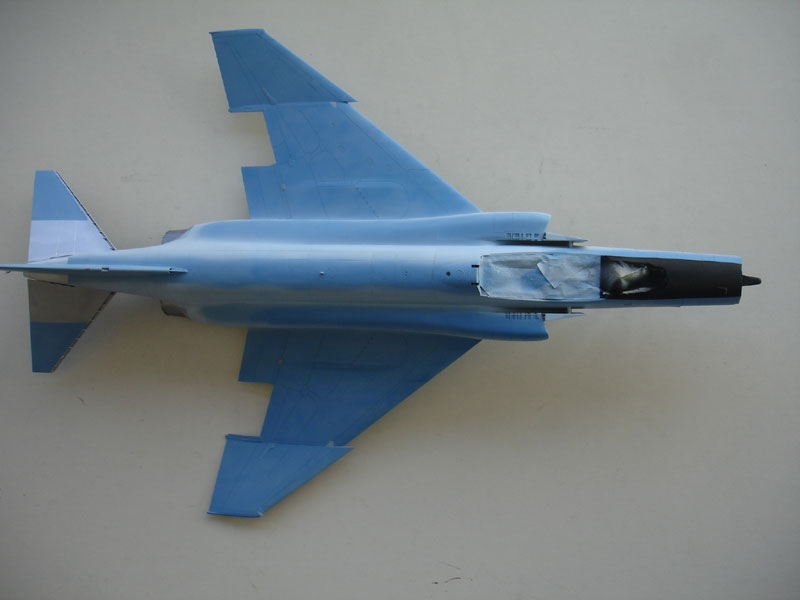 I than tried to replicate various patterns on panels and panellines with slightly lighter tints of the same colours. This is quite some work but makes the model really interesting as on the real planes various colour differences are seen: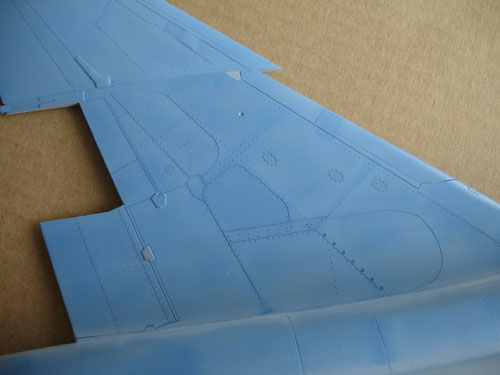 .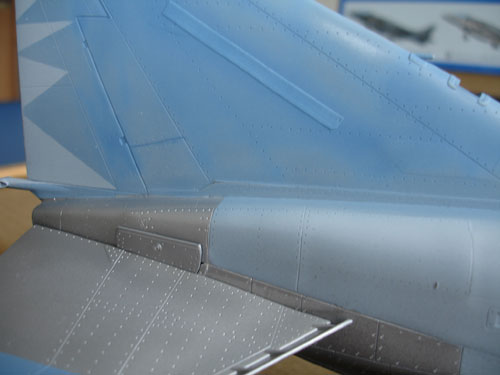 this metal area needs some extra shades...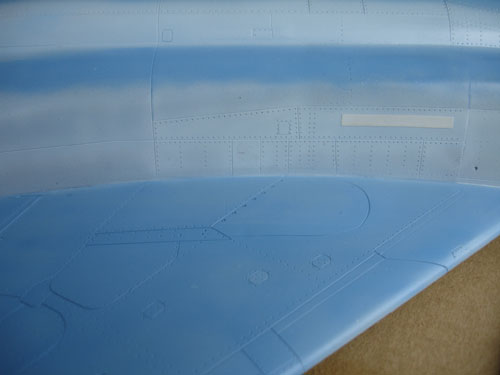 .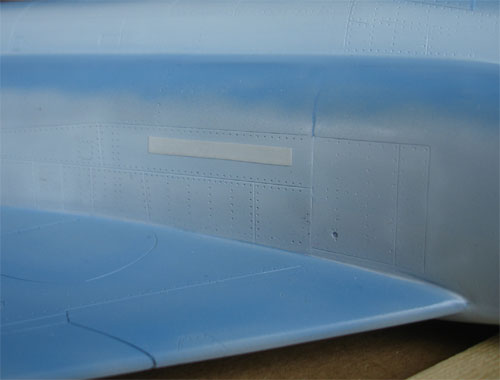 Also all the various bits like undercarriage doors, fuel tanks and so one were sprayed as well.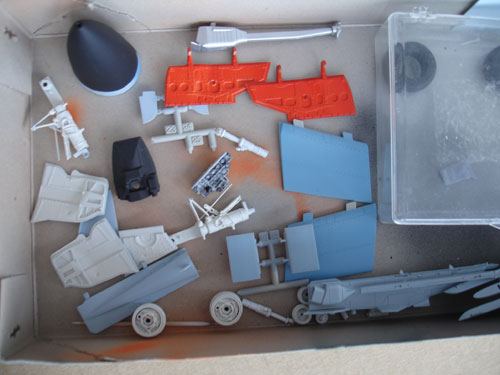 and fuel tanks and pylons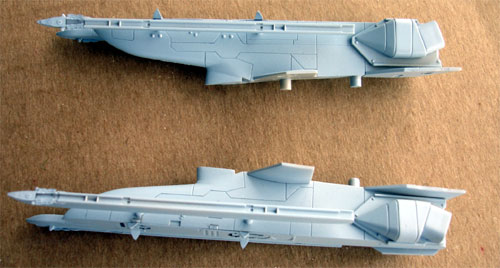 .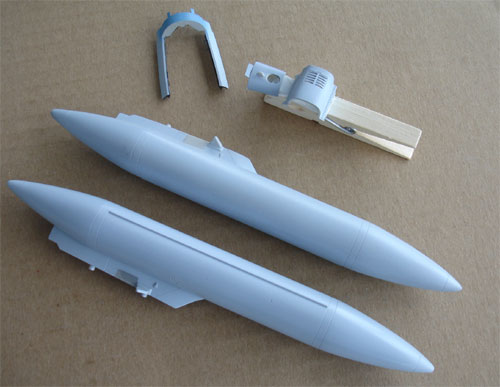 and detail of the canopy frame (with some Eduard details)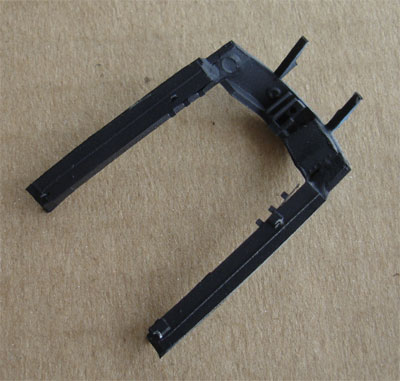 .
with the cockpit masking tape removed after some years....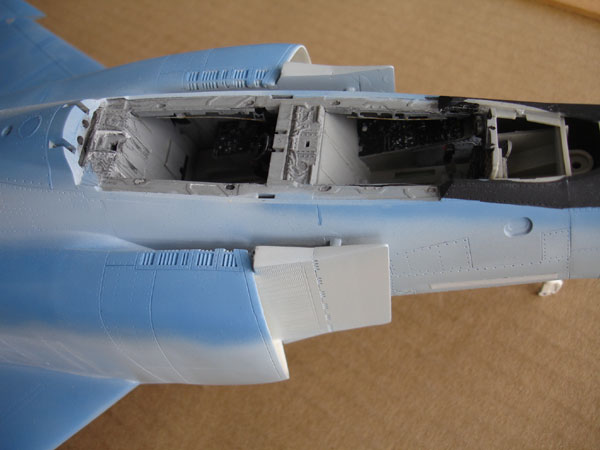 Next step is now adding some subtle panellines details, using Promodeller wash. This will be followed by some gloss coats of Johnson Future and adding the stencils and main decals.
On to next [ Page 6....]