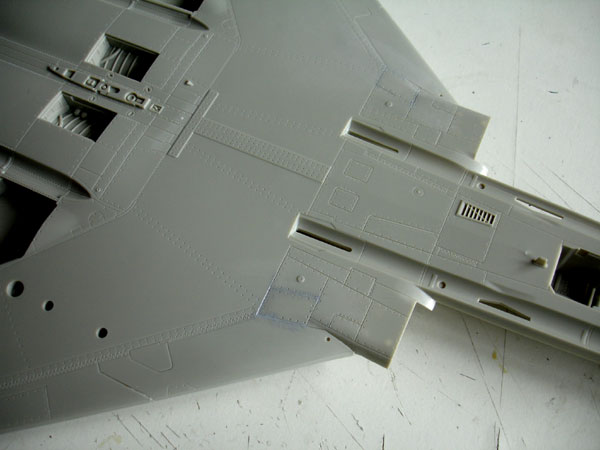 The small plastic inserts #L6 + #L7 were added (on Tamiya F-4 Naval kits you will get catapult launch hooks).

[ Steps 10 and 11 ]
The wheel bays were OK, and assembled. Some extra detail was added with stretched sprue in the bays to suggest hydraulic pipes and tubes.
The F-4EJ has no inboard slats, so the inboard panel lines on parts #A13 + #A14 were filled with putty (note these are very fine lines).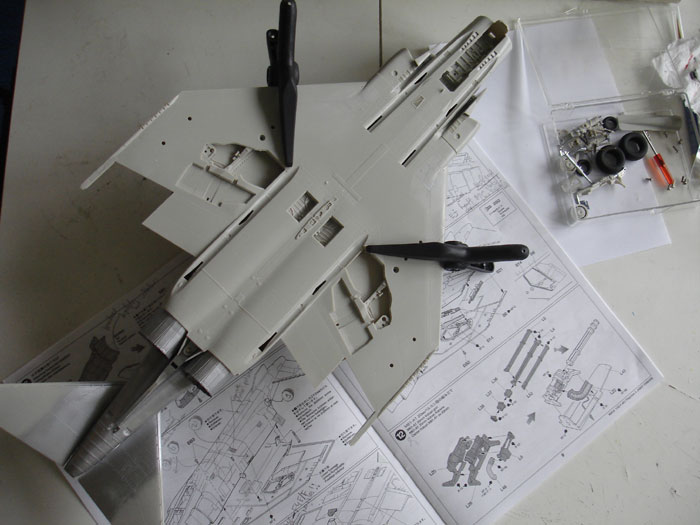 The auxiliary intake doors on the lower mid fuselage were OK, the bay was not further "deepened". The overall result will look OK.
An important next action is....
The overall model parts with its wings were assembled. Take care to make the gap at the wing-fuselage junction as small as possible. For that purpose, a "spacer" made of thick plastic sprue was made and used to keep the fuselage walls are correct distance.
It was also required to fit the horizontal stabilzers, although they are quite vulnerable to handling later on. Also, the "metall" exhaust part from Step 7 was fitted.


It was decided to show the canon as provided in the kit. The access panel would be set open. With a razor saw the lower panel was separated. The canon fairing grills on part were opened up with an X-acto knife.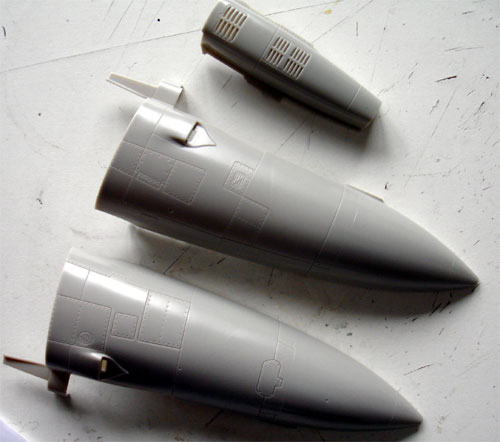 [ Steps 12 and 13]
The canon was assembled as shown and is well detailed. Inside the fuselage some details were added with rod and sprue.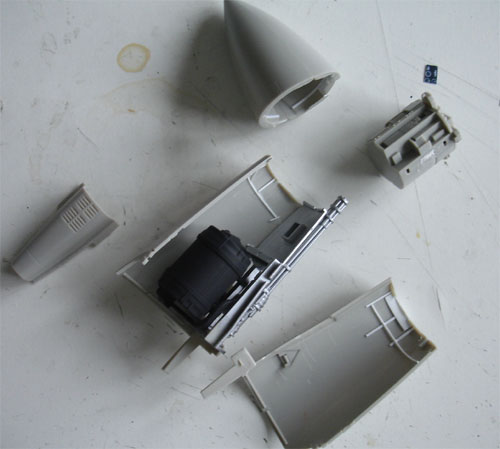 Another view of the canon....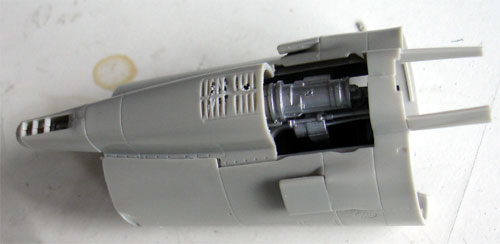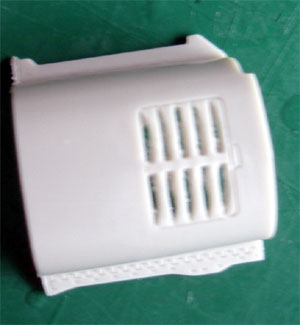 [ Steps 14 and 15 ]
It was also decided to shown the radarcone open. You get a clear transparant section in the kit and a 'solid" section. The solid parts were used, and the radar nose cutt off with a razor saw.
Also, the radar and its equipment is provided in the kit and well represented. The radar disk #L42 will be replaced however later on with a part of mesh with opened holes.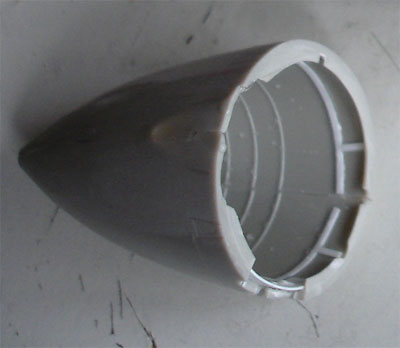 Inside the radar cone, some extra detail was added with sprue and card.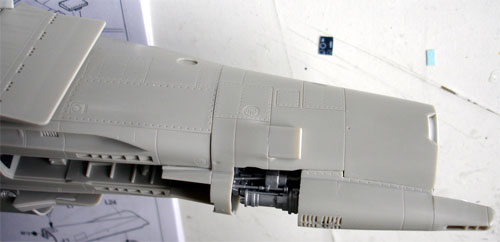 The view with the canon and separate radar nose.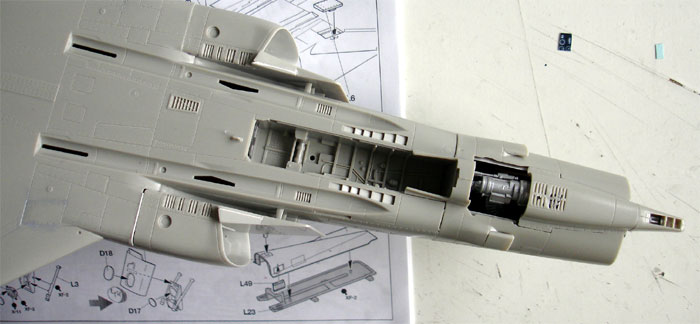 [ Steps 16 and 17 ]
The canon nozzle is for the F-4EJ and correct.
The nose gear leg was assembled as per instructions. You get an metal leg as basis. Some Eduard details were added to the gears. The leg was not yet fixed on the model.
[ Steps 18 and 19 ]
The nose gear and details like the doors are excellent. The doors will be fitted after the whole assembly and painting of the model.