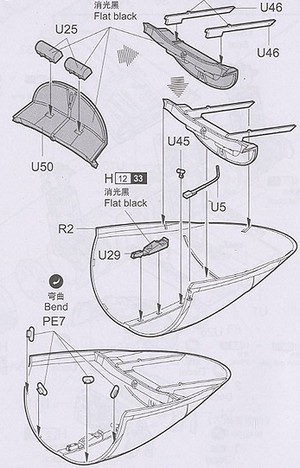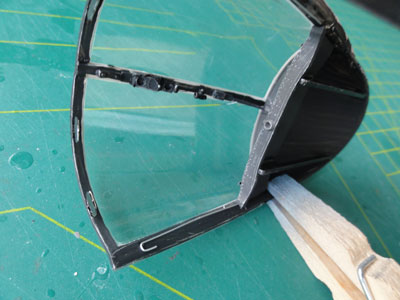 The canopy got some extra details inside the frame, some is in the kit and accurate. Frames were painted black inside. Mirrors were painted black at the front and got a thin aluminium foils inside to suggest a mirror glass.
From metal wire a attachment structure was made to keep the canopy loose and detachable (not seen here).

The pilot display part X3 and X4 seen in STEP 4 were fitted. Also, the pilot control stick U7 and navigator stick U9 were fitted. The windshield (that was already painted) and tank probe M7 were installed, the tiny gaps filled with white glue and painted when dry.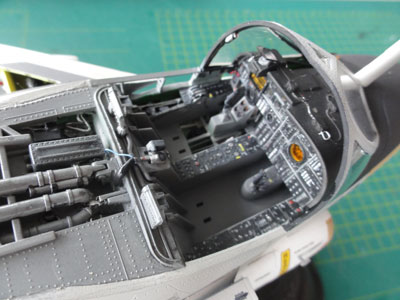 Sub-assemblies were installed, like airbrakes, avionics bird cage, etc etc.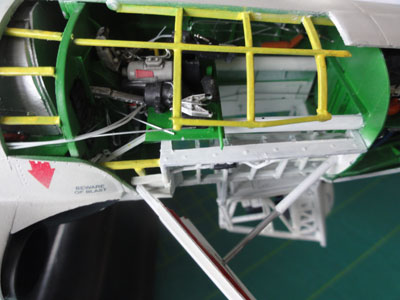 .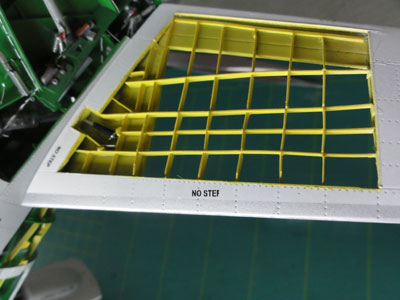 Now the overall model was further detailed in interior bays, hatches and opened up panels with rod, stretched sprue and small sparesbox parts. The scale is 1/32 so a lot is to be seen. This took a whole afternoon. Use photos like the IPMS NL Walkaround linked in page 1.


After decalling, the wing walkways at the wing-fuselage junctions were airbrushed very dark grey (I forgot them earlier). The intake lips I also forgot got a Revell Aqua 36188 ocker brown / buff coat (so mask and airbrush).
The main and nose wheels themselves were set in place now on the undercarriage legs with super glue.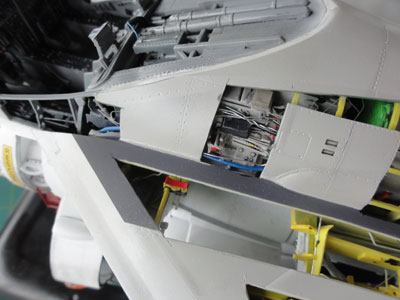 .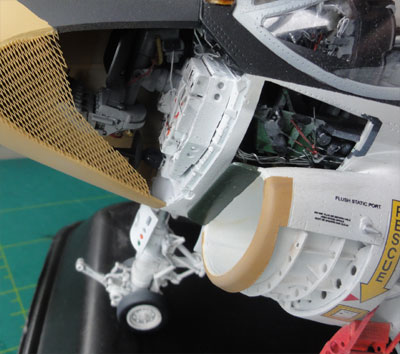 x
Now it was time for a final paint touch-up. Real A-6 Intruders show variations in panels, weathering and so on during carrier deck operations at sea. Do not over do it though.
Some areas got a black wash using PROMODELLER wash (like the wheel hubs). Next, various panels got some strakes with the airbrush of colours of light gull gray mixed with white, a mix with a bit of dark grey and black in places. This weathering was kept subtle and masks were held near the appropriate panels and rivet joints. Also the lower "white" surfaces got a airbrush treatment with "off white", black "oil leak" strakes etc.
Most decals (including the smaller stencilling) also got a light coat airbrushed over them to "blend them" into the surrounding areas. This also means that the various decals were protected as also small coats of both paints and varnish were airbrushed, so the usual final varnish coat is not needed.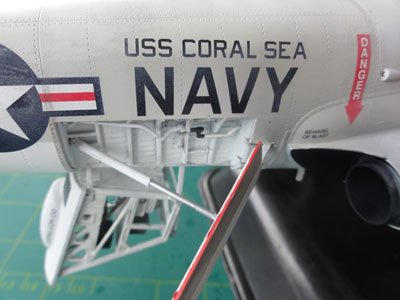 .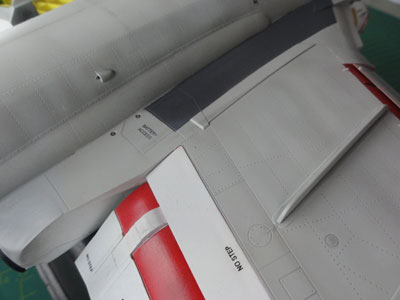 This airbrush retouching took quite some hours in various days but is very rewarding.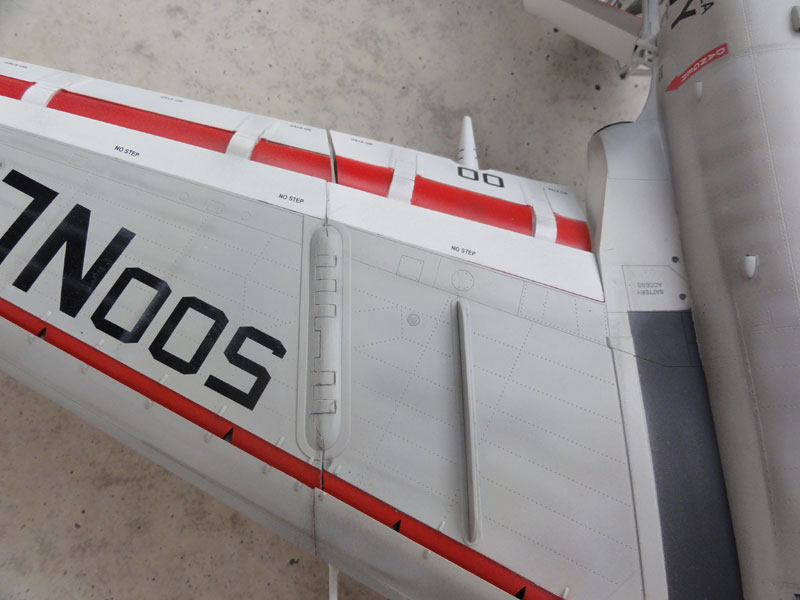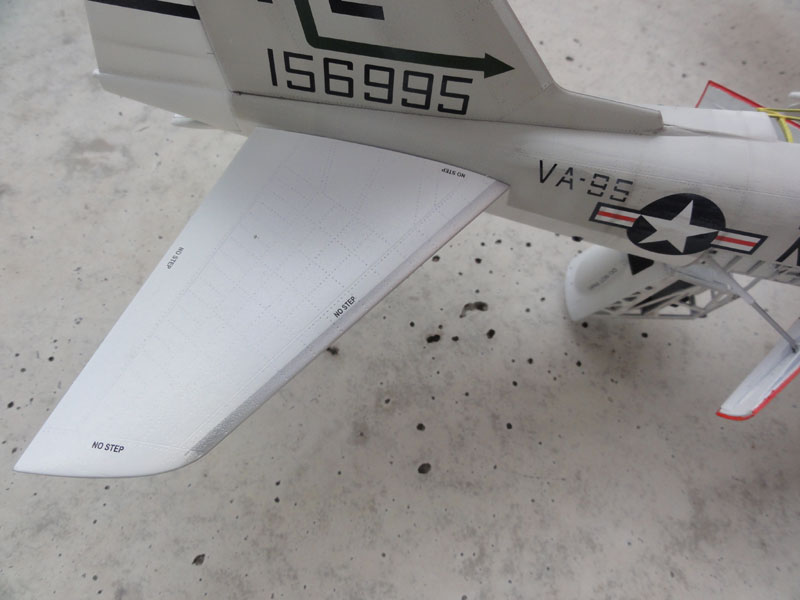 Now a final small parts wrap up and check was done going through the kit instructions and part "left overs".
- In STEP 23 the small antenna's, the PE parts, were set below the intake.
- In STEP 30, the small windshield airflow vent is also in the kit , part O11. Also the small collision light? is seen, kit part X1. These parts were set on the model. Here seen on a real A-6: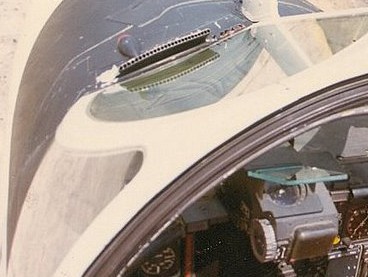 - Two external fuel tanks were installed with their braces parts J5. The kit tanks are OK. The left tank got the "cut-away" treatment.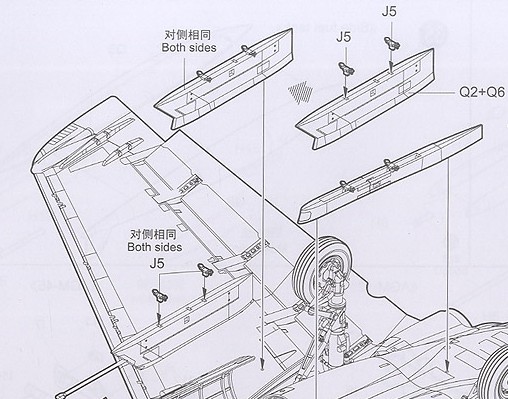 - Engine hatches such as part V1 were set in place.
- The ejection seats, that were prepared earlier, got some additional red-white placards/markings painted on and were set inside the cockpit.
- The pitot in STEP 26 was replaced by a metal needle, set on the tail and painted.
- the aft sliding canopy was set in place but is detachable;
This completed the model! A very nice A-6A "Cut away" for a VA-95 Green Lizards aircraft.
On to next [ Page 4....]