Previously another few of the older Airfix Strikemaster kits were presented. But I also had a few other kits.... and still enough decals from the XTRADECAL set left.


Matchbox (Lesney UK) issued a 1/72 model a long time ago in I believe 1974. At that time I was a young kid and from my pocket money bought this kit and made it in a camouflage scheme. I liked the price and the kit, buying a lot of Matchbox kits over the years. This old made model is not anymore in the collection, but I obtained several kits in later years. (Revell re-released it many years later).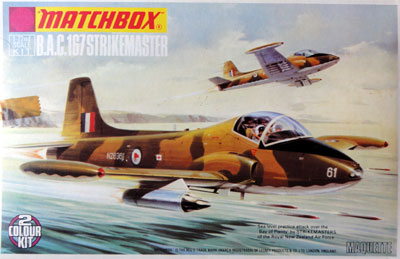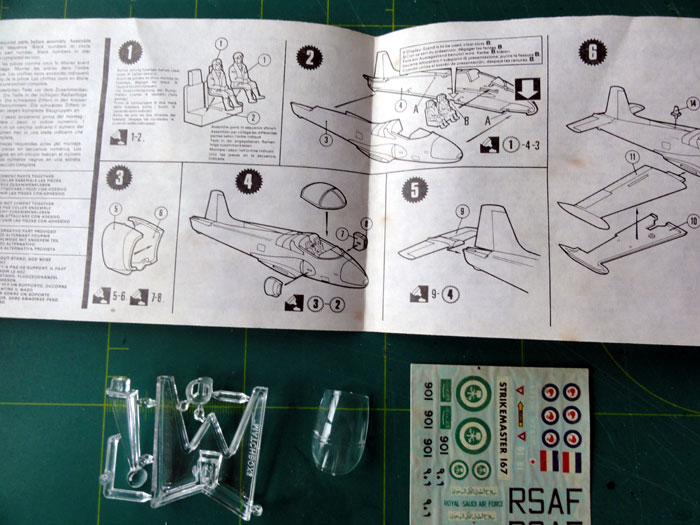 Kit decals were for a Saudi Arabia air force and New Zealand air force aircraft.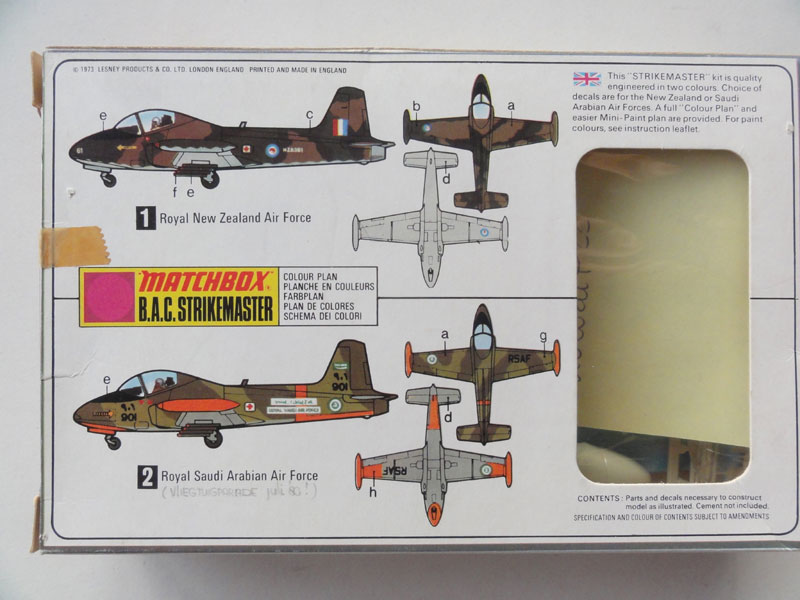 There are about 30 parts and a clear canopy in one piece. The rear sliding part of the canopy is moulded with the fuselage, so you can not set the canopy open.
The kit has almost no surface details and also has some very deep recessed "tranches". These were typical of Matchbox at the time. There are not a lot of them, so some filler will do the job, particularly at the upper fuselage behind the cockpit.
The canopy can only be set closed (without major surgery) as the aft canopy section is moulded with the fuselage. The cockpit is very very simple with a bulkhead and 1 piece for the rudimentary seats. The doors are a bit thick and the forward nose doors do not really fit. On parked Strikemasters these are set closed most of the time.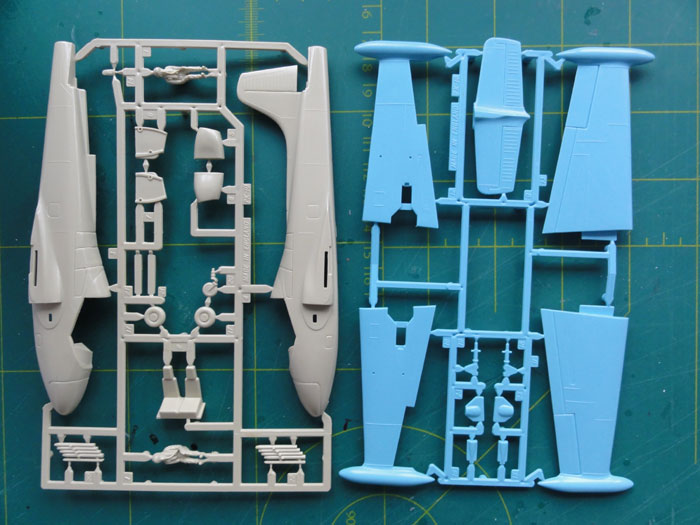 The old Matchbox kit with the typical 2 colour plastic.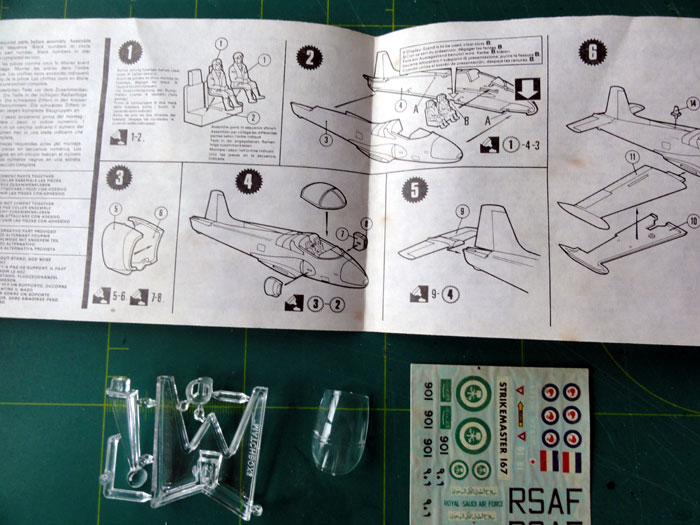 Revell Germany obtained the original moulds and re-issued the kit. On occasion of IPMS The Netherlands 40 years and 10 years German DPMV modelclub celebration in 2011, Revell issued a special 500 pieces limited edition for these clubs in 2011. I got a few of these as IPMS Nederland member. Thanks Ulli from REVELL GERMANY for this special goodie ;-)).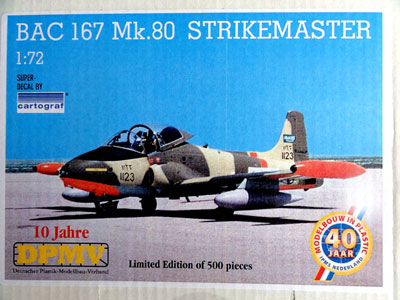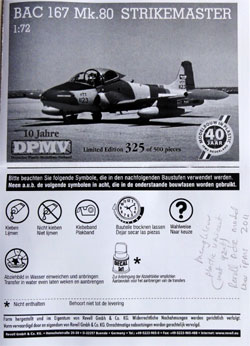 ...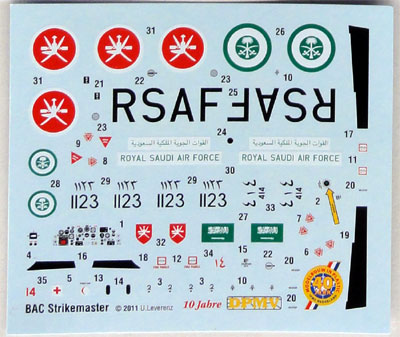 Each special issued Revell kit has a different mixed plastic colour and is unique with kit number. Also a very special decals were included with some club markings.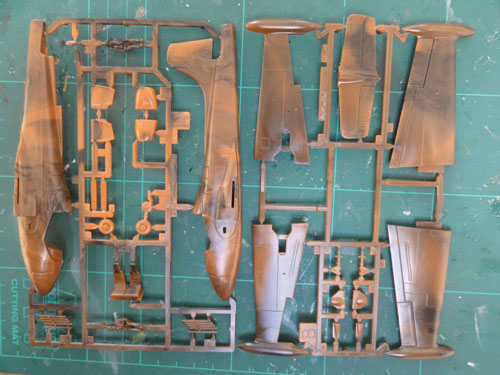 I had quite a lot of these kits "in the loft".
Various World Air Forces used the Strikemaster as a "poor mans" attack and training aircraft in the 1970s-1990s.
Some nice Strikemaster drawings and profiles are shown in de Scale Aircraft Modelling magazine of December 2015. This inspired me to make several of these models with straight out of the box simple builds, concentrating on markings and camouflages.
It should be noted that there are some variations in antenna layouts, depending on the delivered mark of the Strikemaster. But these are easily made.
The purchased XTRACOLOUR decals sheet X72238 has dozens of air forces schemes. (This was described on page 4 )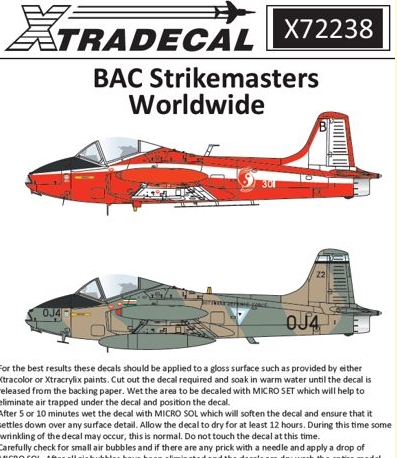 A lot of markings to make interesting models! It is noted though that only a few stencillings are fully provided, the rest of these need to be sourced from the spare decal box, the kits or elsewhere.


Some common remarks will first be made regarding these simple kits.
The kit can only be made with a closed canopy as the aft section is one piece moulded with the fuselage spine. As a couple of older Airfix Strikemaster kits (see page 4) were made as well with opened canopies, it was decided to make all simpler MATCHBOX / REVELL kits with closed canopies. This will also limit the detailing work in the cockpit area.
- inside the cockpit a floor was made from plastic card with some detail on the sidewalls and aft of the seats the large gap was closed with plastic card as bulkhead.
- an instrument panel was made from spare decal from the decalbox. (the instrument coaming in the kit shows a triangle shape; this was made later made rectangular by enclosing it with plastic card).
- the seats from the kit are one piece #2. It does not fit very well, some of the locating lugs were removed. The part was a bit detailed with card and straps made from tape and painted to suggest the seats. Ejection seat handles were made from thin yellow sprue positioned forward on each head rest.
- a couple of pilot controls were added from sprue and a simple central console from card between seats and instrument panel.
- the model does not have the transparant nose glass section with landing lights. I will simply later paint this area silver with some dots of silver foil punched disks that will be given a few coats a highly gloss varnish. (But alternatively it can be cut out and some transparant sheet added).
- sometimes a small fairing is seen above the landding lights in the nose (for gun camera?). Check photos and add as needed.
- it is important to add SUFFICIENT nose weight in the nose as otherwise we get a "tail sitter".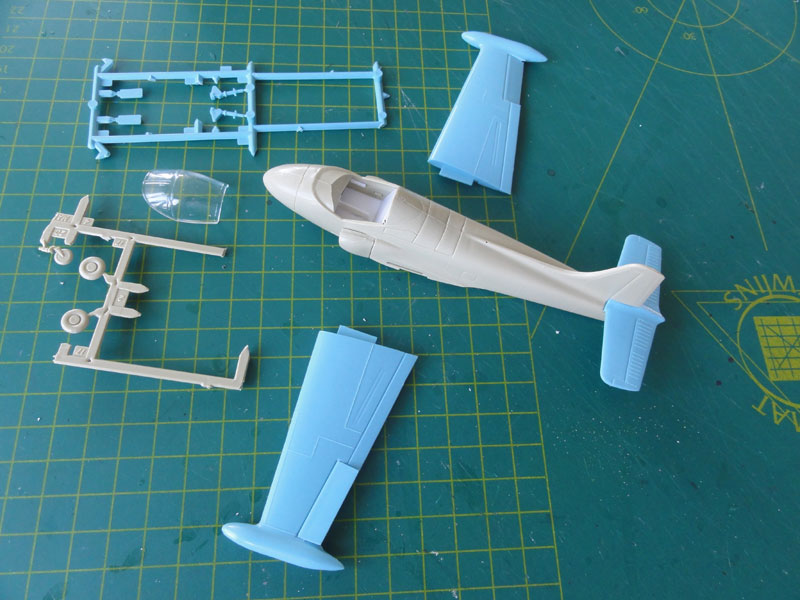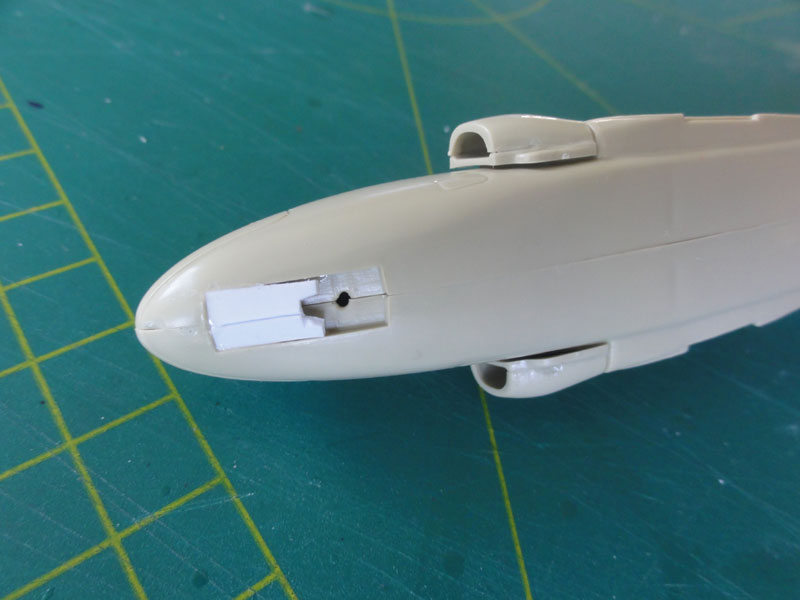 The nose gear bay doors are in the kit but are mostly seen closed on parked Strikemasters, so with some card this bay was closed and will be filled with putty. The "sink marks" of some old kits were also filled.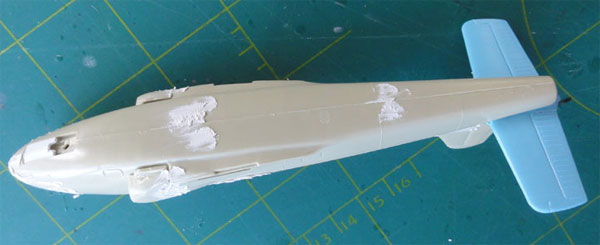 The fuselage and wing assembly went quick and the deep trenches on the fuselage spine. When dried all was sanded smooth. Also at the rear stabilizer and lower wing sections filler was needed. So some effort but it can all be done.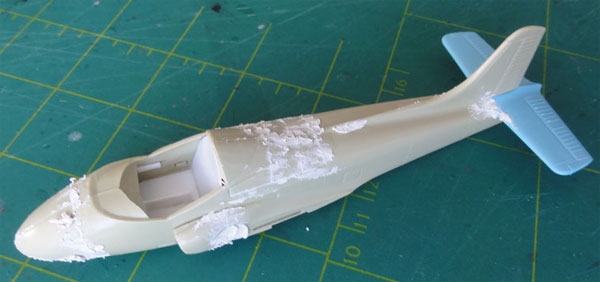 The wing-fuselage joints were closed with filler as well. The inner gear bay doors #23, #24 are also closed on parked aircraft, so these were set closed and needed some filler.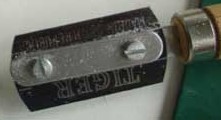 The wing flap and aileron edges were sawed in with a TIGER razor saw, this suggests movable surfaces.
The clear canopy will be installed later on but must be set closed.
Now the basic model got a base grey colour airbrushing e.g Revell Aqua acrylic "Stein Grau" to check for any errors, these were corrected as needed. The airframe shows some tiny intake scoops, mostly at the upper fuselage. These are all missing from the kit so these were made from scrap plastic.
The model could now get it desired air force scheme. (SEE BELOW FOR EACH MODEL MADE).
The anti-glare panel was after masking airbrushed matt black and the rear exhaust area hand painted aluminium. The tail bumper was painted black.
Each model got, after getting their main colour schemes, a gloss varnish with U.S Johnson Future/ Pledge before putting on any decals. This will prevent "silvering".
Final model completion than was usually:
The cockpit tub and interior was now painted; the cockpit interior is in most cases BSC381C:632 interior grey with black details. I used a mix of dark grey and black with some dry brushing. The prepared semi-black seats were installed as well as the missing 2 pilot controls. Instruments printed on decal sheet by myself were also added.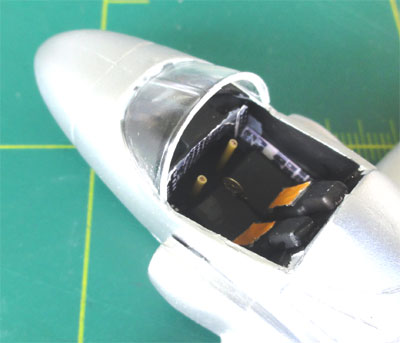 Installing the landing gear with tyres painted very dark grey / coal black with aluminium or light aircraft grey gear struts.
Now it was time for canopy installment that can only be set closed. But first, the canopy framing was painted with a fine paint brush in the surrounding camouflage colours.
Before closing the canopy, 2 small gun sights for a Strikemaster were added on top of the instrument coaming made from tiny transparant sheet.
Inside the forward canopy frame 2 small mirrors were installed made from small pieces of aluminium foil. These can be seen when the canopy is closed.
There are some gaps around the canopy when installing it; these were closed with white glue and when dried again painted in the surrounding colours.
Various antenna's were checked and installed as well as some tiny red anti-collision lights on the spine (from transparant red plastic) and a "white rear" light at the tail-fuselage end. Note that all these lights and antenna's vary per mark of the Strikemaster and as per particular Air Force. There are no lights on the wing tip tanks.
Below the nose a pitot and next to that "home aerial array" antenna's are seen; added from scrap.
At the forward wing-fuselage junction on each side "above the corner" a tiny air flow guide vane was installed made from thin metal. This was painted in the surrounding colour.
The Strikemaster was armed so at the lower edge of the air intake, on both sides a small stubb from rod was added to suggest the 7.62 mm FN gun. Aft of the lower intake area 2 x 2 link ejection chute fairings were fitted that were missing from the kit. They were made from card and set in place.
After decalling and adding details, some wash applied using PROMODELLER black with a fine brush at moving surface edges etc.
And finally each model while protecting the clear canopy areas got a semi-matt coat using my usual techniques. This gives a nice consistent sheen.