.. continued from page 4...

The early type F13 model of the Mikoyan MiG-21 had already many panels being removed as this model was to detailed further. The excellent Trumpeter kit was now to be given a color finish.

It was decided that a nice metal finish would be a good idea, and the model to be finished as a Finnish MiG-21 F13 example. The Finish "Suomi" air force got their first MiGs in the nineteen sixties and this would be a nice special model in the collection. They acted as fighter / interceptors. The blue/white roundels will be used as supplied in the Trumpeter MiG-21UM twoseater kit.

The metal coat was to be applied using the newest ALCLAD II system. The paint, ready for airbrush use, must be applied over a very dark acrylic base coat. Also, the kit surfaces MUST be absolutely free of scratches and even finger prints will show through the Alclad metal. So it was assured that the models' surfaces were polished and thoroughly cleaned. Next, masking various details that were not to become metallic (such as cockpit, wheel bays etc) was done with tape. When that was done, it was time for a dark base coating. Best effects are obtained with a BLACK coat as being "very dark" !! Very scary, but as will be seen it really works....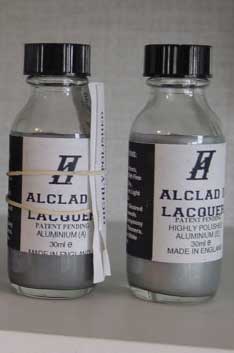 I tried to use Tamiya acrylic black gloss paint, but had troubles with my airbrush. Therefor I first applied a matt black coat of Humbrol over the many parts of the model and then a gloss coat of Humbrol black. Next, to make a very gloss highly shining coat base, a couple of coats of Johnson Future acrylic varnish (later called "Pledge") were applied.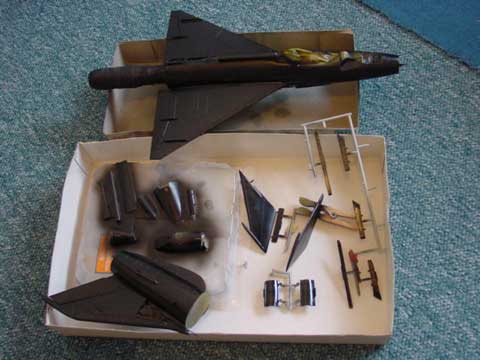 model sprayed "black"
After drying 24 hours, the model was ready to receive its first coat of Alclad; there are several shades available of these metallic paints, the overall model color used was the highly polished aluminum shade Alclad II #E ; apply in very thin layers, do not over rush here. The paint will build up slowly and after several layers with drying times of 30 minutes in between, a real metal look appeared......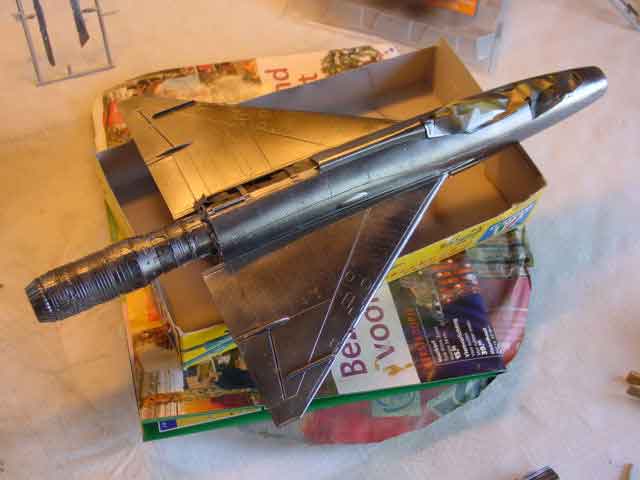 Also, it was seen that the real MiG has several different metal shades at certain panels and areas; this is caused by different metals and/or different manufacturing processes that give the real metal skins different shades. The old Japanese BUNRIN-DO book no 55 of the "famous airplane series" of november 1974 has a good drawing on were these panels are.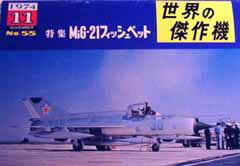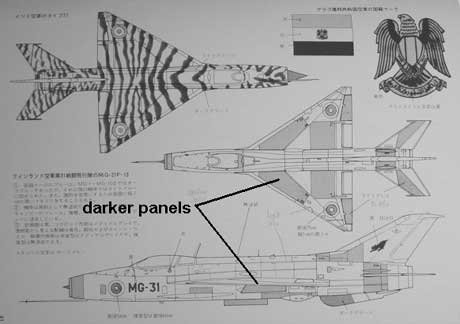 So on the MiG-21 F13 model, the general lighter panels were masked off, and the remainder darker panels were given another aluminum Alclad shade #A, thus emphasizing the different panels.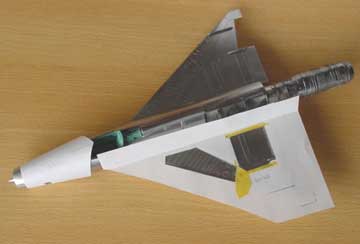 Masking was NOT done with masking tape! I used pieces of paper with cuts made according to the panel layouts draped over the model surfaces to be sprayed on as tape will PULL OFF the base metal coat! Contrary to the Alclad instructions, do not use tape over sprayed Alclad surfaces. Use the method described here. Ways to fix these masks while spraying may be besides holding them also using clothes' pegs and very small pieces of tape at corners etc.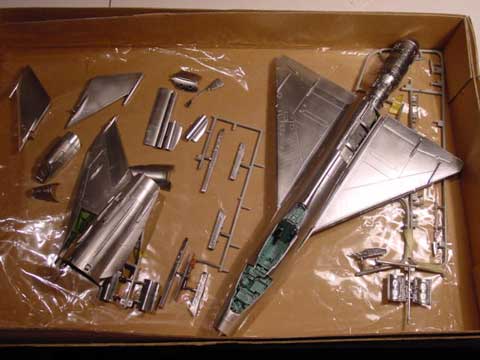 overview of the various sprayed parts; canopy and rear window were also masked before spraying.

---
Assure in all cases that a number of thin Alclad coats are applied indeed otherwise the metal look will not be obtained.

In the end, I sprayed about two thirds of a bottle of Aclad shade #E over the model and a quarter of a bottle of shade #A. After spraying, masks were removed and also the various masking tapes over the opened panels and cockpit areas.

Next, the various opened panels were detailed with paint and sprue etcetera. The Verlinden book on the MiG-21 (Lock-On number 21) was used as a reference.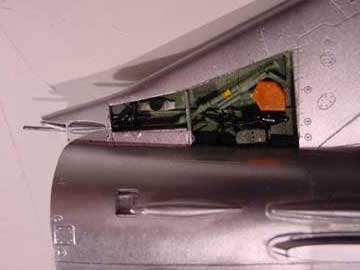 ..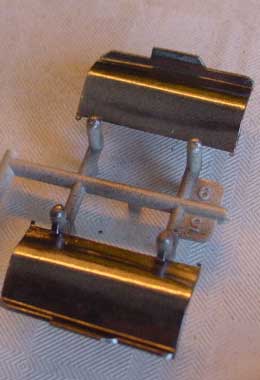 The paints can then be buffed as desired with an old T-shirt cloth. The effect is very good with a real metal look!!! Look at the buffed main gear doors! The way of finishing metal is the best I have seen so far. The older metal style type MiG-21 F13 comes alive!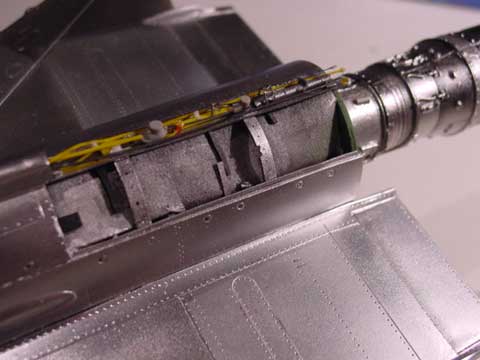 upper area with opened fuel cell panels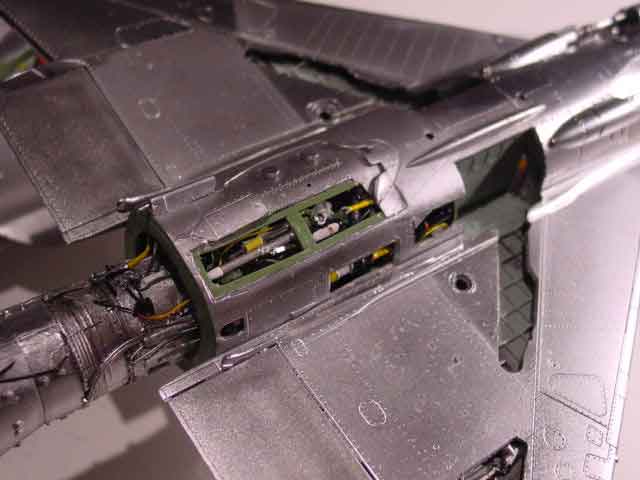 lower area with engine and hydraulic equipment bays

---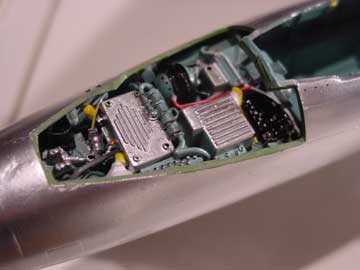 avionics bay in front of cockpit

The older type MiG-21, the F13 was to be finished in Finish markings. The roundels were obtained from the 1/32 MiG-21UM Trumpeter kit (seen on page 6). The special Finish Air Interceptor squadron had a animal marking on its vertical rear tail. This was hand painted using pictures as a guide.

Page 1
Page 2
Page 3
Page 4
Page 5
Page 6
Page 7


FINLAND






[338,000 sq.km | population: 5,5 million | capital: Helsinki | GDP 50,000 USD per capita nominal ]



From Sweden came the first plane, a Thulin Type D, which arrived on March 6, 1918 in Vaasa. In Russia the Revolution also caused troubles in Finland. The Thulin was donated by the Swedish Count Eric von Rosen and it had a blue swastika which was the symbol of the Count. This blue "swastika" would remain the nationality marking until 1945.




The fleet of the Finnish Air Force, the "ilmavoimat" was growing and had a mix of aircraft including captured Russian Nieuport aircraft. In addition seaplanes were used from the many lakes with no less than 120 Hansa Brandenburg A.22 aircraft built under license. The first real Finnish aircraft was the trainer VL "Sääski" ("mosquito"). In the late 1920s, the British fighter plane Gloster Gamecock entered service and was built under license in Finland. In the 1930s, the threat of war with Germany and Russia that had "formed a pact" was evident. At least about 39 Fokker C.X and from 1939 no less than 97 Fokker D.XXI fighters and nearly 100 Bristol Blenheim bombers were purchased.




World War II started in September 1939 when Germany invaded Poland. On November 30, 1939, Russian bombings of Finnish cities and towns followed.

In the following months, additional fighter planes could be obtained such as 44 Brewster 239 Buffalo, 35 Fiat G.50, 12 Hawker Hurricane and a donation of 80 Morane Saulnier MS 406. After 105 days of fighting, the Winter War ended in March 1940 and there was some kind of peace agreement. More than 300 Soviet aircraft had been shot down.

Meanwhile, Germany had tightened relations with Finland and even German Luftflotte 5 aircraft were sent to Finland. On June 22, 1941, Hitler's Germany attacked the Soviet Union despite the so-called pact between Hitler and Stalin.




The Finnish Air Force now had a total strength of 550 aircraft and received from Hitler Germany Dornier Do.17 and Junkers Ju.88 bombers and from 1943 more than 150 Messerschmitt Bf.109 fighters. The Finnish State Factory Valmet also build wooden planes such as its own version of the Brewster, the "Humu".




In June 1944 a major Soviet counter-offensive started and the Finns withdrew somewhat, although they were supported by the German Luftwaffe. In September 1944, a secret agreement was made with Stalins Soviets that Finland would now turn against the German troops who were in Northern Finland. The result was the Lapland War that started in October 1944, which led to significant Finnish losses because the Germans had many good aircraft there. On April 4, 1945, the war in the North was over and in May 1945 World War II across Europe.



The Allies imposed severe restrictions on the Finns after the war. The Paris peace treaty of early 1947 meant that the Finnish Air Force should have no more than 60 fighters, and certainly no bombers. The blue swastika symbol was replaced by the blue and white roundel used to this day. The Blenheims went into storage, and combat strength now included several dozen remaining Bf.109G-6s, Curtiss Hawks, a few Brewsters and Morane 406 fighters.



After World War II, the Vihuri trainer was built for reconstruction by the Valmet Staatsfabriek. The first De Havilland Vampire jet came in 1953, followed in 1957 by 13 Folland Gnat fighters. Finally, the Fokker D.XXI was put out of service with the arrival of about 24 Saab Safirs and 70 Fouga Magister. The remaining Blenheims were not withdrawn from service until 1958 and Finland kept a neutral position.


After the Berlin crisis, the Soviet Union urged that because the Northern border "with the West" was found to be rather weak, modern aircraft were to be obtained from the Soviet Union. A sort of balance was achieved between West and East. From 1962, 22 Soviet Mikoyan-Gurevich

MiG-21 F13

supersonic fighters followed with some MiG-15 UTI jet trainers as well as a small number of Ilyushin Il-28 Beagle bombers. British Bristol Bloodhound anti-aircraft missiles followed from the West. In 1972 neutral Sweden delivered 18 Saab Drakens as successor of the Gnat. Some 29 years later, an additional 29 Drakens entered service, most of which were assembled at Valmet.

From 1978 about 26 MiG-21bis fighters followed while some MiG-21UM trainers flying mostly from Rissala. As a successor to the Magister jet trainer, approximately 50 Hawker Hawk mk.51 jet fighters were ordered. Again, so either an Eastern Bloc or a Western type. In fact, the convention for the maximum number of fighters was violated, but the Hawk was classified "as a trainer". The first Hawk entered service in 1980 and was built under license by Valtion Lentokonetehdas. Three Fokker F.27 transport aircraft were also purchased, one of which was used for electronic signal intelligence.

After the fall of the Iron Curtain in 1990, as replacement of the MiG-21 and Draken, the American McDonnell Douglas (MDD) F-18 Hornet was purchased. In 1995 the first of 57 F-18C single-seaters, built under license from Patria Finavitec, and 7 F-18D trainers, arrived directly from MDD. The last MiG-21bis was retired in March 1998. The Hornet era has also led to closer international cooperation. In 2007, the F.27 was succeeded by the CASA C-295, the Swiss Pilatus PC-12 turboprop trainer purchased and from 2010 about 18 additional Hawk.mk 66 jets were taken over from the Swiss Air Force. More recently, about 28 Grob G.115E trainers were purchased, which mainly succeeded the Valmet Vinka. The F-18 fleet was modernized with various MLU programs.
---
In addition to the Air Force, the Finnish Army has a number of helicopters such as the small Hughes 500 in addition to 10 Mil Mi-8 transport helicopters. The NH90 helicopter was recently ordered, 20 of which will enter service. The border control also has a number of Bell helicopters, Super Pumas and a few Dornier Do.228.



(text by Meindert de Vreeze, translated from article IPMS NL)


The MiG-21 F13 aircraft depicted is set in a " maintenance " scene, so some panels opened and details seen.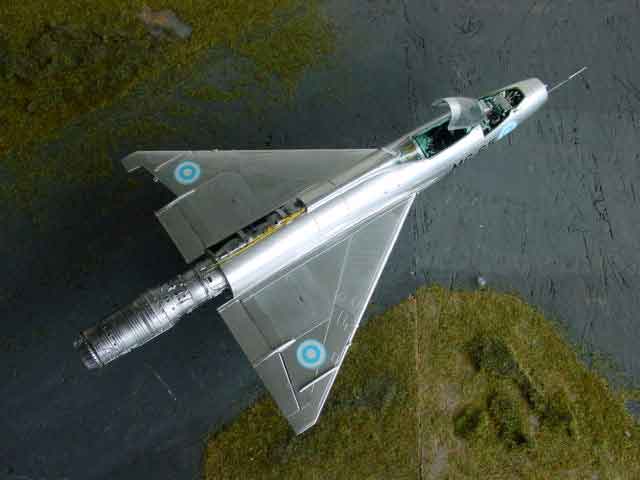 Note the forward hinged canopy, typical of the F13 type of the MiG-21 series.
The MiG-21 F13 of the USSR, DDR etc had black cockpits, but the Finish F13 cockpit was probably green/blue.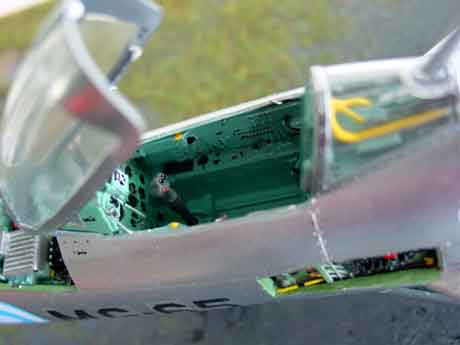 No seat fitted.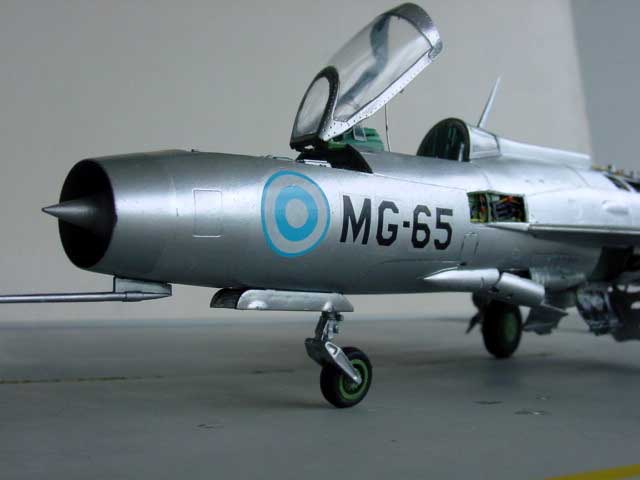 Nose view with also opened maintenance panel at the wing joint.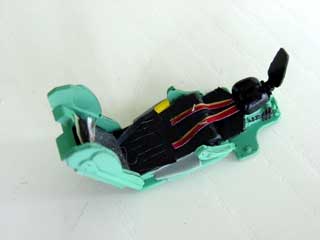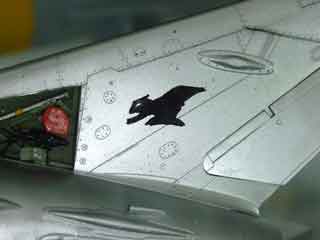 Older style seat, some details still to be added. On the tail the painted animal emblem.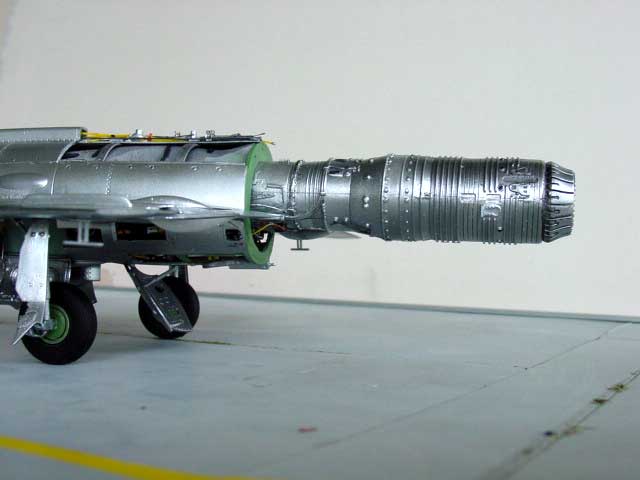 Engine (is supplied with the kit) and further detailed.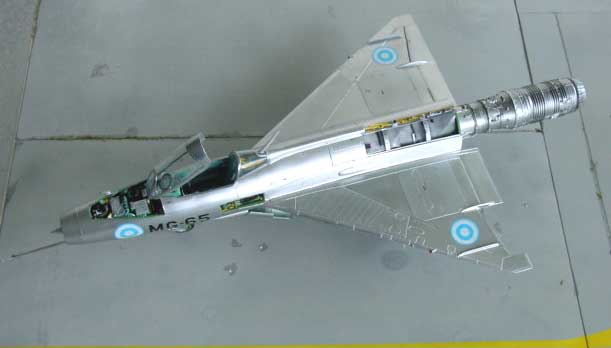 The only final steps are completing the diorama for this F13. This will be done at a later stage, the basic models being ready now.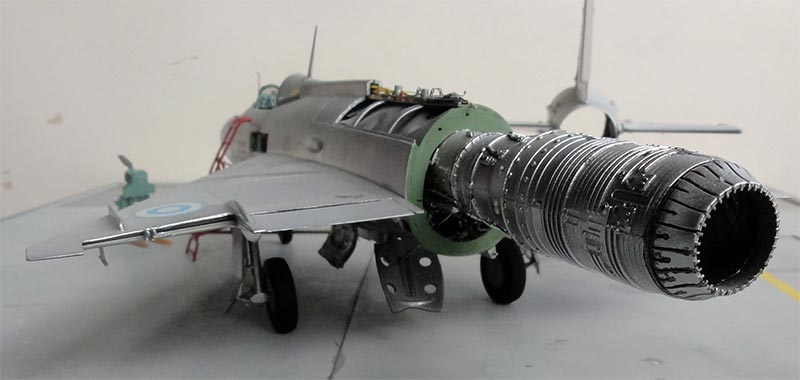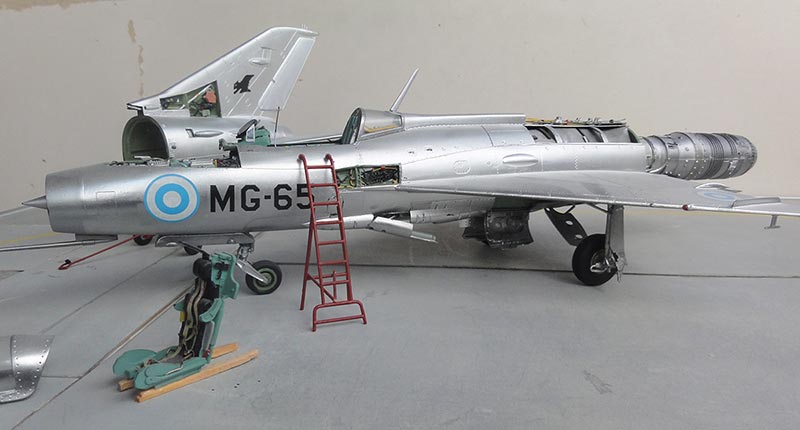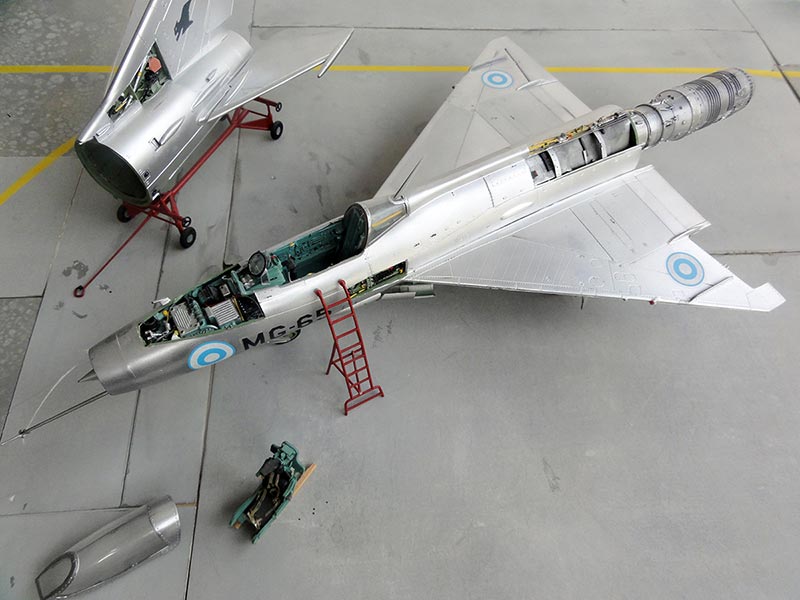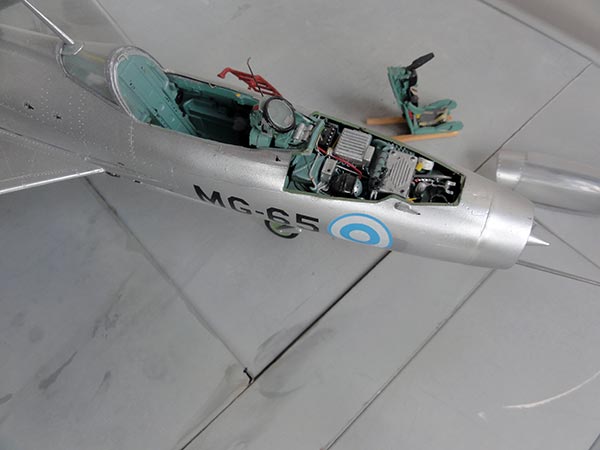 ... in a scenery