.. continued from page 4...

The early type F13 model of the Mikoyan MiG-21 had already many panels being removed as this model was to detailed further. The excellent Trumpeter kit was now to be given a color finish.

A nice metal finish would be a good idea, and the model to be finished as a Finnish MiG-21 F13 example. The Finish "Suomi" air force got their first MiGs in the nineteen sixties and this would be a nice special model in the collection. They acted as fighter / interceptors. The blue/white roundels will be used as supplied in the Trumpeter MiG-21UM twoseater kit.

The metal coat was to be applied using the newest ALCLAD II system. The paint, ready for airbrush use, must be applied over a very dark acrylic base coat. Also, the kit surfaces MUST be absolutely free of scratches and even finger prints will show through the Alclad metal. So it was assured that the models' surfaces were polished and thoroughly cleaned. Next, masking various details that were not to become metallic (such as cockpit, wheel bays etc) was done with tape. When that was done, it was time for a dark base coating. Best effects are obtained with a BLACK coat as being "very dark" !! Very scary, but as will be seen it really works....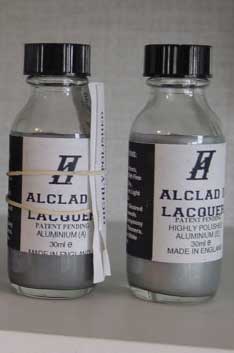 I tried to use Tamiya acrylic black gloss paint, but had troubles with my airbrush. Therefor I first applied a matt black coat of Humbrol over the many parts of the model and then a gloss coat of Humbrol black. Next, to make a very gloss highly shining coat base, a couple of coats of Johnson Future acrylic varnish (later called "Pledge") were applied.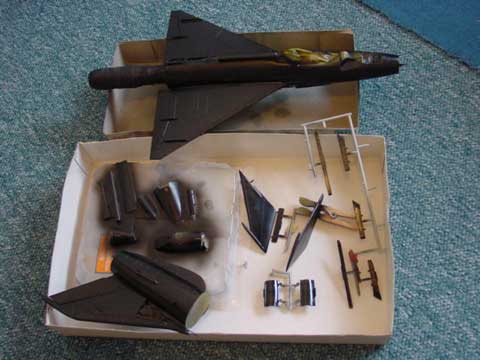 model sprayed "black"
After drying 24 hours, the model was ready to receive its first coat of Alclad; there are several shades available of these metallic paints, the overall model color used was the highly polished aluminum shade Alclad II #E ; apply in very thin layers, do not over rush here. The paint will build up slowly and after several layers with drying times of 30 minutes in between, a real metal look appeared......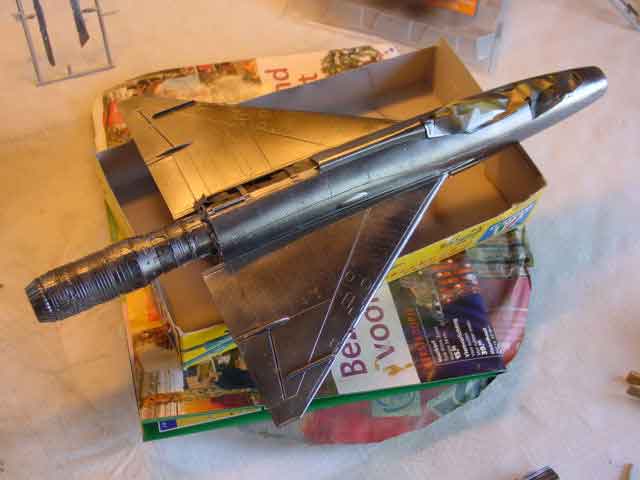 Also, it was seen that the real MiG has several different metal shades at certain panels and areas; this is caused by different metals and/or different manufacturing processes that give the real metal skins different shades. The old Japanese BUNRIN-DO book no 55 of the "famous airplane series" of november 1974 has a good drawing on were these panels are.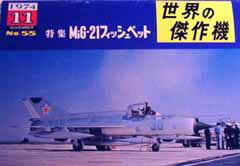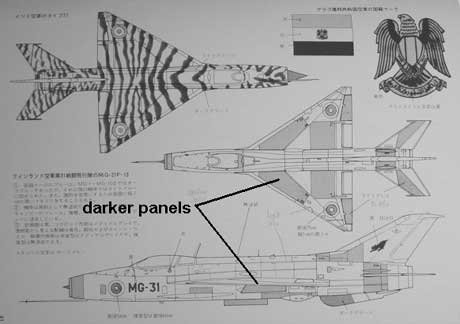 So on the MiG-21 F13 model, the general lighter panels were masked off, and the remainder darker panels were given another aluminum Alclad shade #A, thus emphasizing the different panels.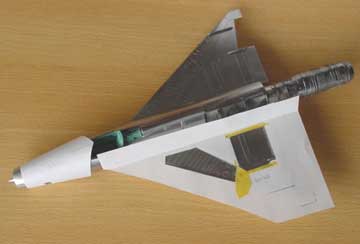 Masking was NOT done with masking tape! I used pieces of paper with cuts made according to the panel layouts draped over the model surfaces to be sprayed on as tape will PULL OFF the base metal coat! Contrary to the Alclad instructions, do not use tape over sprayed Alclad surfaces. Use the method described here. Ways to fix these masks while spraying may be besides holding them also using clothes' pegs and very small pieces of tape at corners etc.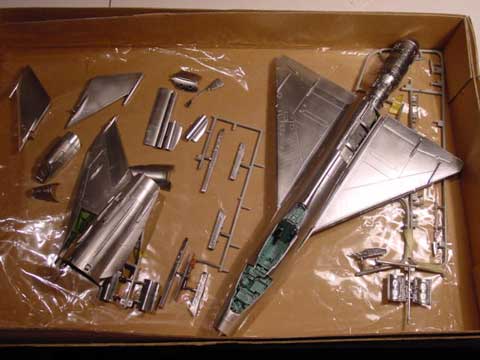 overview of the various sprayed parts; canopy and rear window were also masked before spraying.



Assure in all cases that a number of thin Alclad coats are applied indeed otherwise the metal look will not be obtained.

In the end, I sprayed about two thirds of a bottle of Aclad shade #E over the model and a quarter of a bottle of shade #A. After spraying, masks were removed and also the various masking tapes over the opened panels and cockpit areas.

Next, the various opened panels were detailed with paint and sprue etcetera. The Verlinden book on the MiG-21 (Lock-On number 21) was used as a reference.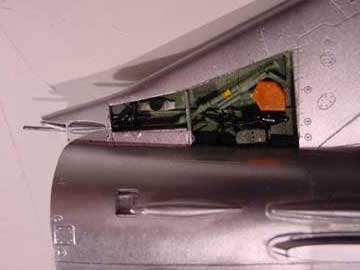 ..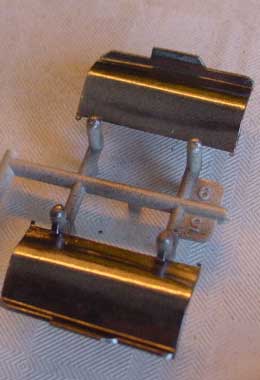 The paints can then be buffed as desired with an old T-shirt cloth. The effect is very good with a real metal look!!! Look at the buffed main gear doors! The way of finishing metal is the best I have seen so far. The older metal style type MiG-21 F13 comes alive!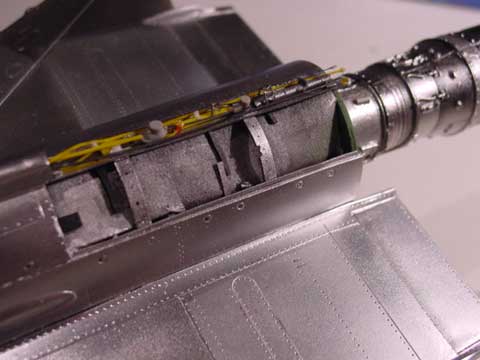 upper area with opened fuel cell panels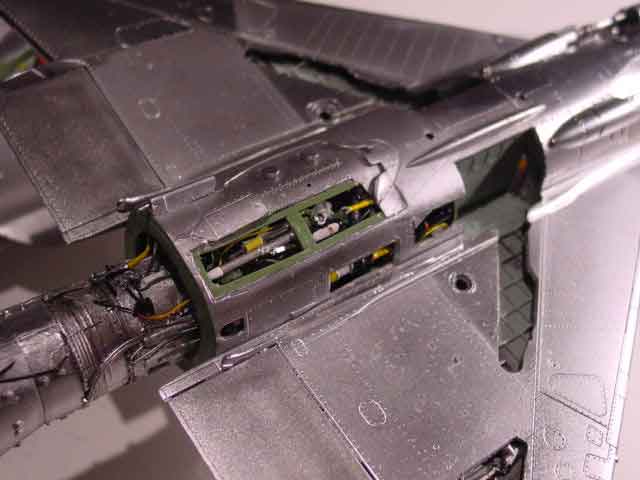 lower area with engine and hydraulic equipment bays

---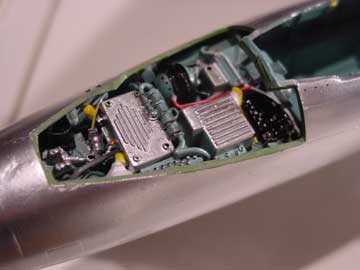 avionics bay in front of cockpit

The older type MiG-21, the F13 was to be finished in Finish markings. The roundels were obtained from the 1/32 MiG-21UM Trumpeter kit (seen on page 6). The special Finish Air Interceptor squadron had a animal marking on its vertical rear tail. This was hand painted using pictures as a guide.