... back to F-86K page 1....

AEROPOXY announced February 2013 that a 1/32 resin conversion set will be released.
I got it Summer 2013 and will use the set; ( my Tigger vacuform parts will be kept as spares ).

This conversion kit was released with the help of the Aviation Mega Store in Aalsmeerderbrug. [ external link to webshop ].
Two slightly different sets were issued by AEROPOXY: one for combining it with the old Hasegawa F-86 Sabre with "large F-40 wing" and another set for combining it with the later Kinetic F-86E Sabre with original old type wing. I got the set for the Hasegawa kit for EUR 90,- , which looks a lot but is very reasonably for what you get....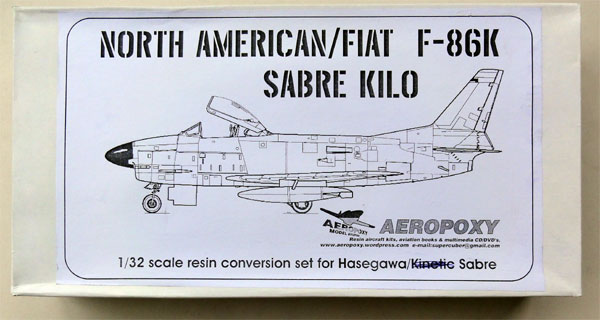 What is the content of this set?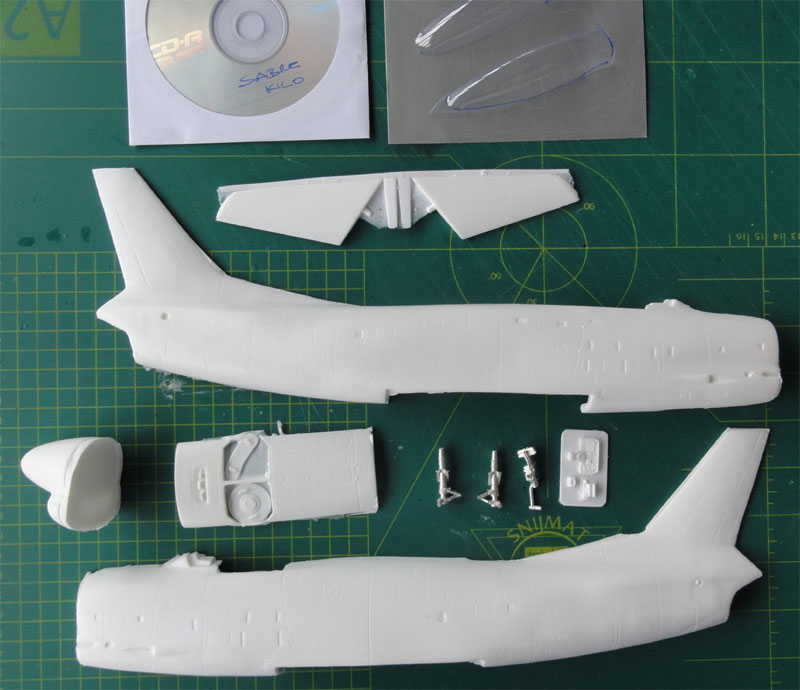 Most parts are in white resin, supplemented with 2 vacuform thin canopies (one spare).
Large fuselage is in two halves with separate nose radar and intake section.
Mid fuselage undercarriage bay section is also separate.
Metal undercarriage, hopefully it will be able to carry the heavier model.
Horizontal stabilizers are also included.
Very nice are the specially made Dutch Decals included in the set and price inclusive! They are for Royal Netherlands Air Force F-86K Kaasjagers.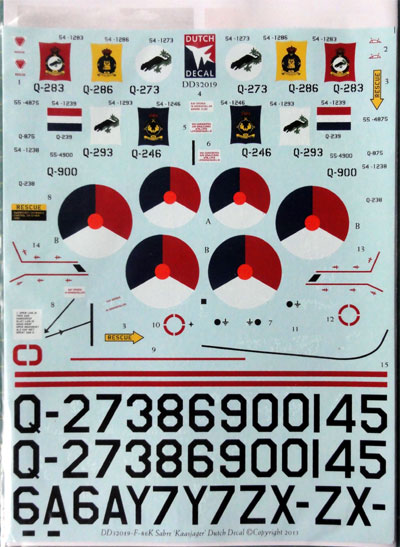 ..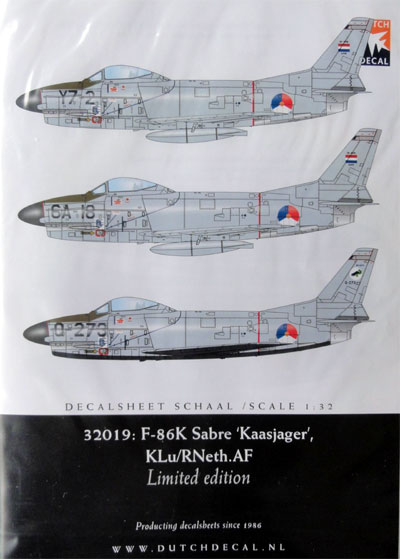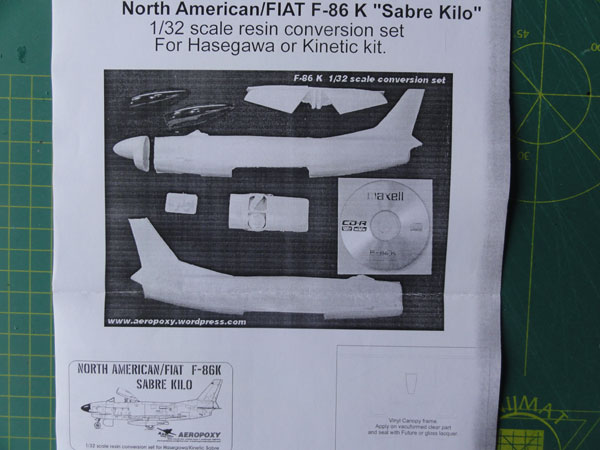 Although the instructions sheet is only 1 A4 page, a CD ROM is included with pictures for detailing the kit.
The resin parts have some engraved panellines as well.
THE OTHER PARTS like the undercarriage details, cockpit tub, details and the WING has be retrieved from either a 1/32 F-86F Hasegawa or a Kinetic kit. I had a Hasegawa F-86F kit with the "F-40' wing that has a chord extension at the slat area, a wing tip extension and the straight pitot tube fitted a bit more inboard at the tip. So, for the F-86K, with the late retrofitted wing, a Royal Netherlands Air Force F-86K "Kaasjager" can be made when combined with the AEROPOXY set.
Accuracy
The accuracy of the AEROPOXY set looks OK although the fuselage is a bit longer than my converted vacuform parts (see page 1...).
It was not clear what the effect of the larger swept horizontal stabilizer is to length data. I estimated this effect to be very small, maybe a millimeter or so. But the difference in length estimates between my drawing and the AEROPOXY kit is no more than between 2 - 4 millimeter, so negligible.
The kit parts themselves look fine, but need some sanding and filler. The vertical tail is a bit thick, so needs sanding on the inside surfaces.
So, a modeller with some conversion modelling experience should be able to make a nice F-86K in 1/32 scale. (both kits are fine by the way, I have both and will make these F-86 Sabres in the future I hope as well).
On to next [ Page 3....] of the 1/32 F-86K