(13) F-5E Mexico
Another later F-5E kit #80207 in 1/72 scale was released by HobbyBoss in 2011. It has about 80 parts.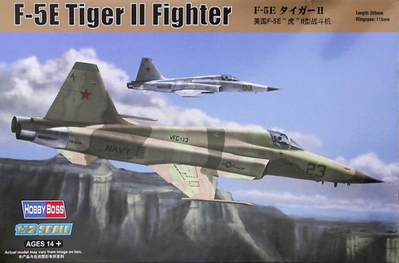 The HobbyBoss parts look good with engraved panellines though a bit deep. Exhausts are undeep as are the intakes. The antennas are a bit thick and better replaced, sometimes also these antennas vary between air forces. Same is the tank boom, the shape may differ between air forces so check reference photos.

The cockpit itself looks good though a rear bulkhead is needed. The canopy hinge mechanism is too simple.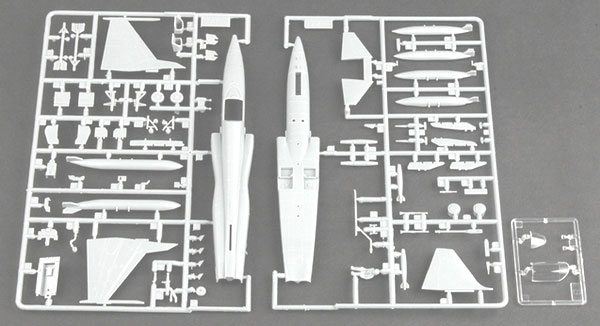 The kit has a serious shortcoming: the kit's windshield is about 30% TOO SHORT in length and it shows; below this is seen as compared to the other F-5 kits. Fortunately I had a spare canopy of old old ESCI F-5A kit in the spares box so that was used in stead of the HobbyBoss part #B2.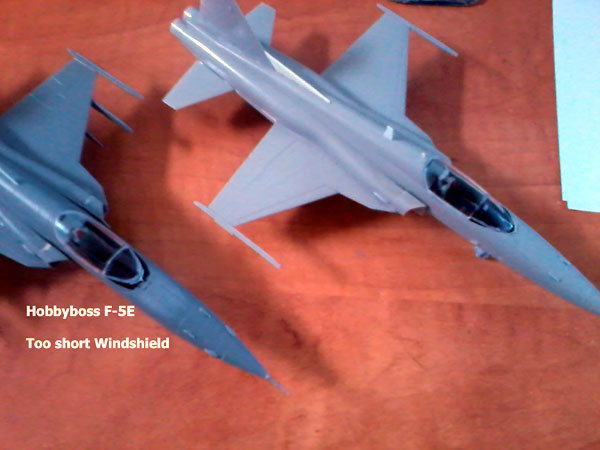 The HobbyBoss kit decals look nice and are for
(1) F-5E Tiger Brazil (used for another Italeri kit by me);
(2) Swiss air force Staffel 19;
(3) US NAVY VFC-13 in brown agressor scheme;
(4) US NAVY VMFT-401 snipers in grey agressor scheme.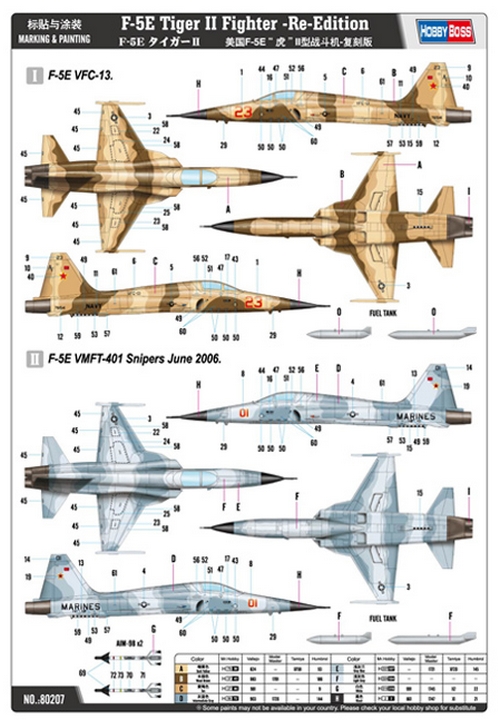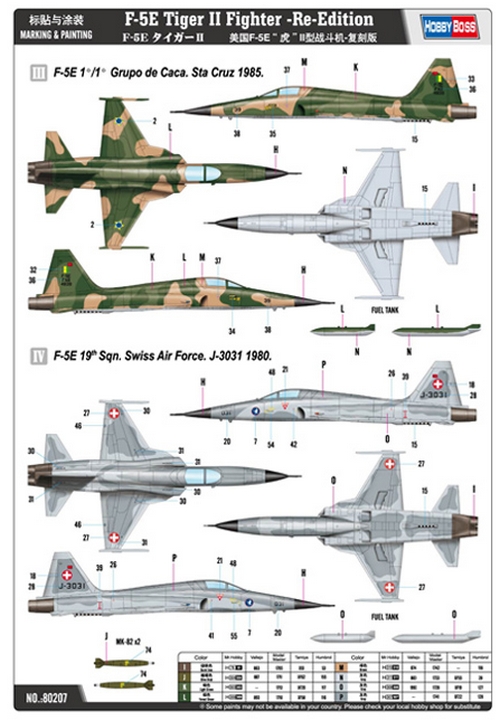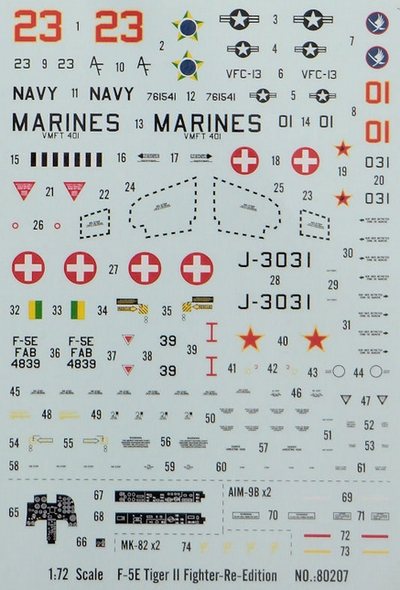 #80207
It is unclear to me why "re-edition" is printed on the sheet.
Assembly
The model was assembled almost per instructions. I opted for a Mexican Air Force Aircraft as I had a nice AZTEC decalset 72020 "20 years of F-5 Tigers". F-5E "4001" was one of the decal options provided for an aircraft at Sta. Lucia air base (BAM no.1) in 1992. A speciality was an extended leading edge strake at the wing (LEX) and the dorsal extension containing a ADF antenna. Also the real F-5E showed a bit rounded nose, just like a platipus. There is also a dorsal fillet fitted, this was made from plastic card.
This kit has the standard pointy nose. So with some card a putty a rounded "shark" nose was crafted onto the model. (TIP: you could also use the kit / nose from an Italeri F-5E/N kit).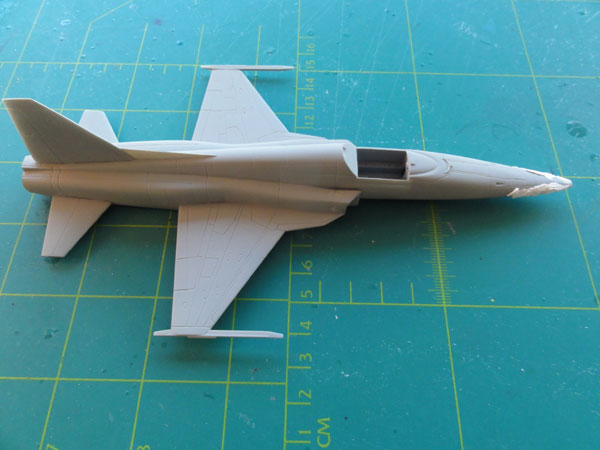 ..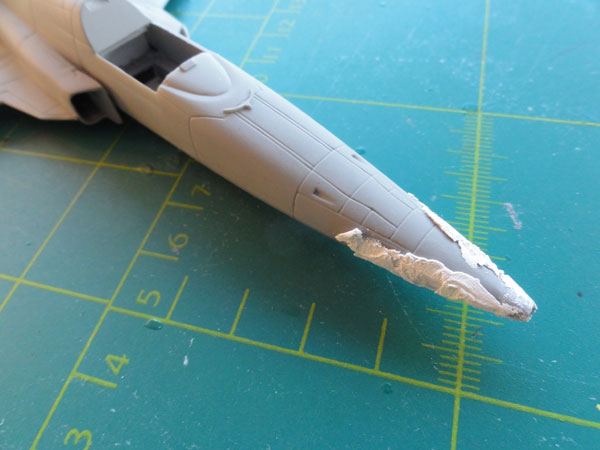 ..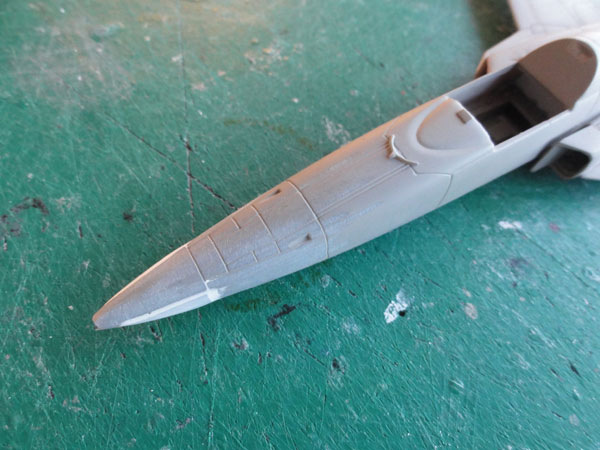 The longer extended LEX strakes for this Mexican version were also made with plastic card and blended in (not yet seen here).
The Mexican F-5E colours are quoted as FS34079 dark green, FS34102 medium green, dark tan FS30279 in a wrap around scheme and radome green. I choose these acrylic paints:
FS34079 using Gunze Sangyo H309;
FS30"2"79 using Revell Aqua 88 "oker" with a few drops of black;
FS34102 using Gunze Sangyo H303;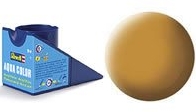 The demarcations between colours are vague, so some free hand airbrushing was done with just a little masking in places.
Finishing with the fine AZTEC decals gave no problems after the kit had a few gloss varnish coats to prevent "silvering".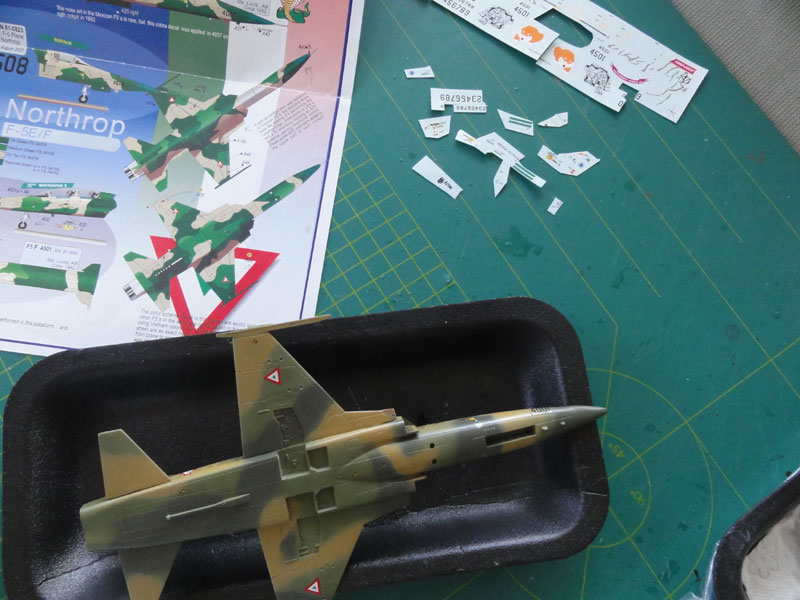 The gear bays and brake wells need still a coat of dull aluminium. Seen also are the tiny extensions of the long extended LEX made from card applicable for the Mexican F-5E.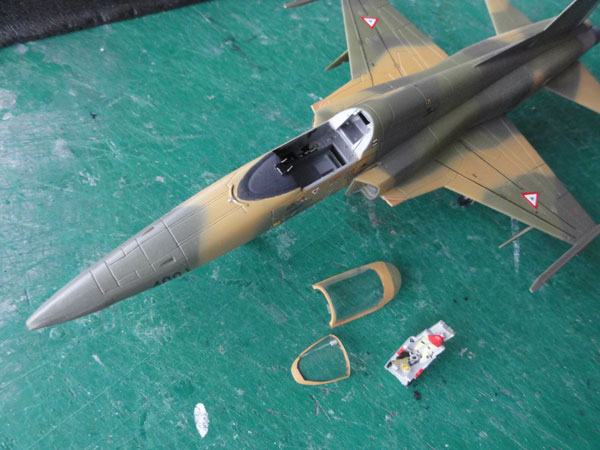 Note here the REPLACEMENT windshield used. A large antenna on the spine will also be set in place made from thin card.
Final finish was a semi-dull varnish coat applied with the Harder Steenbeck airbrush as described here....
Other details were as for the kits described previously. The kit seat got a few extra details like seat straps made from tape an harnass buckles from Xtratech. The vertical tail shows a small light grey leading edge at the tip, this was brush painted.
For added detail, inside the canopy 2 tiny mirrors were added as well. Also, the canopy has a vent/slot in the hood at port (left) side; I did not try to cut in the slot in the clear brittle canopy but suggested it with paint (not seen here yet...). I took the trouble of added thin white sealing often seen alond the canopy edges from very "off white" thin decal.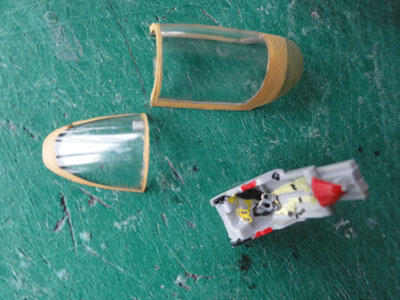 Below also the REPLACED windshield is seen from retrieved from an ESCI F-5A, now correct for fitting to the kit. It has correct dimensions. Some white glue will simply close any gaps and when dried frames can be painted.
The arrestor hook was painted white with black stripes added. Note also the aluminium painted gear bays.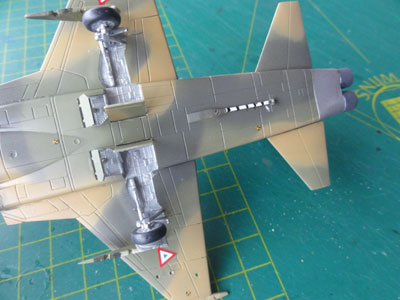 For the canopy to be set open the method as described on previous F-5E models was used.
The rather standard angle of attack vane/indicator was not seen below the windscreen on starboard (right) side. But a small sensing probe was added on the port lower side next to the nose gear bay made from a metal piece of rod. Not often missiles were seen installed but a large central wing fuel tank. This is not in the kit so the model was kept "clean".
That completed and slightly refined the F-5E HobbyBoss model in a Mexican scheme.
......
MEXICO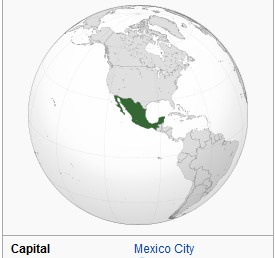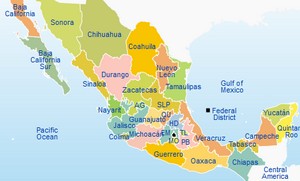 .

..

[ area: 1,972,550 km2 | population: 127 million | capital: Mexico city | GDP USD 10,000 nominal per capita ]
The Mexican Air Force "Fuerza Aerea Mexicana" (FAM) was established with the armed forces at the beginning of aviation in 1913. A few British aircraft like from Avro were used. An Mexican unit with P-47 fought in the Pacific during the Second World War along with the Americans. After the war and the new emerging Cold War. The first jet aircraft were Vampires arriving end 1960 and also T-33's in 1961. With nearby Cuba, always American influence was obvious in the armed forces. The arrival from 1982 of Northrop Tigers improved fighter capability. At least 10 F-5E's and 2 F-5F's were acquired, so a supersonic fighter was now operational. The main air force unit was based with no.401 escuadron at Santa Lucia. Because of the emerging guerilla conflicts in southern Mexico and its borders, the large internal drug conflicts and trafficing many helicopters and types like an airborne surveillance E-2 Haweye are also used. In 2012 the F-5E fighter jets had their 30th anniversary in Mexican Air Force service and a few remaining F-5E's are still the primary fighter aircraft with Pilatus PC-7 and PC-9 for light attack. But in fact, no credible force of supersonic jets are currently in use and a replacement is urgently needed.
Over 20 air bases and air stations are scattered all over Mexican territory.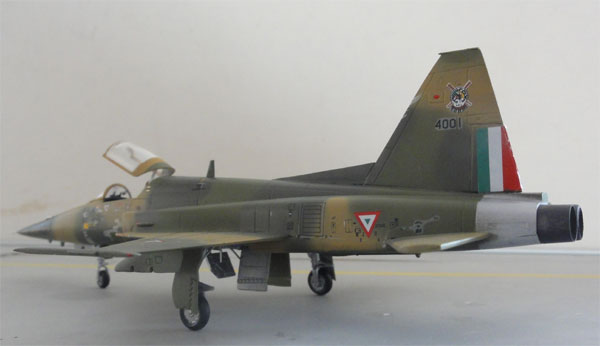 ..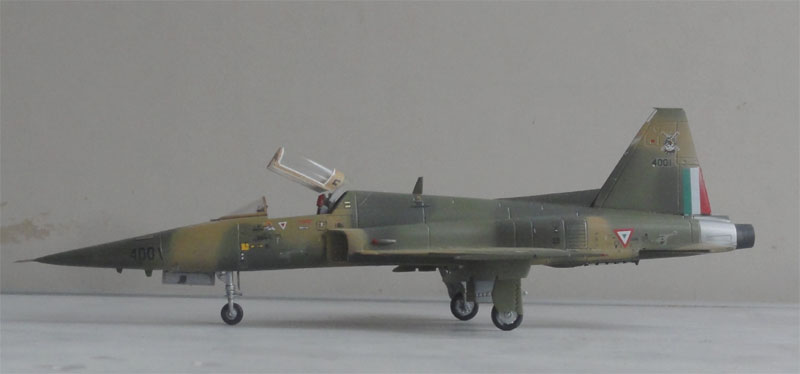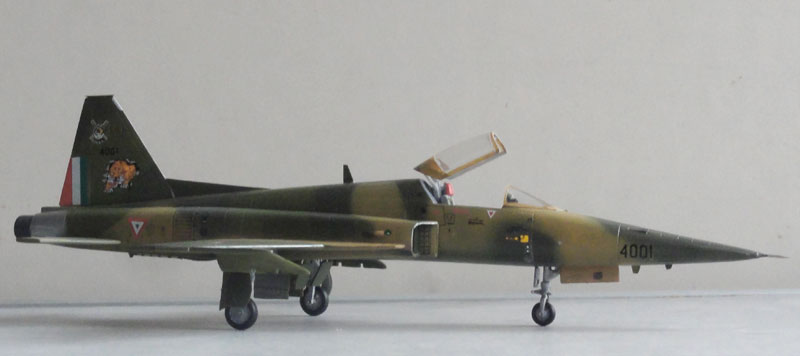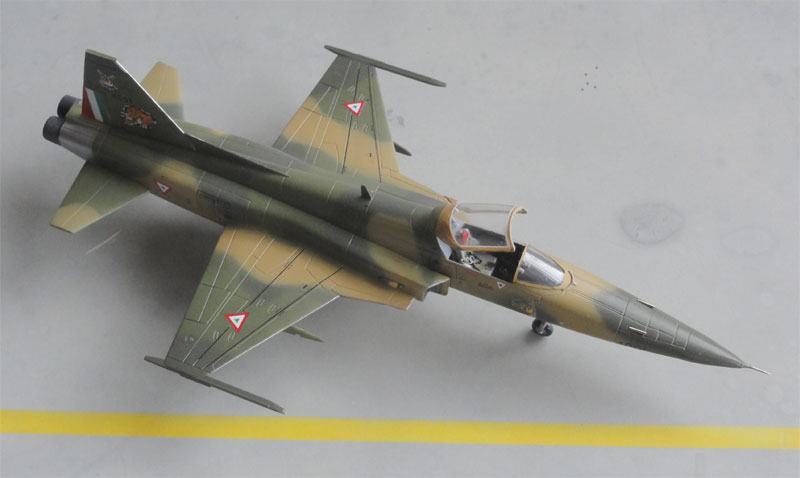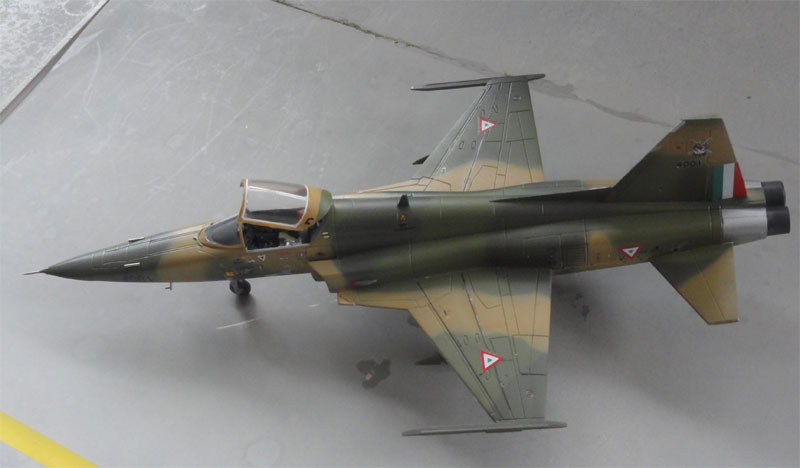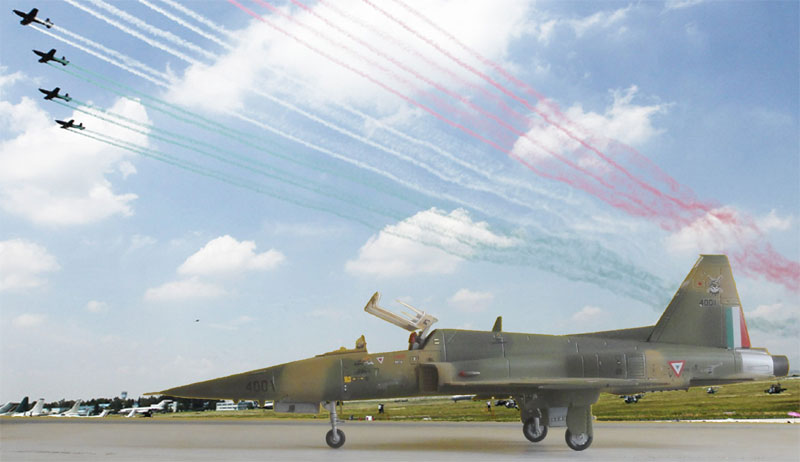 F-5E Mexican air force, "4001" based at Sta. Lucia air base near Mexico city (BAM no.1) during an Air Show