In 1/72 scale, several models of the Saab Draken appeared:
Airfix: kit 2039 of late J-35F; old kit but reasonable; IR sensor too small; fueltanks 4 mm too short in length; simple cockpit, thick pitot; has missiles.
Revell: old kit H189 with Acro Delta team and H4381; old kit with many faults;
Revell: new kit , similar to Hasegawa, so OK.
Heller: kit 255 also has parts to make a two seater and recon version; wrong shaped fueltanks, canopies too high; Twoseater only correct for Danish aircraft; recon version should have 2 camera windows each side for Danish version;


Hasegawa came with a very good kit and is the best Draken kit in this scale, with several kit variants being issued:
J-35O, kitno BP2 for Austria; (also in a box no.386 with "farewell special" decals with black livery; it lacks RWR antennas on the tail and around the exhaust, and IPMS Austria has a fuselage resin kit )
J-35F, kitno BP1 for Sweden; (also with a Red Livery as kit BP101).
J-35J, kitno BP3 being this kit of this modelling Report.
( Revell also boxed the later Hasegawa kit later on, make sure not to buy the old Revell offering ).


For this model, the Saab Draken J-35J of kit BP3 was to be build.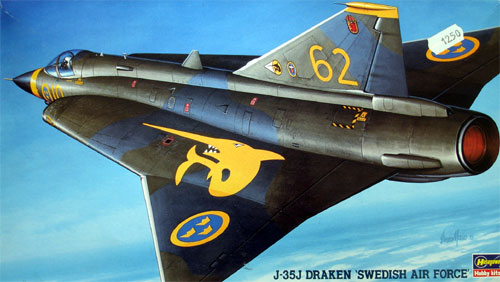 This kit has 2 decal options:
(1) Division 3/F10 with conventional camo scheme and yellow swordfish marking (seen on box top)
(2) Air Defense Grey version of Division 2 / F10 unit with red/dayglow numbers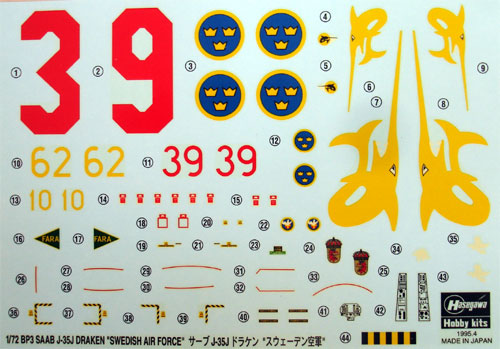 Notes on the J-35J kit (no. BP3):
It has finely recessed panellines albeit no armament. This is really missing as you are left with empty pylons and only a couple of fuel tanks.
The dimensions are OK.
Only the small pitot vtube on the top of the fin is missing.
The J-35J has the port canon deleted (fairing provided in the kit as part C2)
Let's look at the modelling sequence:

I started with spraying some parts while still on their sprues, eg. various coats of white on the doors, gear legs and wheels. Also, some parts were sprayed metallic. After drying, moved on to assembly....

STEP 1
I decided to use an Aires Cockpit Upgrade resin set no. 7202.
It has a nice seat and a nice cockpit tub with detailing. You also get etched metal parts for seat harness and instrument panel.
This all replaced the kit's cockpit parts.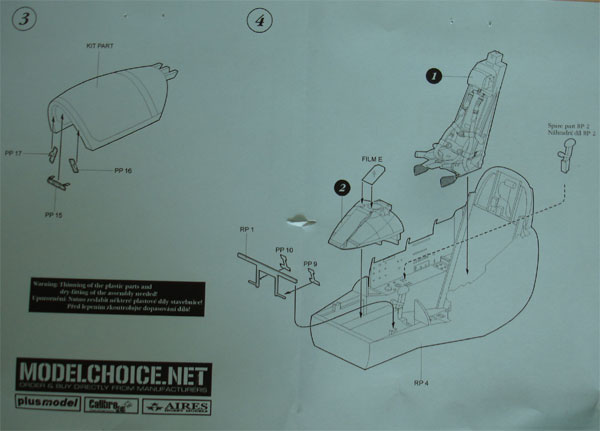 .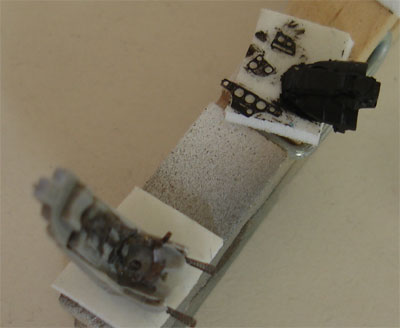 .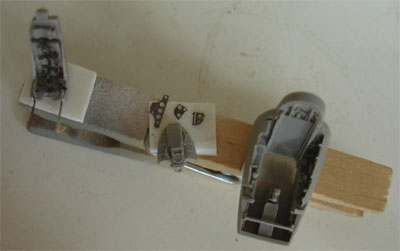 STEP 2
I removed from the spine part A2 the bulkhead area as this is in the Aires tub integrally moulded.
STEP 3
I added a simple bulkhead in the mid fuselage from card to prevent seeing through the fuselage. The fuselage interior was painted black.
Open the holes in the lower fuselage for the pylons as desired.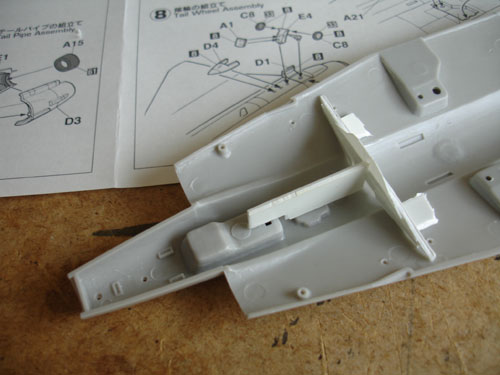 STEP 4
Assemble the afterburner section as shown. It needs some filler.
From step 8, add the small fairing D4 below the aft fuselage.
From step 11, add the tiny port fairing part C2 (one side only!)
I also made very small notches open on the wing leading edge at the Delta root for the two small anti-collision lights.



STEP 9
Assemble fueltanks and the Sidewinder pylons are OK.
Now before adding detail parts, use limited amounts of putty/ filler. Especially on the nose fuselage sides and aft tail cone filler is needed. Sand and check for gaps. Add a coat of light grey primer.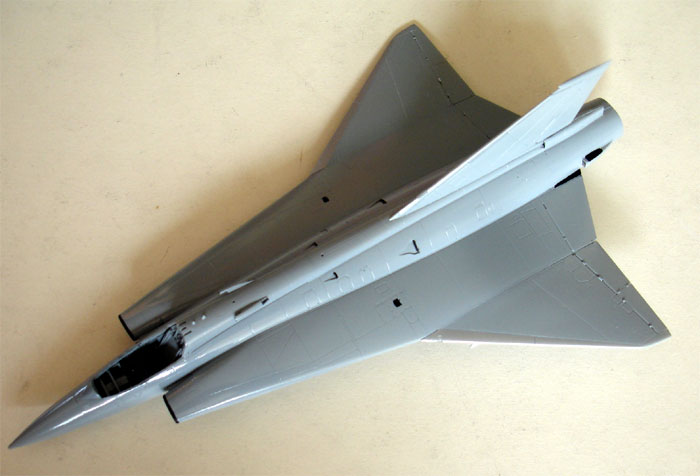 COLOUR SCHEME
Some general colour observations:
- cockpit interior : mid grey with medium green panels
- grey seat with khaki seat cushion
early seat 73SE-F and late J-35J cockpit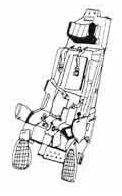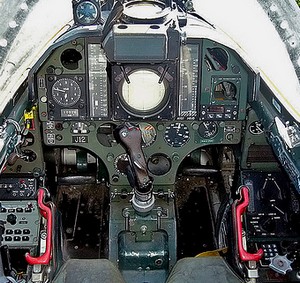 .
- striped dark blue and green camouflage sports KFF 438 (about FS 35042) and KATF 325 (about FS 34086).
- sometimes also a pattern is seen with also Blue grey KFF 058 (about FS 36152) (about Humbrol 87).
- the overall later Air Defense scheme has two greys: upper FS36230 (Humbrol 128) and lower FS36495 (Humbrol 147).
- the belly of fuselage and leading edges on outside wings and fin are often left natural metal.
- gear details, inside wells and doors: natural metal (including the unique small wheels below aft fuselage)
So, now apply first the desired paint scheme with an airbrush.
I picked scheme 2 of the kit for an Air Defense Grey version of Division 2 / F10 unit of the Swedish Air Force with the attractive large red numbers. It flew with the type up to 1998.


I used Gunze Sanyo 338 for the lower FS36495 and Humbrol 128 (or Gunze 307) for the upper FS 36320.
The fuselage belly and metal leading edges were masked off and sprayed metal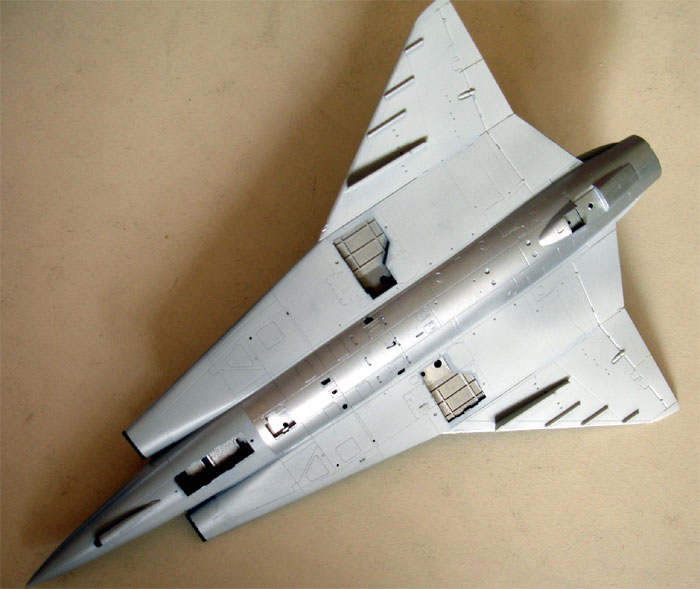 Also spray the pylons and gear doors but do not fit yet to the model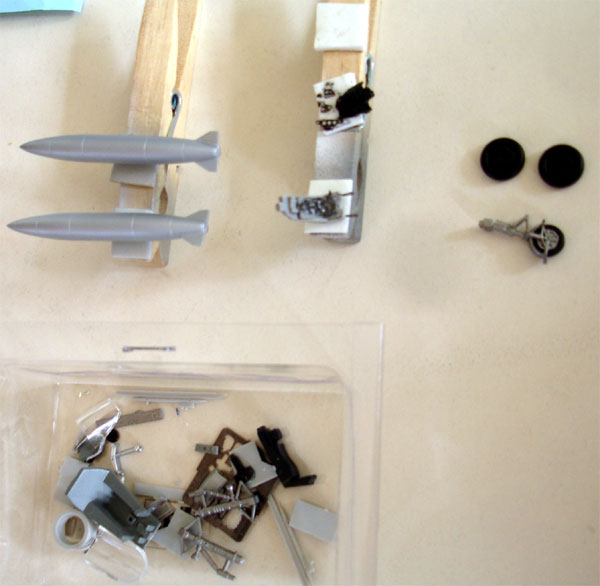 The intake lips were painted black.
The small intakes on the airframe were given small black outlines and "gaps"to suggest these being open.
Now, give the model a coat of gloss, using preferably JOHNSON FUTURE gloss coat with an airbrush.
Next, apply the excellent Hasegawa kit decals as provided.

After the decals dried for 24 hours, I added some very limited wash in the recessed panellines. Usually I use the black wash from PROMODELLER

STEPs 5, 6, 7, 8, 10
Paint the small parts such as antenna's, the wheels, gearlegs and tyres as needed.
Assemble as shown on the model.

STEP 11
Carefully paint the canopy and add the nice tiny red edge decals. I added also the Aires mirror parts.
Fit the windscreen on the model, this needs no filler at all.
For the pitot tube I used a yellow piece of stretched sprue and added the black stripes with a marker pen (not using decal #44) .

FINISHING:
On the undercarriage legs: add some tiny brake wires.
Add a small pitot tube on the top fin leading edge. I used a piece of metal needle.

a very small gunsight / HUD was cut from thin clear film and added on the top instrument coaming.
paint the port anti-collision light red and starboard green light and fill notches with MicroScale Kristal Kleer
The overall model was now given a overall semi matt coat with Johnson Future mixed with some drops of Tamiya Matting Agent. It now looks fine with an even shine.

Now the model is ready! It looks very nice but I miss those typical Swedish missiles like the RB27....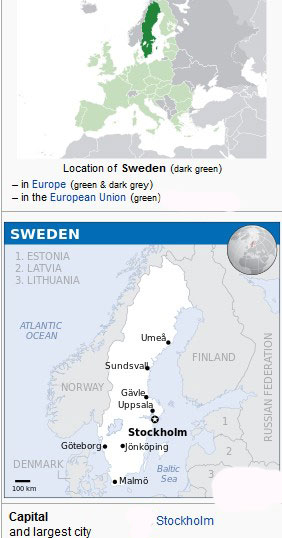 [area: 450,000 sq.km | capital: Stockholm | population: 10,3 million | GDP per capita USD 51,000 nominal ]

The Swedish air force ("Flygvapnet") was established mid 1926. Types were Nieuports, Farmans and a mix of others including Swedish Thulin and purchased Fokkers and Heinkels. Sweden managed to stay out of many wars including the Second World War. The Cold War emerged in 1946 and while Sweden kept the neutral position, it understood it needed to keep modern armed forces. Jet aircraft were taken into development by the SAAB company like the J21 and the successfull J29 Tunnan. The forces were dispersed at various locations including shelters inside mountains with in 1960 over 1,000 combat capable aircraft being a relatively large force considering the number of inhabitants. Several incidents occurred especially with intruding MiG aircraft over the Baltic Sea. During the Cold War modern aircraft were over 700 Saab Draken aircraft in various versions over the years: about 90 J35A from 1960, later 70 J35B, about 25 Sk35C, 120 J35D, 59 S35E and from 1969 nearly 300 J35F/J used until the 1990s. From 1971 the Saab Viggen took over many roles of the Draken.

Saab J-35J Draken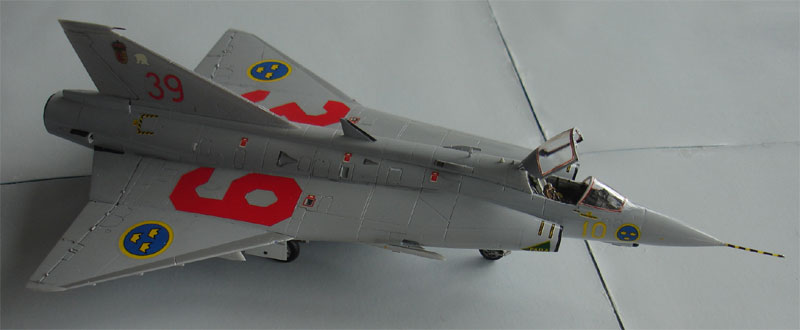 .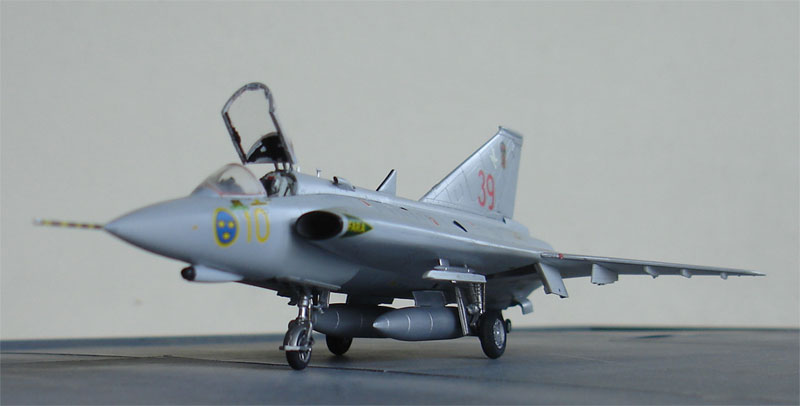 note the two fueltanks below the belly and the Sidewinder pylons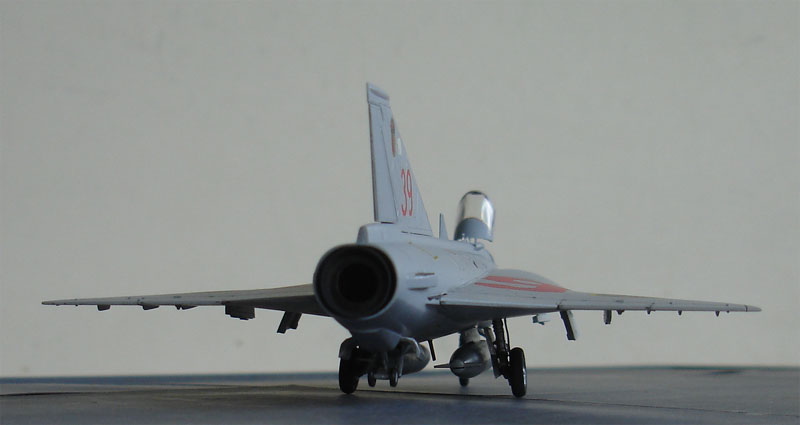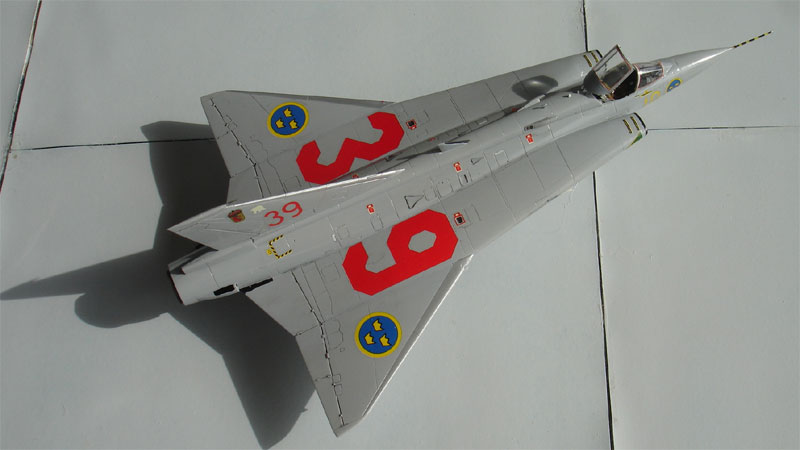 .



[ click on pictures for a larger view ]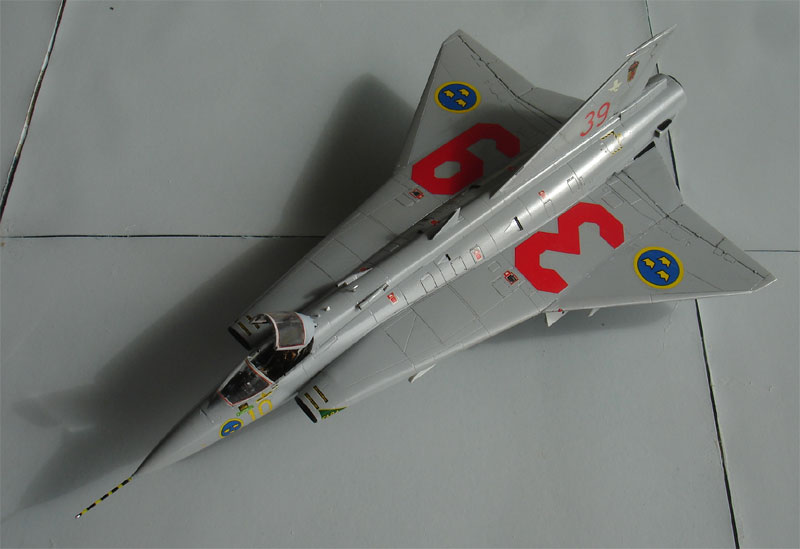 . the red numbers can be clearly seen here.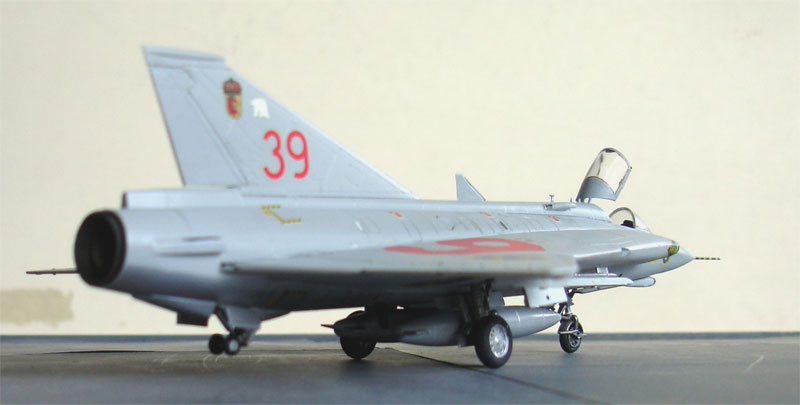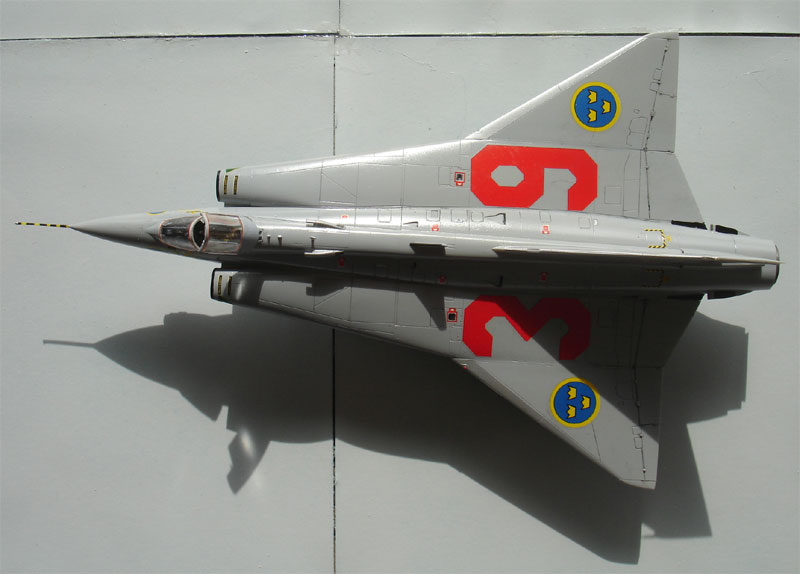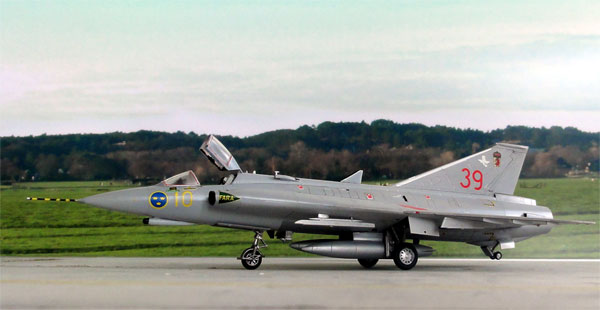 Check out the Draken successor, the Gripen here...