.....Continued from page 1.....

I bought some 1/32 MICROSCALE DECALS for a US NAVY CAG plane of VA-87 with Indian Chief markings. It was deployed in the 1970's from US carriers, like the USS Independence.....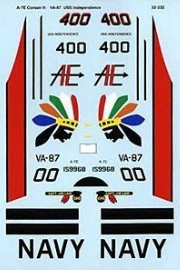 This plane is the older A-7E version, without external cable ducts. Check in STEP 12 also if the parts F23 fairing, F5 camera fairing, and F10 are needed on your particular model desired. I did not add cable ducts below the wing roots (the metal parts in the kit) for this model as they were present on later A-7 versions, not early ones.
The wings were assembled as described in kit STEPS 11, 13, 14 but making sure to have a straight upper wing first. The smaller detail parts were not yet added though as the model first needs some paint coats.
I also decided to keep the wing assembly separate from the fuselage at this stage. The fit is very good and can be done later on.
The overall assemblies were completed and some filler/putty was needed in areas. After smoothing and sanding, the overall model was given a coat of light grey to check for any flaws. Also the smaller parts like doors, brakes and flaps and slats were given a grey base coat. Also, the canopy was masked and given the first paint treatment.
Now a first base coat of FS16440 Gull Grey was applied with the airbrush to check for any flaws on the surface gaps etc. On the lower surfaces FS16875 White was applied.
For the FS16440 I used Mr.Hobby Gunze Sangyo acrylic #315 and for the white Gunze Sangyo #1
The green bays were masked off and some areas re-painted.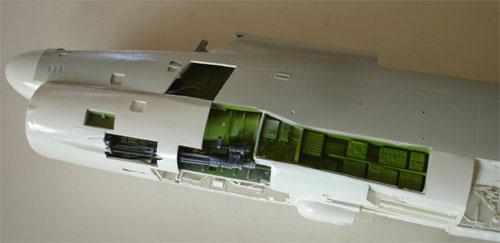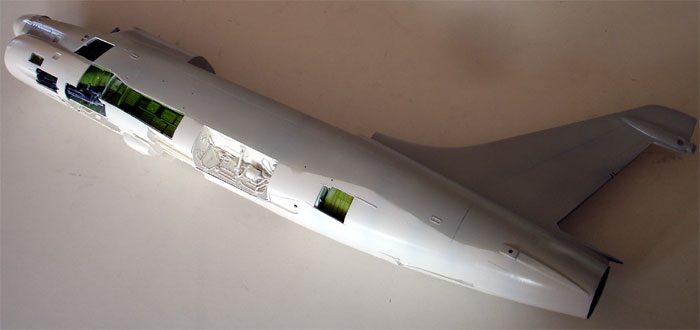 At the rear end, the small extended rudder root fairing tip was filed a bit rounder.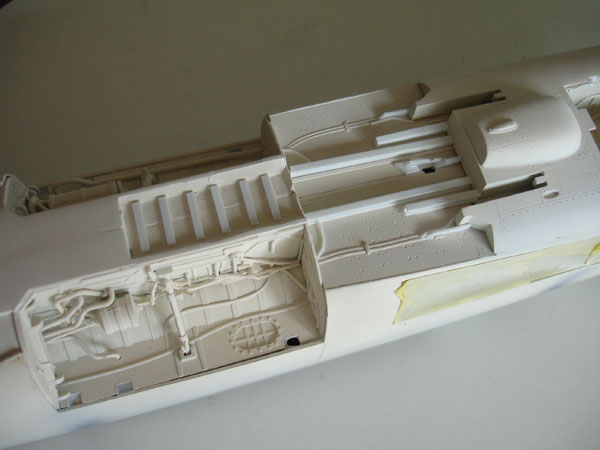 The ventral speed brake area. Note: mostly closed for A-7's on the ground... ( I forgot to add the brake at an earlier stage... better do that as it fits terrible...)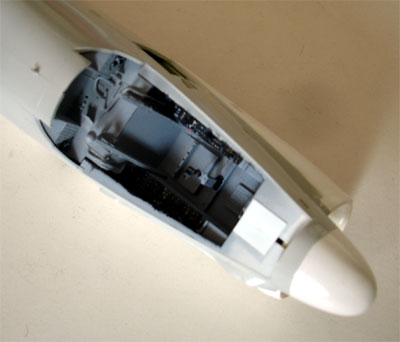 .
A view inside the cockpit tub. Additional details can be added from the outside.
Masking of the wing with tissue and low tack tape (KIP spezial papier) was also done. Flaps are set a bit drooped down.