The Intruder was issued in 1/72 scale by Hasegawa at first and later on also by Fujimi and EA-6A. Revell issued a very old kit in an odd scale.

The kit used here is of Fujimi, representing an EA-6A. The Fujimi kit is better than the Hasegawa offering with some nice features such as slatted wings, but both models end up in a nice representation of the real thing.

The EA-6B model of the Electronic Warfare 4 seater variant is issued by Hasegawa and is also a quite good model. It differs from the A-6 model with another fuselage and wing stores, with the warfare packs.

The use of two models made an interesting option becoming available. As the Fujimi kit has slatted wings, I wanted to do some cross-kitting with both kits. Putting the slatted wing on the Hasegawa Prowler seemed to give something extra life to the model, whereas the Fujimi kit could be fitted with the straight Prowler wing. Also, the Fujimi kit would be detailed with an opened radar nose.

The kits make this cross-kitting well possible, you only need to make some small adoptions on the lengths of the wheel bays and the exhaust pipes.

The models were otherwise simply put together, making sure to have some some corrections to take the swapped wings.

Also, the seats were detailed with sprue and card. Cockpits will be detailed later on, as they can be reached.

Details of the seats can also be found on the internet! Check it out!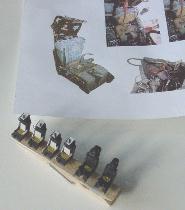 Go to Intruder page 2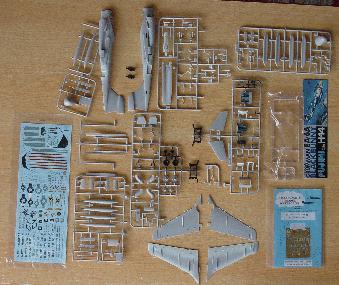 The Fujimi kit parts of the EA-6A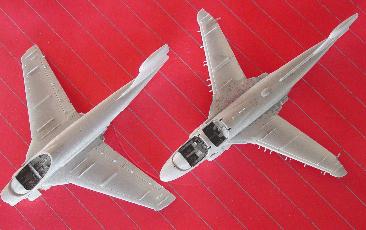 comparison of both kits with swapped wings, the Prowler at right with "slatted wings"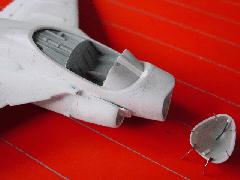 opened up Nose cone of the Fujimi EA-6A; make sure to cut at the right panel line, the kit part being not the hinged part. Also added hinges from thin metal.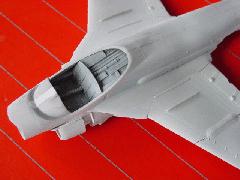 [45Kb]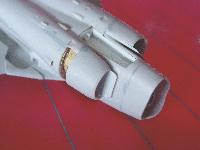 the stairs will also be set open; I got an Airwaves set, but that doesn't fit!! Such kind of errors are often found in extra bought accessories sets, reason why I prefer to make my own conversion in most cases!

The older Hasegawa kit is also seen here. This A-6A was modified to have a hinged outboard wings as stored on a typical carrier deck. Wing hinges were made from sprue.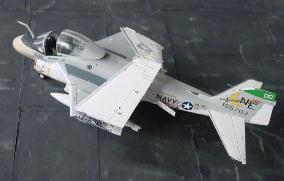 The cockpit was detailed and the model was finished in a nice scheme of US Navy VA-145 SwordsMen using Microscale decals way back in 1985.
The lower fuselage pod came from a Hasegawa stores set.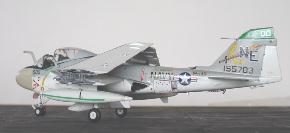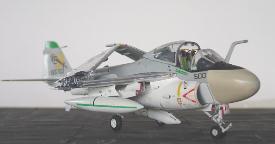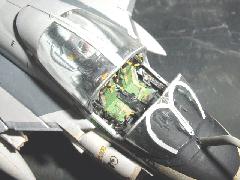 [61Kb]
the detailed cockpit area of the old Hasegawa kit, for which bits and pieces of sprue were used

Go to Intruder page 2
or
Go to EA-6B Prowler page
or
References:
- A-6 Intruder, in action, no.20, Squadron Signal, Lou Drendel , 1975
- A-6 Special, Modern Military Aircraft series, Squadron Signal, no. 5007, 1991
- A-6, Bunrin-Do publications, no. 135, Japan, 1983:VERY GOOD!
- Air International, Volume 57, pages 160
- Air International, Volume 31, pages 227