DeHavilland Sea Venom , carrier based fighter-bomber ,
This kit is from Toko (similar, seems to be ex-Frog and re-boxed with new decals sheet)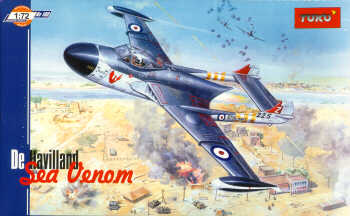 Brief history
The Venom was developed by De Havilland Aircraft from their earlier Vampire, which had been the second type of jet fighter to enter service with the RAF. In need for a fighter of higher performance de Havilland's responded with the Venom. The Sea Venom was the naval version of the RAF's Venom fighter-bomber.

The Sea Venom was developed for naval service as the FAW.20 and 21, being based on the two seat NF.2. It had folding wings and a strengthened fuselage with arrester gear. The Sea Venom was in service from 1954 to 1960 and was the Navy's first all-weather jet fighter.
Large numbers of Venom night fighters and Sea Venoms (about 400) were built at the de Havilland factory in the mid 1950ís. Royal Navy Sea Venom's and RAF Venom FB.4's took part in the Suez Operation of November 1956, attacking Egyptian airfields and convoys. The box top of the TOKO kit shows this. The Sea Venom remained in service with the Royal Navy until replaced by the de Havilland Sea Vixen in the early 1960's.



Some technical data Sea Venom:
Wing span 12.71 m
Service ceiling 48,000 ft
Length 10.10 m
Max speed 920 km/hr
Engine: DH Ghost 48
More info here: http://www.neam.co.uk/venom.html




The TOKO kit
The kit has about 50 parts, many of them needing clean up as the molds originate from FROG. The decals are very good with some colour schemes to be chosen.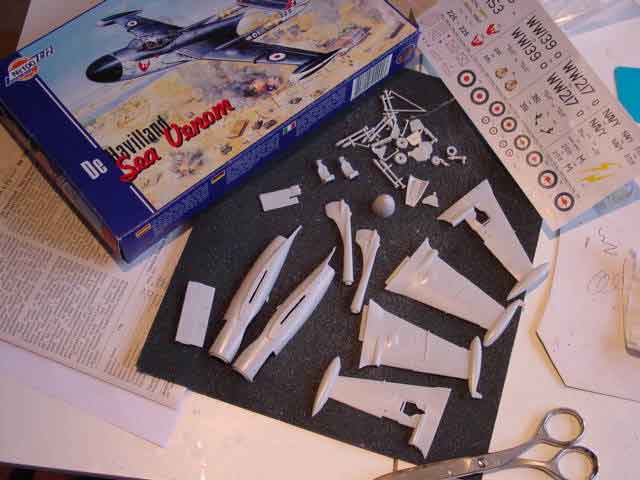 The canopy of TOKO is very thick, so I got a vacuformed thin replacement canopy from AeroClub.


There is no real interior in this kit so with some card and rod an interior was made. I also cut off the tip tank fins as they are much too thick.


Please note that the root intakes needs special attention, see drawing of the root intake above.
I inserted air flow guiding vanes toward the engine front using thin plastic card.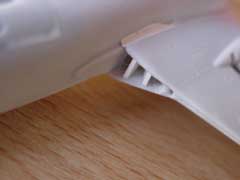 please note that cockpit detailing will be at a later stage.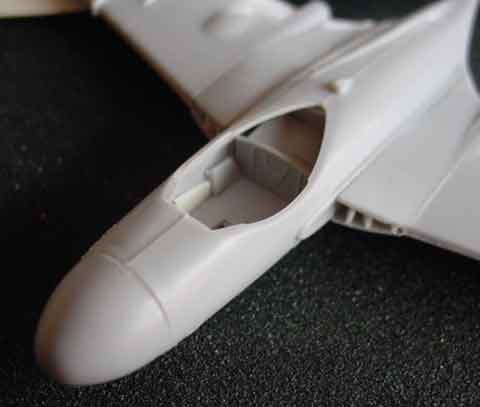 Alignment of the tail booms requires care, take slow drying glue and align. Let dry at least 24 hrs.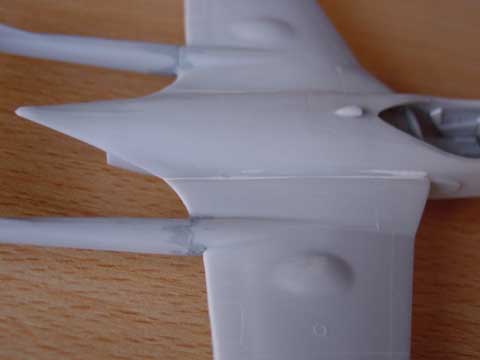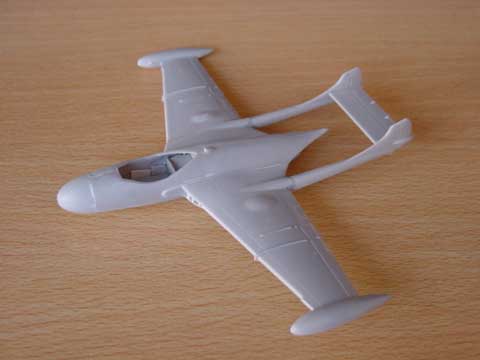 Some sanding and filling is needed at their connection points. The nose needs some weight to prevent "tail sitting". After major assembly, I re scribed some panel lines using an OLFA P-cutter as these are not engraved and after that sanded the model smooth. I also sawed in the flaps and ailerons to get a good look.
Also, I will replace the very thick gear doors with some card plastic.