---

6. Yakovlev Jak-23
In Yak-23 was again based on the Yak-17 but there are differences, The main wheels retract into also part of the fuselage belly and the engine is longer and bigger. It was first flown in 1947 with a Rolls Royce Derwent jet! The Soviet copied this into the RD-500 jet. Deliveries started in 1949 and despite good flying characteristics, the Mig-15 also emerged at the same time. This outdated the Yak.
In total about 310 planes were built and also supplied to Czechoslovakia and Poland.

The Kovozavody Prostejov (KP) kit (no 18) in 1/72 scale is despite the fact that is an old kit a very nice kit. It has some 35 parts.
After some cleaning up of the parts, you get a surprisingly good model. The model dimensions are quite accurate to the real measurement (wing span and length)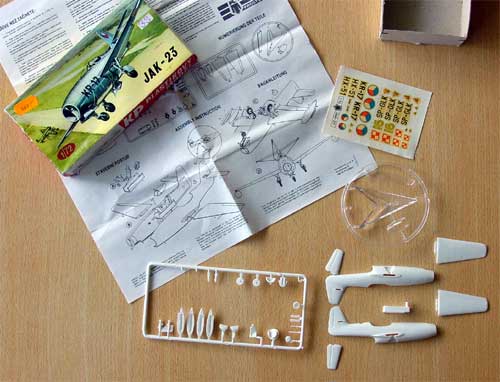 Surface paneling in the KP kit is of the raised type; I simply engraved the panellines with an Olfa p-cutter and sanding removed the raised panels lines thereafter.
Decals are unusable as they are very yellow. The markings are simple, so replacing some insignia and numbers should be possible with the spare decalbox. Also, Propagteam for example has decalsheets.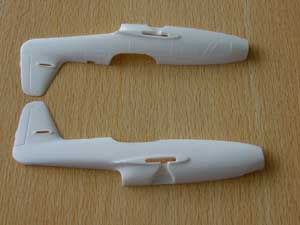 On my kit, there was a lot of flash. Filling is required and there are some minor sink marks that need to be filled. I opened up the intake (part #13) and the cockpit was a bit detailed with sprue and rod.
Cockpit canopy is not very clear unfortunately, dipping the canopy into Johnson Future varnish will improve the look of it. You may also try to get a Pavla vacuform replacement.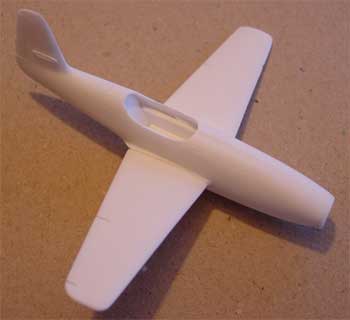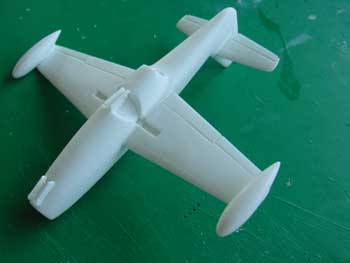 Major assembly. The engine pipe needed some sanding and filling. A compromise had to be sought here as the parts do not really fit well.
Note that on the Yak-23 the main gear wheels retract into the fuselage belly, and the gear legs have a kink to allow for this.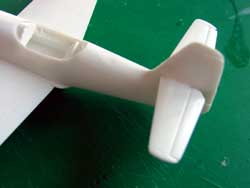 Tiptanks and stabilizers were fitted after the wing was attached, gaps filled and sanded. Tiptanks needed sanding as they are a bit rough.
Some surface panel re-scribing should still be done as the sanded kit surfaces now are too smooth.
The cockpit hood of the kit did not fit very well. Lots of white glue was used but there is not a lot that can done about it.
It was decided to create a Czech Yak-23 using kit decals from this kit and the MPM Yak-17. Colour used was upper Humbrol 105 green and lower Humbrol 65 light blue.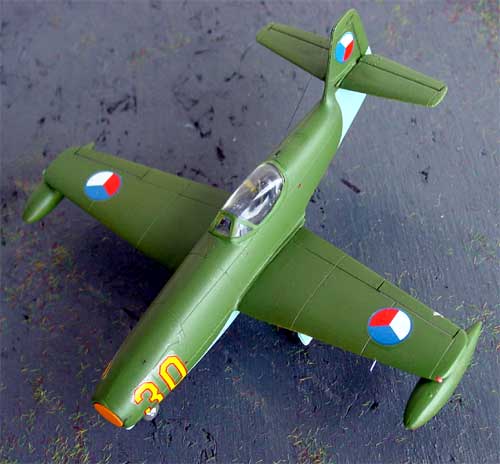 On the engine nose intake a cover as set as to mask the otherwise difficult intake lips fit.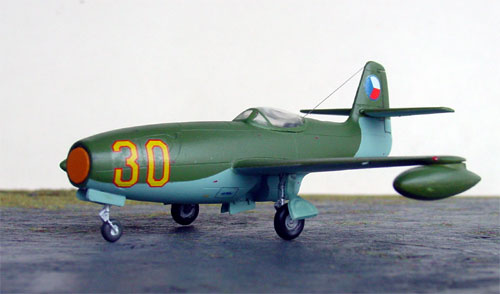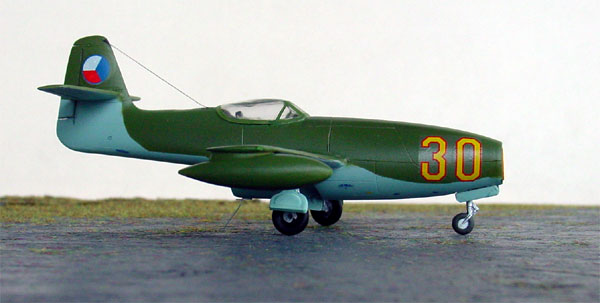 A small wire was added for tail support. Some panels and flying surfaces got a slight darker hinge shade added with thinned dark paint. This very old KP kit was finally ready to put on display.

More CZECH aircraft models can be seen here.... .