The Sea Fury has not been available in this scale through an injection moulded kit before. In the past vacuforms (such as ID models) could be obtained and the excellent resin Fisher Model and Pattern kit was available but at quite some cost.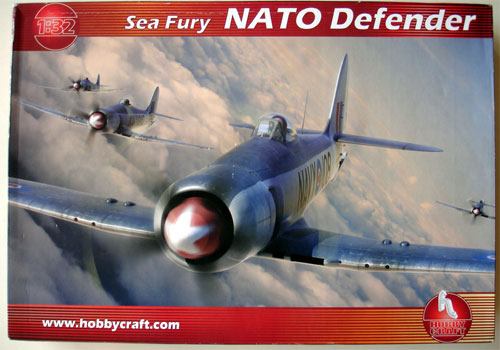 Mid 2008 Hobbycraft of Canada came with a Sea Fury FB.11 kit which was more than welcome for large scale builders.

A look at the kit
The kit has about 80 grey injection moulded parts and a single piece canopy. The basic dimensions look accurate but the kit can be improved. Hobbycraft kept the costs of the kit low by making a lot of areas in this kit simple. The kit does not have for example the option to fold the wings; this would require outher wing separation and detailing (a Fisher set is available if you want). The stores comprise the fueltanks, rockets and bombs and these are all usable.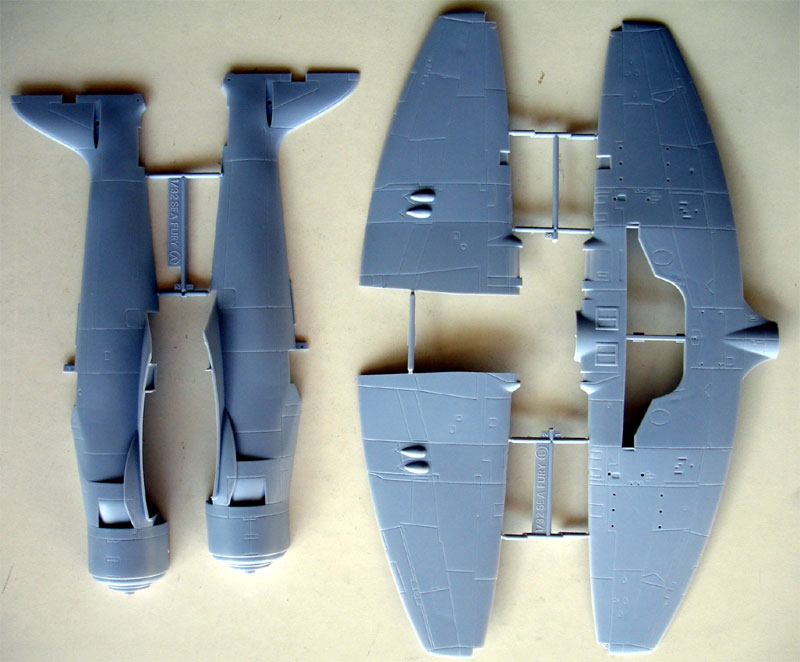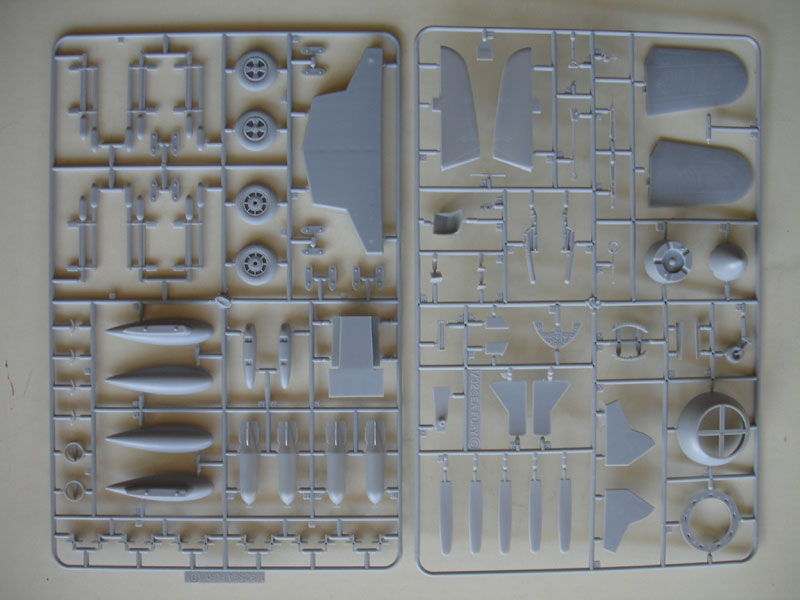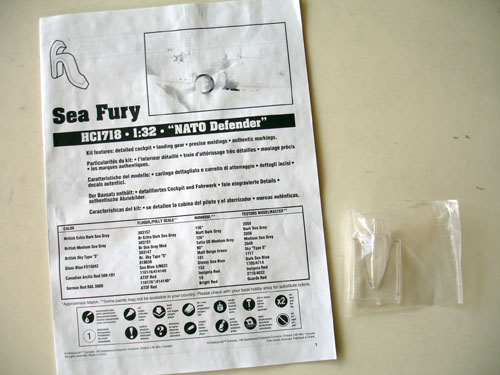 The kit was issued in some different boxes with different decalsheets:
COLD WAR FIGHTER Kit no. HC1716 box schemes:
1. 802 Sqn, Royal Navy, HMS Ocean, Korea, Aug 1951
2. another plane of 802 Sqn, HMAS Sydney, Japan, 1952
3. Australian Navy, RAN Bankstown, 1968
4. Cuban Air Force, Bay of Pigs Invasion, 1961
5. Another Cuban plane post Invation, 1961 with a very special camo paint scheme
NATO DEFENDER Kit no. HC1718 box schemes:
1. 870 Sqn, Royal Canadian Navy, 1952
2. TG117, VG-ZZA, Royal Canadian Navy, 1950
3. 803 Sqn, Royal Canadian Navy, 1952
4. No 3 Squadron, Royal Netherlands naval air service MLD, 1956
5. German civil target tug: D-CACY, Luftfahrt Beratungsdienst, 1966
I got the NATO DEFENDER kit.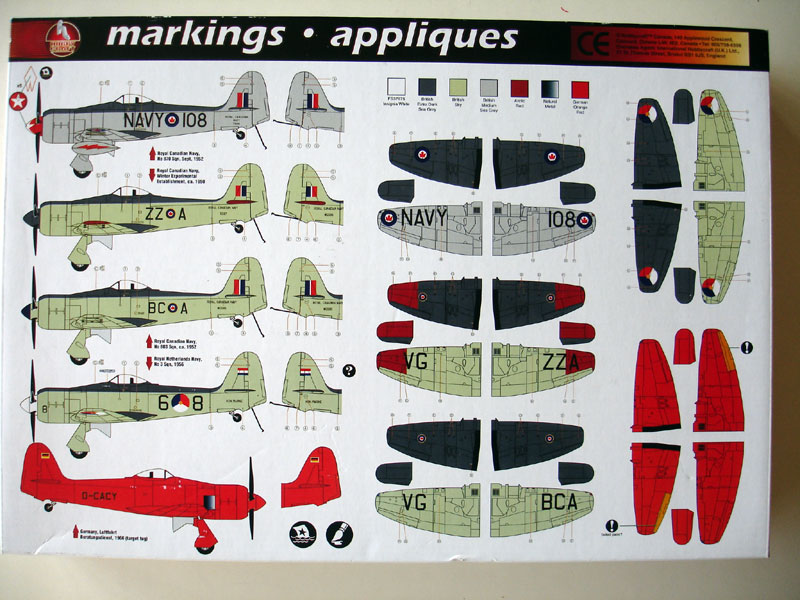 . NATO DEFENDER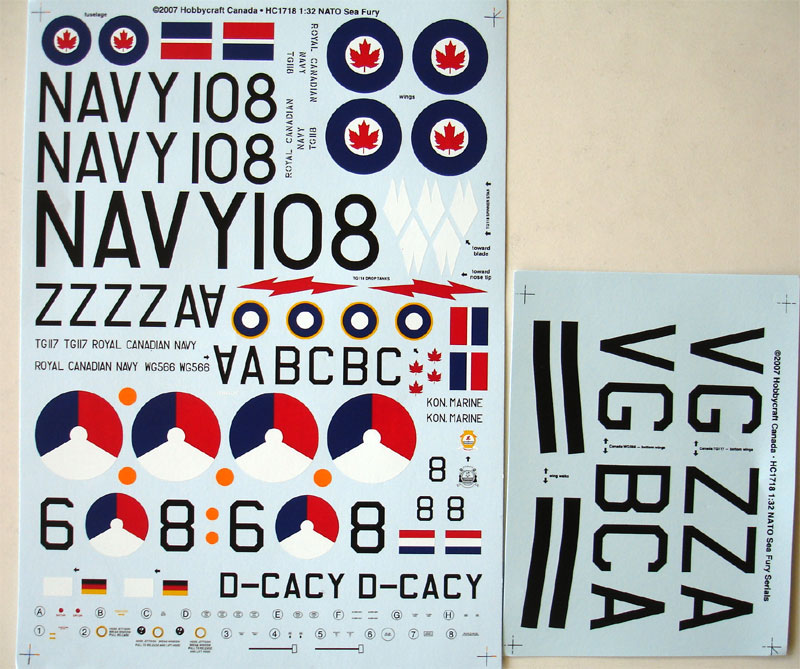 Improving the kit
In this scale there is room for improvement:
1. The fuselage shape in front of the windscreen has two flat facets and these should be round; this can be solved with sanding. The slope of the area is interpretable but looking at pictures is OK also. Misinterpretation is also a bit caused by the inaccurate shape in the canopy and windscreen;
I bought the Fisher Model and Pattern cockpit set #AHC1 with the excellent new windscreen. (website: http://fishermodels.com )
2. The cockpit tub opening is way too small; remove the area aft of the strange seat "head rest" and add with some card a better representation of this area.
3. The cockpit interior is very sparse to keep kit costs low with only floor tub, seat, control stick and very basic instrument panel. Doing some detailling yourself is a good option as typically for those days the interior is mostly black so not a lot of detail will be seen. But as noted, the Fisher Model and Pattern cockpit set with resin parts and very nice seat was the solution (also includes much improved canopy).
4. The oil cooler intake located on the port wing is a too shallow.
5. The propeller which is assembled with a hub and separate blades and spinner is very inaccurate.
The spinner is also way too small and gives the overall kit a somewhat inaccurate feel. I bought the Fisher Model and Pattern propeller set #AHC3 to replace the kit parts.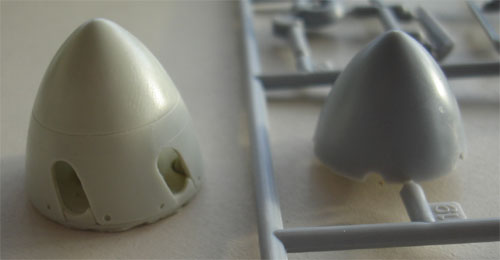 left: the Fisher parts, right the Hobbycraft spinner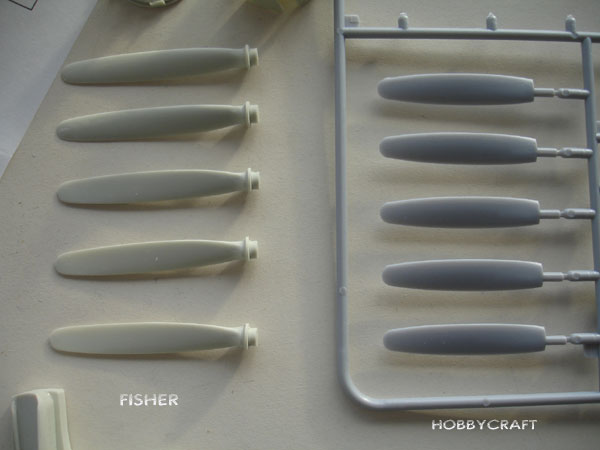 6. The wing upper profile curve is a bit too flat and in addition the main wheel bay is too shallow.
In addition, further detailling was done to the Hobbycraft kit in this scale such as adding some rivets details and filling some heavy panellines in areas.
For this kit a nice Dutch MLD scheme was picked and I opted to make the MLD Sea Fury with code "6-26" of the Royal naval air service "Marineluchtvaartdienst" MLD 860 squadron with orange propeller spinner. It is a nice scheme and I had a couple of pictures.