OK, what 1/72 scale models are on the stack?

Matchbox (kit 047) had issued a simple 1/72 scale kit way back in the eighties. (Revell also issued this kit with no. 40061 and also the kit has appeared with other decals.).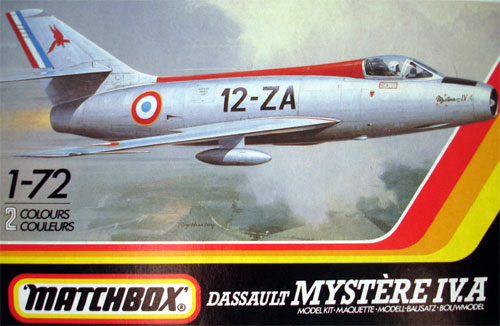 When it was issued, I really liked it. To current standards is has some thick "trenches" and some raised panels but otherwise is not bad after all when adding some details. There are about 30 parts and early issues had parts in two colours of plastic, but this one has silver coloured plastic. Also a 2 piece canopy and some stores are in the kit. The fueltanks are too small however and better discarded. The rear canopy is a bit too wide, so better set open to show the inside of the cockpit, which then needs some details to be added.
It was decided to do a simple build for the NATO aircraft model collection.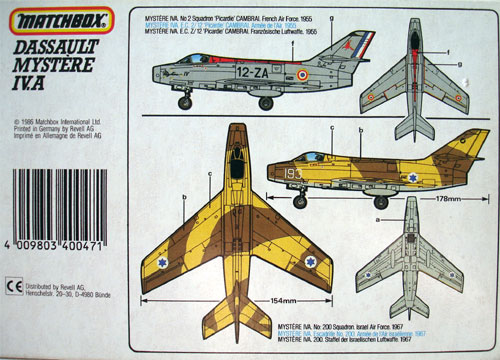 Decals and colour schemes are provided for 2: a French Mystere of no.2 esquadron in an aircraft metal livery and an Israeli aircraft in a desert camouflage pattern.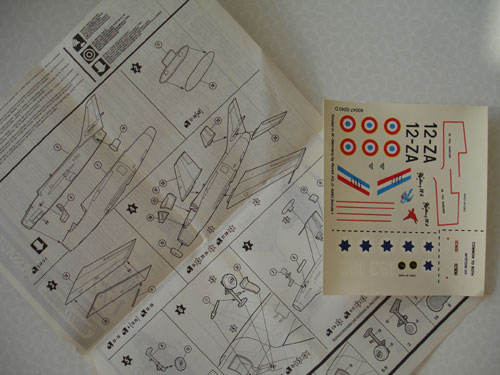 The cockpit details are in fact absent and a very simple affair. It can be detailed although it is small. A rear bulkhead was added from card. Some sidepanels were added and the seat will be replaced with one with more details added.
(NOTE: I later found out that the spine aft of the cockpit is a bit too wide to allow sliding to the rear the canopy... ; see remarks below...)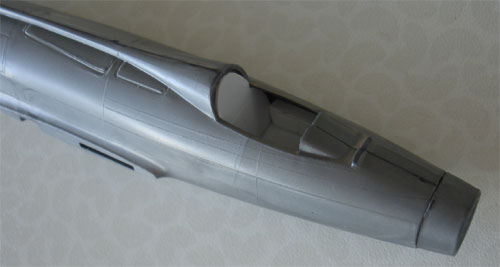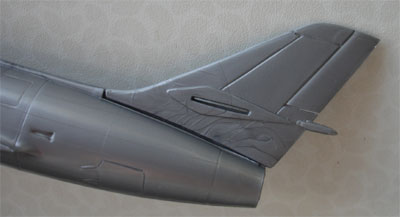 At the fin base a large gap needs filler.
The air intake in the nose is also not very deep but not a whole lot is seen inside. The fit requires sanding.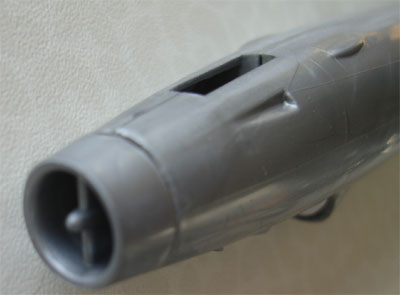 The main parts and fuselage are seen here, ready for next assembly.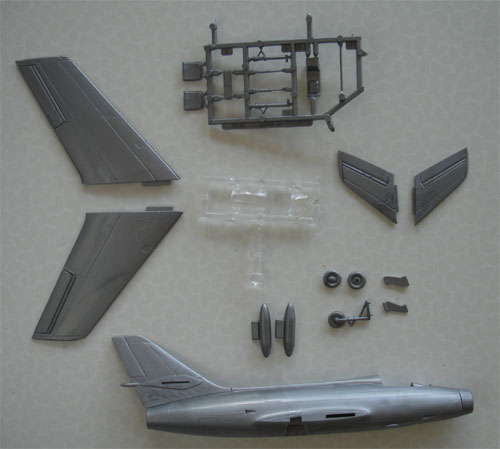 Also at the lower wing, gaps needs filling.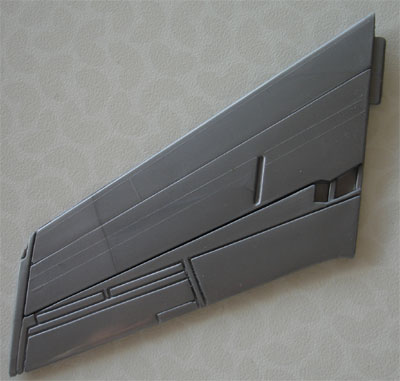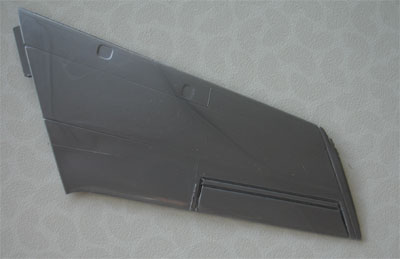 The aileron chords are a bit too large I believe, so a new edge was carved in. The aileron sides got slots cutt with a razor saw for a better look. Filling was done now and some first sanding.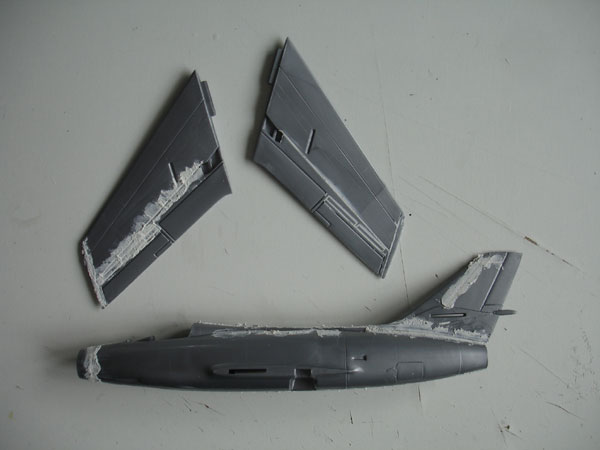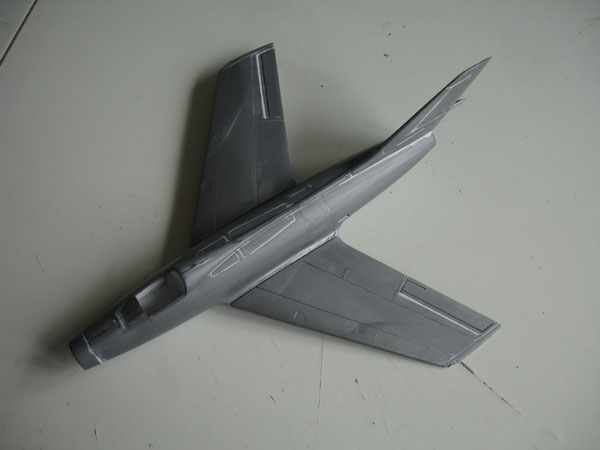 ....with some sanding good fit was achieved.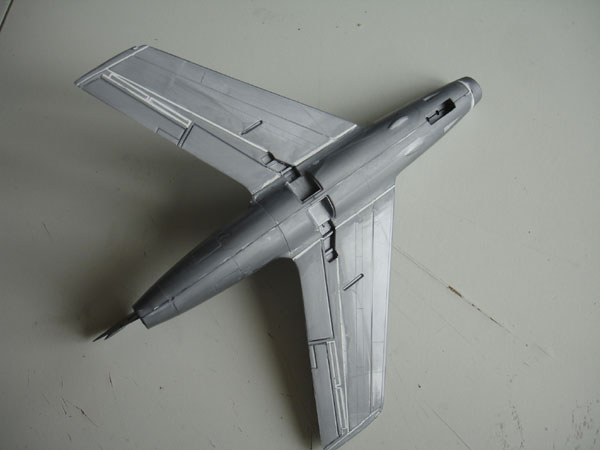 Also, note the filled panels at the lower wings.
It was decided to make a rather metallic gloss aluminium metal scheme as supplied by the manufacturer, so a couple of grey layers were airbrushed. This was followed by a coat of natural metal using ALCLAD II polished aluminium metallic coat no. 105 using the airbrush at a low pressure (0.8 bar). When dry, it showed a good sheen. I did not put on a black gloss undercoat as the model is very small and I thought a too gloss sheen would not look realistic.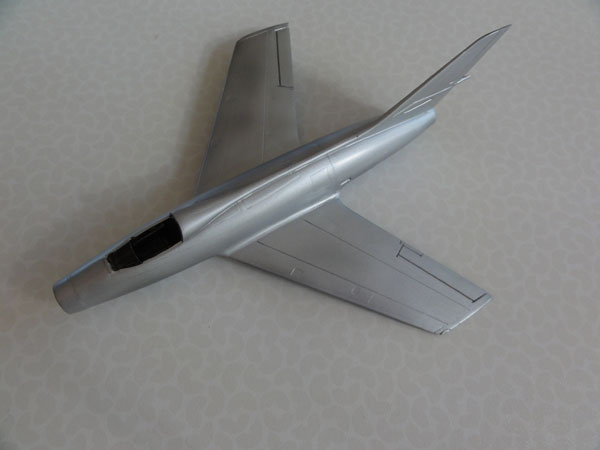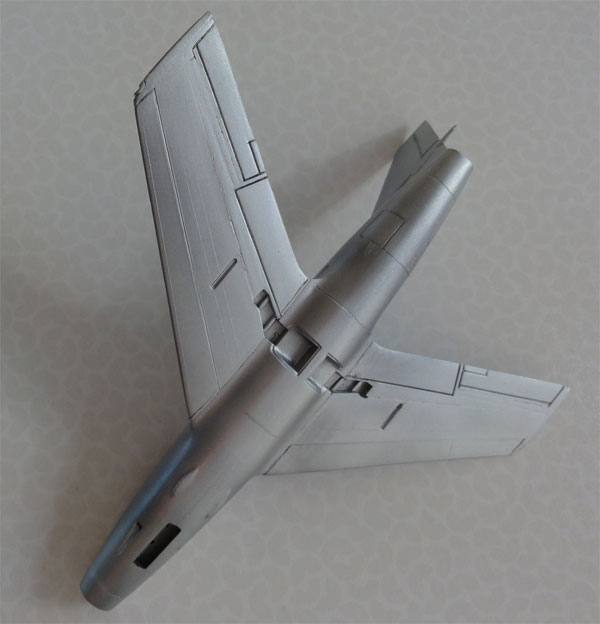 Some tiny gaps needed again some filler, seen too late. After sanding, another coat of ALCLAD II aluminium was applied.
Typically of the period, Mysteres had a red spine, so after masking, this was airbrushed on as well.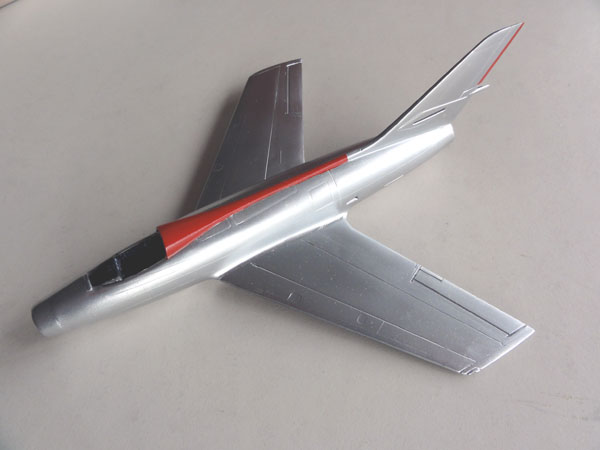 The smaller parts also were airbrushed and painted. The windscreen and rear canopy were separated with fine TIGER razorsaw and their edges painted by hand metal using REVELL acrylic aluminium. I really like this paint.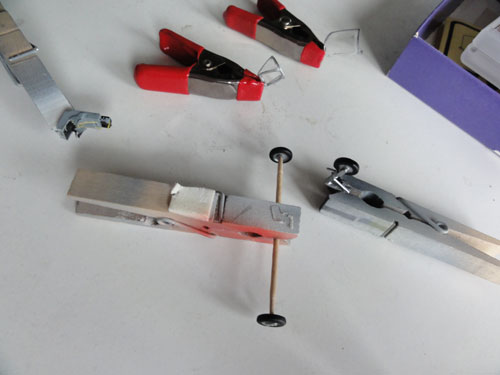 The cockpit interior was painted tyre black and some instrument decals applied, found in my spare decals box.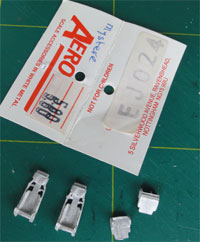 The Mystere had the SNCASO E95 seat. I had Aeroclub EJ024 seats in metal that looked quite good but these proved to be too large so NOT used. I decided to add some bits and pieces to the kit seat and detail that instead.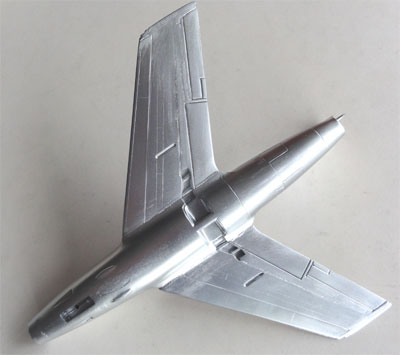 The model is ready for decalling and adding the squadron paint scheme. But what decals to use? The kit ones are a bit simple.