Many, many kits in 1/72 have appeared of the Gloster Meteor, such as from FROG, AIRFIX, REVELL, and many others. For a two seater, the former MATCHBOX kit (PK-129) from 1977 is a good kit in 1/72 scale. Here the REVELL re-issue #40124 of 1998 modelling report can be seen....

A very old kit of Airfix was for a Meteor mk.3 . It was very basic and been around for decades since 1970.

Later in 2009, Airfix came with a brand new kit for a F.mk 8 (kit no A03076).

It is however a kit using the SAME moulds as the earlier kit from 2006 from MPM of Tsjechia but without etched metal detail fret.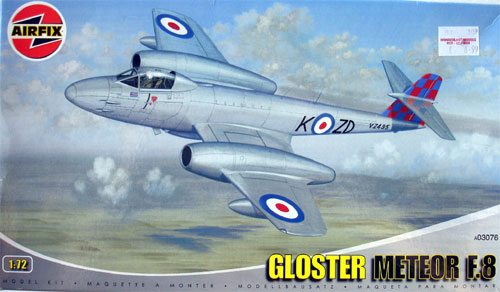 The parts are nice with 2 types of engine nacelles and 2 types of canopies including the "full blown" type. Also, the belly fuel tank and 2 pylon tanks are in the kit. Very nice indeed!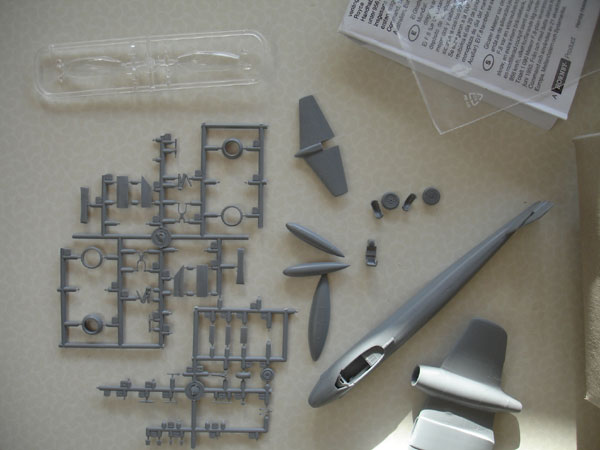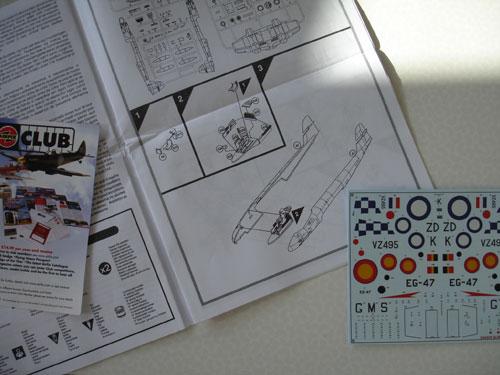 The RAF roundels are a bit off and seem to be an older style roundel. In this box, decals are for:
(1) no. 245 squadron RAF at Horsham St.Faith
(2) 13 Day fighter squadron Belgian AF
Usually, the finish is "high speed silver" for the F.mk 8 (so not a straight metal look, but painted). Please note that many airframe components on a real Meteor were of wood!.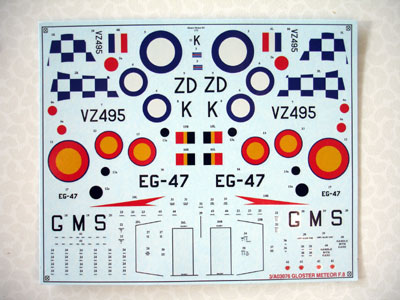 modelling this kit means carefully separating the parts from the sprues and alignment needs are as well with mating the surfaces. The plastic is very soft but nicely detailed.
The cockpit is basic but OK for this scale. The canopy looks fine as well with floor, seat bulkheads etc. Do not forget to add NOSE WEIGHT!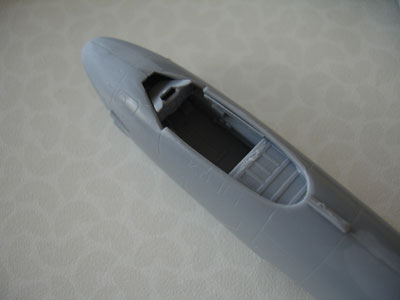 In STEP 15, it looks that both types of the nacelles are in the kit which is very nice indeed:
- short nacelle/larger intake type with part #B7.
- older long nacelle with small intake part #B9. (the edge ring is about 2 mm longer at the front intake edge) (this was on a real Meteor made of wood!)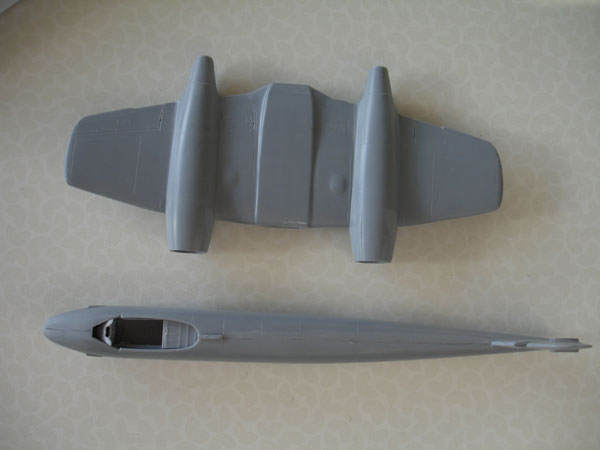 It is often rather difficult to establish for a particular F.mk 8 Meteor desired which nacelle is needed, even on photos it is difficult to see.
In STEP 17, assembling the multi part landing gear is quite difficult to get strong joints. It is also unclear where to fix the legs.
Deciding which canopy you like depends on the particular Meteor desired with markings.
A model was made of a Royal Netherlands AF F.mk 8 Meteor using aftermarket decals from Dutch Decal set 72041. This is an old set from 1999 (newer sets can also be found such as set 72080).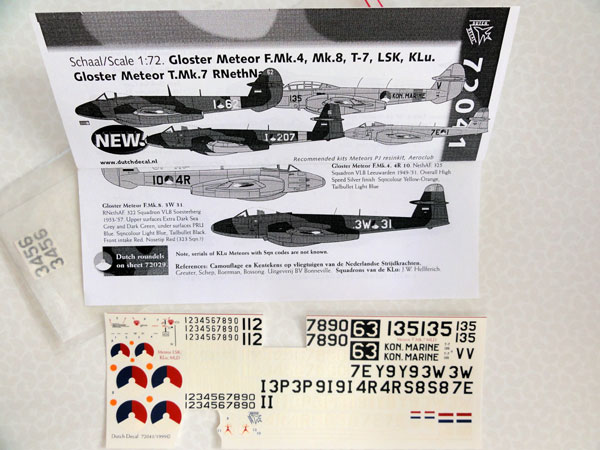 It was not clear what nacelle type was used on this aircraft, the shorter nacelle type with larger diameter intake ring was picked here.
(You may check the reference below to seek which KLu aircraft uses what intake but I did not have that book at the time as it was published June 2015).
.
Some (white coloured) putty was used at particularly joints and edges followed by some subtle sanding.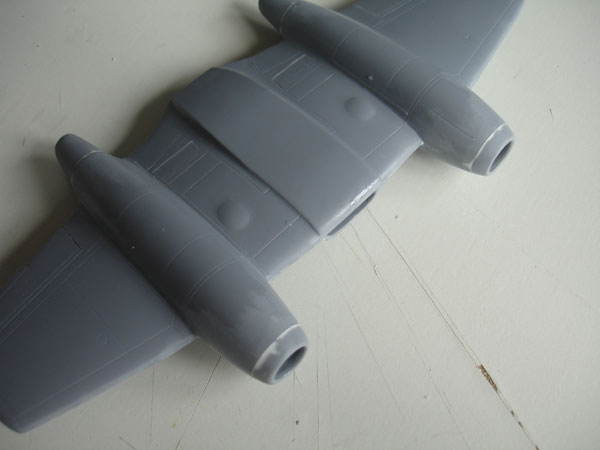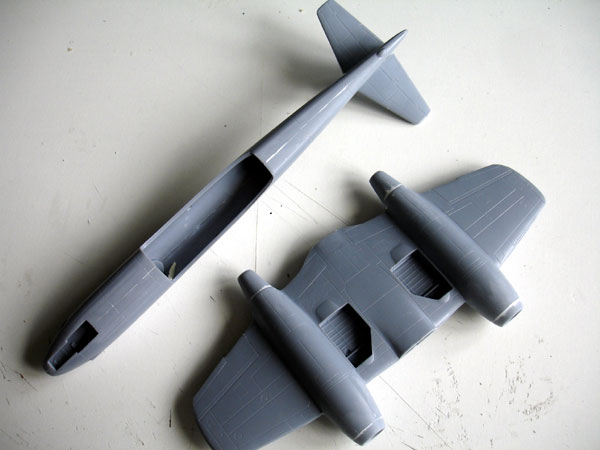 The joint between fuselage and wing was also filled with some white putty.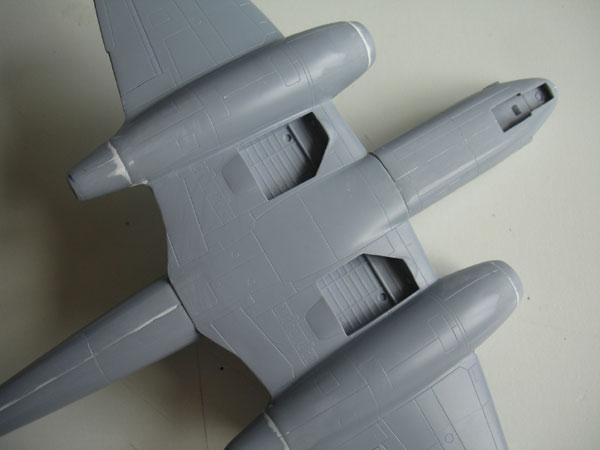 As seen the panel lines are nicely engraved , but I inscribed the dive brakes a bit deeper.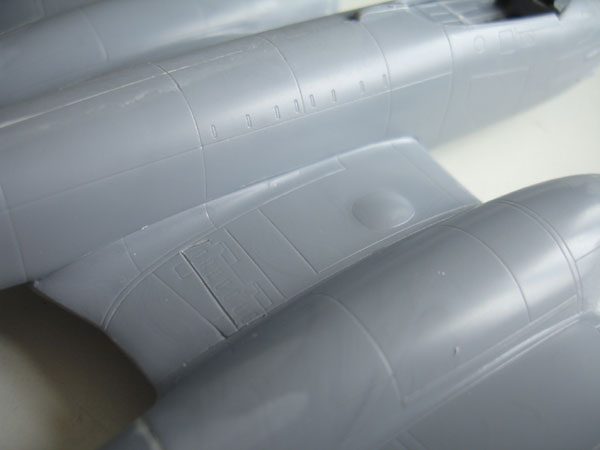 This completed basic assembly, ready to take a first base coat to check for any flaws applied with the Harder Steenbeck airbrush.
Next came a very simple "RAF high speed silver" finish using enamel paint X38 of XTRACOLOR applied in a few coats with the airbrush. The windscreen frame was painted with a fine brush. I also added a tiny irror made from a bit of metal.
The cockpit interior was painted mainly black with some spots of a different colour. The kit seat got a few harness straps made from brown masking tape.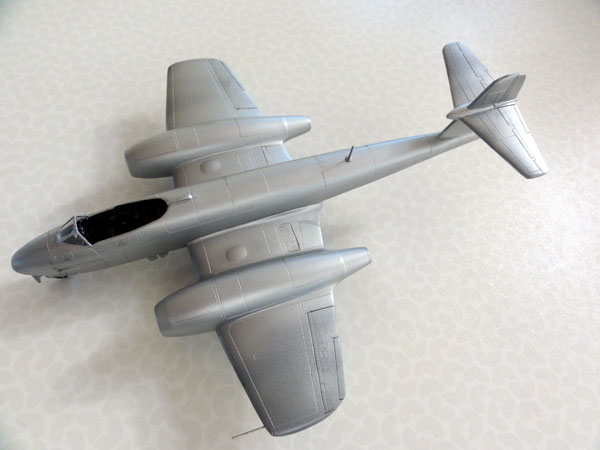 The undercarriage was also fitted and tires painted very dark grey (Panzergrau of Revell Acrylic 78). I kept the gear bays also silver painted.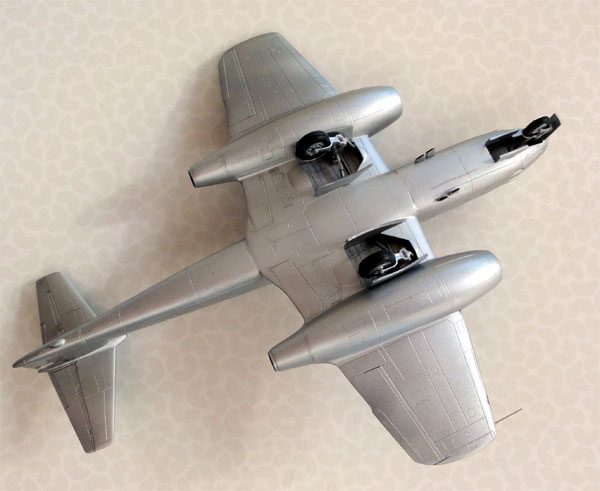 For this particular aircraft a Meteor F.mk 8 of the KLu no. 328 squadron was picked. It had orange markings and operated from Soesterberg air base in the center of The Netherlands from 1951 till 1955. It has a bigger scaled 7 mm diameter roundel on the fuselage and 16 mm on the wing. Also, the older style canopy was fitted.



The Dutch decals from the set 72041 were nice and simply applied. I dipped each decal is a "bath" of Johnson Future/Pledge to ensure that air bubbles are not trapped. When a decal was applied, it was pressed with cloth.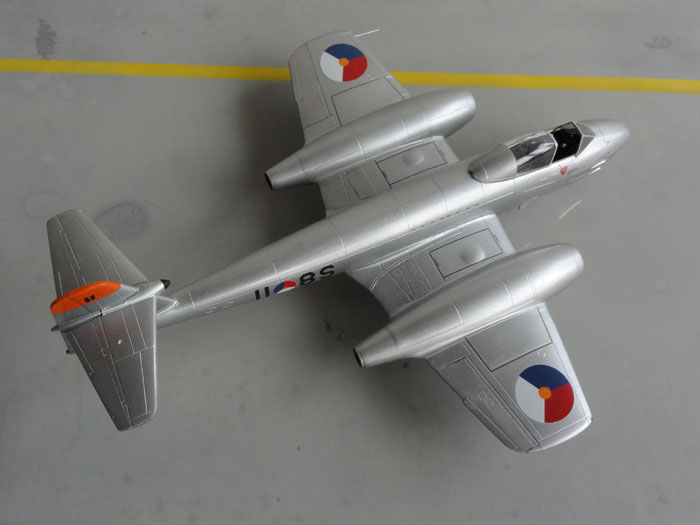 Note also the subtle walkway lines on top of the wing. I decided not to weather this aircraft, Meteors were kept in good condition. The pitot tube was made from a metal needle.



A very neat kit of the Gloster Meteor (Fokker license built) F.mk 8 is now the KLu model collection.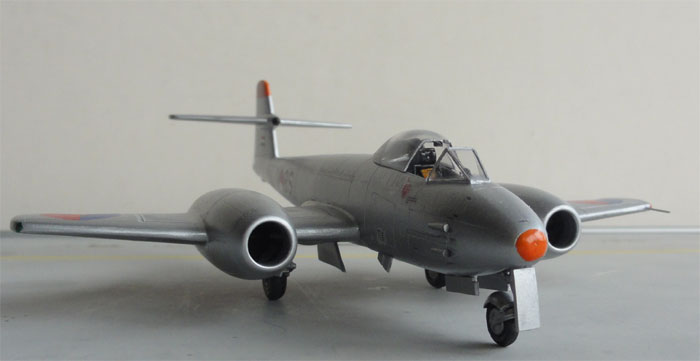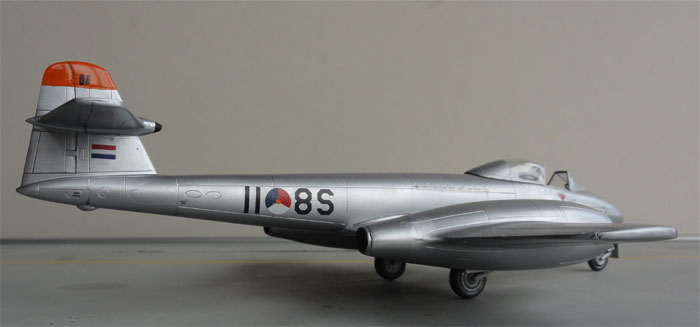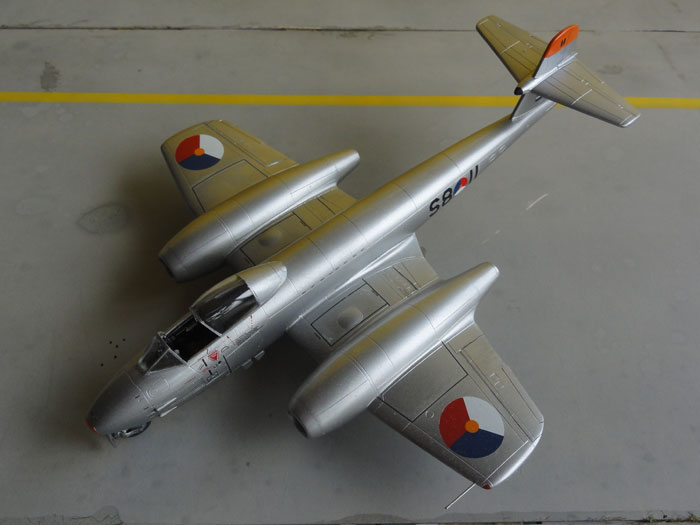 and in a setting..... I used my real pictures taken at the Soesterberg air base for the back ground!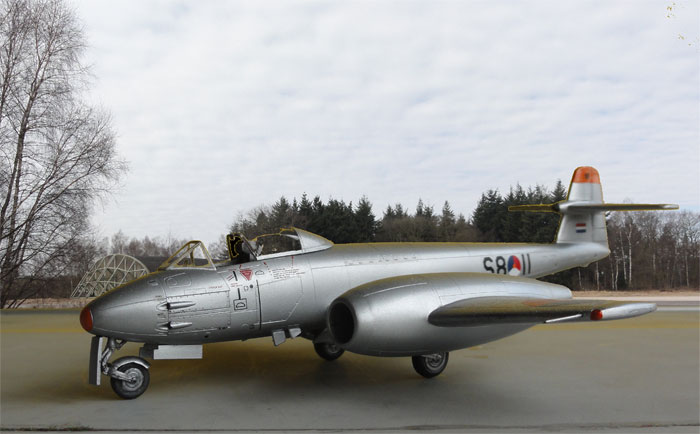 and in black and white.....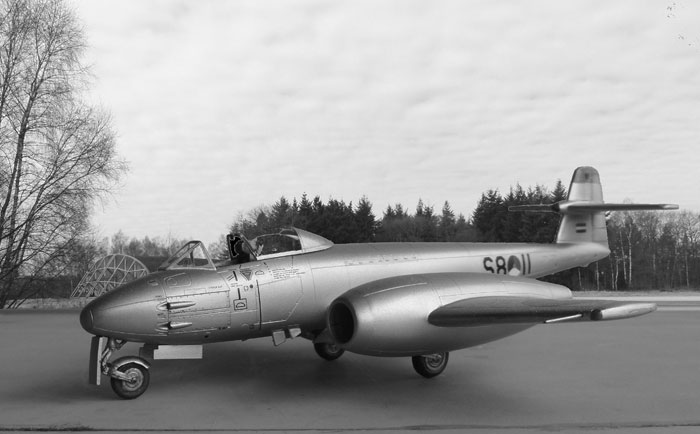 Back to 1/72 Models.......