The intake ducts were than glued in place with the wing intake gaps and slots. White glue was used to close some of the remaining gaps.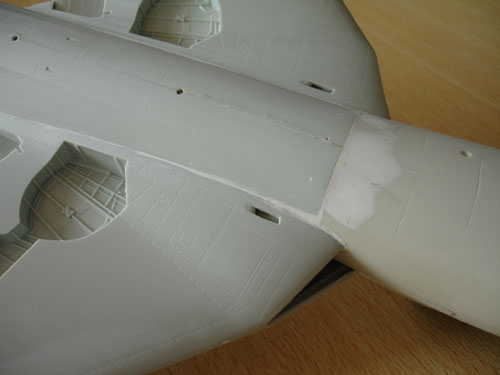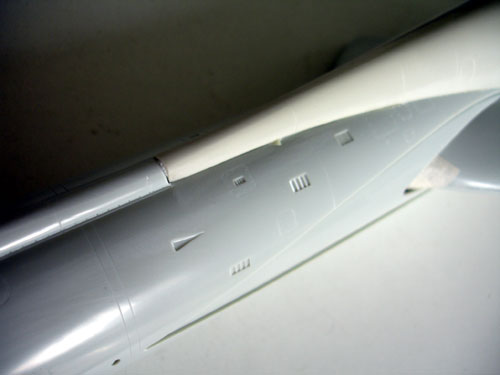 The dorsal spine needs filler as well.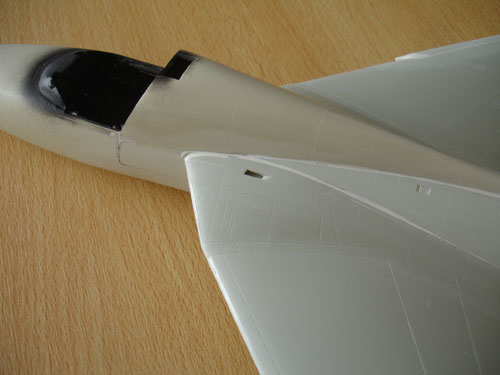 Some filler was added on the mating edges and sanded when dry. Quite some filler was need in front on the intakes.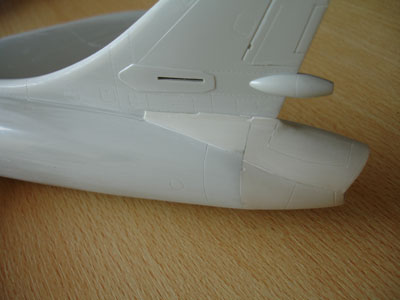 STEP 21, 22
Assemble stabilizers as shown, but I had to thin down the attachement lips. On the outside edges you may need some filler on the edges. (Do not fit yet to the main assembly).
STEP 23 can be skipped regarding the spine.
Skip STEPs 24 up to 35 regarding the undercarriages for later. Note that FISHER provides metal gear legs.
Now continue on....
After puttying and sanding, a first base light grey coat was airbrushed on the model to check for any errors and flaws. Some filling and sanding may be needed.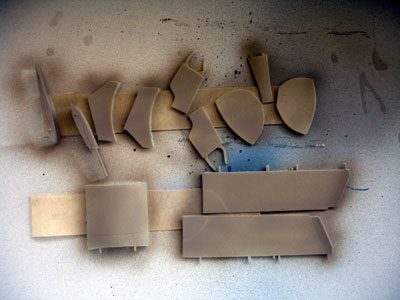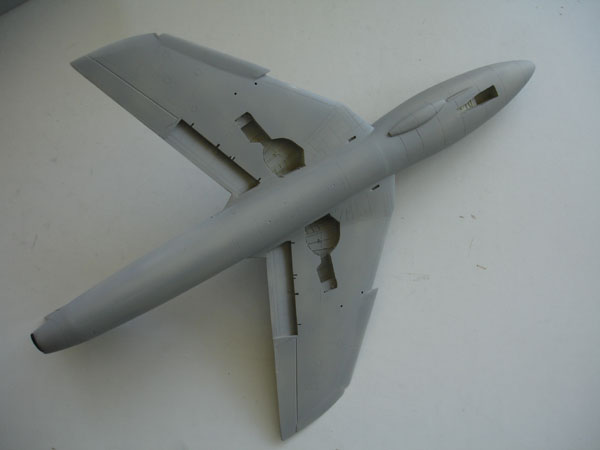 Step 36
The lower airbrake was assembled and set closed. The rear lower airbrake is seen here.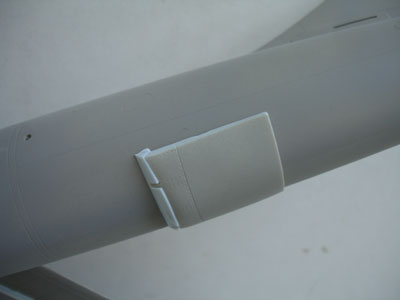 The overall model assembled again got a base light grey coat.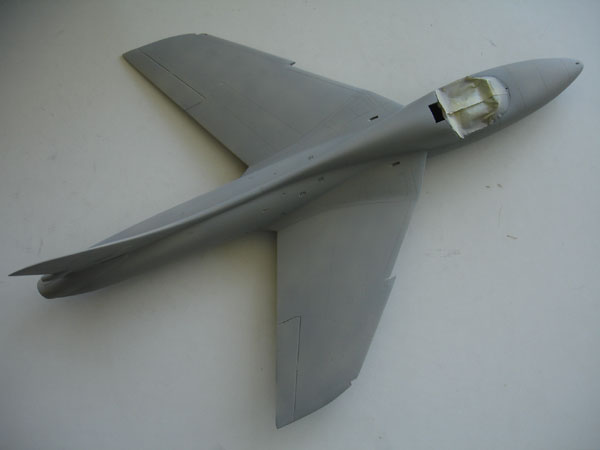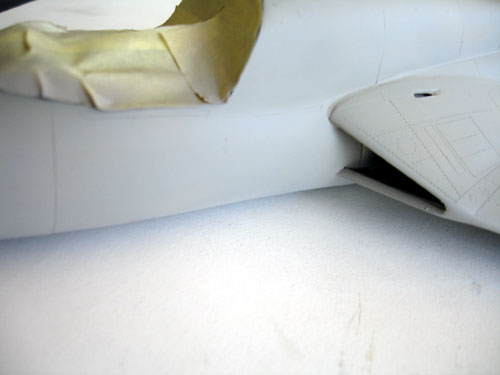 The light grey enables checking for the required smooth sanded finish. You see here the saw tooth needs some little filler again.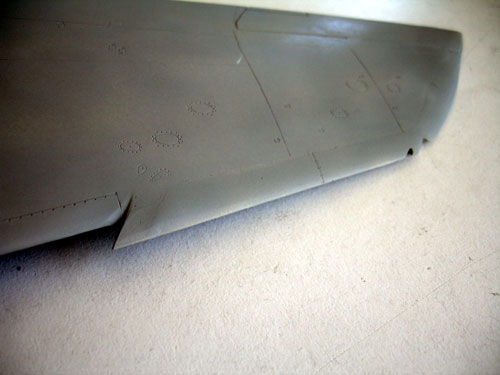 Gun packfairing, fitted without any problem and the gun nozzle was drilled out a bit.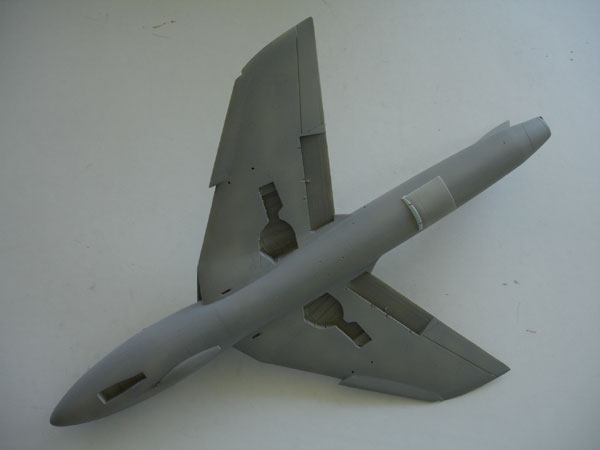 The mk.4 and the T-7 had a different engine than the mk.6. On the mid upper fuselage you will find a different configuration on
the grills and small auxiliary intakes for the engine as on the Revell kits.
I used the drawing from the Echelon Hunter kit instructions. Most upper grill and intakes on the part # 23+24 were filled and new ones cut open and inscribed. Putty was used to fill up the not relevant kit details.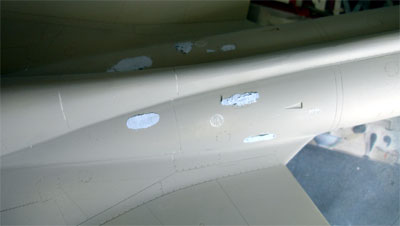 .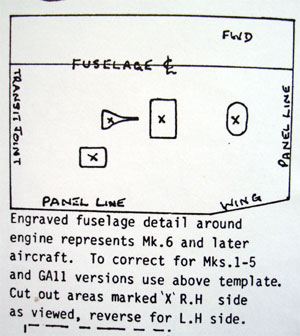 The main fuselage and wing assembly is now ready. Some parts painted with wheels from the Revell kit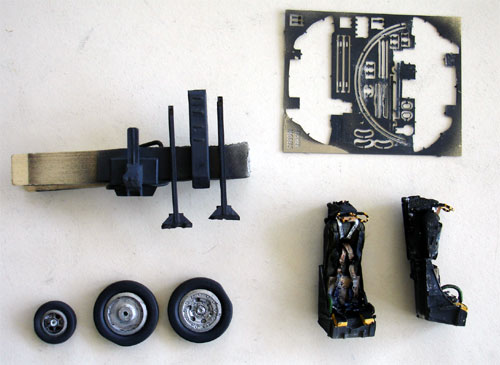 With some seat details. Some belts/straps are also blue on Dutch Hunters.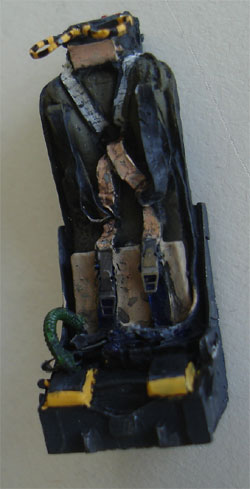 .