... continued from page 1...




Tamiya also issued a very nice F-84G kit in 1999. Kit no. 60745 has about 100 parts.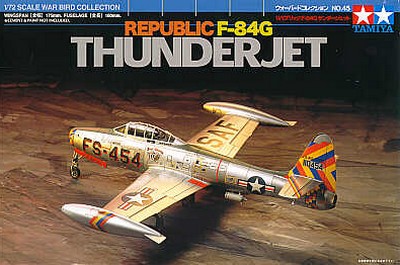 This is the best 1/72 Thunderjet kit although the Hobbyboss kit discussed on page 1 is very good as well. Panellines are very fine and the undercarriage and stores finely detailed. Only the decals are a bit thick but very nice indeed. Colourschemes in the kit are for natural metal planes with 2 options:
- USAF 508th SFW, 1956 Turner AFB ;
- USAF 58th FBS four queens, 1952 at Taegu, Korea.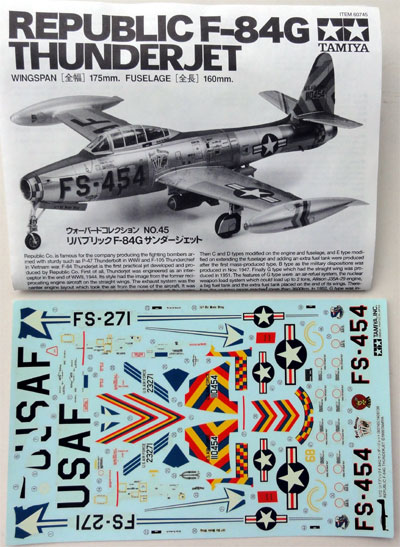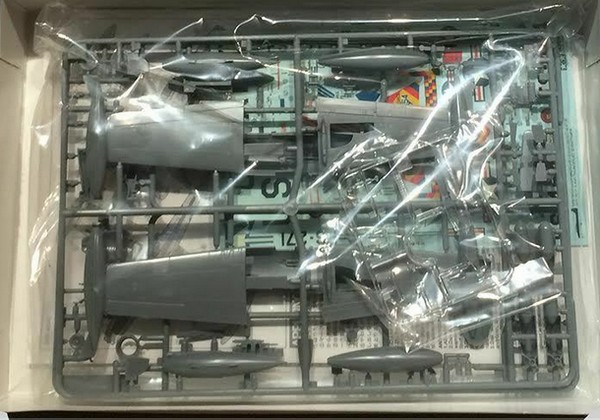 Assembly was done as per instructions after some pre-painting of parts while still on their sprues. The Tamiya fits very good with absolutely no putty required.
When assembled, the kit got the same painting approach as the Hobbyboss model made. After a base coat, the model received a coat of gloss black with the airbrush using gloss acrylic Revell black. Next and when dry, a coat of Johnson Future to ensure that a very smooth finish is there.
After masking, the olive drab (using Gunze Sangyo acrylic 303 field green) was airbrushed in front of the windscreen and on the fuselage spine. Masking was done with low tack tape.
Than a couple of coats of ALCLAD II gloss Aluminium were applied with the airbrush. Always wear a face mask!
Many Thunderjets had aluminium paint applied to some lower surfaces to prevent to quick damage from operating from rough runways. This was airbrushed on the Alclad coat using matt aluminium of Revell Aqua 99 acrylic.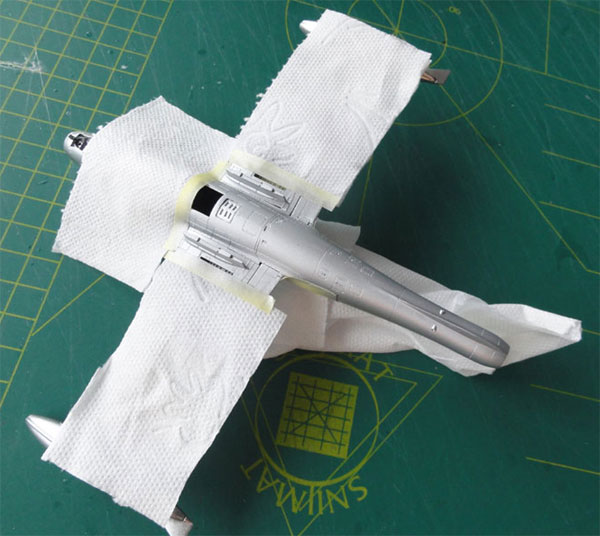 and the result....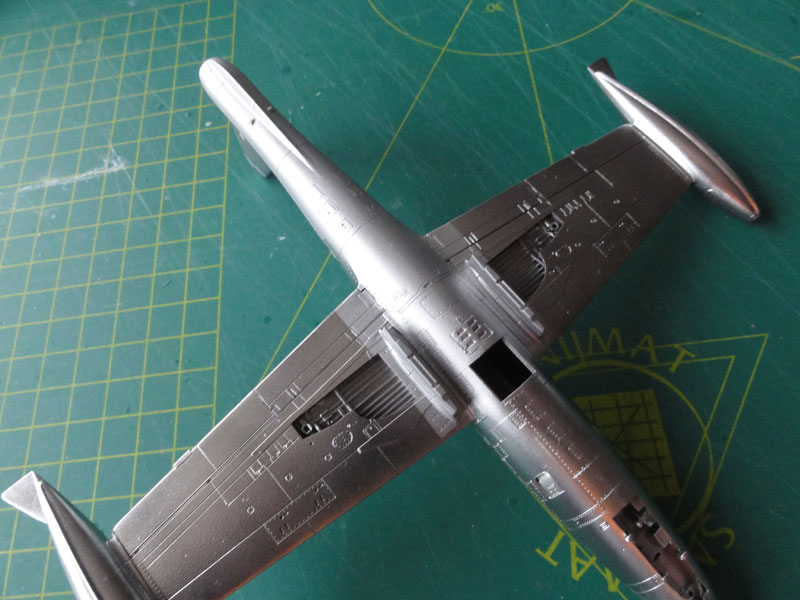 It would be nice to make a bit unusual Thunderjet. From Hi Decal Line #72047 decal set that also has decals for an Iranian Imperial Air Force F-84G.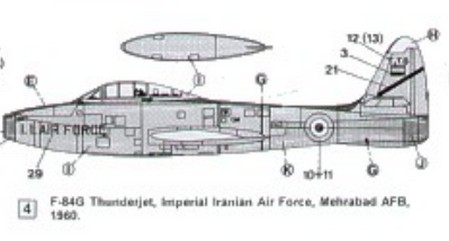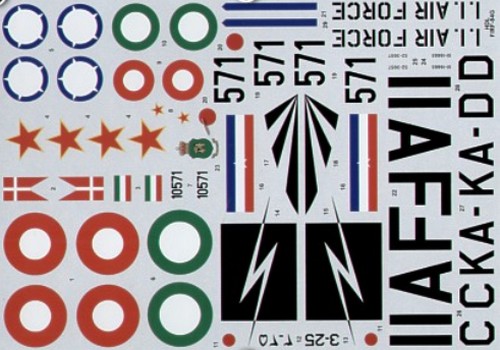 This IIAF aircraft operated from Mehrabad AFB around 1960 in bare metal. From the Tamiya kit decals, the various airframe stencillings were used.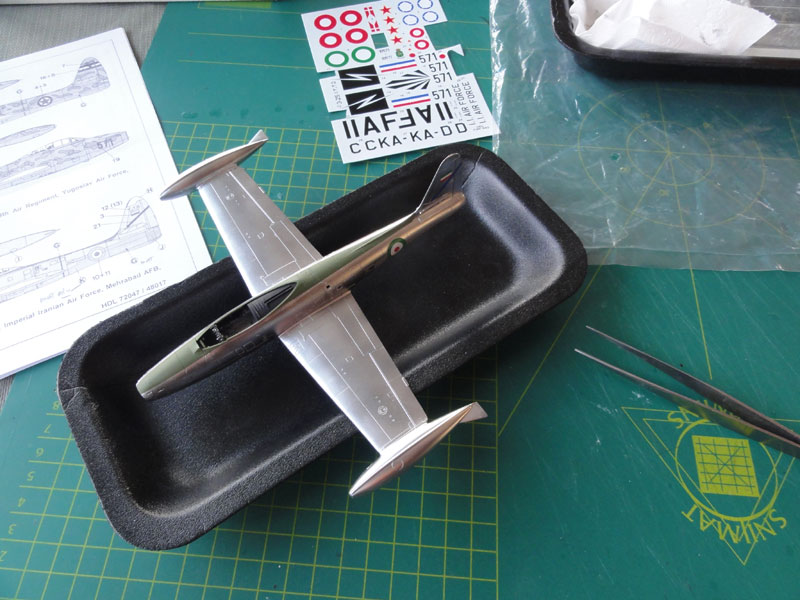 The result is very nice.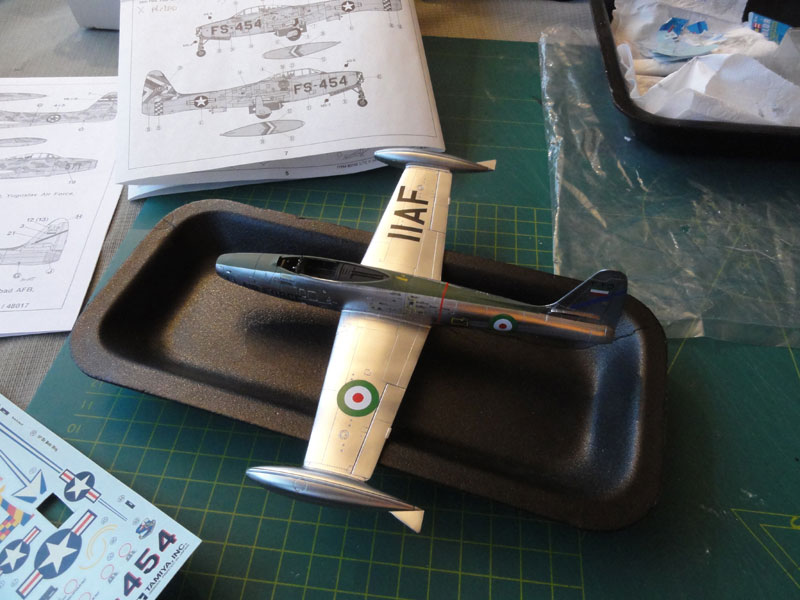 Finally, the kit was completed by adding the undercarriage, JATO bottles and fueltanks. The canopy frame was hand painted as I had a steady hand. Colours of the framing varies on Thunderjets, sometimes the off white isolation is seen. Some "wash" to suggest actual use of the aircraft was applied using the Promodeller Wash fluid.
The seat as in the kit was painted a mix of grey and green and installed, this completed a very nice F-84G of an unusual air force.