The wings are very accurate in plan view, only the main lower wheelbays need to corrected as reducing the aft section onf the undercarriage doors. Also, the "cano's" were sanded to be a little less blunt at the rear.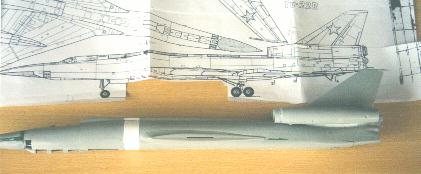 The fuselage nose contour needs refining as to make a more pintier impression.
The fuselage itself was lengthened 30 mm (1,2 inch) just before the wing ledaing edge.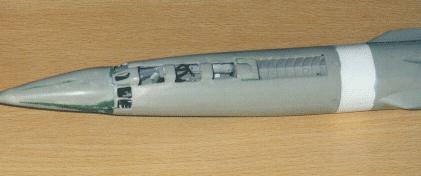 The biggest inaccuracy of the kit is in the rear fuselage section. The nacelles were shortened 10 mm and the complete fairing and engine stubwings re-built. This is quite a job.
The tailfin was reduced 6 mm in height.
The horizontal tail stabilizers were corrected to give a larger 4 degree sweep by removing root sections.
The undercarriage legs have to be detailed with the boogie installation. Use new nose wheels as the ESCI kit's nose wheels are far to small. The nose undercarriage bay was moved 10mm more aft and reduced 10 mm in length.
A Soviet Blinder is most striking in a metal finish, so I sprayed 9at that time) various coats of Testor metal paints, overcoating with Johnson Clear Varnish, re-spraying and adding details with a paint brush. White panels are also scattered around the airframe.
Do not forget to polish carefully as sanding scratches come through when not done nicely.
Decals with the stars came from ESCI kit and spare decal box.