Lockheed P-3C Orion
RNethNavy (MLD)
last update July 21, 2007

Pictures of the "real thing"
The Lockheed P-3C Orion was also used by the Royal Dutch Navy air wing "Marine Luchtvaart Dienst" (MLD).
Used for maritime patrol duties replacing Neptune SP-2H. Ordered December 1978.
13 aircraft P-3C Update II, delivered to Netherlands 21 July 1982 to 12 October 1984.
Training in USA from 5 November 1981 to July 1982.
Serials 300 to 312. Used by 320/321 sqns and 2 MOTU.
Modernized to CUP starting 2002.
All sold 2005 to Germany and Portugal.
The Orions started with the colour scheme of Dark Sea Grey and Sky (lower surfaces). They were later painted in an overall Gull Grey scheme FS36440.
The pictures here show the plane in the overall grey scheme and pictures were taken in 2006 at the Hato Airfield at the Dutch Antilles island op Curacao.
Pictures kindly provided by George Davelaar.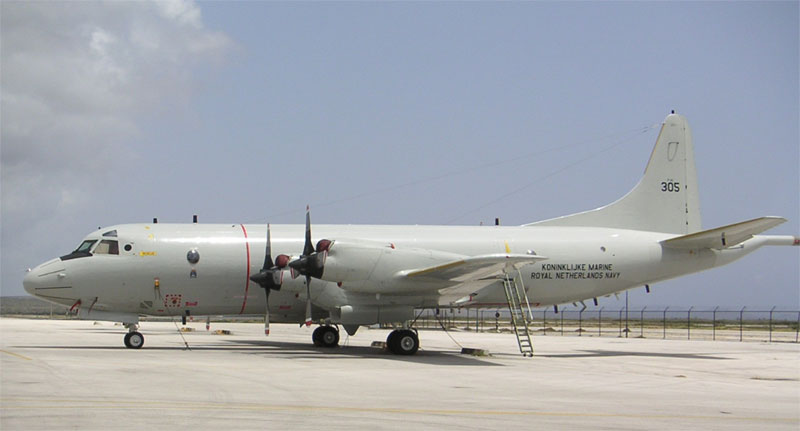 P-3C Orion, number "305" , serial 161373 at Hato


Hangar at Hato Airfield

Interior looking from the aft entry door forwards

Left wing wing walk details

Cockpit
...
main gear

"bomb bay"

APU

Nose area

Nacelle intake

MAD boom tip
..
logo with "Camel"
Pictures: George Davelaar
Look here for a Hasegawa 1/72 P-3C model building report....
---
| | |
| --- | --- |
| | All information is provided "as is" and in good faith. Links and information to other sites courtesy the relevant authors. Links to this site can be made without reservation, however all real aircraft pictures material copyright by Meindert "Designer". Material may not be copied without mentioning the source! |
(c) Copyright "designer"/ All rights reserved/ Amsterdam The Netherlands.